The city of London will be getting a brand new underground line. Running through the city to the home counties of Berkshire, Buckinghamshire and Essex, the Elizabeth line will not only transport and connect people, but also expose them to some outstanding works of art.
Nine internationally renowned artists have been commissioned by The Crossrail Art Foundation to create major public artworks along the line, relating to the locality, history or functions of the stations. Forming a string of cultural interventions across central London, these works will be installed in a variety of locations including halls, escalator shafts, platforms and other public spaces from December 2018.
A current exhibition at the Whitechapel Gallery (through May 6th, 2018) brings together sketches, maquettes and prototypes to reveal the artists' ideas transformed into deliverable public art. Artists participating in the project are Spencer Finch, Darren Almond, Douglas Gordon, Richard Wright, Simon Periton, Yayoi Kusama, Conrad Shawcross, Chantal Joffe and Michal Rovner.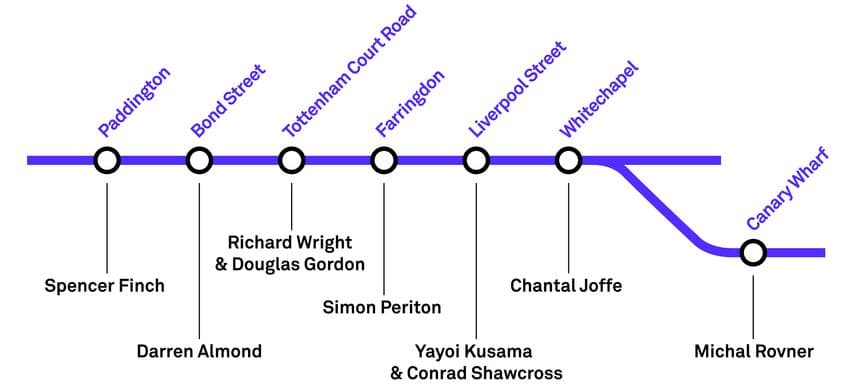 World Class Art Straight from the Tube
As Terry Morgan, the Chair of Crossrail explains, these leading artists are working together with Crossrail's architects and engineers to integrate public art into the very fabric of the new Elizabeth line stations.
Thanks to the imagination and determination of the Art Programme team, sponsors and supporters, the Elizabeth line will be the single biggest addition to the capital's public art scene in a generation and will cement London's place as a global capital for arts and culture.
Founded in 2014 with support from the City of London Corporation, The Crossrail Art Foundation has a mission to promote art for the benefit of the public by establishing and maintaining a public art programme that will enhance the journeys of the millions of people who will use the Elizabeth line. Combining disciplines of art, crafts, architecture, engineering, transport, civic government and corporate sponsorship, the ambitious art project will transform the underground line into a gallery to the widest of audiences.
Let's take a look at nine works of art that will adorn the Elizabeth line.
Featured images: Installation view at the Whitechapel Gallery, Art Capital, Art for the Elizabeth line. Photos by Stephen White. All images courtesy of Whitechapel Gallery.
Spencer Finch at Paddington
An American painter, drawing master and video artist, Spencer Finch is known for ethereal light installations that visualize his experience of natural phenomena.
For the new Elizabeth Railway line, the artist has proposed a taxonomy of clouds sketched in pastel. The work will be digitally printed onto glass, making up a vast glazed canopy for Paddington station.
Featured image: Spencer Finch - A Cloud Index, 2016. © Spencer Finch; Courtesy Lisson Gallery; Portrait of Spencer Finch. © Spencer Finch; Courtesy Lisson Gallery. Photo: Ken Adlard
Darren Almond at Bond Street
A British installation artist, sculptor, photographer, and filmmaker, Darren Almond is known for his photographs and texts about geological, botanical and human time. Producing works which have universal as well as personal resonances, he explores the effects of time on the individual.
For this project, the artist has created bronze and aluminum boiler plated texts for the ticket hall and escalator areas at Bond Street. This work evokes historic locomotives and expeditions.
Featured image: Darren Almond - Departure, 2017. Courtesy White Cube; Portrait of Darren Almond. Courtesy White Cube. Photo: Vincent Tsang
Douglas Gordon at Tottenham Court Road, West
A representative of the Young British Artists movement, Douglas Gordon creates a diverse body of works that plays with viewers' perceptions, memories and expectations. He is known for sampling film and language in an exploration of the comedy and tragedy of being.
Gordon has created neon signs inspired by the 1960s nightlife in the Soho neighborhood. His work will be installed at the Tottenham Court Road's western ticket hall at Dean Street.
Featured image: Douglas Gordon - Revue, 2018. © Studio lost but found VG Bild-Kunst, Bonn, 2018. Photo Balazs Studinger; Portrait of Douglas Gordon. Photo by Colin Davison
Richard Wright at Tottenham Court Road, East
Through his unique intricate painting methods, the British artist Richard Wright injects complex works into often overlooked architectural spaces. His installations are aimed at changing the way the viewer is drawn through the space, having the potential to reveal it in a new aspect.
Over the escalators of the eastern ticket hall at Tottenham Court Road, the artist will create a delicate spatial tracery of intricate gold leaf motifs. The work evokes the geometric and baroque patterns that have ornamented architectural monuments throughout history.
Featured image: Richard Wright - no title, 2016. © Richard Wright. Courtesy Gagosian; Portrait of Richard Wright. Photo by Prudence Cuming Associates
Simon Periton at Farringdon
The British artist Simon Periton is known for his cut paper works which develop the window metaphor inherent to landscape painting. The artist plays with dimension and illusion of depth, creating works that appear botanical, but are actually tangled with signs of the sinister and the subversive.
Both ticket halls at Farrington station will be adorned with his artworks inspired by Hatton Garden's diamond quarter and the elaborate Victorian metalwork of Smithfield's meat market.
Featured image: Simon Periton - Vicious Turquoise, 2006. Coloured paper and mylar, Site size: 69.0 x 50.0 cm, Frame size: 77 x 58.7 x 3.8 cm. Courtesy Whitechapel; Portrait of Simon Perotin. Courtesy Sadie Coles HQ
Yayoi Kusama at Liverpool Street, East
The acclaimed Japanese artist Yayoi Kusama is certainly one of the most prominent figures in her country's contemporary culture. She is best known for her infinity rooms and dot patterned images and forms.
Demonstrating her vocabulary of repetition and excess, the artist will create highly polished stainless steel sculptures at the Liverpool Street outside the station's eastern ticket hall at Broadgate.
Featured image: Yayoi Kusama - Digital rendering of Infinite Accumulation, 2017 © Yayoi Kusama. Courtesy Ota Fine Arts, Tokyo, Singapore, Shanghai and Victoria Miro, London, Venice; Portrait of Yayoi Kusama © Yayoi Kusama. Courtesy Ota Fine Arts, Tokyo/Singapore/Shanghai; David Zwirner, New York and Victoria Miro, London/Venice
Conrad Shawcross at Liverpool Street, West
Inspired by different technologies, Conrad Shawcross creates sculptures imbued with an appearance of scientific rationality. His enigmatic and paradoxical works explore subjects that lie on the borders of geometry and philosophy, physics and metaphysics.
For Liverpool Street, Whitechapel and Canary Wharf, the artist has proposed large machine-like structures of metal and wood, accompanied with lyrical sound, kinetic lights and dance-like movements. Conceived for the outside of the Liverpool Street's western ticket hall at Moorgate, his bronze sculpture explores the visual potential for harmonics.
Featured image: Conrad Shawcross - Digital rendering of Manifold (Major Third 5:4), 2017 © Conrad Shawcross. Courtesy the artist and Victoria Miro, London/Venice; Portrait of Conrad Shawcross © Marc Wilmot. Courtesy the artist and Victoria Miro, London/Venice
Chantal Joffe at Whitechapel
The British artist Chantal Joffe is known for expressive portraits of women and children, often painted in very large scale. Her works bring a combination of insight, wit, and an eye for awkwardness and individuality to the traditional portraiture.
Inspired by Matisse and Picasso, the artist has depicted passers-by on Whitechapel High Street whom she observed one Sunday afternoon. These monumental and vividly colored portraits will celebrate local people on the platforms of Whitechapel station.
Featured image: Left and Right: Chantal Joffe - Study for 'A Sunday Afternoon in Whitechapel' VII, 2017 © Chantal Joffe. Courtesy the artist and Victoria Miro, London, Venice; Portrait of Chantal Joffe © Thierry Bal
Michal Rovner at Canary Wharf
An Israeli video, photo and cinema artist, Michal Rovner is best known for presenting situations of conflict that directly relate to the Israeli Palestinian question. Seemingly abstract, her visually entrancing films and installations are based on the movement of people and places.
Inspired by the architecture of the new Canary Wharf station and how it choreographs a dynamic flow of travelers, the artist has proposed an epically scaled digital screen that will be installed outside it.
Featured image: Michal Rovner - Artwork commission for Canary Wharf Station Preliminary Sketch © Michal Rovner Studio; Portrait of Michal Rovner. Photo: Daniel Tchetchik