When Abend Gallery in Denver decided to showcase Two person exhibition by Elsa Sroka and Stephanie Hartshorn they were primarily inspired by the way their works compliment each other. Though at fist glance they may appear quite different, their paintings share numerous similarities that are emphasized by placing their pieces side by side. Their works merge in a wider scope as both artists share the Western style of painting and an optimistic outlook on their subject matter. Elsa Sroka and Stephanie Hartshorn have a highly enthusiastic approach to their art and a noticeable desire to share their view of the world with the public.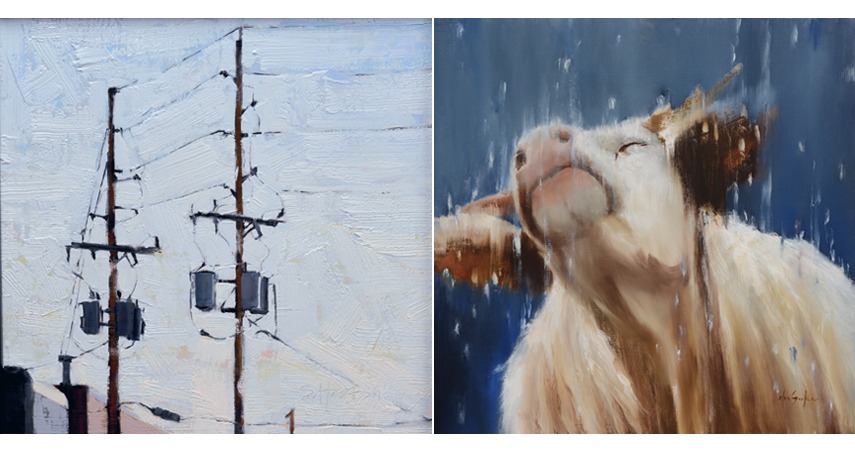 Animal Portraits by Elsa Sroka
Elsa Sroka's imagery depicts a dreamlike world packed with close-up images of animals and vast country landscapes. She considers cows her muses and only paints the animals she feels a strong connection to. The artist creates their portraits with an unusual, refreshing technique. She begins every painting with a charcoal sketch and then applies the paint with her bare hands. By scraping and moving the paint while it's still wet, the artist creates intricate, layered artworks that proficiently merge realistic and abstract elements. The artworks are intentionally titled with names or emotion that are usually associated with humans, in order to convey the unique personality of every animal that goes along with their physical characteristic.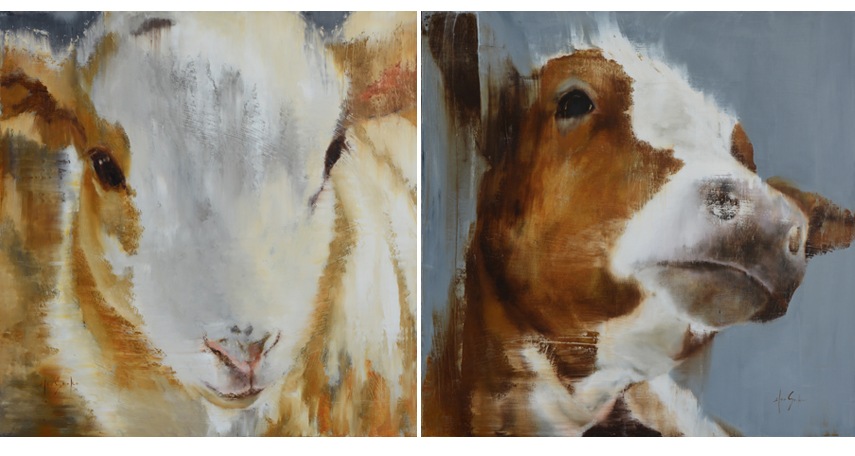 Nostalgic Imagery by Stephanie Hartshorn
Stephanie Hartshorn portrays abandoned places of our urban and rural environment and unlike her fellow painter Elsa Sroka, her works are marked by a more pragmatic approach. The artist's architectural background shows, as she depicts unappreciated and deteriorating buildings and structures. By pointing the viewers' attention at various angles, lines, shapes and setting that stand out in the environment, the artist manages to expose the beauty that lies behind the decaying surfaces. Stephanie Hartshorn reproduces textures and the very essence of her subjects with a structured and precise application of paint. Every painting portrays not only the subject itself but also its history, which is why these pieces evoke the sense of nostalgia.

Exhibition by Elsa Sroka and Stephanie Hartshorn at Abend Gallery
Through exploring the styles and techniques of Elsa Sroka And Stephanie Hartshorn it becomes apparent how different they are and how much they relate. Both artists' compositions and painterly abilities translate to the observers as engaging and thoughtful meditations on our nearest surroundings. It is this strong connection with the viewers that has ensured the continued success of these two American painters throughout the years. Two person exhibition of works by two exceptional artists will be on view from November 6th till November 28th, 2015 at Abend gallery in Denver. The price range of available works spans from 400 USD to 7,000 USD.
From nostalgic landscapes to unusual portraits we cover every corner of the art world. So sign up for My Widewalls and get the latest stories for FREE!
Featured images : Stephanie Hartshorn - Sunny Point Morning
Stephanie Hartshorn - On Deck
Stephanie Hartshorn - Hillside Greens
Stephanie Hartshorn - Golden Connection
Stephanie Hartshorn - The Getaways
Left : Stephanie Hartshorn - Swizzlestick 4 Satire Lounge / Right : Elsa Sroka - Ophelia
Left : Stephanie Hartshorn - Irvings / Right : Stephanie Hartshorn - Motel 57
Left : Stephanie Hartshorn Grays Crossing / Right : Stephanie Hartshorn - Orange Liquor
Left : Stephanie Hartshorn - Swizzlestick 7 La Fiesta / Right : Stephanie Hartshorn - Light Absorbed
Left : Stephanie Hartshorn - Swizzlestick 6 Red Pine / Right : Elsa Sroka - Violet
Left : Stephanie Hartshorn - Sunnypoint Reds / Right : Stephanie Hartshorn -Swizzlestick 3 Four Winds
Left : Elsa Sroka - Frances / Right : Elsa Sroka - Jefferson
Elsa Sroka- What we Don't See
Elsa Sroka- Daydreaming
Elsa Sroka - The Enchantment of the Snow
Elsa Sroka - Milton
Left : Stephanie Hartshorn - Steel Wheel / Right : Stephanie Hartshorn - Swizzlestick 4 Satire Lounge
Images courtesy of Abend Gallery