To talk about embroidery today means to tackle a very complex topic, which brings a lot of baggage with it. Perhaps you'd be surprised to know that this fascinating technique, dating back to the 5th century BC, has started to take up a significant amount of space on the contemporary arts scene, and it's nothing like you're used to seeing either. This is thanks to a handful of embroidery, textile and new media artists who have reinvented its modus operandi, but also its message, to create original artworks which make a perfect blend of tradition and modern-day expression. But before we delve into what embroidery art means today, we shall take a look at its turbulent journey through history and the great importance it had for the way art fought for women's rights.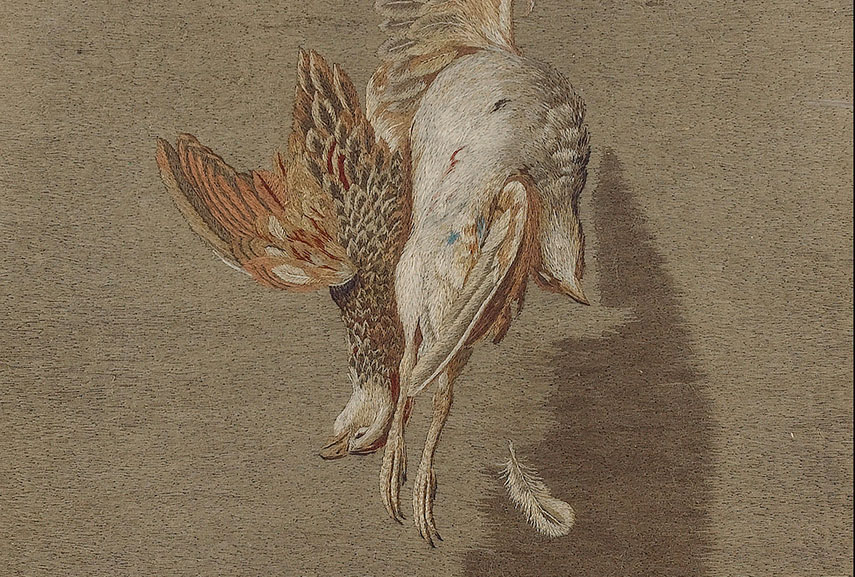 Embroidery Towards Art
Over the overdue course of male dominancy over all spheres of society, women's art quietly developed, through means of traditional crafts practices such as quilting, needlework, sewing, china painting and embroidery. Trapped inside their homes and the widely-accepted idea that it is nothing but scandalous if a woman doesn't know how to use a needle, women created pieces for their homes, husbands and children. Ironically, their talent was never fully appreciated by the same body which demanded they be done. Although embroidery has such a rich history and a long-standing presence in our history, it took quite a while before it came out of its stifling concept and reached for its well-deserved title of an art form. Some say that the two, 'embroidery' and 'art', first became a part of the same phrase after the year 1798, when a collection of over 100 embroiled copies of old masters were exhibited in a show at the Hanover Square Rooms. They were the work of Mary Linwood, the first needle woman ever to have such pieces seen in public - or better, outside the domestic environment. The truth was this: these were proper artworks, created for a non-utilitarian purpose and not for a house wall, and they were considered fine art only because embroidery, at that point, was a craft medium used to imitate the fine art of painting.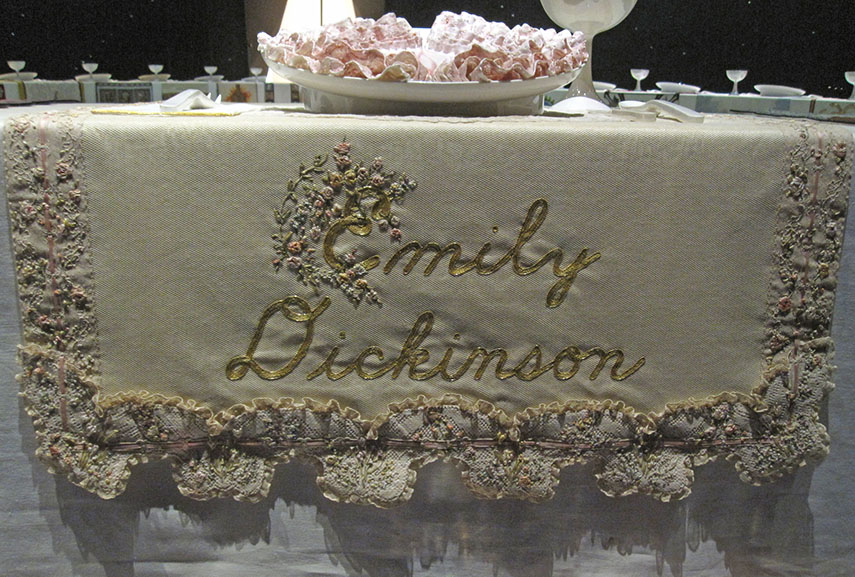 Roots of Feminism
Even with such important event taking place, embroidery as an art form was nevertheless stuck in a stereotypical whirlpool. There was a clear distinction between art and craft - one was a public, professional activity, and the other was practiced at home, so much so it was even called "domestic". One had commercial goals, and the other was a decorative form which required much less intellectual involvement. And so, as a response to such attitude, craft met radical activism and gave women the voice they so longed for. First, as a direct answer to the Industrial Revolution created by the 19th century Arts and Crafts Movement in England, and then as part of the global feminist movement of the 1960s and 1970s. It was an exciting time of pioneer feminist artists like Judy Chicago, Miriam Shapiro, Patsy Novell, Janine Antoni and many others, who encouraged and celebrated the traditional crafts in all their forms, and paved their way towards the world of art - through alternative spaces like Womanhouse and installation exhibitions like The Dinner Party.
Embroidery, standing among the crafts, also fought - for women's rights and for its own right to become an art form.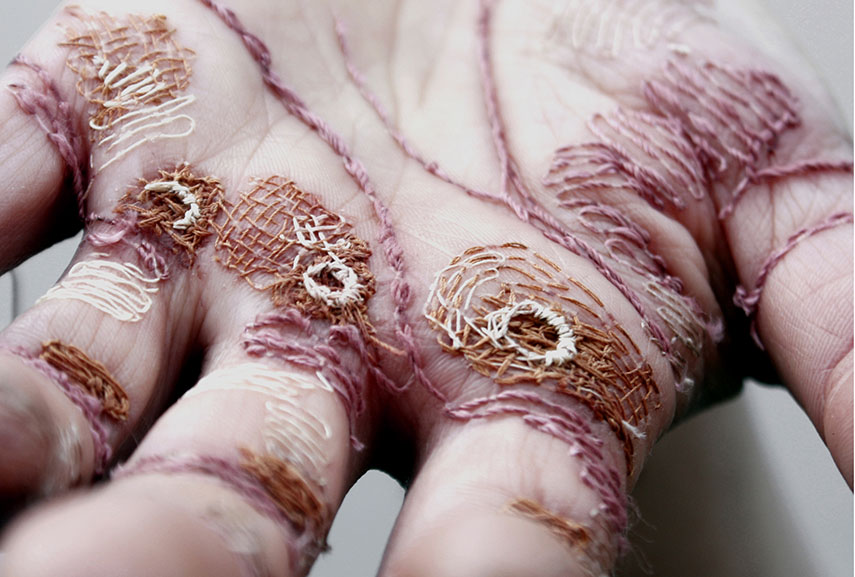 Contemporary Artists
Ever since the feminist revolution, embroidery has been developing new forms and language, involving many artists and media in the process. Although as a crafts form, it still struggles to break free from stereotypes and prejudice, it is managing to present itself as a re-born technique which now incorporates different ways of creations and tackles contemporary topics. Today, we can talk about embroidery as a full-on method of expression, involving skills and strong social and political messages. It pays homage to its groundbreaking artists and keeps on building their important legacy. Artists like Rayna Fahey behind Radical Cross Stitch, or Julie Jackson of Subversive Cross-Stitch, gained enormous popularity for their provocative, straightforward statements that gave cross-stitching and embroidery a whole new meaning.
But perhaps the biggest protagonists in the evolution of embroidery art are the talented contemporary artists who continue to contribute to the craft in the most creative of ways. Think of the embroiled quilts by Tracey Emin, which became, and remain, some brilliant examples of highly personal expression and quite original forms of a visual diary; or the hand-woven works of Erin M. Riley, for a kind of tapestry that will probably shock you (and there's something you never thought you'd hear). We have the remarkable pieces by Kirstie Macleod, including the now famous Barocco dress, which has been embroiled by artists around the world. Among the artists who mix embroidery with other techniques, there is Ana Teresa Barboza, who works with photographs printed on fabric that she then embroiders with decorative patterns, and Lynn Skordal, who sews on paper collages and much else. In a creative blend of drawing and threads, Izziyana Suhaimi often investigates the notions of popular culture, an interest she shares with fellow artist Inge Jacobsen, who embroils classic advertising campaigns and magazine covers. Sarah Walton's minimalistic illustrations depict our everyday lives and characters with captivating beauty, much like the stitched fine art sketches of Debbie Smyth. Let's not forget the nostalgic works of Lauren DiCioccio or socially responsible recycled art of Kirsty Whitlock. All of these creatives, both male and female, are re-establishing embroidery as a powerful technique with a brand new identity and a strong contemporary expression which no longer hangs by a thread from the edge of the art world.
Editors' Tip: Hoopla: The Art of Unexpected Embroidery
Hoopla is a seminal publication which includes twenty-eight innovative embroidery patterns and profiles of contemporary embroidery artists, including Jenny Hart, author of Sublime Stitching; Rosa Martyn of the UK-based Craftivism Collective; Ray Materson, an ex-con who learned to stitch in prison; Sherry Lynn Wood of the Tattooed Baby Doll Project, which collaborated with female tattoo artists across the United States; Penny Nickels and Johnny Murder, the self-proclaimed Bonnie and Clyde of embroidery; and Alexandra Walters, a military wife who replicates military portraits and weapons in her stitching.
All images used for illustrative purposes only.