In the past decades, photography served as an "easy tool" for creating the image of what the "feminine" actually looks like. Female models, girls playing with pink toys, successful and good-looking businesswomen – these are typical stereotype images of femininity, created by popular culture, including photography. Artists Calypso and Mizrahi chose to deconstruct these images through their art. Arusha Gallery from Edinburgh is organizing an exhibition of two emerging photographers – Juno Calypso and Carolina Mizrahi. The show is titled Second Self and it will feature photographs by Calypso and Mizrahi whose works are dealing with representation of the "feminine" in today's world.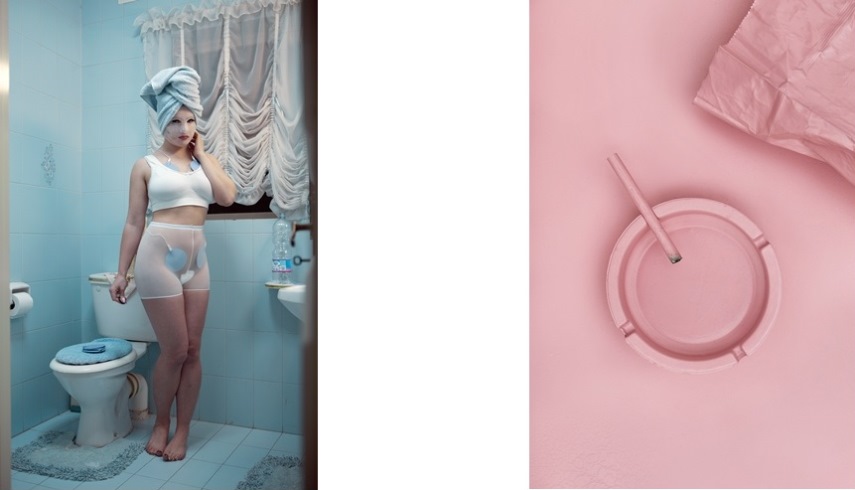 The Art of Juno Calypso and Carolina Mizrahi
While studying for her BA in Photography at London College of Communication, Juno Calypso created a fictional character named Joyce. Joyce became the name of the series of self-portraits by Calypso. In these series, Calypso deals with the social construction of femininity. Usually set in hotels, motels or rented rooms, Calypso's subjects reenact the private underlife of women that are "feminine". Calypso has been exhibited internationally, in London and New York, but also in Switzerland, Mexico, Miami and South Korea. She is an awarded photographer – last year, her work won the BJP International Photography Award as well as the Caitlin Art Prize.
Carolina Mizrahi is Brazilian artist who currently lives and works in London. She is a graduate of London College of Fashion. Her work is questioning the representation of women in media and fashion.  Mizrahi participated in group exhibitions in London and Stockholm, while her work has been published and presented in many magazines, including Aesthetica Magazine, Fahrenheit, Another Magazine, After Nyne and Trendland.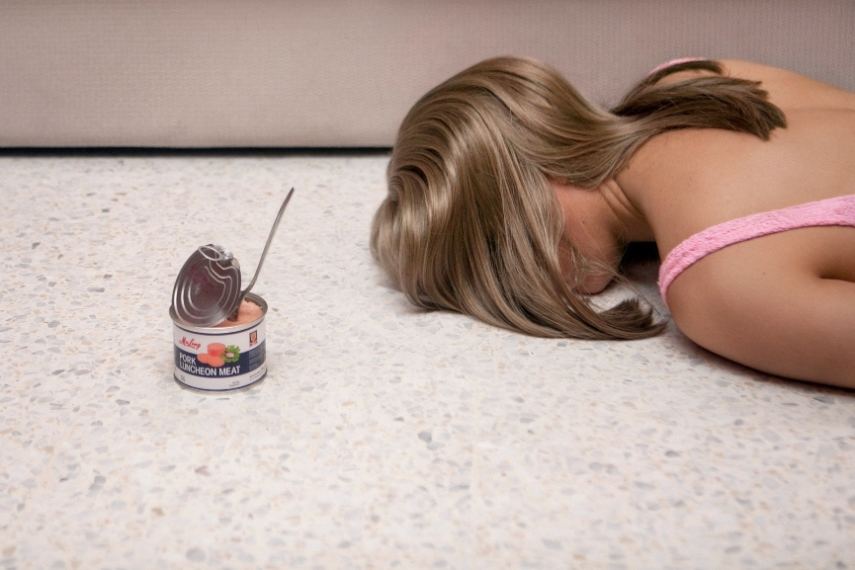 Second Self
Both Juno Calypso and Carolina Mizrahi are dealing with the representation of women in contemporary society. Through their practice, they deconstruct the ideas prescribed to femininity such as beauty standards and stereotyped media representations. However, two artists are questioning this theme differently. The exhibition Second Self will feature eight works from Calypso's latest series The Honeymoon Suit. This is how the artist explains her idea: In the Spring of 2015, I spent a week alone at a couples only honeymoon resort in Pennsylvania USA. With a suitcase concealing wigs and wedding lingerie, I posed as a travel writer and was granted keys to every single suite in the resort, which I used as stages for new self-portraits. In each room we find Joyce in solitary moments of preparation and anticipation. Seduction has begun in secrecy. A green clay body-mask beauty routine becomes a science-fiction metamorphosis. Joyce appears alone, absorbed and exhausted in her own reflection. On the other hand, Carolina Mizrahi will present her Avatar series. Here is how Mizrahi explains her approach: I was particularly interested in creating a really imposing color scheme which would induce viewers to question the artwork. We don't really realize how many things are socially imposed to us on an hourly basis. Why pink is a color associated with the female gender?!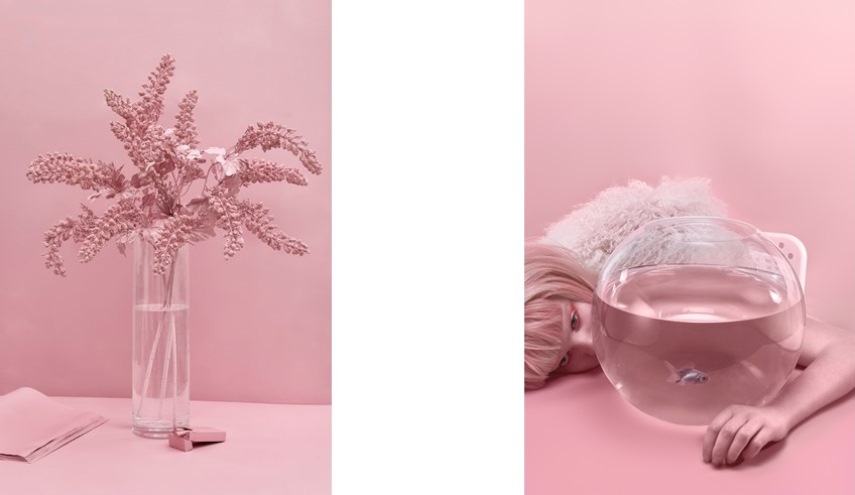 Two Great Emerging Photographers at Arusha Gallery
Arusha Gallery organized great exhibition this year. In July, the visitors of the Gallery enjoyed beautiful photographs by Alicia Savage; in June, the Gallery organized the exhibition of Charlotte Keates titled Exploiting Perspectives: A Harmony in Chaos, while in May works by Ilona Szalay were displayed. This great exhibition is about to open in this art space. The show titled Second Self will be on view from July 29 until August 14, 2016 at Arusha Gallery in Edinburgh.
Featured Images: Juno Calypso  - The Honeymoon Suite, 2015; Juno Calypso  - Seaweed Wrap, 2015. All Images courtesy of Arusha Gallery