In 1963, the Spiral group appeared inspired by the enforcement of the Civil Rights Movement and the Harlem Renaissance. It immediately attracted numerous artists willing to stand out and fight for the dignity and equal right of the Black community. The Spiral was formed by the leading African American artists such as Hale Woodruff, Norman Lewis, Romare Bearden, Charles Alston, and other men, while the only female member was Emma Amos, who arrived in New York after finishing graduating at Antioch College in Ohio in 1958 and the Central School of Art in London in 1960.
Gradually, Amos became an acclaimed painter and printmaker celebrated for her expressive and vibrant mixed-media paintings that feature slightly surreal, yet appealing narratives concerning race, gender, and the matter of class privilege in both the art world and society at large.
The year 2021 will be marked by a traveling exhibition organized by the Georgia Museum of Art where this first posthumous survey of Amos' lasting career will debut.
The Socially Charged Agenda of Emma Amos
Emma Veoria Amos was born in 1937, in Atlanta, GA in an intellectual interracial family. In her early teenage period, she began attending art lessons and had works exhibited. During her Spiral group days in New York, Amos was infused by the lessons gathered while working for Dorothy Liebes, the innovative textile designer, and studying printmaking with the artists Robert Blackburn and Letterio Calapai.
Amos was a feminist activist, a prominent member of the Heresies collective (founded in 1976 by artists and activists Miriam Schapiro, Joyce Kozloff, Lucy Lippard, and others), and was a member of the notorious Guerrilla Girls. She also acted as a professor of visual arts at the Mason Gross School of Art at Rutgers University for 28 years and served as chair of the department, too. In May 2020, Amos passed away at her home in Bedford at age of 83 after the complication caused by Alzheimer's disease.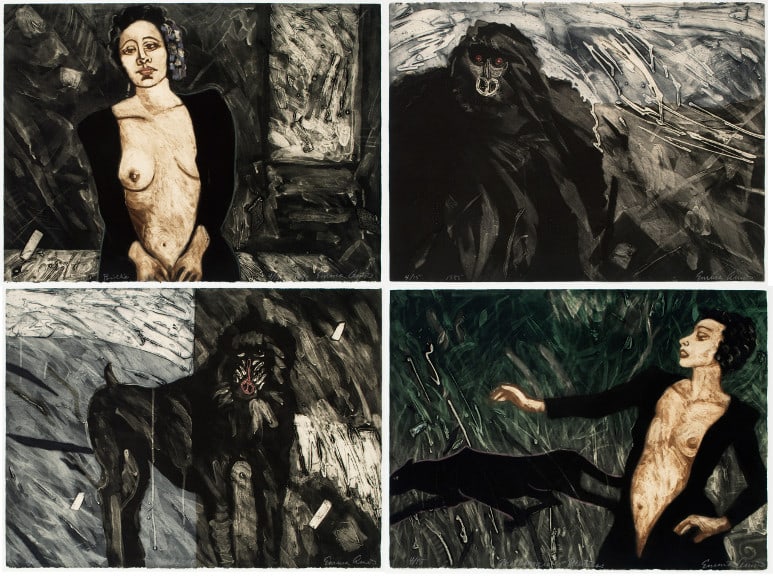 The Installment
The upcoming show curated by Shawnya Harris, Larry D. and Brenda A. Thompson Curator of African American and African Diasporic Art will bring approximately 60 works made by the artist throughout her career that will underline the experimentation she has undertaken as a painter, printmaker, and weaver. By fusing the personal and the collective Black experience, Amos constructed a unique approach to art-making characterized by the usage of African fabrics and semi-autobiographical content, the artist's interest in icons in art and world history, as well as feminist perspective.
For that reason, Amos' practice is perceived as radical and prone to questioning the Western canons, especially in terms of the artist's bold attempt to alter the visual codes of representing desire and imparity.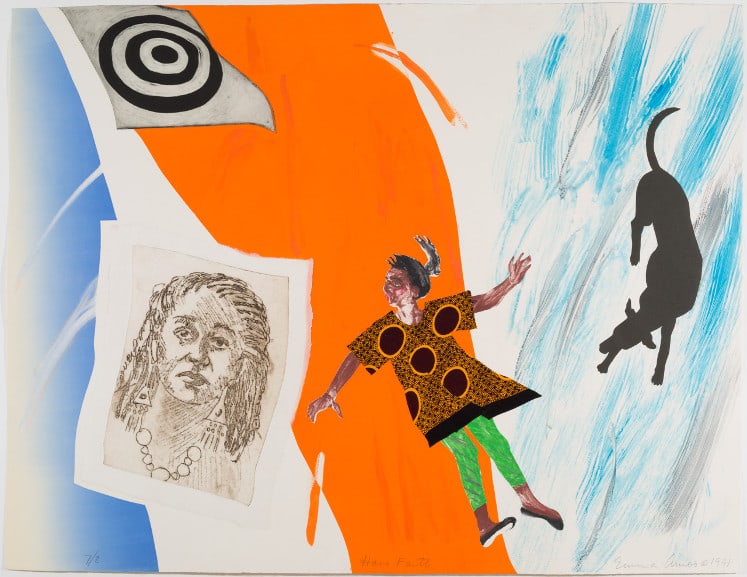 Emma Amos at Georgia Museum Of Art
By closely examining works dating from her formative years in the 1960s, and the participation in the feminist and multicultural debates of the late 20th and early 21st century, Color Odyssey tends to offer a new overview of Emma Amos' oeuvre, especially in the context of identity and gender politics she has been exposed to during the shifting years.
The museum will publish an all-encompassing catalog to accompany the exhibition, with several scholarly contributions by Shawnya Harris, Larry D. and Brenda A. Thompson Curator of African American and African Diasporic Art at the Georgia Museum of Art; Lisa Farrington of Howard University; artist LaToya Ruby Frazier, and many others.
Emma Amos: Color Odyssey will be on display at the Georgia Museum of Art from 30 January until 25 April 2021. Afterward, the exhibition will be installed at the Munson-Williams-Proctor Arts Institute from 19 June to 12 September 2021, and then it will be displayed at the Philadelphia Museum of Art from 9 October 2021 until 2 January 2022.
Featured image: Emma Amos - Targets, 1992. Acrylic on canvas with African fabric borders on linen, 57 × 73 1/2 inches. Amos Family, courtesy RYAN LEE Gallery. All images courtesy Georgia Museum of Art.