There are so many amazing features of sculpture that make this medium simply astonishing. Of course, every medium has advantages and disadvantages, as contemporary sculpture does (take a look at our article about understanding and collecting sculpture). But, the possibility of three-dimensional objects to occupy certain space enables sculptors to create wonderful artworks that introduce to the viewers all the beauty of our surroundings, which we usually do not even recognize. From ordinary things to more complex ones, where conceptuality plays a big role, contemporary sculpture is like a mirror of our reality – transformed into the form of art. At London-based l'étrangère gallery, visitors will soon see gaping mouths, tongues, nipples, orifices and foodstuffs set across a precarious banqueting table, and many other things – all of them beautiful works by amazing British artists Emma Hart and Jonathan Baldock. The show is entitled SUCKERZ.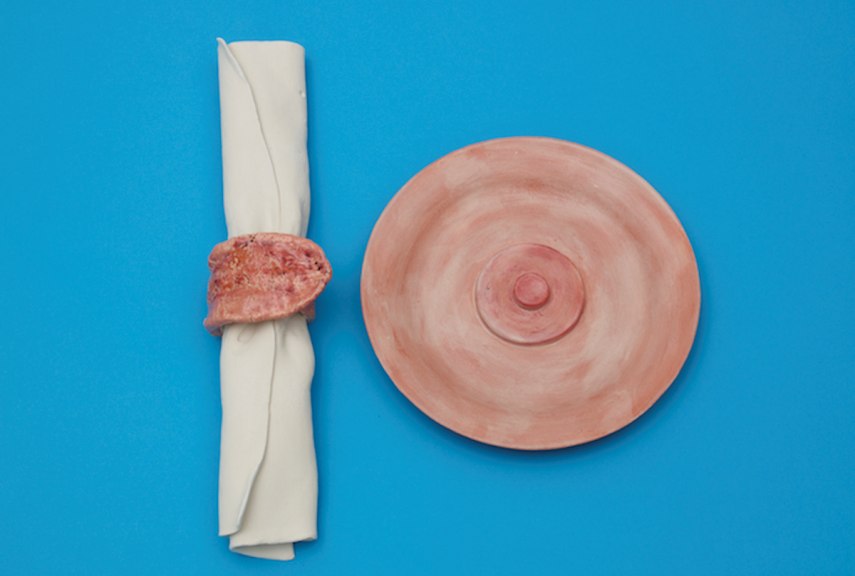 Grotesque and The Physical Body
A preoccupation with the grotesque and its relationship with the physical body is present in both Hart's and Baldock's practices, which often employ ceramics and textiles. The SUCKERZ show will present artists' exaggerated forms in a carnivalesque conglomeration within the gallery: a series of protagonists and props that invite the viewer into the artists' unofficial feast. Therefore, visitors will see mouths, tongues, nipples and anuses occupy the gallery in an agitated display of bodies, orifices and foodstuffs across a messy table. In the back gallery, there will be flows of spaghetti-locks sprouting out of hair scrunches, placed alongside a screen of hand-sewn peepholes. Order and disorder conflate throughout the exhibition with movements in and out of orifices: expulsion and retraction, sucking in and blowing out. The title of the exhibition refers to the flows, passageways and entry-holes that link our inside and outside spaces. The double bind of interior and exterior experience holds the body in a nervous tension whereby an "excess moment" is always possible: a spill here, a spurt there, or an embarrassing remark that betrays the social pleasantries that simultaneously stress and restrain us. Superficially unpleasant, yet beautiful works by Emma Hart and Jonathan Baldock.
Sculpture Practices of Emma Hart and Jonathan Baldock
Emma Hart is a London-based artist who presented exhibitions and performances in the UK and internationally. Her work is characterized by multidisciplinary practice, incorporating video, sculpture, and performance (be sure to check out our list of 10 contemporary female sculptors). Emma Hart's work is marked by an anarchic aesthetic that upends and disrupts the viewing process, and captures the confusion, stress and nausea of everyday experience. Jonathan Baldock graduated from The Royal College of Art in 2005, and he has been exhibiting internationally for years. His preferable medium is sculpture. Jonathan Baldock uses rudimentary technique to explore a contemporary kind of "primitivism".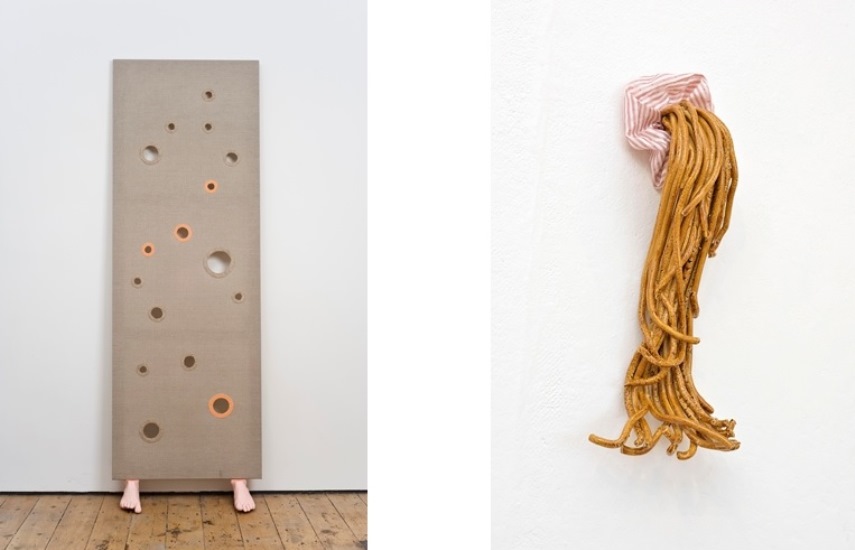 Emma Hart and Jonathan Baldock at l'étrangère gallery
In SUCKERZ show at l'étrangère gallery in London, Emma Hart and Jonathan Baldock are exhibiting together for the first time.  During the show, visitors will be able to see the latest sculptural works by these amazing British artists. SUCKERZ show will be on view from June 25th until August 1st, 2015, at l'étrangère gallery in London. The private view is scheduled for June 24th 2015, at 6:30pm.
Sign up for My Widewalls, and be informed about upcoming exhibitions! It's free of charge!
Featured Image: Emma Hat- Giving it all that
Image in Slider: Emma Hart - Spread, Art Exchange, 2015
Images courtesy of Albany Arts Communications.