Coming from the Greek word enkaustikos which means "to heat" or "to burn", encaustic is the name for both a type of pigmented wax and the process involving heat by which the colored wax is melted and later applied to a variety of surfaces.
The encaustic painting, also known as hot wax painting, uses the heated beeswax to which colored pigments are added, and the results are some of the most interesting and elaborate abstract paintings but more famously the known Fayum mummy portraits from Egypt (produced around 100 – 300 AD), and the icons of the Greek Art, dating as far back as the 5th-century.
Wax is an excellent preserver of materials and it was from this application that the style of encaustic painting developed. The simplest mixture is the adding of the colored pigments to beeswax but other recipes suggest the application of other wax, damar resin, or linseed oil. Special metal instruments and brushes are employed to shape the liquid or paste before it cools down, and today, the process of melting the wax is made easier with the help of heat lamps, heat guns, irons, and other methods of applying the heat onto the canvas, or prepared wooden surfaces. The mixture can be polished to a high gloss but it can be also modeled, textured, sculpted and combined with collage materials.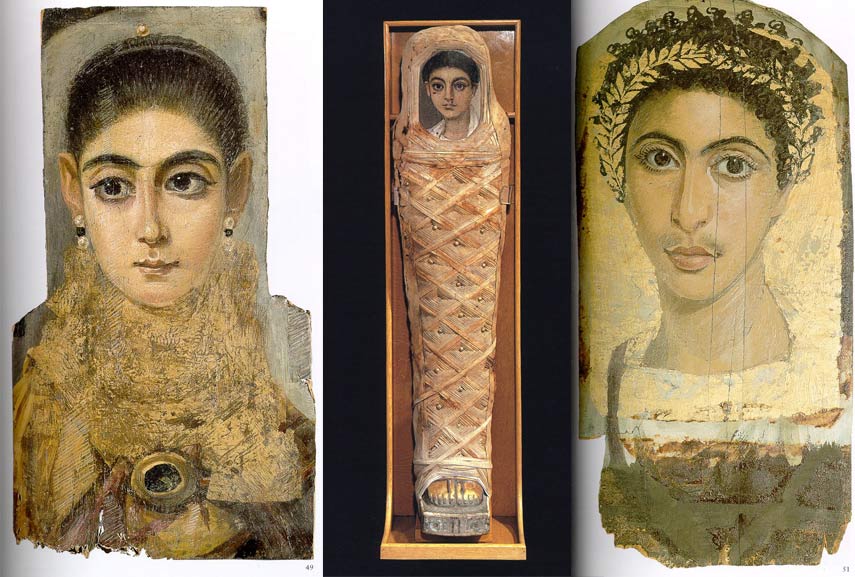 The Origin of Encaustic
Encaustic painting was practiced by Greek painters as far back as the 5th-century. Most of our knowledge about the origin of the hot wax painting comes from the writings by the Roman scholar Pliny the Elder, who in his Natural History from the 1st Century AD described the technique. It is suggested that Pliny lacked the practical knowledge about what it actually takes to work with wax and pigments in the artist's studio, but nonetheless, his accounts about the method are the earliest recorded ones. From him, we also learn about the variety of applications and we learn that the method of heating the wax was also applied in the paintings of portraits and different mythological scenes on panels, for the coloring of the marble and terra cotta, and work on ivory. In his writings, Pliny even mentions the application of coatings of wax and resin to waterproof the ships and to also produce decorations for the warships, and in his text, he refers to two painters that started their career creating elaborate decorations as ship painters. There are also records, which show the existence of this process in the architecture and monuments of Greek antiquity that are today white but in their glory days colored with wax.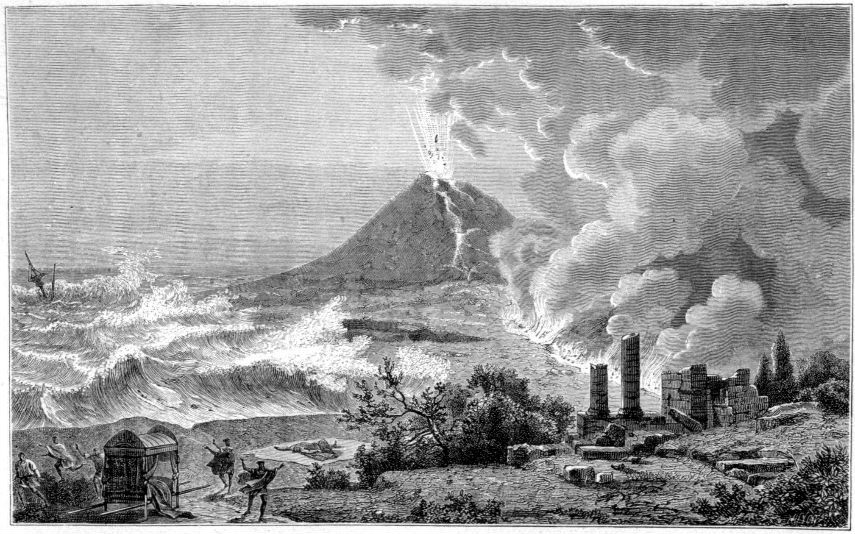 The Magic of the Fayum Portraits
The hot wax painting, as mentioned above, was notably used in the Fayum mummy portraits from Egypt as well. This modern term is given to a type of naturalistically painted portrait on wooden boards attached to mummies from the Coptic period. The images are a part of a long tradition of panel painting that was regarded as the highest form of production in the Classical period. The painted portraits covered the faces of the mummified bodies prepared for the burial, and as they are today detached from the mummies, represent examples of this highly regarded civilization, which, in terms of artistic tradition derives more from Graeco-Roman than Egyptian traditions. It is also important to point out that two categories of these portraits exist, the ones created with the adoption of encaustic and the other, with tempera. The wax method actually rivaled the application of tempera. As much as tempera was faster and a cheaper process for the production of the portraits and also for portable easel paintings, the wax allowed for a better finish and manipulation of the surface and made the finished work startlingly life-like.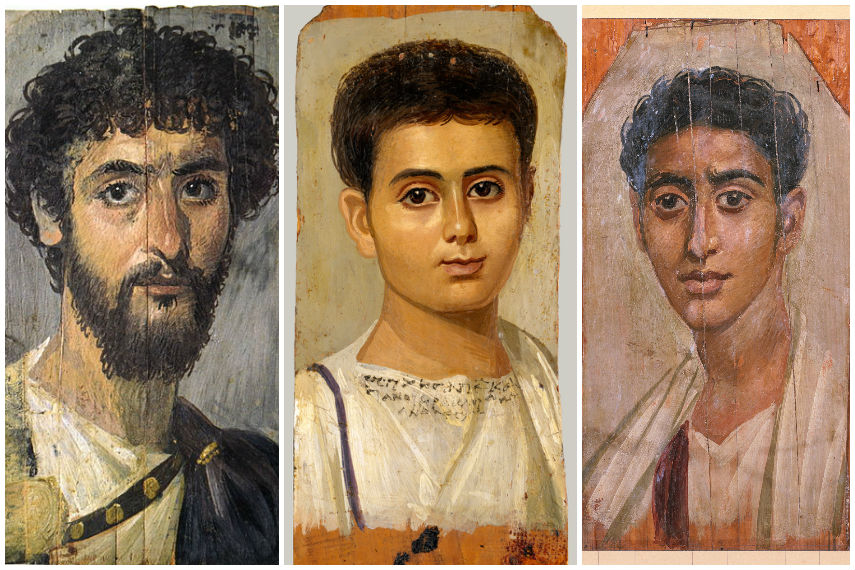 The Modern Day Encaustic
After the decline of the Roman Empire, encaustic fell into disuse. Some work, particularly the painting of icons, was carried on as late as the 12th-century but for the most part, it became a lost art. The revival is seen in the 18th-century, used mostly by amateur painters to rediscover the technique of the ancient authors, while in the 19th century it helped to solve the dampness that mural painters faced in northern climates. In the 20th century, Fritz Faiss, a student of Paul Klee and Wassily Kandinsky at Bauhaus, accompanied by Dr. Hans Schmid, rediscovered the technique and improved it, raising the temperature of melting from 60 to 100 °C. In the early 20th-century modern art, the experimentation of approaches to the painted surface showcases the manipulation of wax, dust, sand, nails, cloth, and other materials in the non-objective art.
Today, we see a rise of this technique used by amateur artists and lovers of the arts and crafts, as well as by the various contemporary artists. The portable electric heating devices and the variety of tools, as well as the development of materials, make the heating process much easier and to a certain degree more playful, even though the technique is not an easy one to master. Today, there are also a variety of different examples apart from paintings on canvas or wooden surfaces that showcase the rise of interest towards this tradition. Different materials such as paper, card, and even pottery are decorated with complex design patterns or images produced by the encaustic. The dimensional quality and luminous color and the "Its effects, its visual and physical properties, and its range of textural and color possibilities make it eminently suitable for adoptation in several different contemporary styles of painting that are not adequately served by our traditional oil-painting process."
Famous Encaustic Artworks
Although encaustic painting is not often discussion in the literature dedicated to the story of art, it has nevertheless had an important role throughout its course. As a method, it hasn't gone through much change, but it did evolve stylistically over the centuries, adapting to the needs of its time and surrounding culture. Between the Middle ages and the 18th century, this form of production lost its presence and could only be traced in the artworks remaining from the past; painters turned to other media and techniques, such as tempera and fresco, as they were easier to implement and did not require the application of fire. In Constantinople and Russia during the Medieval period, however, encaustic was apparently used for the painting of icons, while it is also believed that authors like Lucas Cranach and Andrea Mantegna employed it in a selection of their Renaissance artworks as well. The revival of encaustic started with the discovery of artifacts from Herculaneum and Pompeii (c. 79 B.C.) in the 18th century and the Fayum Portraits in the 19th century. Finally, it culminated in the practice of one great innovator of the last century - Jasper Johns. The little-known origin of encaustic wax painting can be followed through its most famous artworks, from ancient times to the most recent contemporary pieces.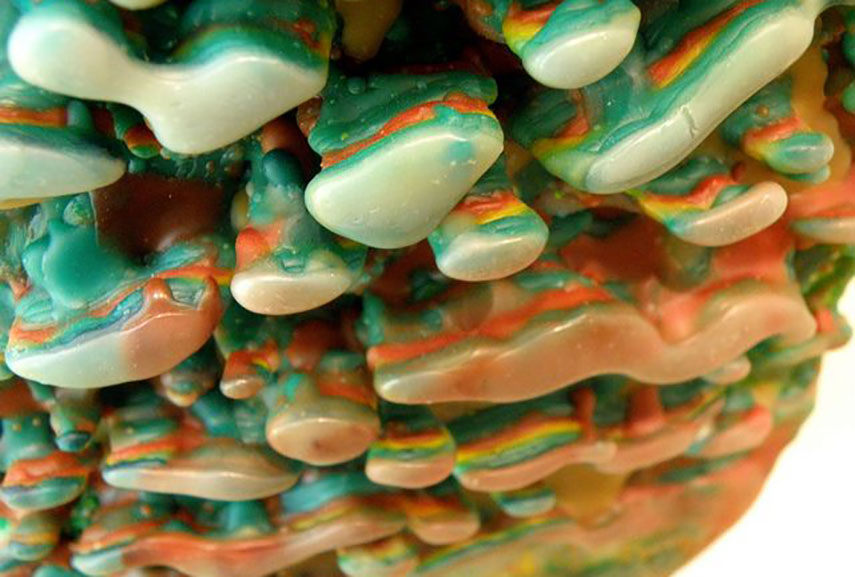 The Fayum Mummy Portraits
Their discovery in the 19th century was a true revelation. Probably the best known of all encaustic artworks have to be the Fayum funeral portraits, dating back to the 1st and 2nd century AD. Attributed to the Greek painters in Egypt, which arrived in the Faiyum basin after it was conquered by Alexander the Great, these portraits were painted in the prime of life or after death. They were placed over the person's mummified body (also a practice adopted during that time) as a memorial, and lasted as a funerary custom for about two centuries, until Egypt was taken over by the Romans. Heavily influenced by Greek-Roman painting, rather than the Egyptian one, they usually showed the head and the upper chest of a person viewed frontally. When they were discovered, the scientists were in awe of their almost perfect quality, as their color has remained as fresh as if it were painted most recently.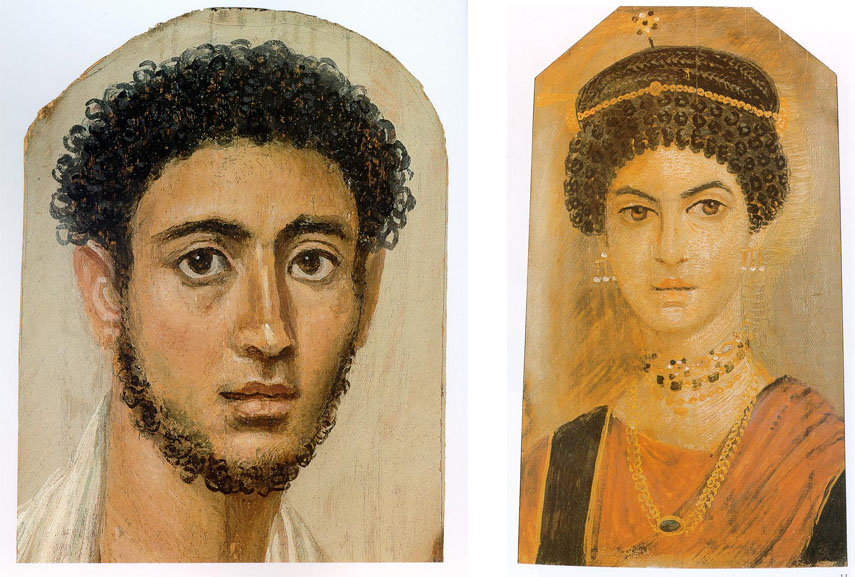 The Blachernitissa
Theotokos of Blachernae, or Our Lady of Blachernae, or simply Blachernitissa, is a 7th century encaustic icon depicting Virgin Mary and her child. It is quite unusual among Orthodox icons because it's not flat, but is formed in bas relief, using wax combined with the ashes of Christian martyrs who had been killed in the 6th century. The work was lost between 1434 and the mid 17th century and it is considered one of the most important portraits of its kind even today. Described by many as "outstanding" for its bodily form and remarkable relief, the painting was restored a few times, which made it harder for the experts to determine its exact age, although they are reasonably certain that it is "of ancient date". Today, the Blachernitissa is being held by Moscow's Tretyakov Gallery.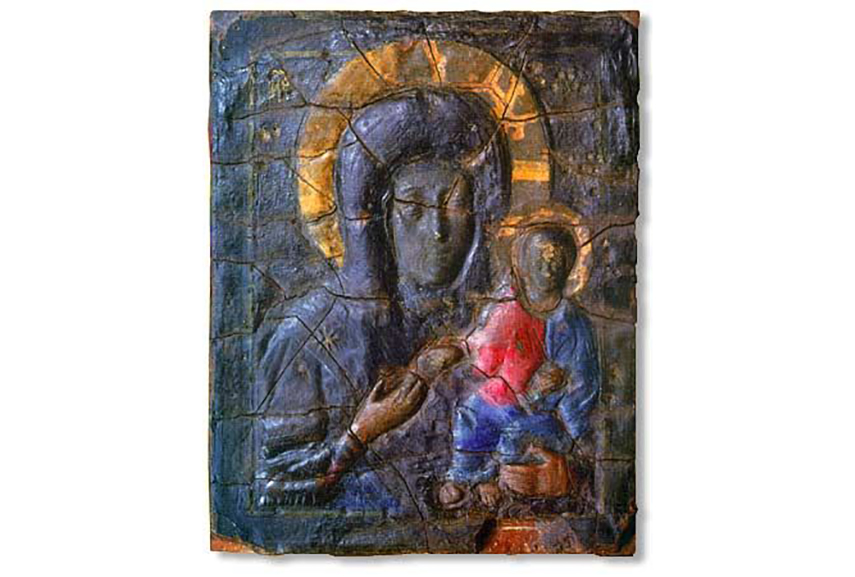 James Ensor - Fireworks, 1887
James Ensor was a major figure of the Belgian avant-garde of the late 19th century and a forerunner of the Expressionism movement. Although he was an atheist, he often explored religious narratives, political satire and carnivalesque imagery, of which perhaps his 1887 Fireworks is an example. As we are talking about a painting from the later 19th century, we can conclude that the artist was influenced by the reappearance of encaustic as a medium and he began experimenting with it. This artwork is very likely his only piece which uses this form of painting, and it seems to have helped the artist's intention to emphasize the brightness of fireworks, whose transient nature he managed to immortalize through a durable material such as wax.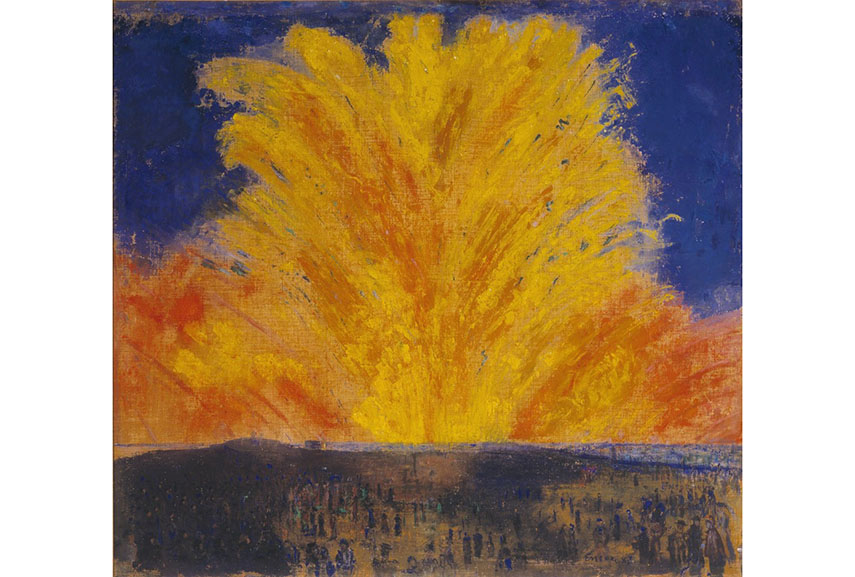 Diego Rivera - Creation, 1922-23
That encaustic could be used for mural paintings as well proves this piece by Diego Rivera, created for over a year and covering approximately one thousand square feet of a wall of Escuela Nacional Preparatoria of the San Ildefonso College in Mexico City. It was the very first government-commissioned artwork for the famous muralist and it revealed his rebellious, communist side as well, which would remain one of his most emphasized aspects for the rest of his life. The mural was done in encaustic and gold leaf, both of which he abandoned in favor of fresco. Truth be told, Diego Rivera was never very fond of this particular work, as he described it "too Italian" - perhaps precisely because of the encaustic? In 1931, however, he used encaustic again, for a painting on canvas entitled Flower Festival: Feast of Santa Anita.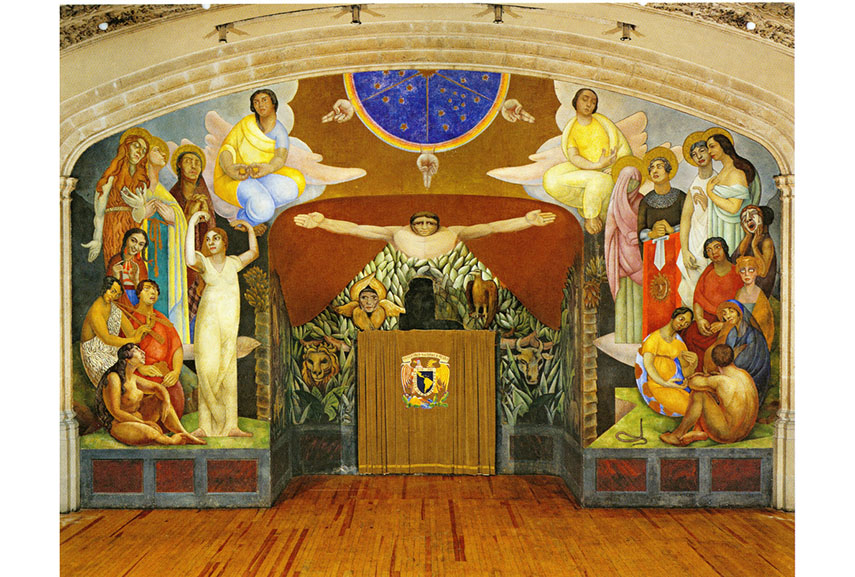 Jasper Johns - Flag, 1955
Perhaps it is due to the fact that encaustic was quite a difficult and cumbersome painting material that it wasn't overly popular with creatives - yet Jasper Johns found it to be a unique experience. His foray into the technique seems to have begun in the early 1950s, and although Flag is his most famous artwork executed through wax painting, it is the 1954 Star that is his actual first. A curious mind, Jasper Johns experimented with different painting methods and tried to beat the slow-drying nature of his oil paints by mixing beeswax with tube paint and melting it on a hot plate. For Flag, he went to create numerous layers of paint, encaustic, newspaper and collage one overlaying the other, first dipping strips of newspaper into wax, either pigmented or clean, and adhere them to the canvas with the same medium. Then, he would apply strokes of wax with brushes and palette knives to create different textures on the surface, thus turning the medium into an integral part of the piece. In fact, critic Jonathan Jones came to describe Flag as "a monument: the flag mummified", citing the artist's inspiration from the aforementioned Fayum mummy portraits. Between 1954 and 1958, as well as during the 1980s, Jasper Johns continued using encaustic in his practice, and often as a "mask" of his many compositions - this helped him simultaneously shield and reveal parts of his pieces.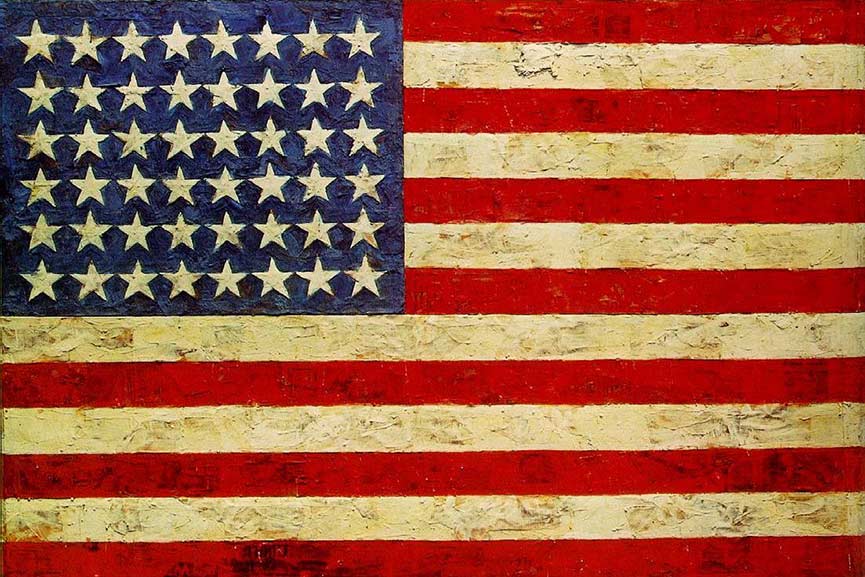 Lynda Benglis - Tres Memoria, 1969-70
American artist Lynda Benglis began experimenting with encaustic in the 1960s, in part inspired by Jasper Johns and his dedication to wax. She purchased the material from a lipstick company and mixed it with dammer resin crystals and powdered pigments, possibly becoming the first to apply this particular formula. Between 1966 and 1975, she gave life to a group of paintings that became seminal among those celebrating strong female sensibility, as they followed the early works which consisted of wax layered into sculptural forms on masonite. Tres Memoria, which you see here, represents one of Lynda Benglis's smooth-surfaced encaustic paintings executed on narrow, vertical supports using multicoloured liquid wax in even brush strokes, which she then manipulated with a blow torch to obtain a marbleized color effect. Part painting and part sculpture, these works all follow the same format, determined by the width of the brush and the length of the artist's arm.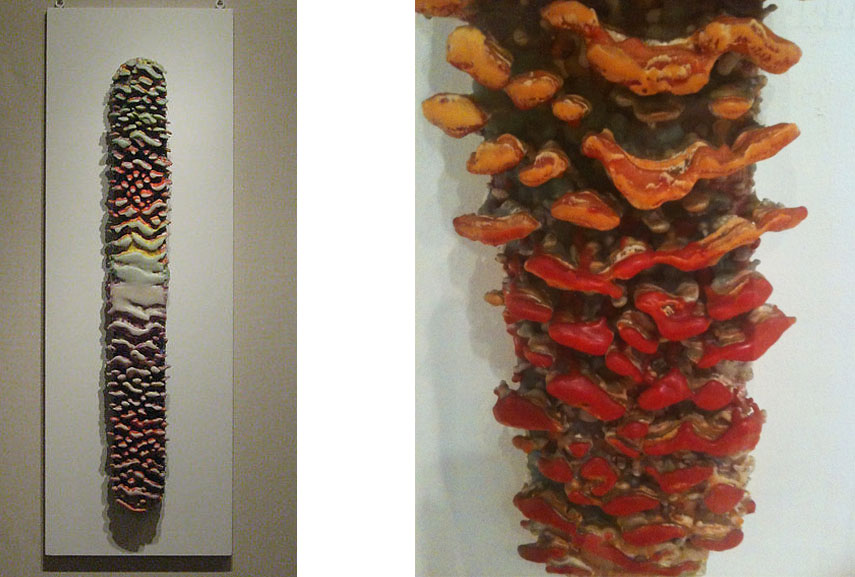 Tony Scherman - The 1789: Napoleon and the French Revolution Series
Over the years, contemporary artist Tony Scherman proved to be one of the most successful practitioners of encaustic painting. His subject matter ranges from animals, food, flowers and, particularly, figures drawing from ancient stories, mythology, popular culture or literature. His most famous series to date surely is 1789: Napoleon and the French Revolution, for which he created "forensic portraits" of the French leader facing a mirror during various stages of his life. For Tony Scherman, encaustic provides an opportunity to achieve subtle, yet gritty atmosphere, soaked in depth of both space and thought and a certain lushness that adds even more quality to the whole picture. As such, his artworks recall the masterpieces of the Old Masters with a modern twist, something that is clearly present in his project featuring actress Gillian Anderson as the central figure in Gustav Flaubert's Madame Bovary.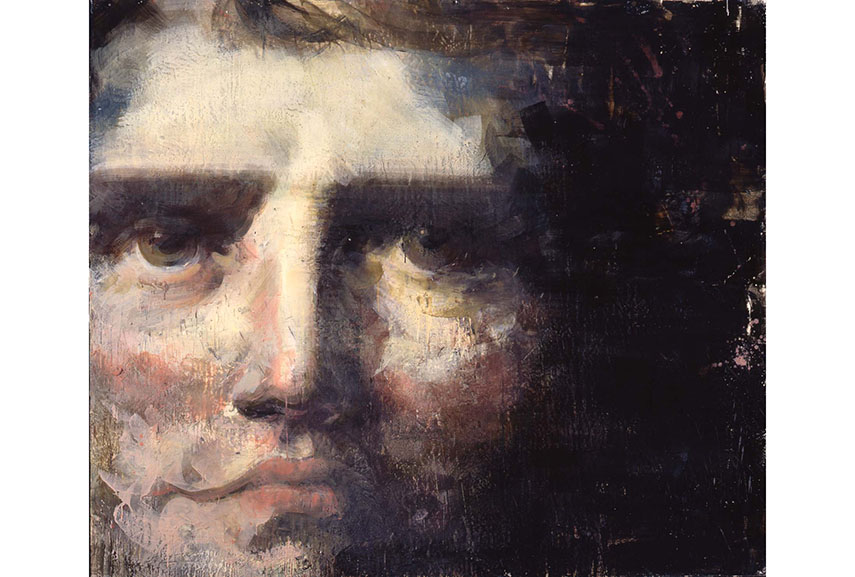 The Encaustic Painting Technique
There is a number of guides on mastering this beautiful yet demanding medium. Working with wax in order to produce a creative product is not easy, but we will try to bring you closer to technical sides of this method. The encaustic practice involves the application of hot wax to wood panels typically layered to create more opaque or translucent effects. Each of these layers can also be scraped, textured or polished for a variety of finishes. The wax itself is a very sensual medium to work with, and authors can incorporate their own style to get some stunning results. Encaustic involves materials such as wood blocks, wax, electric hot plate, scratching and scraping tools, coloured waxes, fusing tools such as small heat gun or propane torch, natural bristle brushes, coloured encaustic materials, and other media of your choice that you would like to combine.
You first start off by melting the wax into a hot plate until it is liquid. A heated palette is an essential element that provides a surface for heating and mixing encaustic paint and mediums, but other options include electric skillets, crock-pots or electric griddles. The simplest encaustic paint could be a basic mixture of beeswax and an earth pigment, but there are numerous types of waxes you could apply that have their own unique transparency, heat curve and character. There is a wide range of coloured waxes you could use, but you can also add colour and pigments yourself to colourless ones for more nuanced results. There are also different resins you could manipulate with to control final working qualities such as the melting point, flexibility, hardness, adhesion or durability. Layers of melted wax are applied with natural bristle brushes only, as synthetic ones would certainly melt. In order to familiarize yourself with the method, you would have to feel how it behaves on the surface and play with it. Each layer of paint is fused in order to get adhered to the surface, and it can be done with either indirect method such as a heat gun or a torch, or direct one such as a tracking iron, spatula, heated brush, plaster tools, paint knives, etc. Once you get some layers down, it's fun to play with it and texturize it to your liking. You can apply various mark-marking tools and methods such as etching, wood carving dental, sculpture or clay working tools. This is just a beginning, and once you get accustomed to these basic steps you can include various other methods and approaches to create some stunning works that reflect your personal style.
Learn More About the Encaustic Process
Encaustic in Contemporary Art
In the past decades, we have been witnessing an encaustic renaissance of sorts. The development and accessibility of modern heating tools that have substituted a long and complicated heating process and made it much easier remain very important factors for the rising interest in this ancient technique. Contemporary authors have realized the full potential and creative possibilities by the application of heat to transform the structure from a solid to liquid without losing anything but only relaxing it into a workable state. Being a tremendously versatile medium that lends itself to all styles of the genre, it combines painting, printing, collaging and sculpting.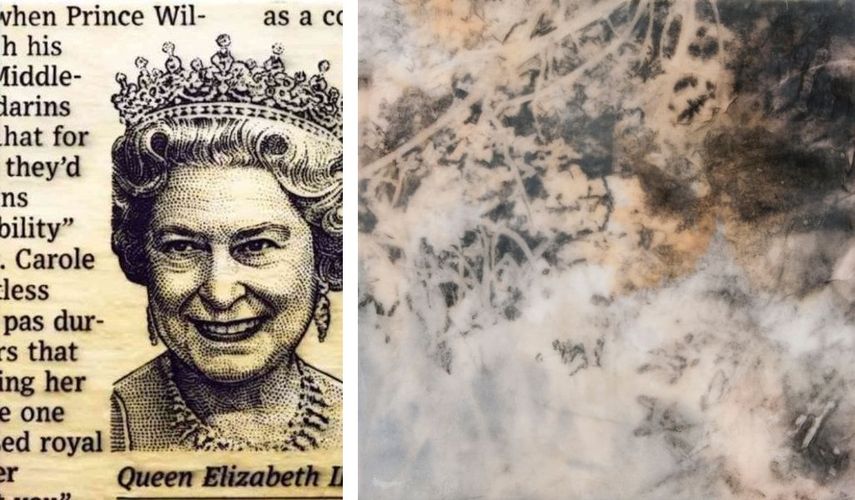 Contemporary Authors Working With Encaustic
Contemporary encaustic works exhibit a wide range of styles and imagery. Contemporary painters employ an exciting array of approaches, methods, and exploration into unexpected combinations of encaustic and a surprising variety of other materials. During the 1950s and 1960s, Jasper Johns was one of the first creatives who managed to create encaustic artworks that entered the mainstream. He created a flag series of encaustic paintings that generated a lot of attention and brought this medium closer to the forefront of the artistic community. Featuring simple schema designs such as flags, maps or letters, he became one of the most widely exhibited painters of our time. Today, there is a significant number of acclaimed artists experimenting with the medium. Works by Jean Lebreton are an excellent example of a remarkable combination of contemporary and ancient methods. Following a long career in photography, Lebreton revealed the encaustic and started applying it onto his photographs that were previously developed and glued on wood. Combining several applications, his works are transformed from common images into fantastic creations. The practice of an American artist Robin Cole Smith involves a different approach to this ancient technique. After layering the drawing transmitted onto the wax, it becomes suspended at intervals between layers of beeswax. An interesting thing is that there is no paper involved in the final product. Madrid-born artist José María Cano creates large scale wax paintings based on newspapers cut-outs, photographs, and comics. He is most famous for his series The Wall Street 100 consisted of large-scale portraits of some of the most influential people from an economic viewpoint. An American artist Christopher Kier is specialized in encaustic painting. His sensual and earthy paintings have a sculptural presence and evoke the mysterious qualities of old ruins or archaeological relics. Encaustic oeuvre by a Canadian artist Tony Scherman consists of stunning portraits of historical icons. Imbued both with stoicism and emotion, his portraits explore the volatility of human experience. A painter Janise Yntema is another American artist working with the encaustic medium. Her abstract works that make references towards figuration and landscape are created from numerous layers of translucent applications of pigmented way fused together to create a smooth and glossy finish.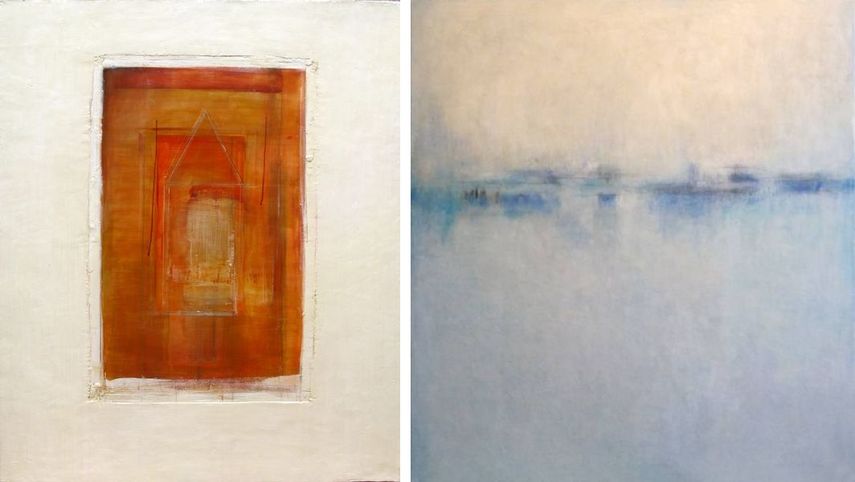 The Myriad of Possibilities
It is somewhat an irony that in the modern age characterized by the advancement of technology, an ancient and demanding painting technique such as encaustic is receiving such a widespread interest. Today, there is a number of annual conferences, trade shows, and organizations that are focused on the vitality of this medium. The commercial manufacture of encaustic paint and adaptation tools is growing, as well as the knowledge of improved practices. Numerous books on the subject are being published, there is a number of technical workshops organized and the medium is studied through various scholarly exhibitions. There are so many reasons why contemporary painters are attracted to this unique medium characterized by the exquisite beauty of the surfaces. Painters are drawn to it for its texture, malleability, quick drying time, stunning and long-lasting colours, as well as its aroma. Also, the luminous effect of light penetrating the transparent layers of wax is one of its most captivating aspects. With remarkable adhesive qualities, it is a natural collage medium and it is a perfect technique to be used in many other mixed media applications such as photography, paper arts, and digital art. Authors can mix their own colours, create three-dimensional textures or smooth surfaces, work in thin transparent glazes of heavy impasto, etc. Possibilities seem endless. It frees up the creative juices and leads to a continuous loop of inspiration. Since the melting process can be somewhat unpredictable and some strange results can occur, it also forces the painter to be flexible and remain open to countless possibilities that this medium allows.
Written by Silka P, Angie Kordic and Elena Martinique.
All images used for illustrative purposes only. Featured image: Encaustic Art Materials. Image via grunewaldguild.com; Faiyum mummy portrait of a young man. Antikensammlungen Munich, detail. Image via wikipedia.org