Eno, whose true identity was unmasked about three years ago in an accidental interview slip, is having a solo exhibition at the Backwoods Gallery this July. As a somewhat controversial artist himself, he got deeply interested into the work of Charles F. Goldie, an early 20th century New Zealand painter, whose oeuvre excelled in depictions of portraits of Maori people, although it was later called out as 'racist'. The exhibition entitled Drawing Blood will showcase a series of work focused on the dogmas contained in the work of Goldie, and subsequently, Eno, while re-examining ideas behind the perception of truth, taboo and the impact of colonization. Drawing Blood is a symbolic, painful and powerful reminder of the rich historical heritage of New Zealand, displayed through a postmodern visual language.
The exhibition opens on July 19 and it will run through July 27, 2014.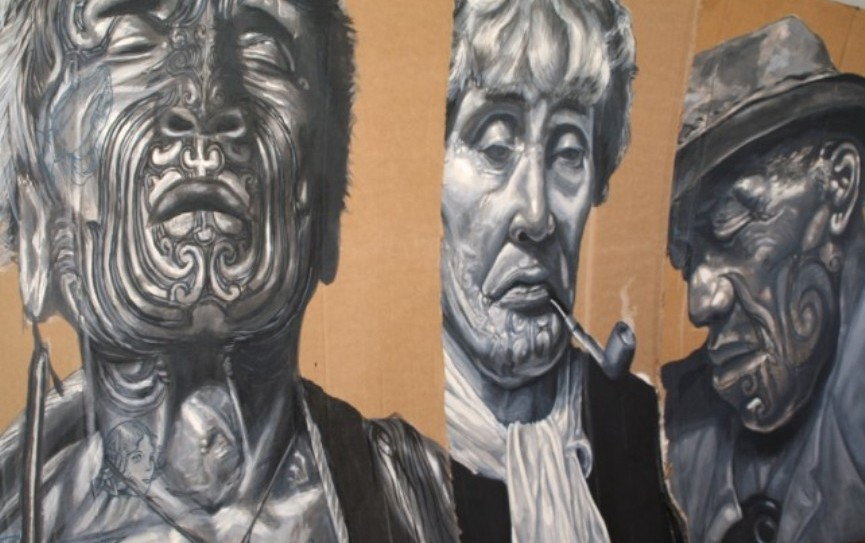 Goldie Controversy
The work of Goldie was often disputed in the art history as not truly artistic or racially insulting. The truth is, his portraits of Maori chiefs, princesses and highly ranked men are definitely not easily slipped into a typical portrait of the early 1900s slot. The problem came from his view of the Maori people, since he saw them, and openly named his work, the dying race, which was, according to Goldie, inevitable due to war and colonization. The artistic quality was disputed, because the late artist often used photography from which he copied, hence creating elaborate anthropological studies, rather than unique works of art. Today, Goldie is generally considered one of the best portraitists in New Zealand of the era.
Eno's series leans of Goldie's portraits in both conceptual and visual sense, attempting to depict the truth, by the means of reinterpretation of serious, elderly subjects, with an intent to emphasize the duality between flashiness of pop culture and honoring the memory of the oppressed indigenous folk.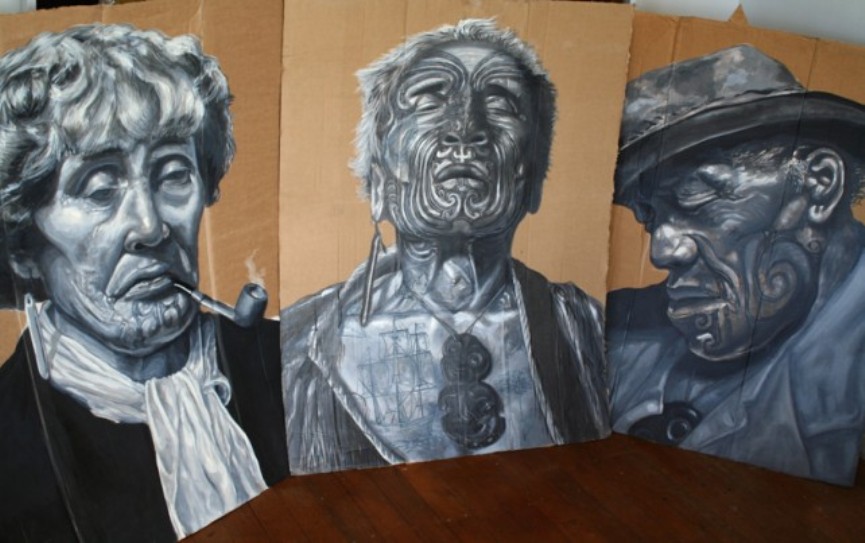 Ta Moko Tattoo
Eno concentrates on traditional facial tattoo markings Maori used to indicate transition into adulthood and social status. These tattoos are called Ta moko - intricate tribals executed through chiseling rather than skin punctuation. Still, Eno's Ta moko are not entirely traditional, they are infused with sailor tattoos, a reference to the destructive influence of the coming European sailors brought to the Maori and their culture. At the same time, sailor ink imagery is a sarcastic remark on the quickly passing trends in contemporary commercialism.
Being a tattoo artist, Eno recently started employing Ta moko, which he introduced into his visual art work as well, thus exploring his own Maori and European heritage.
The young creative is widely known for his street art and large murals, while Drawing Blood will showcase his more contemplative and personal style, with paintings executed in acrylic, tattoo ink, and aerosol. Canvases differ in size, while base of some works is industrial cardboard. Sculptures follow the show, referencing Maori-related imagery of Pataka, traditional food storage units.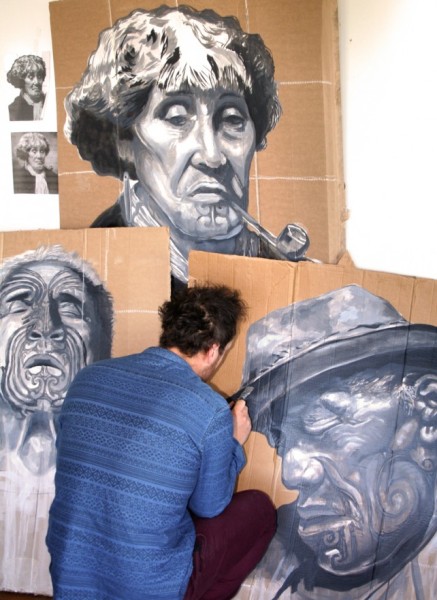 Eno
Eno was born in Wanganui, New Zealand in 1986 as Mikaere Gardiner. His parents were creative artists, so his artistic path was strongly supported from an early age, as was the interest and investigation of the young artist's Maori cultural heritage.
In 2011 his street art anonymity was broken, when Gardiner was a city council employee, getting the young street art vigilante in serious trouble.