A perfect balance of competing influences and countervailing forces, an equilibrium is the fair distribution, the right proportion, the harmony. When it comes to art, it is the perfect distribution of the lines, masses, solids and voids in the composition which the overall arrangement coherent.
This concept of equilibrium has been explored by nine contemporary artists for the upcoming exhibition at GCA Gallery. Simply titled Equilibrium, the show will bring together works on paper by Dotmasters, Dzia, Etnik, Greg Jager, Kurar, Malakkai, Momies, Mr June and Otto Schade.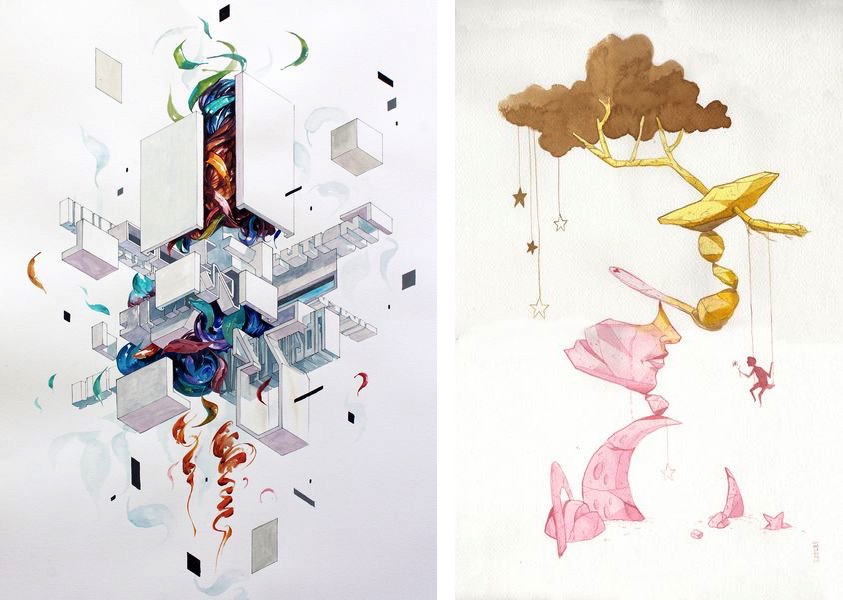 Etnik, Kurar, Momies, Malakkai, and Otto Schade
The works of Etnik are known for their great sense for balance and composition, rendered in a recognizable style through vivid colors and geometrical objects. Featuring floating geometric shapes whose energy starts from a central point and extends outwards, his works in the show illustrate balance as a dynamic state. On the other hand, Kurar defies the laws of Newtonian physics to which we are accustomed, suspending heavy objects in the air by simple fluorescent threads.
Combining different pictorial techniques and different mediums, Momies's work features industrial lines which compose harmonious, abstract modules. While the work of Malakkai is combining poetry, precarious equilibrium and dreamlikeness, Otto Schade combines and fuses distinct animal forms with a precision of his lines and perfect proportions.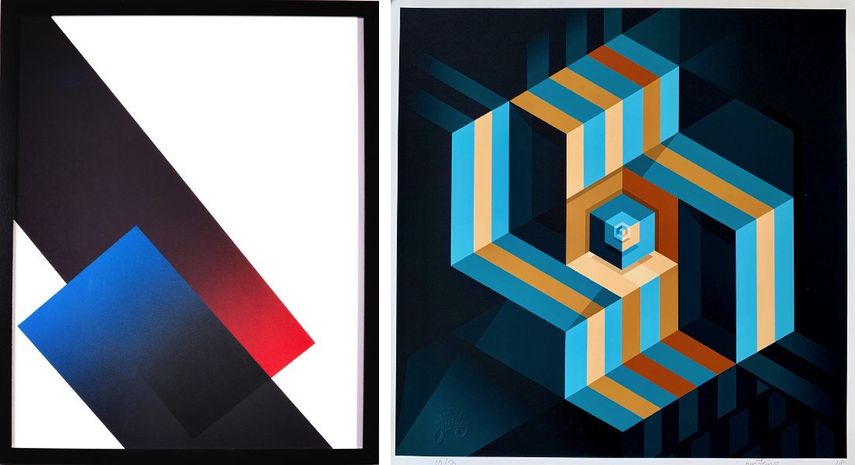 Dzia, Dotmasters, Greg Jager and Mr June
A Belgian street and urban artist known for his animal murals composed of bold abstract and geometric lines, Dzia handles the idea of the bestiary with delicacy and poetry, achieving balance with simple and abstract pictorial artifices. On the other hand, Dotmasters' series Sticke Em Up pays homage to the inventor of a certain type of tape, using his technical prowess in realism in the rendering of carnations, daffodils or tulips.
Greg Jager seeks a balance of shapes and colors according to the influences of the suprematist and constructivist painters, structuring his work around a flat and deep dynamism, while Mr June presents us with colorful and multidimensional works which result from a perfect harmony of graffiti, graphic design and abstract art.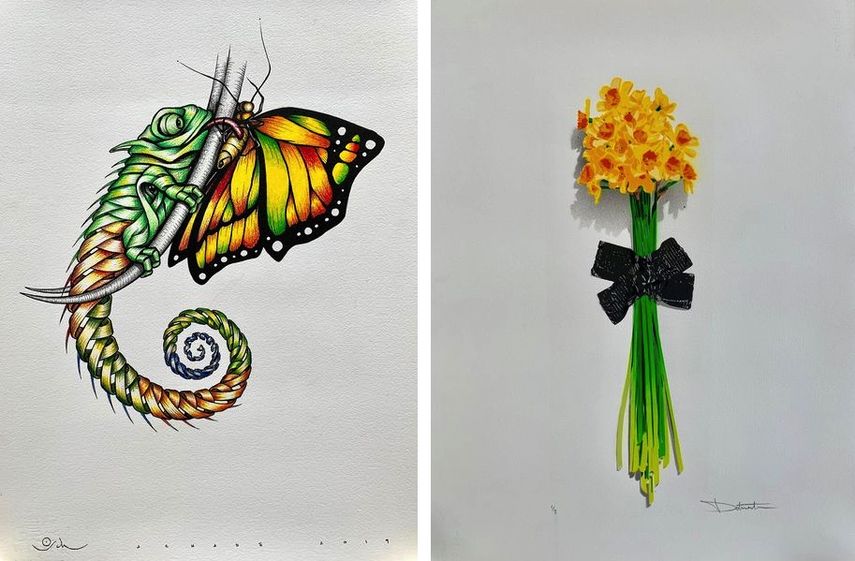 The Group Show at GCA Gallery
Each of these artists, with their creativity and unique sensibility, managed to blur our senses in a subtle way.
The exhibition Equilibrium will be on view at GCA Gallery in Paris from September 19th until November 2nd, 2019.
Featured image: DZIA - The other ivory, 2019. Ink on paper signed in the lower right-hand corner, 21 x 29,7 cm; Kurar - Surpass the war, 2017 - Oil and spray paint on paper, signed and dated in the lower right-hand corner, 70 x 100 cm; Momies - Modules 19.21, 2019. Acrylic and spray paint on paper signed in the lower right-hand corner, 50 x 50 cm. All images courtesy of GCA Gallery.