In the years following World War II, toys were one of the major exports from Japan. The most popular were toy robots, which were constructed in virtually every shape imaginable from the 1940s to the 1960s. Eric Joyner art practice celebrates this fondly remembered period in history. His oeuvre is comprised of whimsical, thoughtful, or even tragic paintings depicting tiny robots and donuts, often placed in outlandish and impossible settings. His latest body of work will soon be on view at Corey Helford, as the artist's seventh solo exhibition with the gallery. Titled Tarsus Bondon Dot, the show explores a variety of activities we do to distract ourselves from everyday life.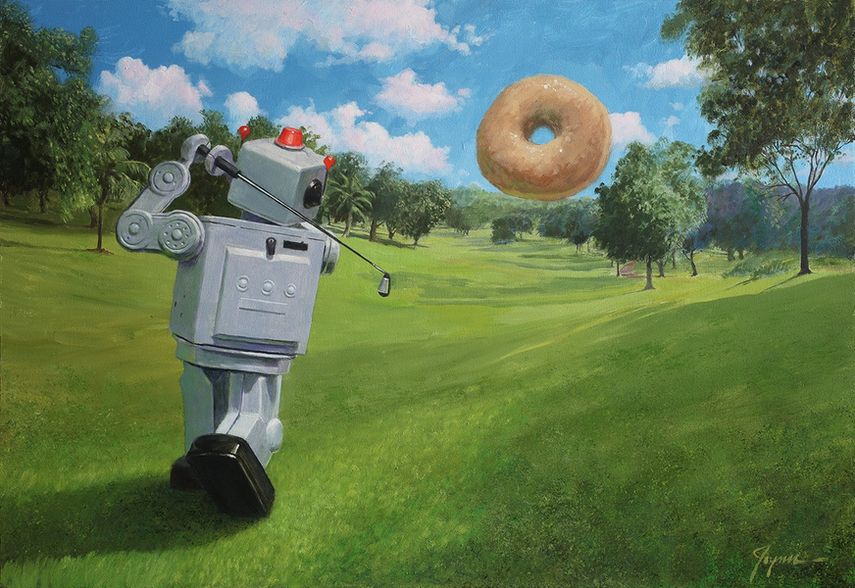 The Practice of Eric Joyner
While growing up in San Mateo, California, Eric Joyner has always been interested in art. After working as a commercial illustrator for a while, he decided to focus solely on topics he liked. Being a collector of Japanese toy robots, he started using them as subjects, often showing them in outer space in an attempt to bring them to life without losing their charm. After watching the movie Pleasantville, he subsequently added donuts to his work, both as objects of desire and adversaries to the robots. In this bakery goods, his robots found an existential contradiction in the deep-fried adversity of the sweet absurd. Exploring surreal sagas of mechanical life in the material world, his paintings are both wild and visionary.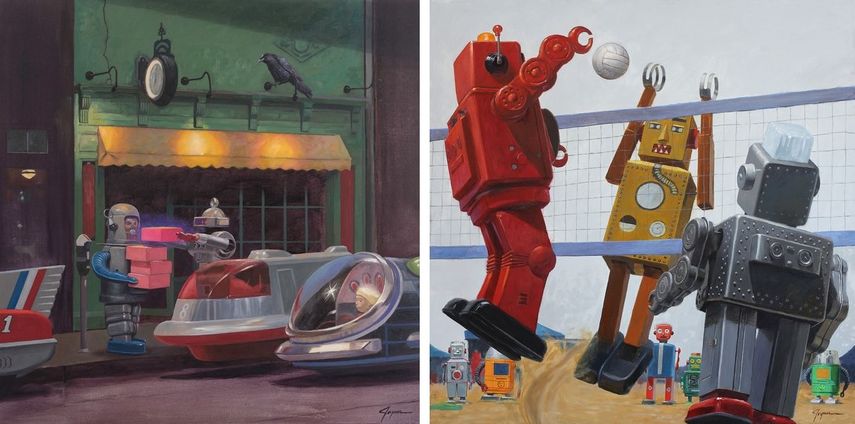 Exploring the Absurd
Through robo-pop narratives, Eric Joyner's saturations of light and color find unexpected meaning with surreal juxtapositions. Thus, the artist often describes himself as a robo-surrealist. Depicting the everlasting conflict between childhood and adulthood as two different realities, he creates a playful harmony between the mix of various cartoon characters. His robots carry a certain vintage vision of the future. While they are sometimes at piece, they often battle with each other, classic sci-fi monsters, or donuts. Rendered with visible brush strokes, the artist transforms his subject into something more organic. For this exhibition, Joyner explores the absurd and reflects on the life around him. As he explains, Tarsus Bondon Dot represents the totality of his life.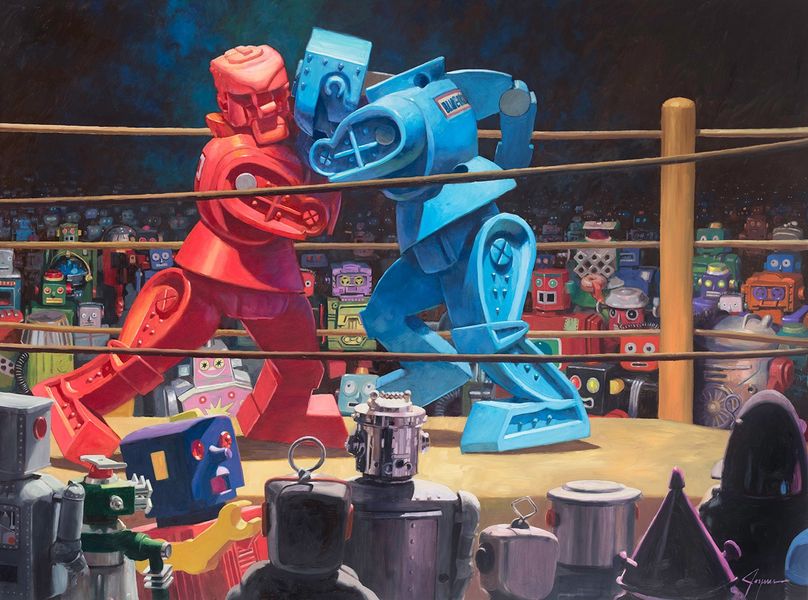 Eric Joyner Art Exhibition at Corey Helford Gallery
The work of Eric Joyner has been shown in numerous galleries and cultural institutions worldwide, including the San Jose Museum of Art's exhibition Robots: Evolution of a Cultural Icon. The exhibition Tarsus Bondon Dot will be on view at Corey Helford Gallery in Gallery 1 from May 6th until June 3rd, 2017. The opening reception will be held on May 6th from 7 to 11 p.m.
Featured images: Eric Joyner - The Raven And The Clock (detail). All images courtesy of Corey Helford Gallery.