Best known for his paste-ups of pretty ladies, the French artist Éric Lacan has an elegance to his style which is seldom seen on the streets. A self-taught artist obsessed with technical improvement, he has conquered the streets of Paris under the alias Monsieur Qui, immediately revealing the extent of his talent. His stunning black and white collages and paintings reflect the dark side of life with embellished skulls, giant crows and ornamented calligraphy, while balanced with beauty and fragile side of it through the faces of enigmatic women. His latest body of work is currently on view at Galerie Openspace, his exclusive representative in France since 2013. Titled Beautiful Decay, the exhibition features around forty paintings on canvas, works in mixed media on wood, cut papers, paper cutouts and drawings on paper.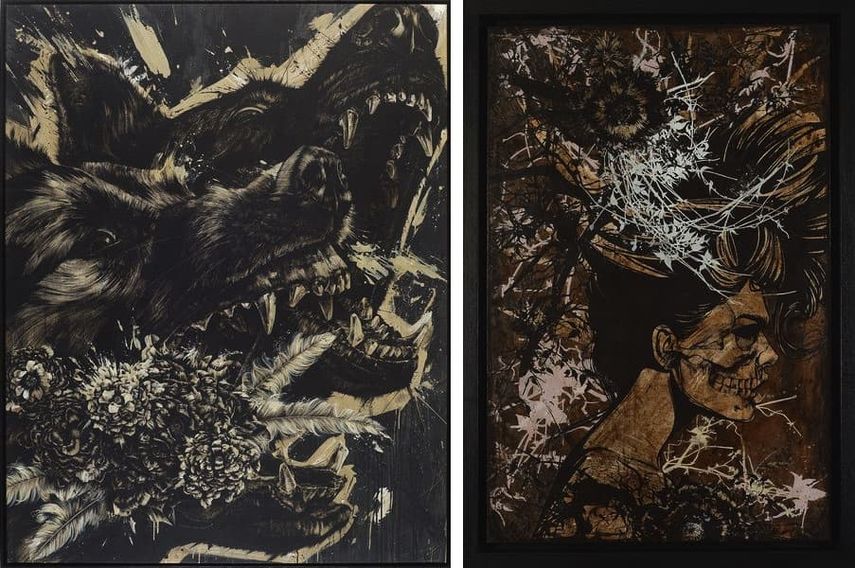 The Practice of Éric Lacan
Starting as a graffiti artist in the 90s, Éric Lacan gradually transitioned into Street Art, but also started exploring painting, paper cutouts and ceramics. His eye-catching pieces are created with grace and delicacy, demonstrating an outstanding sense for detail. Focusing on black as the absence of color and white as the sum of all the colors, he creates expressive and powerful works that are at the same time poetic and uplifting. Drawing inspiration from the history of photography and 19th-century engravings, he is obsessed with the passing of time. Taking a contemporary approach to vanitas, he has forged his own language, finding a balance between portraits and various symbols like the canonical skulls.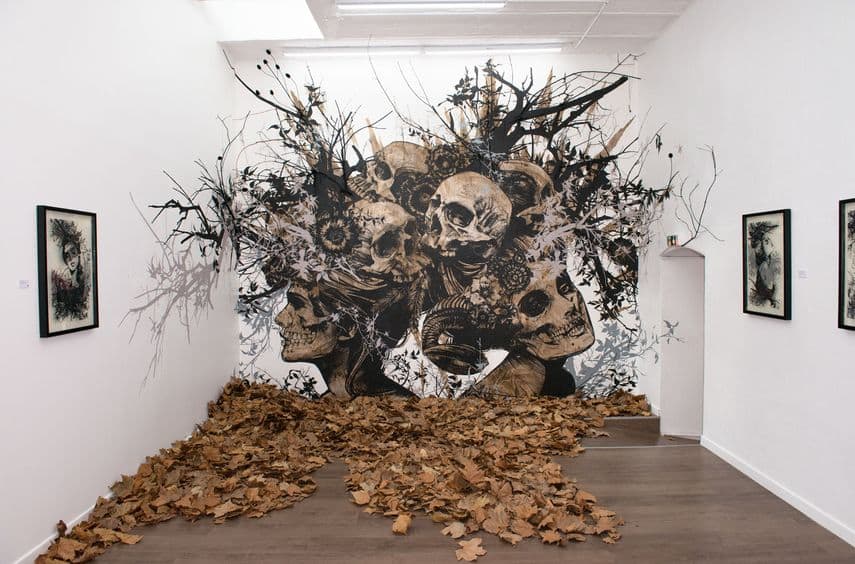 Always Taking a Step Forward
The result of three years of intensive work, the exhibition Beautiful Decay demonstrates his increasing technical mastery and prowess. Using a very small pivoting blade that enabled him to trace lines, upstrokes and curves of the finest precision, he created portraits with hair mingled with foliage, brambles and flowers of a rare fineness. These paper cutouts, that the artist is famous for, consist of several layers of paper he manually assembles, eventually placing them between two glass plates. Depending on the complexity of the work, this meticulous process can take from 100 to 300 hours. With each new work, he takes a step forward and surpasses himself, always raising his standards higher.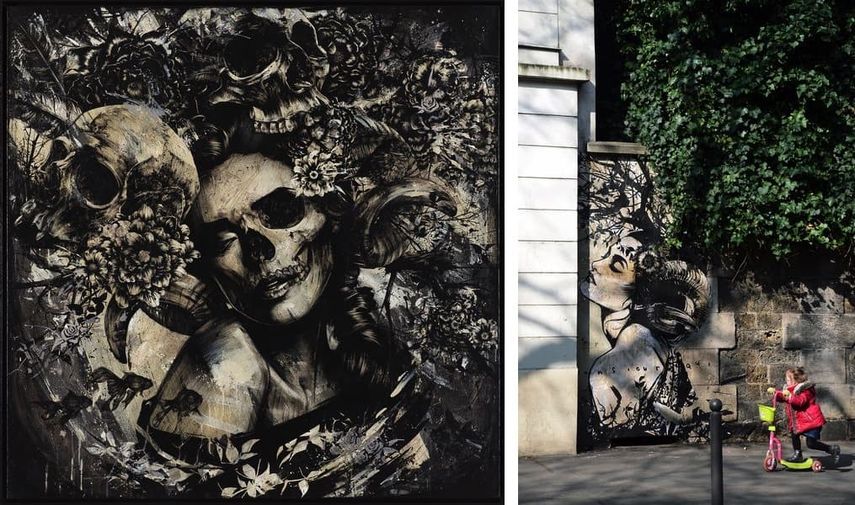 Eric Lacan on His Work and the Latest Show
Widewalls: This is your third show with Galerie Openspace. Can you describe your relationship with the gallery? How did you first come across each other?
Eric Lacan: We met after a random exchange of emails. It was at the end of 2012 and the majority of my work at the time, both collages and paintings, was for the street. However, I was starting to produce some studio work without any precise plans. I was also writing for a blog about graphic arts. In that framework, I heard about Galerie Openspace and I sent them some pictures of my ongoing work. I rather wanted to have feedback from them on what I was doing. A few minutes later, an appointment was set and the adventure began. Samantha Longhi and Nicolas Chenus believed in my work way more than I did. With them, I learned a lot about "after-studio" work. Today it is a relationship of friendship and mutual trust.
Widewalls: How would you say "Beautiful Decay" has evolved compared to "Seventeen Seconds"? 
EL: Seventeen Seconds in 2013 was my first show. I was still shy in my approach. My style was closer to illustration (which was most represented in the street). I was also new in painting on canvas. I exhibited only a few during that show. Since then, my pictorial universe has grown richer and more sophisticated. My visual vocabulary is more asserted. It has evolved to serve a more impacting imagery characterized by darkness sprinkled with humor and irony. I improved my technique in paper cutting, painting and drawing, and gave myself the means to reach real "expressiveness". In some way, I have evolved toward more freedom of representation.
Widewalls: One of the highlights of all your shows has been the site-specific installation for the scenographies. Can you tell us about these?
EL: Neither Galerie Openspace nor I wanted to limit ourselves to exhibiting artworks in a neutral or impersonal setting. With my pictorial universe being already very immersive, our desire was to sensually engage visitors in a whole experience that could not leave them indifferent, whether positively or negatively.
For my last show entitled All Monsters Are Human, we had rented a former antique shop full of quirky books with a funny decoration. This setting in between secret society and sorcery embarked visitors in a fantasized universe.
For Beautiful Decay, we have recreated a real wunderkammer: bones, animal skulls, furniture, surgical tools, teeth etc. It took a lot of time beforehand. We scouted so many antique shops. I designed even the wallpaper of the room where we hung about twenty drawings in vintage frames. This way, visitors remember the story of the installation instead of isolated artworks.
Widewalls: What are the rewards of being involved with so many artistic materials?
EL: I have always liked to go to antique and thrift shops for I am fond of vintage stuff and oddities. I draw a lot of inspiration from them. The conception of this wunderkammer somehow came very naturally.
Widewalls: Because of all the hours you put in your work, your artworks are quite limited in number. What drives you towards the perfection in technique? Do people want more of your work because it's so exclusive?
There are always a variety of levels of reading in my paintings as well as my paper cuts. First, we perceive a subject matter, then a profusion of details channels viewer's attention, and sometimes disturb it. Many different elements and materials that need to be represented with precision: hairs, feathers, bones, flowers etc.
This information needs to be transcribed with accuracy in order to convey a certain sensuality, with rougher and more gestural parts sometimes to create contrasts. Beforehand, my sketches –whether of humans or animals- are very elaborated. Each work is a slow process with many questions and experiments. I also take pleasure in learning while making. Even if my preparatory work is very detailed, the final result always comes as a surprise, because I experiment a lot during my creative process.
Widewalls: Let's talk about "Beautiful Decay". What can the visitors expect here?
EL: The exhibition has been conceived to surprise and startle visitors. I don't want to spoil it. Of course, they'll find paintings, paper cuts and some other novelties.
Widewalls: This year, you've also taken upon anatomic drawing. What has this brought to your practice?
EL: I developed a passion for this more academic approach to drawing. It is almost scientific and therefore very tedious to learn. I have acquired some skills now, which allow me to give more realism and expressiveness to my pieces, and maybe work (a bit) faster.
I'd rather stay humble in front of this discipline since I am conscious I will need years of training to even begin to master it. But how exciting to dive into this world, which might not even have interested me a few years ago!
Widewalls: What will be your next adventure?
EL: In a near future, I would like to do some outdoor paste-ups and paint a few walls. But for the time being, I can't really say much about my future plans. I would like to exhibit abroad, in London for example.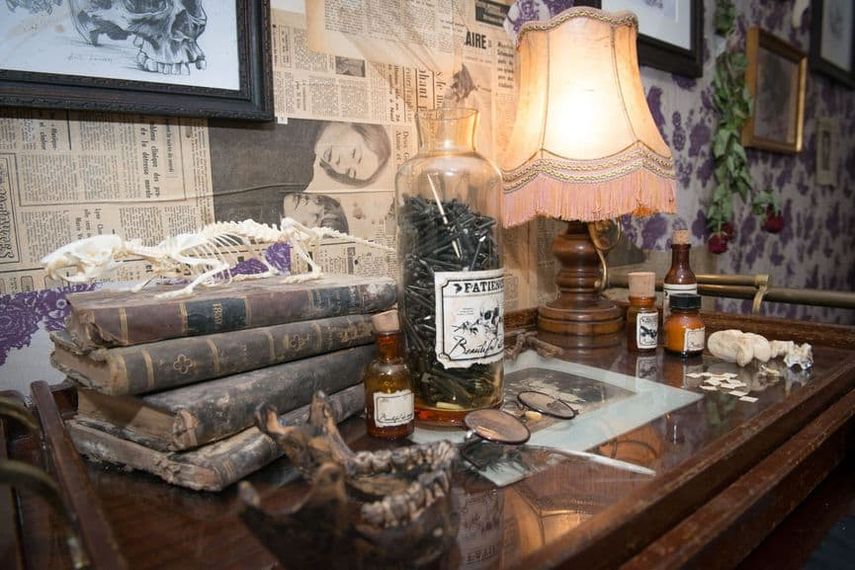 Eric Lacan Art Exhibition at Openspace Gallery
It was Galerie Openspace that first gave now famed Éric Lacan the opportunity to unveil his work. Coinciding with the 5th anniversary of the gallery, this exhibition is a major event on Paris art agenda and much awaited by collectors. Marked by a strong scenography, it will be exceptional and full of surprises. The exhibition Beautiful Decay will be on view at Galerie Openspace in Paris until October 7th, 2017.
Featured images: Éric Lacan - Beautiful Decay; Sete; Paris Mural; Collage bois de vincennes; Beautiful Decay. All images courtesy of Galerie Openspace.