One of the finest representatives of New York art scene, Erik Jones will exhibit his latest work at Dorothy Circus Gallery in Rome. In Color exhibition will contain more than 15 artworks that revoke the best dripping paintings from the fifties. Although deeply influenced by the abstract masterpieces of artists such as Jackson Pollock and Willem de Kooning, Erik Jones goes beyond the Action Painting heritage, and enters into hyper-contemporary art field where figures, geometric and abstract shapes reside side by side.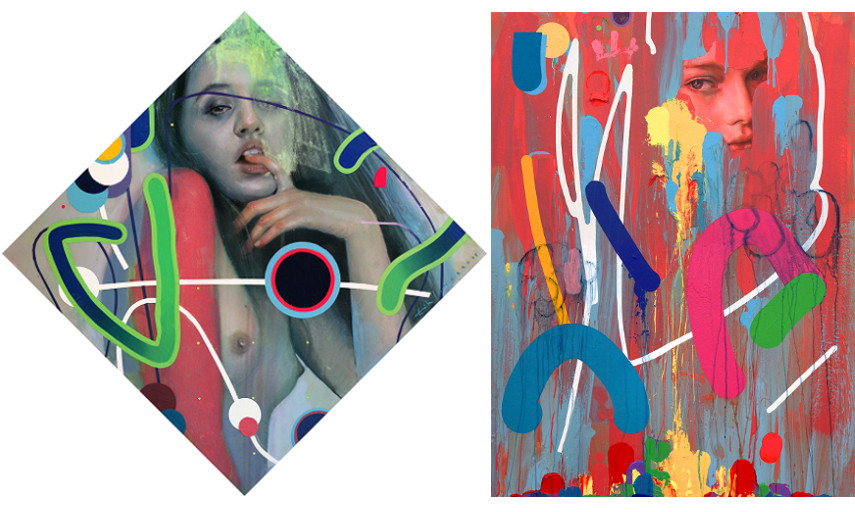 Erik Jones Exhibition Brings New York Art Scene to Rome
Erik Jones is an American artists focused on Contemporary figure painting as well as Abstract and Space art. His stunning female subjects are juxtaposed with abstract forms that mimic geometric contemporary fashion designs. The artist uses multiple media such as watercolor, colored pencil, acrylic, water-soluble wax pastel and water-soluble oil applied on paper. The process begins by airbrushing the watercolor onto paper. This primary color serves as a base for the figure, that's portrayed with the use of water-soluble wax pastels and colored pencil. Graphic shapes are created with the skillful application of acrylic and wax pastel and that is how the artist produces his fantasy-like artworks. However, despite their dreamlike appearance, Erik Jones works are real, placed on canvases in front of the viewers, that suddenly find themselves faced with the artist's genuine characters.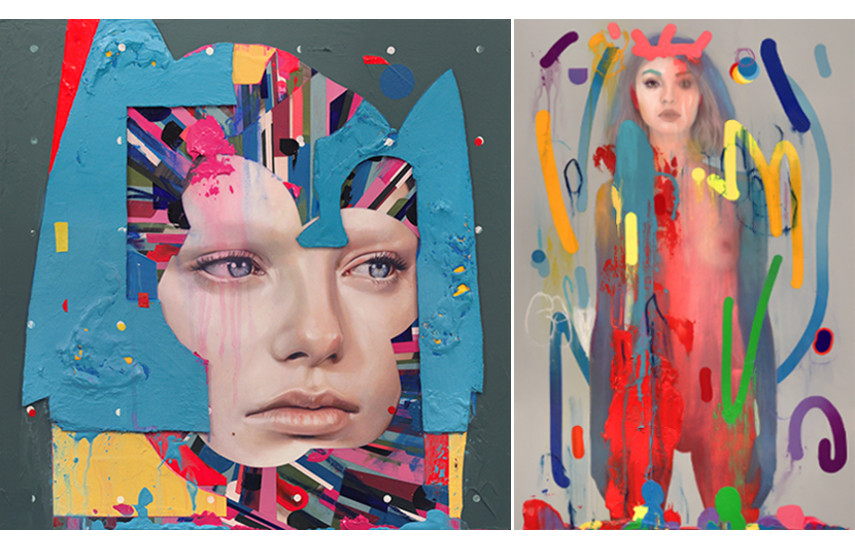 Seductive Subjects Submerged In Colour
Erik Jones portraits represent celebrations of beauty and fireworks of color, that surround the figures thus creating the atmosphere of spirituality and romanticism. The artist revives his abstract forms by establishing a complex relationship between the background and figurative subjects. Vivid characters emerge from a flood of colors, as the artist emphasizes the juxtaposition between the melancholic look of these subjects and the fresh, lively framework of the paintings. Erik Jones dresses his muses in geometrical shapes, but leaves their faces uncovered in order to create a visual connection with observers. And although their bodies are hidden among numerous layers of paint, the harsh stare in their eyes reveals their strong presence. Cute, yet determinate appearance of Erik Jones' female subjects, captivates the viewers attention and pulls them into the limitless universe, where blank space is abolished. These women, that are depicted as hyper-realistic figurations seem to live and breathe as symbiotic organisms.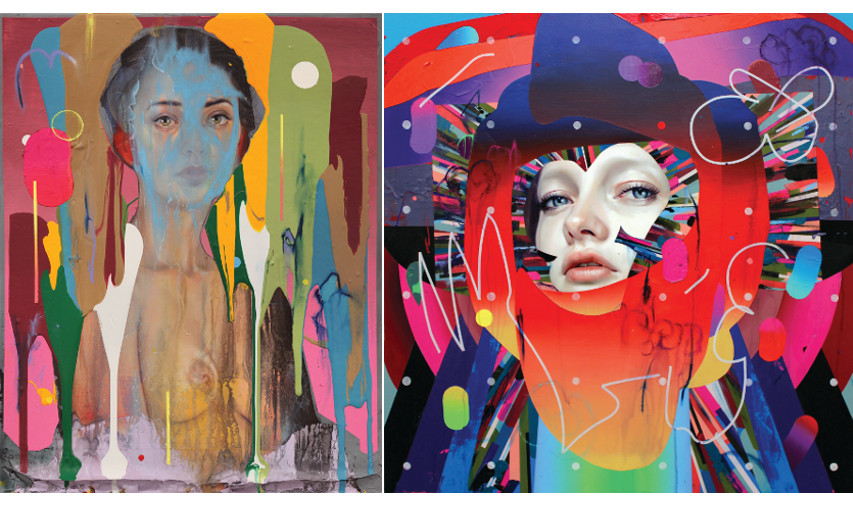 Hyper-contemporary Artworks at Dorothy Circus Gallery
In Colour exhibition of works by Erik Jones will be on view from October 24th, till December 1st, 2015. This will be the first European solo show for the American artist who will be present at the gallery during the exhibition. The visitors of Dorothy Circus Gallery in Rome will notice a slight change that separates this particular series from his previous works. Erik Jones' latest artworks contain digital qualities with a touch of innocence and a childlike naivety, evident in the approach.
Color your life with numerous shades and make sure you sign up for My Widewalls for FREE!
Featured image : Erik Jones in His Studio
Images courtesy of Dorothy Circus Gallery