An Illinois-based artist, Erik Jones is known for works that involve an amalgamation of realistic subjects and colorful opposing markings, which is achieved through various mediums such as watercolor, colored pencil and acrylic. For him, the human body is a medium between him and his audience and the effect of paint in a variety of textures and effects is a performance in and of itself.
The artist continues his investigation of the figure, form and composition, intermixing elements of hyperrealism and geometric expressionism, in his second solo exhibition at Hashimoto Contemporary. Titled Country, it will bring six new paintings which feature subjects rendered in a hyperreal aesthetic, enshrouding them within a colorful swell of shapes, color and form.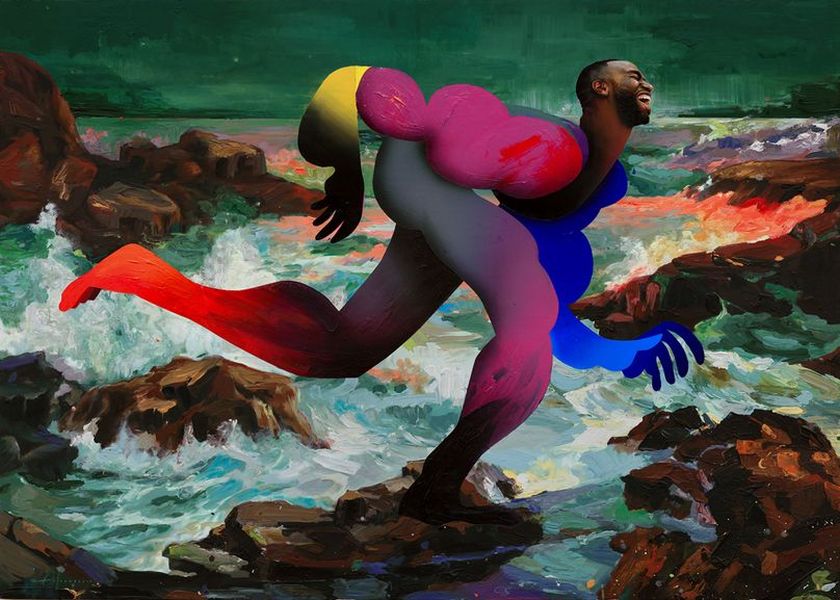 The Practice of Erik Jones
Vibrant and colorful, Erik Jones' work expresses a heightened sense of realism, juxtaposing his subjects with sporadic mark making and non-representational forms that could be said to mimic geometric high-end fashion. Hyper-realistically produced, each detailed and intense beneath a bath of paint, these subjects wander in a world which permits both reality and abstraction to coexist.
Jones' work is influenced by pop art and fashion, particularly fashion photography. The carefully detailed human form is clothed by a conglomeration of dense, bright colors and geometric shapes. These creations are plucked from his own creative fathoms, placed on canvases and paper with skill and thoughtful revery. The result is the work which is an elegant dance of color and form.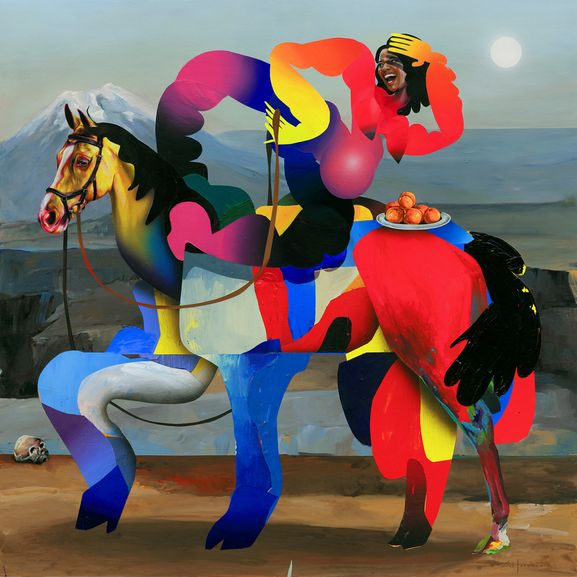 Contemplating the Concepts of Kitsch
Inspired by his recent move to Illinois, and the outsider and folk art he encountered there, Jones created a new body of work which contemplates the concept of kitsch. Drawing from various Internet sources including paintings, photographs, figure and facial expressions, the artist created a brand new narrative through hyperreal figures, garish bright colors and idyllic landscape backgrounds.
In this body of work, the artist focused solely on pencil and acrylic paint, all the while maintaining his signature aesthetic. Striving for an intuitive aesthetics which evokes a sense of beauty, the artist takes the viewer into an unknown place where the familiar and fantastical merge.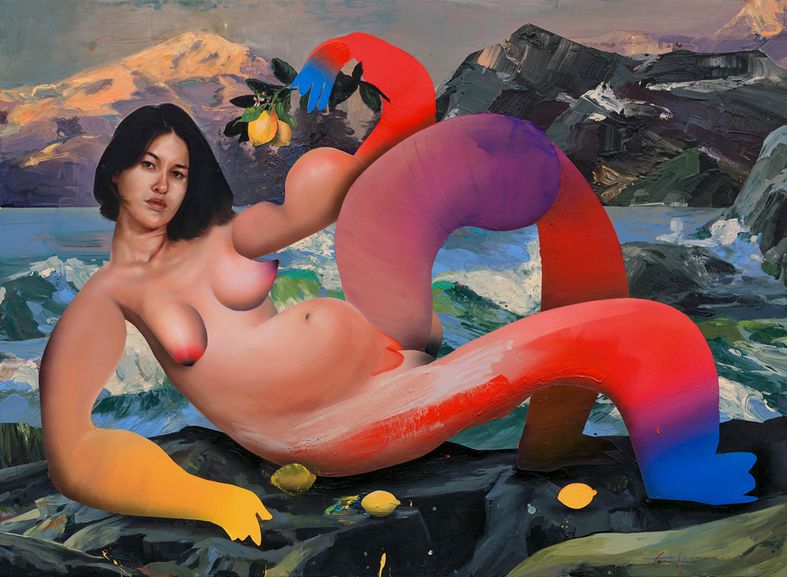 Erik Jones Exhibition at Hashimoto Contemporary
The exhibition Erik Jones: Country will be on view at Hashimoto Contemporary in New York until June 22nd, 2019.
The opening reception will be held on Saturday, June 1st from 6 pm to 8 pm in the presence of the artist. The gallery will be releasing a print with the artist in conjunction with the closing of the exhibition.
Featured images: Erik Jones - Aayan, 2019; Erik Jones - Rabecca Desera, 2019. All images courtesy of Hashimoto Contemporary.