Erin M. Riley art practice focuses on women and women's issues in hand-woven tapestries. Using wool yarn that she hand dyes, manipulates, and deconstructs, Riley weaves images of young women in states of undress or exposure, personal objects and various landscapes relating to destruction and death. Her latest solo exhibition will soon be on view at Hashimoto Contemporary. Titled Simple, the show will feature a new series of weavings, examining themes of sexuality, violence, and identity. As intimate portraits into past experiences that are both personal and part of the communal memory, her meticulous hand-woven tapestries confront the viewers to contemplate subjects that are often considered a societal taboo.
Exploring the Feminine Identity
As a culmination of her previous bodies of work, this exhibition serves as an investigation into the complexity of the feminine identity. Due to the Internet's infiltration into our personal lives, the artist feels that the intimacy became blurred, sexuality became abstract and bodies exist in a surreal way. Depicting experiences the artist had throughout life, she captures moments we prepare ourselves for with self-defense mechanisms and paranoia. The artist is trying to evolve from them, but also acknowledge them in order to provide people with something they can relate to. By depicting selfies, text messages and screenshots of pornography, Riley physically memorializes moments of our fleeting digital life. The exhibition also features weavings of car wrecks and portraits of abuse, portraying the way "sexual violence knocks us off our axis". In pieces such as the Portrait of a Father, she invites the viewer to consider the inherent aggression women face in the contemporary society.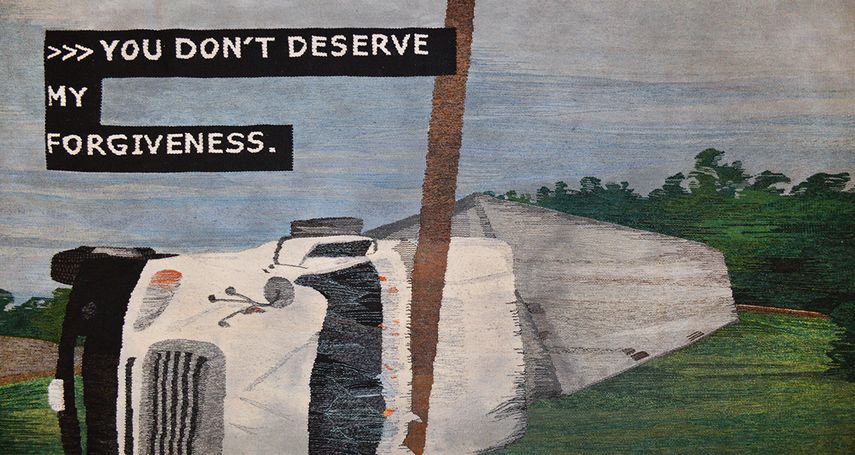 The Practice of Erin M. Riley
Often autobiographical, the work of Erin M. Riley addresses the innate trauma of womanhood and the objectification of the sexualized body. Inspired by the images produced by the internet generation, the artist explores the symptoms and results of a variety of contemporary themes. This Brooklyn-based artist combines two different worlds: the old art form of weaving that requires a lot of skill, and the digital age that is all about instant gratification and is accessible by nearly everyone. She is especially drawn to images that represent sexuality and intimate events, employing both her own images and images of other women that relate to her personal experiences. Drawn to images of self-discovery, experimentation, regression, and development, her works depict a generation of excess and confusion.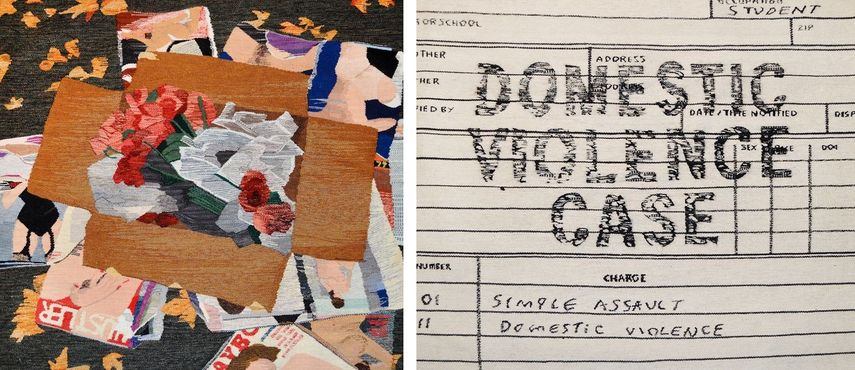 Erin M. Riley Art Exhibition at Hashimoto Contemporary
The latest body of work by Erin M. Riley extends her exploration of the honesty of sexuality, but also how courtships, pornography, and sex is changing as a result of the mass depiction of these intimate moments online. The exhibition Simple will be on view at Hashimoto Contemporary in San Francisco from March 4th until March 25th, 2017. The opening reception will be held on March 4th from 6 to 9pm.
Featured image: Erin M Riley - Restraint, 2016. All images courtesy of Hashimoto Contemporary.