Joshua Liner Gallery is proud to present the Darkness Lies Ahead, a new solo show by emerging Brooklyn based artist Erin M. Riley. This is artist's first time to exhibit in the Joshua Liner Gallery and she will present herself to the New York's audience with her tapestries, over eight feet wide which makes them the largest she has done to this date.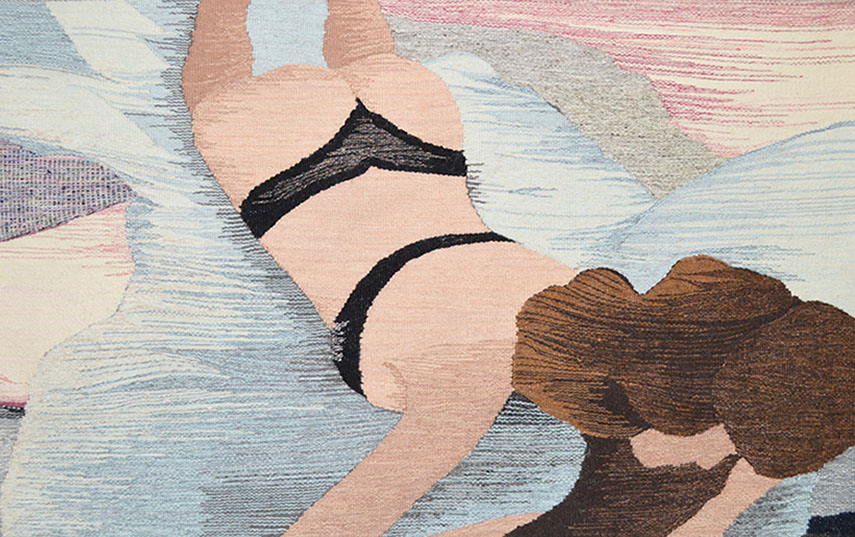 Selfies, Self-reflection and Voyeurism
Although Erin M. Riley uses one of the most traditional techniques imaginable her themes are very much contemporary, up-to-date if not burning issues. She is mesmerized by today's popular culture of selfies, their concept, meaning and understanding. How do we choose to perceive them, as mindless self-admirations, displays of vanity or introspection, self-observation or modern means of communication? Whatever one might think selfies are inseparable part of internet culture, largely corresponding to the younger, online generations. Erin M. Riley explores these phenomena thorough weaving her intricate tapestries. However, she received harsh criticism for her work very early on accusing her of being voyeuristic and misogynistic. In order to clear her work of such misconceptions Riley continued her exploration by using images of her own body. She soon started taking self-portraits but also getting in touch with her former boyfriends asking them for photographs of herself they acquired during dating her. In the course of time she accumulated quite a number of images of herself that provided her to continue her investigation on the matter. Once Erin M. Riley gathered substantial number of self-portraits and selfies she was able to continue her work and realize that she too was not much different than those girls.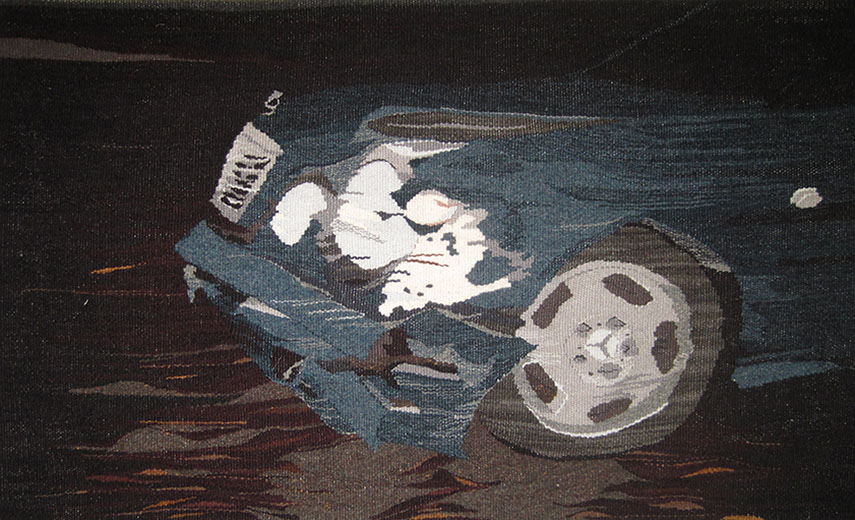 Darkness Lies Ahead
As a contrast to those intimate nude images of herself Erin M. Riley's another subject of interest are car accident scenes. She titles works from this series the History Pieces because they explore remains of scars and traumas we all have from death. In Erin M. Riley's vision skid marks left from braking on the roads are metaphors for our bruises and wounds of life. Much like our troubles that strike as at some points those skid marks eventually get washed away and disappear. For dealing with such subjects Erin M. Riley chooses the laborious process of weaving because of its meditative nature. Using Macomber floor loom takes up between forty and eighty hours of work per piece which allows her contemplation and cathartic experiences.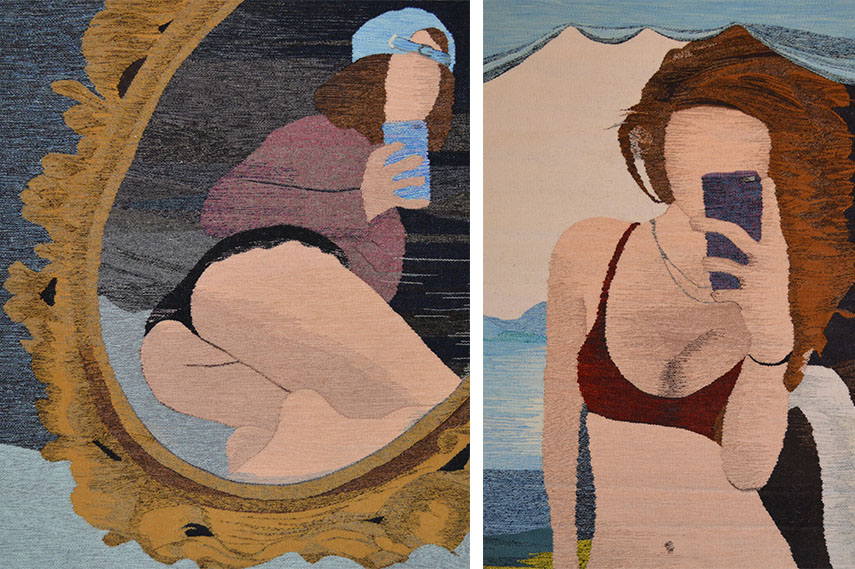 Erin M. Riley at Joshua Liner Gallery
This young artist continues to work in the tradition of female artists like Tracey Emin, bravely investigating her own intimate history and putting it up for public display. Through her work Erin M. Riley opens up a special kind of visual dialogue that revisits and redefines values women are facing today. Darkness Lies Ahead does not only promote an exciting exhibition but also announces one promising career. Therefore Erin M. Riley's show at the Joshua Liner Gallery in New York from May 7th until June 6th is not to be omitted.
Stay tuned for more contemporary art by signing up for My Widewalls!
Featured Images are Courtesy of the Joshua Liner Gallery.