A single artistic expression, regardless of its form, can mean a great many things to both the artist and the viewer. Many individuals coming from both sides of this "mirror" (the creator of the piece, and its viewer) have used it not only to project the common feelings and subjects (or their absence) of fear, senses, habits and social relations, but to face them and physically put them out in the open. Presenting issues of taboo subjects in regard to women and the loss of senses through repetition, Erin M. Riley and Lucien Shapiro join forces in an exhibition titled Anew. Using contemporary craft, the artists examine themes of ritual and addiction through personal narratives.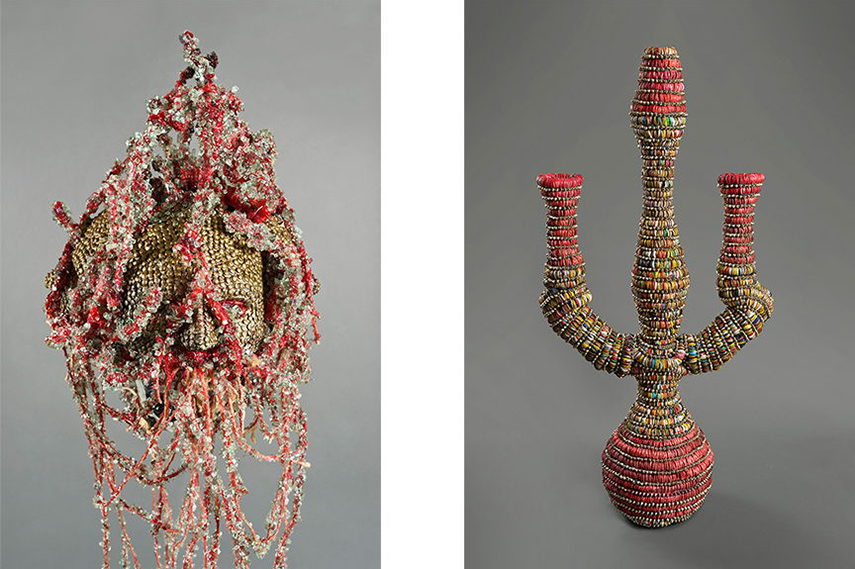 Facing Contemporary Issues
Both artists speak of issues that are shared by many in modern society, putting them in perspective with their own backgrounds. Erin M. Riley received her BFA in 2007 from Massachusetts College of Art and Design in Boston and her MFA from Tyler School of Art in Philadelphia in 2009. As a tapestry weaver living and working in Brooklyn she's been weaving imagery based on social media images as well as autobiographical experiences, and they're usually focused on various objects associated with womanhood. Her work has been exhibited both nationally and internationally, including shows at Guerrero Gallery in San Francisco, Space 1026 Gallery in Philadelphia, Sky High Gallery in Milwaukee, MK Gallery in Milton Keynes, United Kingdom and Town Hall Gallery in Hawthorn, Victoria in Australia. Lucien Shapiro explores addiction in his work, using the medium of sculpture and incorporating performances, as he describes his motifs and methods in a previous interview. Graduating from the San Francisco Academy of Art University in 2003 with a Bachelor of Fine Arts degree, he has shown his work at several galleries including Guerrero Gallery, Subliminal Projects, Lazarides, Ever Gold, Jonathan Levine, and Hashimoto Contemporary.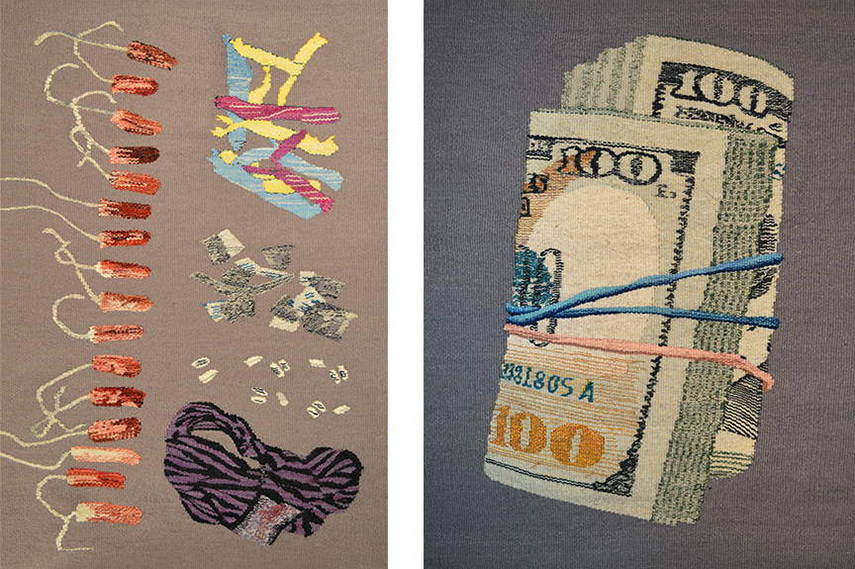 Anew in San Francisco
Presenting a two-person exhibition, Hashimoto Contemporary displays works representing visual dialogs of the artists. Attempting to reconsider the values of contemporary women in her hand-woven tapestries, Erin M. Riley portrays objects and subjects that are often considered taboo. "I want to face the daily objects that so many women use, but so many women hide. The more comfortable we are around certain things, the less they can be used against us" says Riley, as her weavings go from sexually explicit iPhone screenshots to a neatly organized row of used tampons. Lucien Shapiro explores addiction in his sculptures aligned with Riley's weavings, portraying it through collected materials and found items. Recontextualizing bottle caps, broken glass and drug paraphernalia, Shapiro sees a way out of the circle of repetition and dependency in resolve, regaining the senses through a ritualistic journey. His latest series of sculptures will be accompanied by a film embodying the principle "see no evil, hear no evil, speak no evil."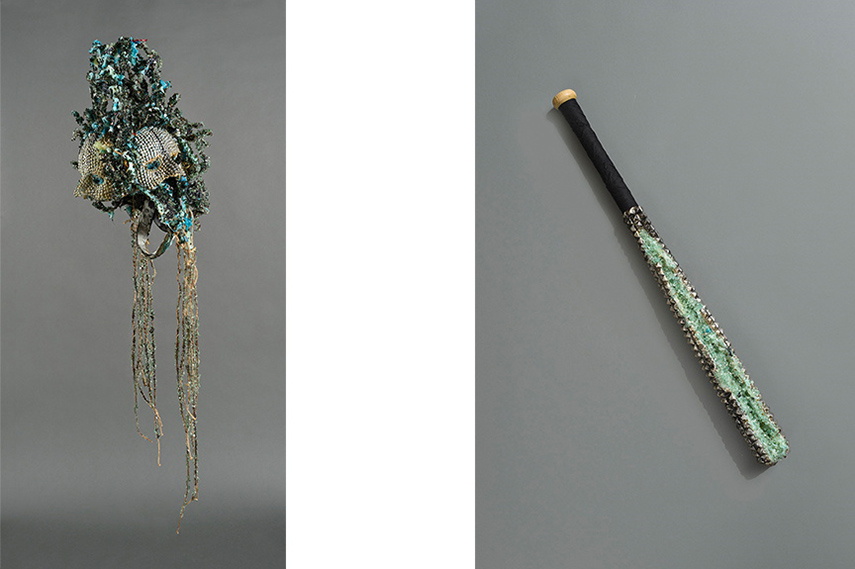 Erin M. Riley and Lucien Shapiro Exhibition at Hashimoto Contemporary in San Francisco
Joining forces in a mutual exhibition, Erin M. Riley and Lucien Shapiro battle their inner demons side by side. Masters of their own respective techniques, their aligned work complements each other well, connecting easily with the viewers. Presenting hand-woven tapestries of Erin M. Riley along with the latest series of sculptures of Lucien Shapiro, Hashimoto Contemporary hosts the joint exhibition titled Anew. The exhibition will be on view in San Francisco starting March 3rd, with both artists attending the opening reception from 6 - 10PM, and will last until March 26th, 2016.
Featured images: Erin M. Riley - Loot 13 (detail); Erin M. Riley - True Luv (detail). Images courtesy of Hashimoto Contemporary.