In 1921, Ernest Hemingway went to Paris with his then-wife Hadley. This trip into the art mecca of the first half of the 20th century was a starting point for the creation of Ernest Hemingway art collection. At the time Paris was a meeting point for different creatives who came there to work, exchange ideas, and enjoy a bohemian life. Hemingway and his wife soon became friends with Joan Miró, André Masson, Juan Gris, and Pablo Picasso. Hemingway's friend Gertrude Stein, an art lover and collector, was also living in the city. She suggested to Hemingway to follow the art scene that was bourgeoning in Paris, and this combination of personal links and a circle of people he found himself in led Hemingway and his wife to start buying and collecting artworks. As he later stated in one of his interviews, he learned to write not just from writers but also from painters, and he did not want to distinguish who had a greater influence on him. As later analysis of his writing style suggest "painters and their works were integral to Hemingway's learning to see, to hear, and to feel or not feel. They were part of the writer's renowned ability to present an image hard, clear, and concentrated, using the language of ordinary speech without vague generalities, as true as a painter's color."[1] Hemingway's trip to Paris marked a beginning of his collector's journey during which he formed an admirable collection of modern art that is today partially preserved in the Ernest Hemingway Collection at the John F. Kennedy Library in Boston.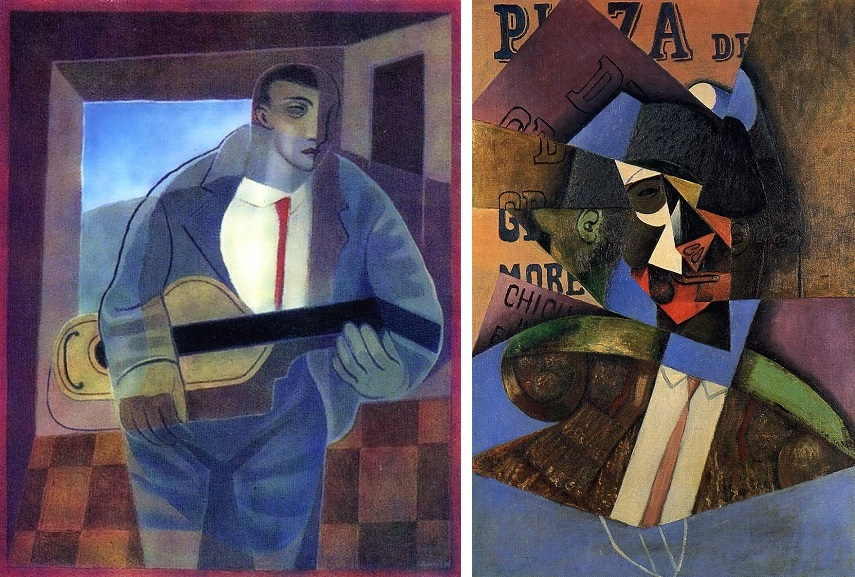 Hemingway's Work and Art Influences
Besides fraternizing with artists, Hemingway was also an avid visitor of museums and galleries, among which he preferred the Louvre, the Metropolitan Museum of Art (MoMA), the Prado, the Accademia in Venice, and the Art Institute of Chicago. Lillian Ross, a New Yorker journalist, in a reportage on her meeting with Hemingway in 1950 when he was on his way from Havana through New York to Europe, noted that Hemingway wanted to pass through the city without much publicity, but he expressed his wish to visit some of the museums again.
"I don't want to see anybody I don't like, nor have publicity, nor be tied up all the time…want to go to the Bronx Zoo, Metropolitan Museum, Museum of Modern Art, ditto of Natural History, and see a fight. Want to see the good Breughel at the Met, the one, no two, fine Goyas and Mr. El Greco's Toledo. Am going to try to get into town and out without having to shoot my mouth off… Time is the least thing we have of." [2]
The influence of visual arts on his writing was never questioned. His novels and stories were inspired by some of the works he saw, and he also mentioned paintings by Goya, Cezanne, Homer, and Breughel in his works. He also wrote about arts and his collection in an article in Cahiers d'Art. The powerful narrative of a series of etchings by Goya, The Disasters of War, is reflected in some of the passages in For Whom the Bell Tolls, which describe tragedies of the Civil War in Spain. In one other piece Hemingway wrote about Cézanne's style and his interpretation of the world.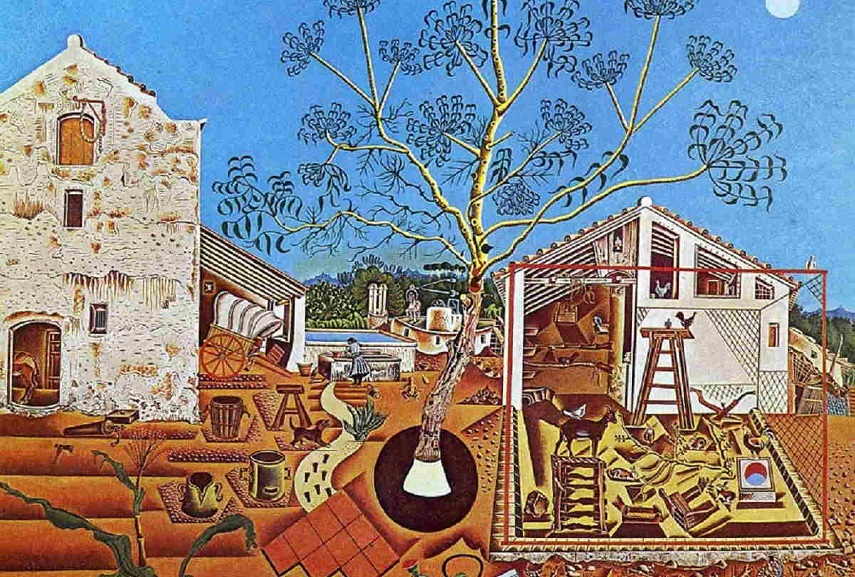 Ernest Hemingway Art Collection - What Does It Hide?
Artworks Ernest Hemingway collected over the years are mainly by Modernists with whom he socialized in Europe, America, and Cuba. The first painting he purchased for his wife's birthday was Joan Miró's The Farm. The painting was made during 1921 and 1922 and it shows a masia, a traditional Catalan farmhouse. It is also a summary of Miró's life in the countryside, as he later stated. It took a while for Miró to find a buyer for this work, as the Parisian scene was focused on Cubism. In The Farm, the artist combines elements of Catalan folklore and hints of Surrealism, which he would develop further in his later works. Although the painting was a gift from Hemingway to his wife, after the divorce they entered a custody fight that Hemingway won by 'kidnapping' the painting which was later loaned to MoMA. During the 1930s and 1940s the writer of Old Man and the Sea book acquired paintings by artists such as Waldo Peirce, Roberto Domingo, Paul Klee, André Masson, Mike Strater, and Juan Gris. Hemingway was a life-long friend with Waldo Peirce, and his collection held a number of pieces by this American painter, including Two Partridges and a Shotgun now in a private collection. In his home in Cuba Hemingway kept the portrait of him made by Peirce titled Kid Balzac, on which the famous writer commands the space with his statuesque presence in white shirt, a reminiscence of a famous daguerreotype by Nadar of Honoré de Balzac.
With his second wife Pauline Pfeiffer Hemingway bought two paintings by Juan Gris - The Guitar Player (1926) and The Bullfighter (1913). Equally fascinated with bullfighting as Picasso, the writer used The Bullfighter painting as an inspiration for his Death in the Afternoon. [3] This purchase was followed by acquisition of number of paintings by André Masson. Five of the Masson's paintings are today in the Ernest Hemingway Collection at the John F. Kennedy Library in Boston. The painting A Throw of the Dice references Stéphane Mallarmé's prose and is bought by the writer directly from the artist's studio. Finally, among the works in the collection is also Paul Klee's Monument Under Construction with a representation of gigantic head and tiny figures climbing on it, which Hemingway described as a satirical portrait of Benito Mussolini. [4]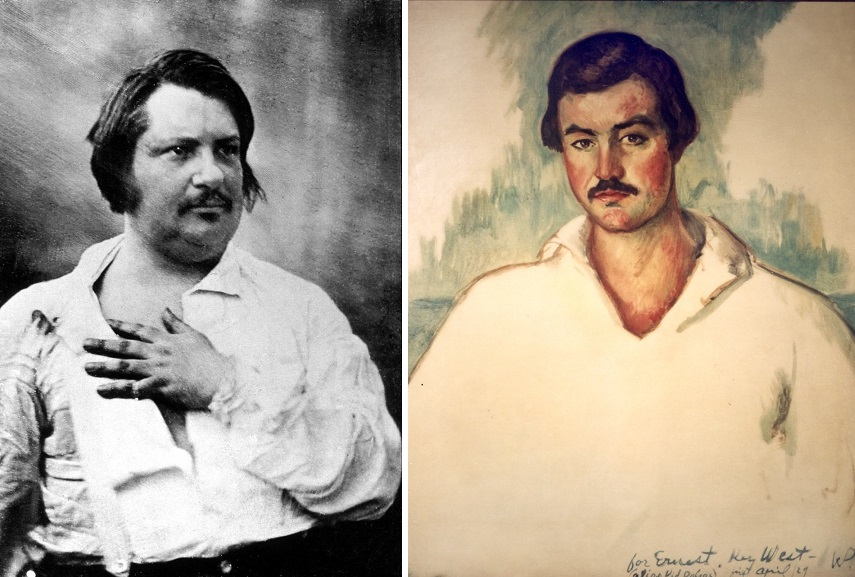 From Visuals to Prose – Aesthetics of Hemingway's Collection and Writings
Although scattered among different institutions today, Ernest Hemingway art collection is a testimony of writer's taste, interests, and his aesthetic ideals he also applied in his writings. Subject and style of painters he collected and admired are reflected in his work through topics and aesthetics of his prose. Tightly written and spare, it is about perilous situations, war, bullfighting and death. Cutting quickly between the scenes, pasting them together in a snapshot style resembling collage, or splicing one scene with another leaving no blank spaces except in the reader's mind who is invited to fill the gap, Hemingway created a prose alike to the visual world he explored, collected, and enjoyed living in.
References:
Hemingway C., (2000),

Ernest Hemingway (1899–1961) and Art

,  The Met [January 21, 2017]
Ross l., (1950), How Do You Like It Now, Gentlemen?, New Yorker [January 21, 2017]
Anonymous,

The Artists that Influenced Hemingway

, Lori Gordon [January 21, 2017]
Hemingway C.C., (2009), In his time: Ernest Hemingway's Collection of Paintings and the Artists He Knew, p.45.
Featured image: Ernest Hemingway at his home in Cuba, standing in front of the portrait of himself by Waldo Peirce titled Kid Balzac, 1929. Ernest Hemingway Collection, John F. Kennedy Presidential Library. Image via jfklibrary.org. All images used for illustrative purposes only.