Pakpoom Silaphan was born in Bangkok in 1972 and lived in Thailand all throughout his youth. After receiving his BFA at Silapakorn University in Bangkok in 1995, Silaphan moved to London to study printmaking at Camberwell College of Art in 2001 and received a Masters in Fine Art from Chelsea College of Art and Design in 2002. Thanks to the eastern origin and now experiencing western way of life, Silaphan has a unique perspective on the world and its values. Using his talents and ability and mixing them with his interest in mass consumerism and globalization, his art became a true testament of today's "West-Obsessed" world. Being influenced by Pop Art of the 20th century and massive Western cultural icons such as Andy Warhol, Jean-Michel Basquiat, James Dean and Marilyn Monroe, Silaphan chose them for subjects of his artwork.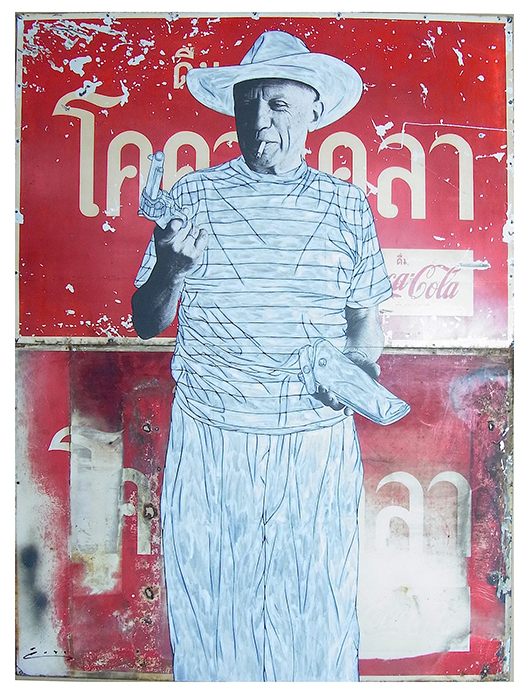 Pop-Art As An Inspiration
Silaphan primarily uses found-objects such as old metal advertising signs collected during his years living in Thailand, as his canvas. Also using vintage wooden Pepsi and Coca-Cola crates, reminiscent of Warhol's Brillo Box installations; Silaphan re-works these objects to create a fresh interpretation of Pop Art and opens a discourse on the effects of advertising and mass consumption. But for his latest exhibition "Essentializing the Essence" he collages and paints portraits of his favourite artists and influences from Frida Kahlo to Dali onto the old advertising boards and storage boxes turning them into sculptural works of art – turning the artists brands in themselves.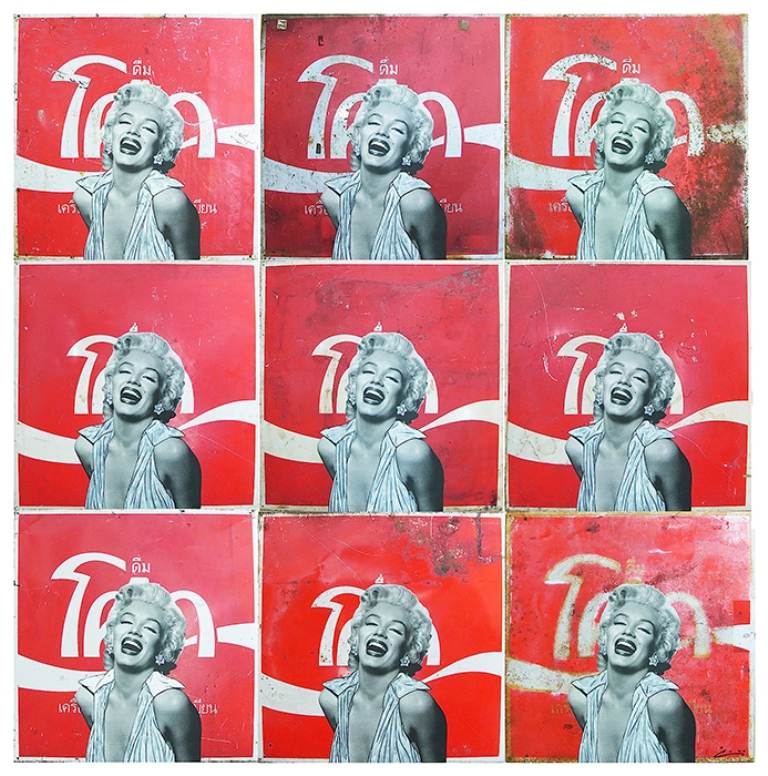 West-East Mixture
The infiltration of western imagery into other cultures and traditions is something very interesting and personal to Silaphan. Examining both negative and positive notions of international integration, he uses his art as an understanding of the West and its artistic practice, creating a unique dialogue between two cultures.
Silaphan work gained a lot of recognition and popularity that led to numerous exhibitions in London, Hong Kong, Tokyo and Delhi, and has been featured in many notable publications as well.
And on September 13, Silaphan will present his debut exhibition titled "Essentializing the Essence" at Shooting Gallery featuring his latest works. The exhibition runs through October 4, 2014.