After exhibiting M-City's recent works in September, Galleria Varsi from Rome is preparing another interesting show, this time displaying works by the dreamy Polish duet - Etam Cru. The exhibition entitled Bedtime Stories already implies a range of imaginative pieces, composed upon the brilliant drawing and colored with softened rainbow palette. Curated by Marta Gargiulo, Bedtime Stories will be Etam Cru's Italian debut, enhanced by the large-scale mural the duo will commence painting in Pigneto in a couple of days.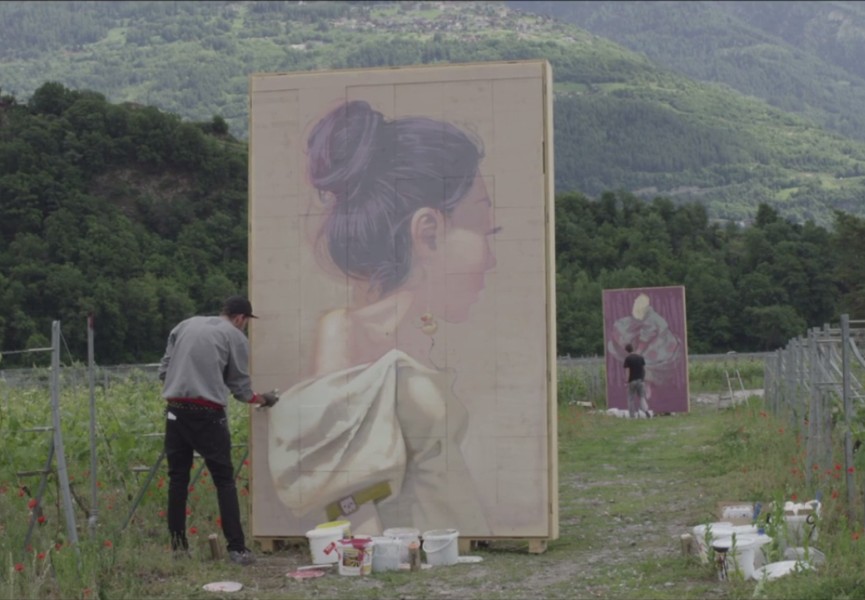 Etam Cru
Finding themselves among the Eastern European artists one must know, Etam Cru are a very prolific duo. They continue painting their marvelous fantasies throughout the world, taking part in numerous street art festivals and events. Recently, the duo paid homage to the First Day of School at Nuart Festival, an ode to chill-out at Borås street art festival, they participated in myFINBEC project in Rome that combines urban art and wine, and subsequently in Stattbad, and their adventures don't seem to be ending any time soon.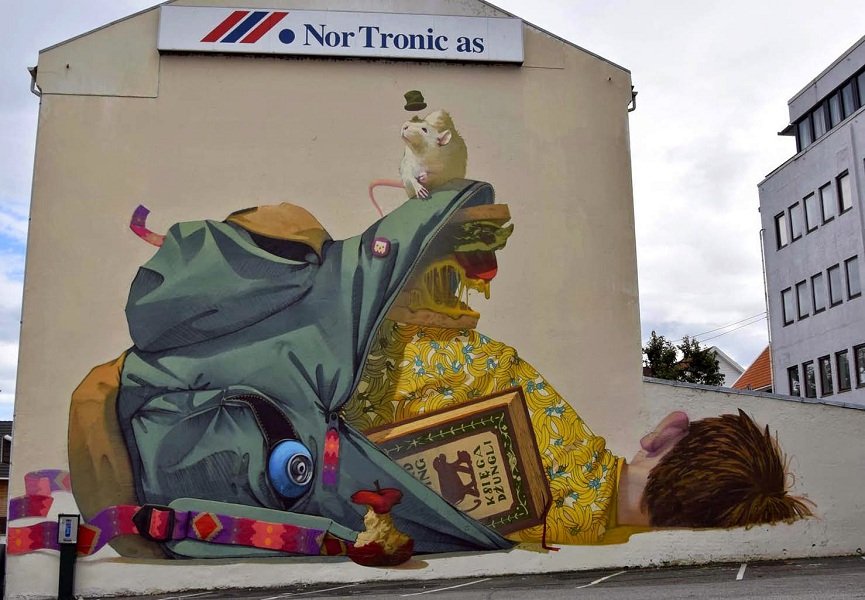 Dreamy Expression of Etam
The work of Bezt and Sainer is characterized by their slightly different, but wonderfully compatible styles. They are devoted to painting large, imagined characters, while the figural scenes are often spiced with a good dose of surrealism. Pastel colors are accented with splashes of cold or warm nuances, highlighting the topic, while the drawing is always flawless, very stylized and slightly whimsical. The viewer is visually seduced and emotionally moved after seeing their work, which is to be translated to the crew's first Italian show. Bedtime Stories promise another oneiric narrative, made up of solid backgrounds and transparent sections, describing a parallel universe of Etam Cru's minds.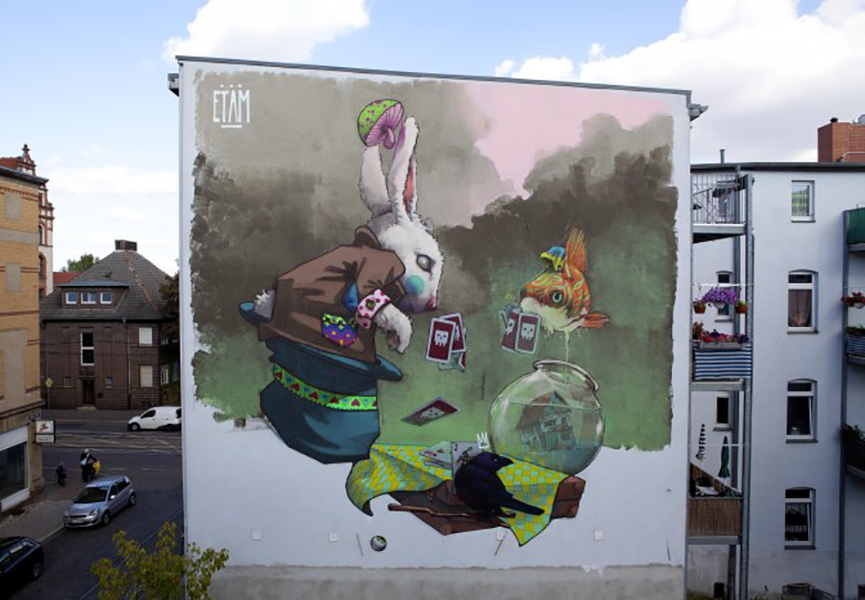 Intimism on a Large Scale
Title of the exhibition is also in perfect coherence with the fact that Bezt and Sainer present intimistic subjects, blown up to a very big proportion. Their characters are always engaged in contemplation, exploration of self or their personal surroundings, they are having a moment alone, or the objects suggest somebody's individuality. Small facts of life are everywhere in Etam Cru's work, as their monumental importance is emphasized by the scale of wall paintings the duo executed. Daydreamers seem to be the favorite type of models for the artists, as the real and the imaginary overlap in their paintings, making it hard to distinguish one from another. Romantic, humorous and aesthetically pleasing, works of Bezt and Sainer are there to amuse and touch, to assure the observer or the passer-by that engaging in matters of reverie is not only OK, but necessary.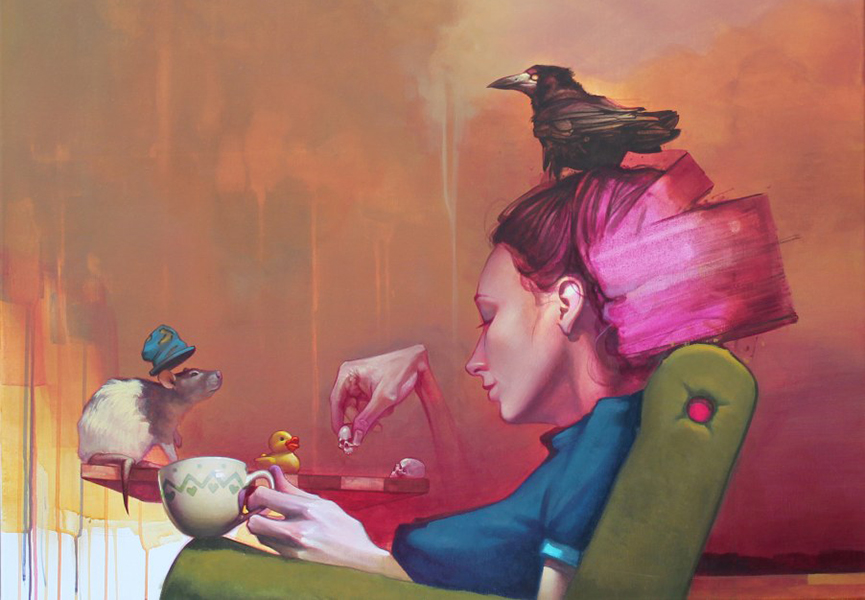 Live Mural Painting in Rome
As mentioned, Etam Cru will be complementing their Roman exhibition by a live painting project of a wall on the corner of Via del Pigneto and Via Ludovico Pavoni. The art making process will start on October 24, 2014, and will be finished by the exhbiition opening, with the two painters working daily. The mural project will be realized with the help of the Fifth Municipality of Rome, and is curated by Marta Gargiulo and Massimo Scrocca.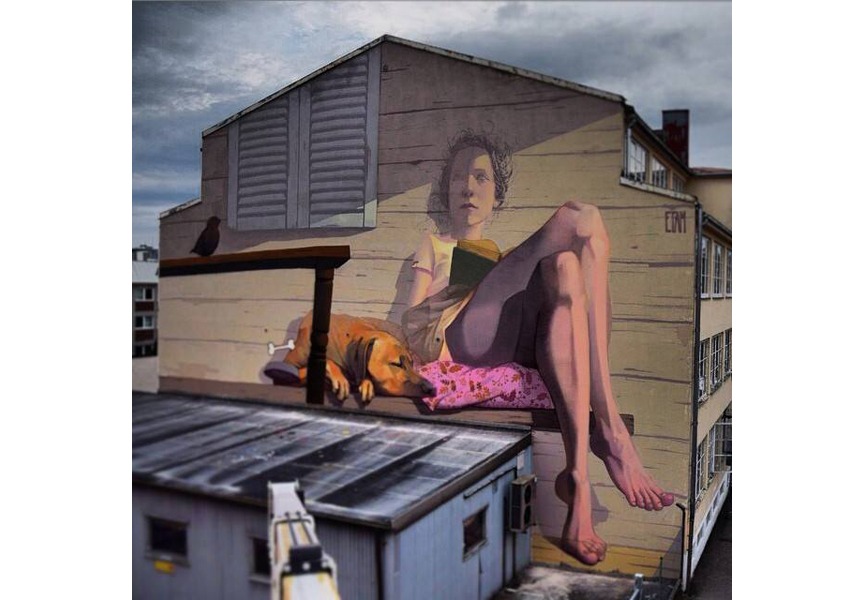 Bedtime Stories Exhibition
Opening on October 30, Bedtime Stories of Etam Cru will remain on view at Galleria Varsi in Rome through December 28, 2014, finishing off the year at the space with an immersive dream.