A self-taught artist, Etnik is known for his recognizable style of geometrical and architectural forms executed in vibrant colors. In these abstract compositions that almost create a 3D effect, the artist combines fantasy with a critical interpretation of big urban environments and their peculiar constructions.
A year ago, the artist started a project 5 SOLIDS METAPHOR, an extension of his path about the urban agglomeration. Initiated with a wall in Florida, USA, the project now counts five murals and five installations developed in ten different cities in Europe and the USA.
The culmination of the project will take place at GCA Gallery with a solo show featuring new works - one mural, five works on wood, six yute canvases and a photo reportage describing the project.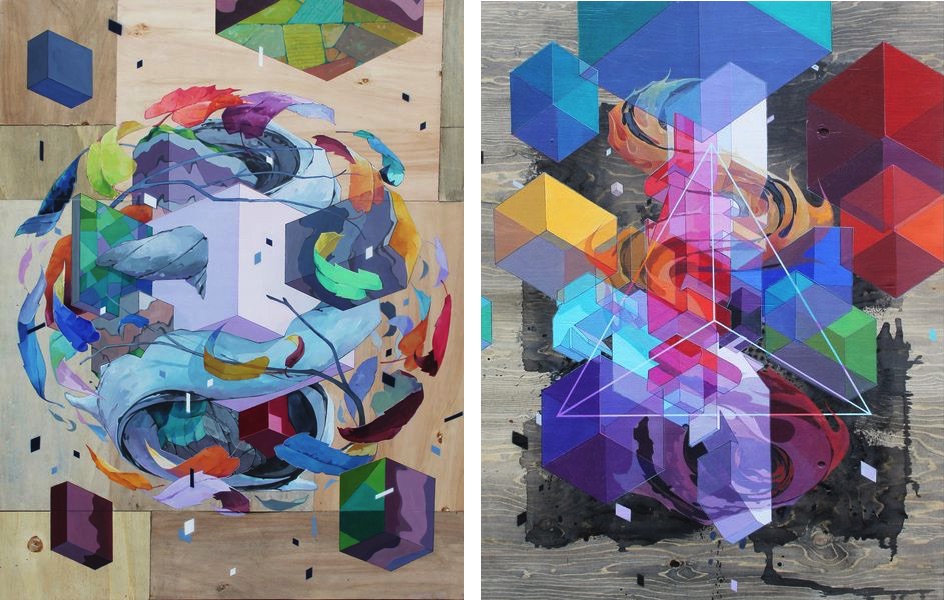 The Practice of Etnik
In both outdoor and indoor works, Etnik has been exploring urban landscapes, representing a dualism between geometrical and architectural masses and natural shapes. Turning his critique towards contemporary cities, he addresses the overbuilding which leaves less and less space for the natural elements. All of his compositions have more than one point of view, representing the precarious balance of the human being.
This exploration is also at the core of 5 SOLIDS METAPHOR. His works highlight the disturbed equilibrium and decadence of human progress. This time, the theme is represented through a rendition of five Plato's elements.
Plato's Elements
The project draws from Plato's theory from the Timaeus dialogue, where he wonders about the primary questions about the birth and growth of the Cosmos and wether the abstract concepts can be described with rational forms.
In the famous dialogue, Plato presents an elaborately wrought account of the formation of the universe and an explanation of its impressive order and beauty. Like Empedocles, Plato recognized that four elements - Earth, Air, Fire, and Water - underlay all physical changes. These four elements make up the body of the Universe in equal proportions.
Plato's mathematic concept combines every natural element to a rational solid - AIR being an Octahedron, WATER being an Icosahedron, EARTH being a Cube, and FIRE being Tetrahedron. The remaining regular solid, the Dodecahedron, is used for the UNIVERSE as a whole. These solids are the subjects of Etnik's works.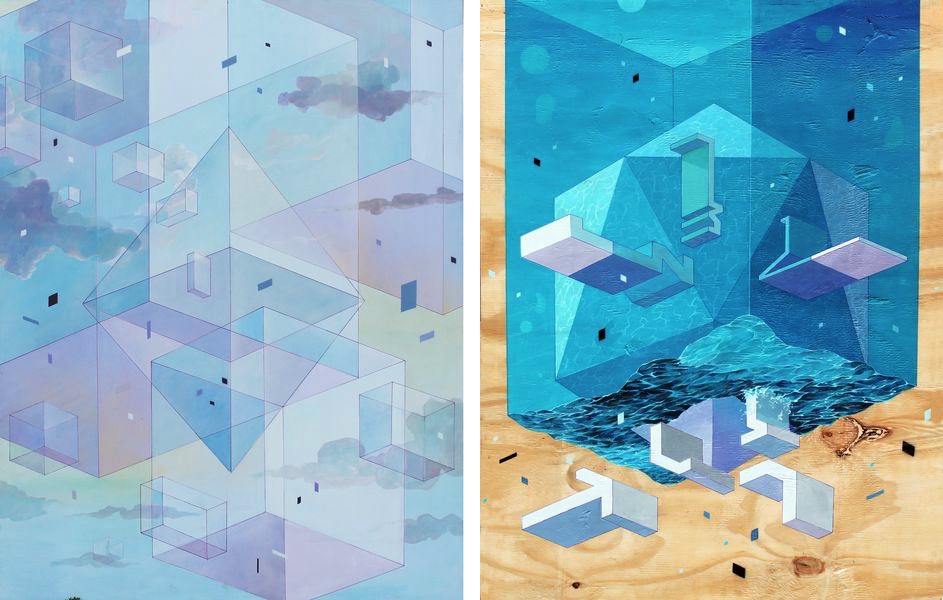 Etnik Exhibition at GCA Gallery
Murals and paintings from 5 SOLIDS METAPHOR tell a unique cosmology in Etnik's distinct visual language.
The exhibition 5 SOLIDS METAPHOR will take place at GCA Gallery in Paris from December 6th, 2019 until January 11th, 2020.
The opening reception will take place on December 6th, from 6 p.m. in the presence of the artist.
Featured image: Etnik Mural in Paris; All images courtesy GCA Gallery.