For centuries, the city of Venice, Italy has been the hub for cultural exchange. Because of its geographic position and historical importance, it is still serving as the place which connects all of Europe, highlighting the importance of education and culture at large. It was only natural for the European Cultural Centre, or ECC, to find its place on the canals of this glorious city, as an institution dedicated to reflection, research and creation and a meeting point for interdisciplinary encounters and experimentation. As such, it also provides the conditions for the making of visual art, performance, theater, music, literature, architecture and many other artistic fields, helping shape and design our shared future. The European Cultural Centre offers and promotes a series of activities which welcome professionals from all around the world through events, exhibitions, lectures, debates and symposiums, as well as residencies hosted in four monumental palazzi in the historical center of Venice.
The European Cultural Centre - An Introduction
PERSONAL STRUCTURES - open borders
In 2017, for the 57th time, Venice is welcoming the biggest art exhibition in the world - La Biennale di Venezia. As always, the European Cultural Centre is there to contribute to its context, this time through the PERSONAL STRUCTURES - open borders exhibition, organized in collaboration with the GAA Foundation at two prestigious venues - Palazzo Bembo and Palazzo Mora, and the Giardini Marinaressa. Through November 26th, 2017, the visitors can see and experience recent artworks by more than 200 of the most influential artists today, either site-specific or taken from their oeuvre, ranging from video and sculptures to paintings, drawings, installation and photography.
Of this exhibition, as well as the mission of The European Cultural Centre, we talk to Rene Rietmeyer, its President. Scroll down and discover how you can contribute to the cultural exchange as well!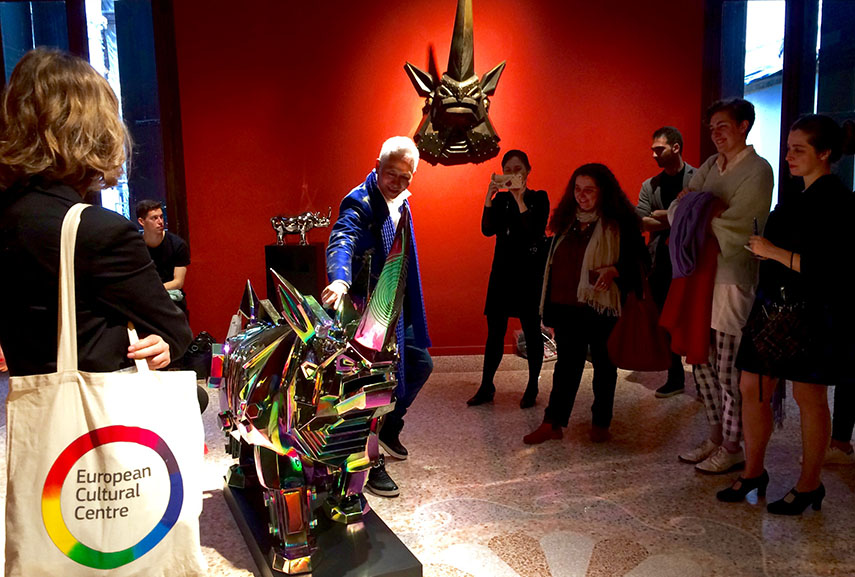 The European Cultural Centre - The Mission
Widewalls: The European Cultural Centre in Venice has been around for fifteen years - and counting. Can you introduce your activities to our readers?
Rene Rietmeyer: "We, artists, creative entrepreneurs, researchers, philanthropists and even a few bureaucrats, as a collective group, we believe that there is a need for an emblematic space, giving existence to a centre dedicated to the culture of Europe. A space, located in Venice, devoted to cultural exchanges, meetings, exhibitions, artistic projects, laboratory, with Europeans and others. It is our aim to cherish differences and strengthen our cultural commons."
The European Cultural Centre has hosted the GAA Foundation's exhibitions, during both the Art and Architecture Biennials, for many years now. The art exhibition PERSONAL STRUCTURES - open borders has just opened to the public in two of our Palazzos, as well as in the Giardini Marinaressa. In Palazzo Michiel, we are hosting the VENICE DESIGN exhibition for its second year after last year's success.
But the ECC goes beyond exhibition hosting. The ECC provides the conditions to invite artistic and creative practices. It is a place for investigating, participating and sharing creative research. We have residencies for creative professionals, host lectures, symposia, public debates, and provide research assistance. We also publicize the many projects and research ventures through online, video and book publications, The European Cultural Academy is a program that enables students to immerse themselves is the variety of possibility that the ECC has to offer.
Widewalls: We see a lot of familiar names among the participants and collaborators of ECC: Marina Abramovic, Louise Bourgeois, The Biennale itself. Can you tell us about some of the most memorable projects?
RR: Over the years, we have hosted a great number of artists and architects, both well-known and emerging. It is this variety of nationalities, ages and creative disciplines that enables the exhibitions we host to truly provide a cross-section of what can be seen as art today. Particularly memorable projects include events such as Yoko Ono's ARISING project, presented at PERSONAL STRUCTURES in 2013. Women of all ages, from all countries of the world, were invited by Yoko Ono to send a testament of harm done to them for being a woman and to send a photo of their eyes. Models of women were burnt on an island in the Venetian lagoon. It was a very empowering and passionate project that made a lot of impact on both the participants and visitors.
Widewalls: What do your short-term programs offer to those interested? Who can apply?
ECC: The European Cultural Academy is available from a 1-week to 3-week program. In all formats, the ECA emphasizes a practical approach. Located in the heart of the art world, students get behind the scenes of the Biennale and learn to collaborate with governments, artists, foundations, and sponsors. Prominent professors in related fields ensure a solid academic component to our hands-on approach to the creative industries. At the end of the course, students can create a practical project (this can be an exhibition project, artwork, publication, event etc.) to present to the public.
The ECC encourages participants from all backgrounds to apply, anyone with an interest in Art and/or Architecture, whether this is creative, organizational or academic. During the opening week of the 'PERSONAL STRUCTURES – open borders' and VENICE DESIGN exhibitions, we hosted a widely varied group of ECA participants from almost every continent, which enabled an energetic and creative group dynamic.

Widewalls: You have a preview and opening parties. What do these include?
RR: Our preview events comprise of two different elements. During the day, the exhibitions are open to the press so they can see the works in a quiet setting and enjoy private tours. Often the artists are present during these days and available for questions and interviews. In the evenings, we kick off the exhibitions with the preview parties that are open to the artists, press, organization and other guests. Filled with performances, music, private tours, and of course refreshments, we celebrate the opening of the exhibition and the hard work that preceded it. As during the exhibition, we ensure that entry is free to all visitors, and we supply all of our guests with the exhibition catalog to take home.
Widewalls: You also host national pavilions. Who is your guest for the 57th Art Exhibition?
RR: This year, we host both the Seychelles and Kiribati National Pavilions. The Seychelles National Pavilion can be seen in the Giardini Marinaressa and comprises of 16 giant tortoise sculptures. Each tortoise has been customized by a different artist of national importance. The giant tortoise is revered in the Seychelles for its longevity and character and has become a national symbol, found in the wild as well as in domestic settings. Artists were free to interpret the 'blank' sculpture in any manner they wished; however, most have elected to link their personal reptilian canvas to the inspirational Seychelles topography.
It is also the first that the Kiribati National Pavilion exists in Venice, and we were very glad to enable them to join the Biennale by hosting them in our Palazzo Mora. The exhibition of the Kiribati Pavilion reflects on the vulnerable position of its art, which has been preserved throughout history through the unique and primal nature of its culture and customs. Even though Kiribati culture is vulnerable to the dangers of the Pacific Ocean, they enable it will never be forgotten. In accordance with the tradition, it will be passed onto future generations. Their dance and songs are more than just culture or art- they are their way of living.
Hosting artists and architects from all over the world like resonates deeply with the European Cultural Centre's mission - by exploring the commonness and differences between Europeans in dialogue with works of non-Europeans, and creating a unique meeting place in Europe to explore, experience, document and present cultural togetherness.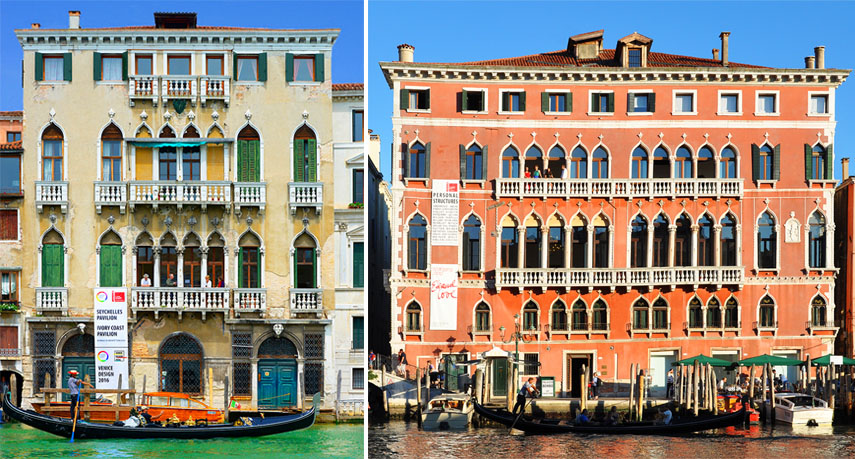 Venice as the Place to Be
Widewalls: There are four exhibition palaces in Venice that you manage. What can you tell us about these places? Why did you choose them and why are they so particular?
RR: All four palazzos have a very distinct character and history to them. The exhibitions we host are meticulously tailored to the works in them, and therefore we need to be able to offer a broad variety of spaces and atmospheres to accommodate the artist's and architect's visions.
For instance, Palazzo Bembo and Palazzo Michiel are both situated on the Gran Canale and are therefore a true part of Venice's rich cityscape and history. Palazzo Rossini is a much more intimate exhibition space, often used for symposia and events. Palazzo Mora is our largest palazzo and located on Strada Nova, the pedestrian heart of Venice, and has the most approachable atmosphere of all four, also due to its beautiful front garden. This year, in order to accommodate outdoor sculpture and site-specific works, we are also hosting in the Giardini Marinaressa. These gardens on the wide waterfront of Venice give a very open and accessible feel to the works presented there.
Widewalls: Apart from the Biennale, why is Venice such a perfect place for reflection, research and creation?
RR: With hundreds of years an important exporter of European culture, Venice has always been a place of cultural exchange. The historic centre is only populated by approximately 60,000 inhabitants- but it sustains 45 active museums; 7 active theaters; 14 foundations with the objectives to promote and develop culture; 2 leading universities; an art academy; a conservatory and many public libraries; 32 consulates and regional offices of UNESCO, WHO and the Council of Europe. This year, the VENICE DESIGN exhibition even created a map of the city featuring 42 independent designers to highlight the rich creative culture of Venice.
Participants at the European Cultural Academy are given the full opportunity to truly explore art and architecture wherever they go in Venice due to this high saturation of cultural institutions. For us, all of this makes Venice an excellent place to study the sociological and ethnological development of the European society in general, it is the ideal place to come to understand who we are and how we are seen.

Widewalls: How would you say the artists make it in Venice, with the help of ECC? How do you nurture their creativity and creation?
RR: As mentioned before, the European Cultural Centre is deeply committed to enabling creative professionals to broaden their horizons and share their work. Through our residency programs, internships as well as the European Cultural Academy, we open our floors to everyone passionate about culture, art, design and architecture. As for the exhibitions curated and organized by the GAA Foundation, we are sometimes able to support the artists and architects by providing small grants. We also award the ECC Award on a yearly basis to draw attention towards and to promote specific individuals or projects. When the architect, designer or artist has demonstrated their dedication to their concept over a longer period of time and whereby this concept and the execution thereof is in our opinion of significant meaning, they are eligible for this award.
PERSONAL STRUCTURES - open borders - Exhibition Catalog
All images courtesy ECC Venice.