Chicago's premier urban-contemporary art space, Vertical Gallery focuses on work influenced by Street Art, urban environments, Graffiti, pop culture, graphic design and illustration. Their monthly exhibits highlight significant emerging and established local, national and international artists. Vertical Gallery is soon bringing a new collection of work from three European artists to the States – M-City from Poland, FAKE from Netherlands, and Trust.iCON from the United Kingdom. Titled Triuvium, the exhibition refers to the place where three roads meet.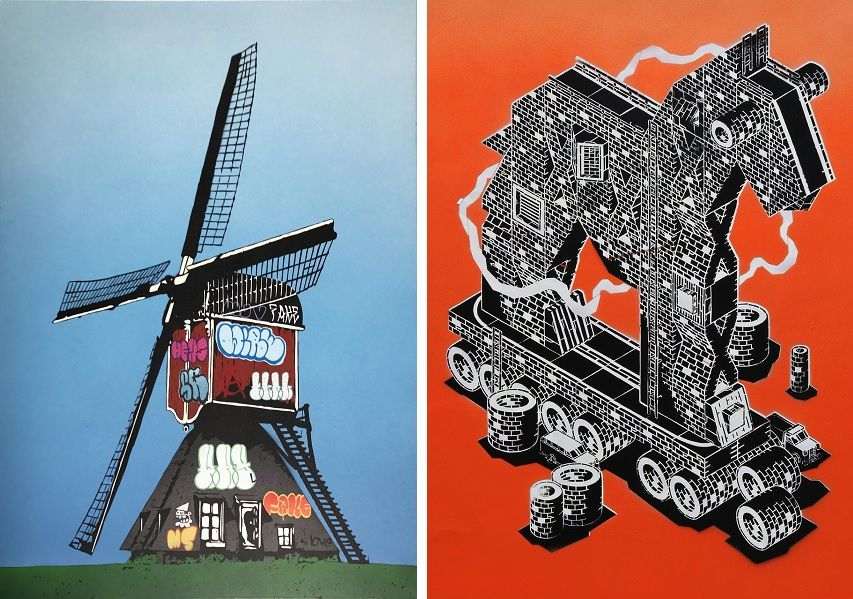 The Practice of M-City
Originating from Gdynia, Poland, M-City creates public art that animates urban spaces. Taking inspiration from the factories, chimneys and cranes that dominated his native town, he creates precise hand-cut stencils depicting a sci-fi utopia characterized by mechanical and industrial objects. Creating a geometrical network of industrial elements, he produces murals that are rhythmic and very precise. His artistic precision and strength come from – his versatility and understanding of architecture. His practice is characterized by two main distinct inspirations: video games and geopolitical issues that generate a critical approach to society, making viewers understand how geographical motivations can influence political actions.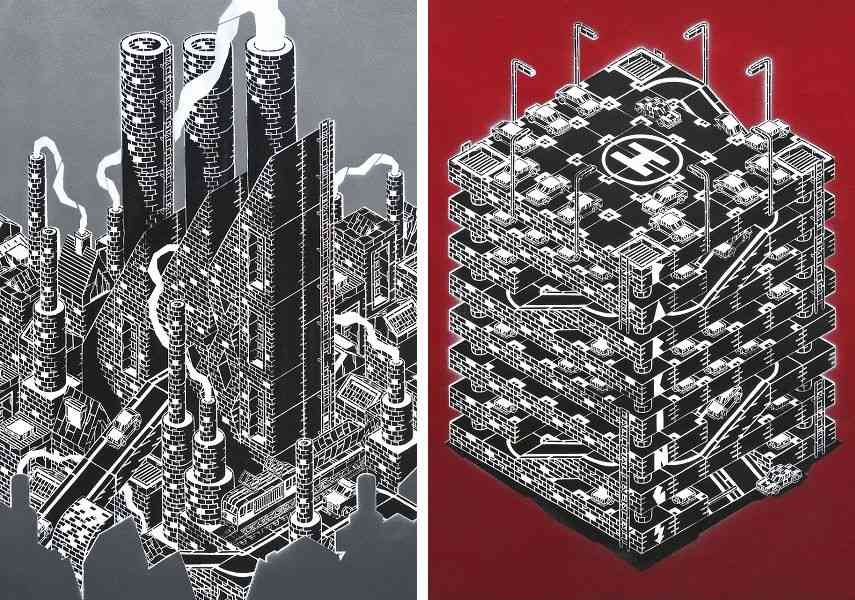 The Practice of FAKE
A Dutch street artist from Amsterdam, FAKE creates work that is clean, taut and full of color. Growing up in a gray and boring environment, FAKE developed an urge to brighten up the environment through color, irony and humor. He is self-taught and started experimenting early on, combining styles which resulted in a unique signature. This style is also one of storytelling. Using any image on any desired background through stenciling, he is able to create humorous or ironic twists. He has been working on the street for many years, but he has started creating art on canvas, paper, wood and glass.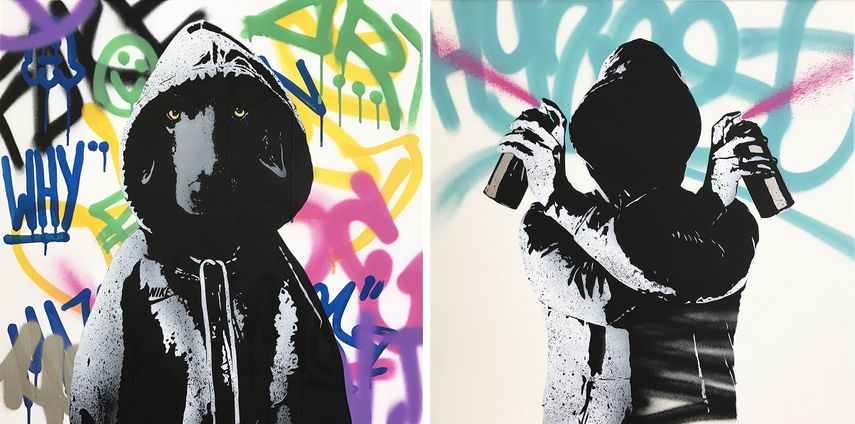 The Practice of Trust.iCON
An artist from Thamesmead in the South East London, TRUST.iCON works with contrasting styles of cartoon and reality. At the same time, he sends powerful political messages through his socially conscious street art. Mixing controversy and humor in a unique way, he is very active on the streets of London, but also Berlin and Los Angeles. Despite his identity remaining unknown, his unique style and through-provoking pieces have gained him critical acclaim. Holding street art culture closely to his heart and believing that art can change everything, he uses his art as an unedited, uncensored voice of the people.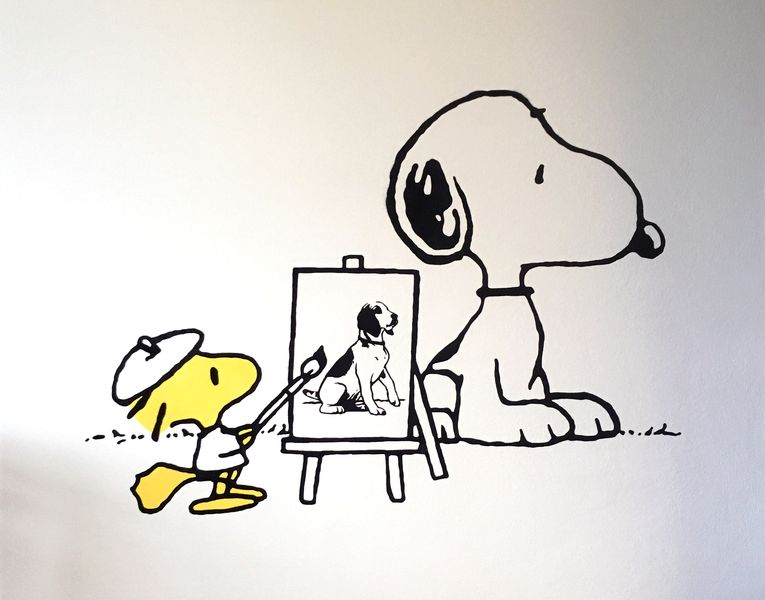 Three European Artists at Vertical Gallery
The exhibition will bring together the diversity of voices coming from Urban Art. Each artist is a unique representative of this ever-growing movement. The exhibition Trivium featuring M-City, FAKE and TRUST.iCON will be on view at Vertical Gallery in Chicago from August 5th until August 26th, 2017. The opening reception will be held on Saturday, August 5th, from 6 to 10 p.m.
Featured images: FAKE - In Da Hood, 2017 (detail); M-City - 961, 2017 (detail); Trust i.CON - Snow White, 2017. All images courtesy of Vertical Gallery.