With their bald heads and surrealist pantomime dames style, the Berlin-based duo EVA & ADELE is a rather striking and iconically atypical couple on the art scene. Claiming to have "landed their time machines" in Berlin after the wall fell in 1989, EVA & ADELE are a living artwork and for them, life is a performance. They go about mundane daily things wearing their outfits, treating life and art as one. Self-proclaimed as The Hermaphrodite Twins in Art, they are always identically dressed, transgressing gender boundaries.
Their personal details are pretty vague – on their personal website, they disclosed only their vital statistics and it is known that since 2011, they are both legally female. However, while refusing all references to their past prior to their meeting, they claim they have spent not one night apart ever since they met and fell in love. Also, they insist they never leave their house or receive guests without being fully made up. "We don't just go out and do a performance in a gallery and then stop being EVA & ADELE afterward", Adele explained a few years ago.
Me Collectors Room will soon present the duo's work of the last 25 years in an installative retrospective, illustrating their finely nuanced and radically transgressive artistic existence. Titled EVA & ADELE – L'amour Du Risque, the exhibition will feature their most important groups of works across media including drawing, painting, photography, video, and sculpture, as well as their self-made costumes and costume designs, will go on show. They have also crafted some objects especially for the exhibition, such as a perfume from Grasse, France, a signed wristwatch by Swatch and handbags by PB 0110, a label by Philipp Bree.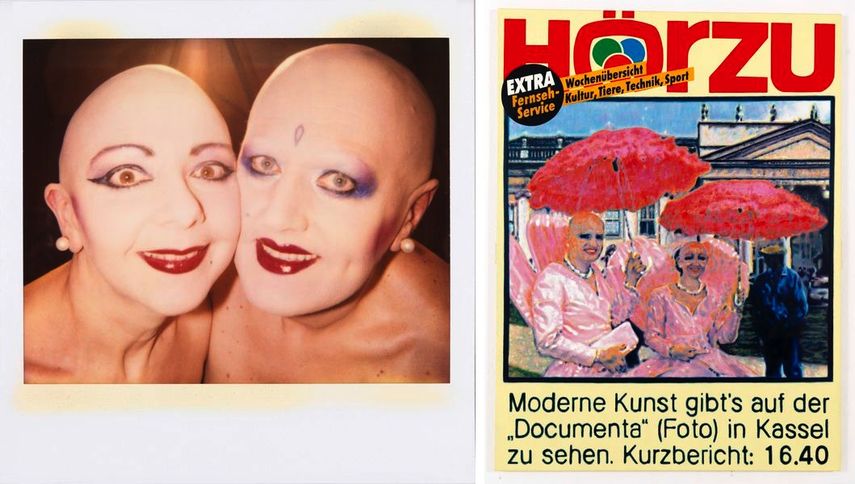 Life As a Performance
Living together since 1991, EVA & ADELE always appear together in public, always dressed the same and always smiling. Throughout the course of their lives and careers, they have created a common conceptual artwork that questions perspectives, concepts, and relationships that are often taken for granted.
As they once explained, "Wherever we are is a museum". Their creations are based on an ongoing exchange with their audience and a thoroughgoing symbiosis between art and mass culture and between the public and private domains. Each of their appearances is an event within the event, authentic performances in which each detail has been meticulously prepared and rehearsed.
Claiming to be "the future of art", Eva and Adele live a radically shared existence that questions the preconceived ideas of gender roles, bent on demonstrating that sexual identity is no simple matter. Under the logo "FUTURING" they aim to initiate new lifestyles and gender approaches. Abolishing played-out gender roles, both male and female, they exist simultaneously "in art and in nature", and as they claim, "Over the Boundaries of Gender". This attitude is illustrated for example by their large three-channel video installation Watermusic (1997/2003).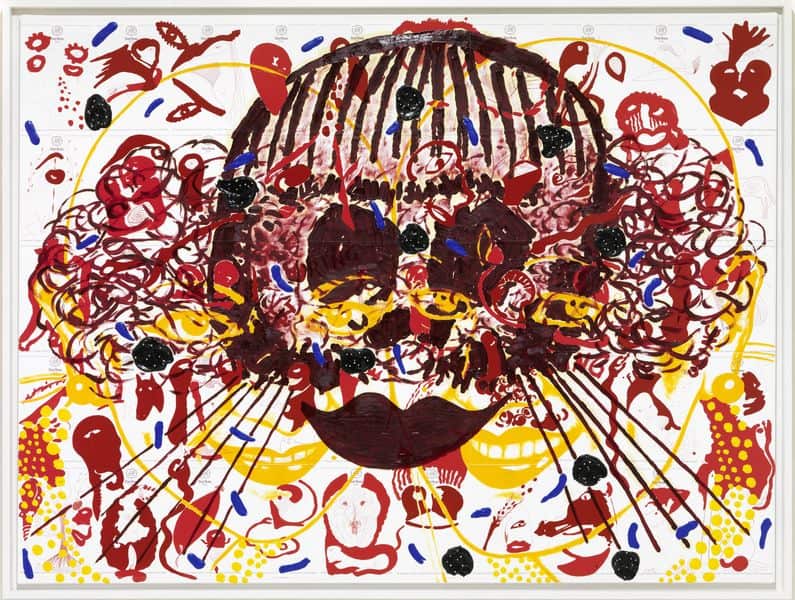 The Love and Risk
The exhibition at me Collectors Room Berlin explores the concepts underlying the couple's art and their imagery. The title itself emphasized the love they share, but also the risk they put themselves at by radically exposing themselves and their chosen life to the public. Wherever they appear in the world, they transmit their energy and daring.
A major section of the show is dedicated to their international work, such as the glamorous WINGS Costumes from 1992, 1995 and 1997 and video works based on them WINGS I, II, II from 1997 and 1998 that are staged as an installation. Each outfit that they have worn throughout the years was perfectly matched with a myriad of accessories. The show will also feature the associated array of costume designs consisting of 162 sheets.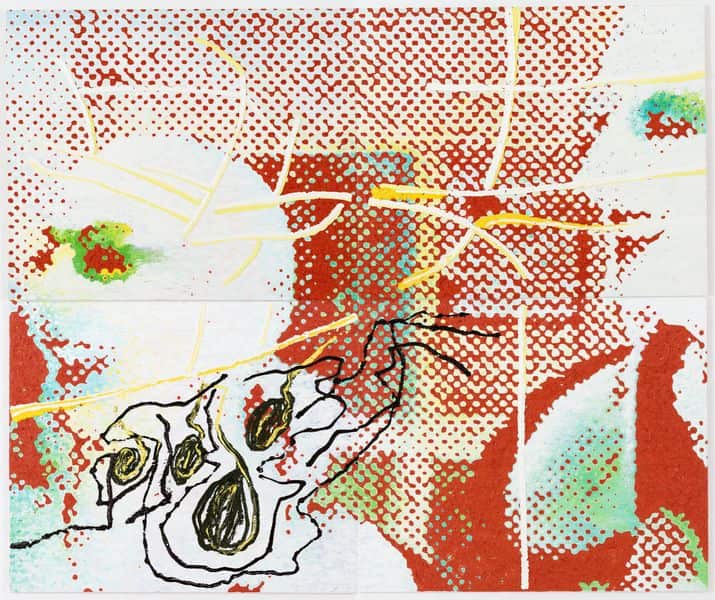 Exhibition Highlights
Among the exhibition highlights is the ongoing series MEDIAPLASTIC CACTUSBLOSSUM from 2012 exploring their worldwide appearances and the resulting press and media coverage. The series is comprised of paintings based on photographs of the pair sourced from newspapers and magazines. The exhibition will also feature the series Cum, comprised of paintings based on the media coverage of their presence at exhibition openings.
The state of permanence they exist in and their never-ending performance is humorously portrayed in their video work Kisses in the Supermarket from 1997, showing their grocery shopping in a New York City supermarket.
The exhibition will also present the intimate thematic group Eros & Death comprised of the chimera of the erotic, such as the floral drawings ADSILA from 2014 or 45 works on paper from the series SAVOUDRIJA created in 2015 featuring skull symbolism. Other highlights include biographical sculptures, including their bed and bodice, pieces from the group of works Transformer-Performer, composed of their logo featuring a heart made of their heads leaning against one another, and the video work Eurotrash from 1998 showing how the duo is perceived internationally.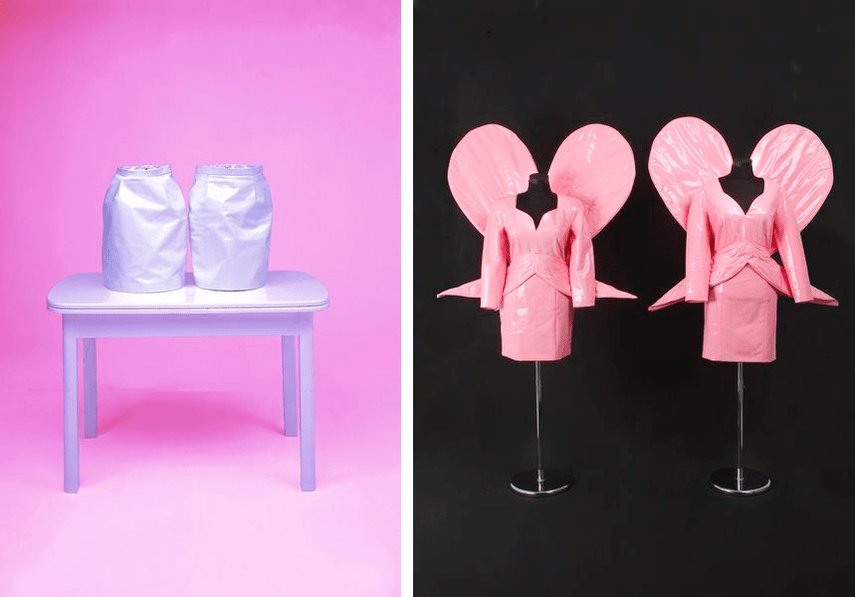 EVA and ADELE Exhibition at me Collectors Room Berlin
With the entire exhibition space and the Wunderkammer in me Collectors Room Berlin incorporated into EVA & ADELE's Gesamtkunstwerk, the exhibition will provide a comprehensive look at the decades they shared together and their unparalleled creativity in the art world.
EVA & ADELE - L'amour Du Risque will be on view at me Collectors room Berlin from April 27th until August 27th, 2018. The press preview will be held on April 25th, from 10 to 12 a.m.
The show will be accompanied by a catalog and extensive schedule of public programs. Curator's guided tour with Dr. Heike Fuhlbrügge will take place on May 5th at 4 p.m., the Talk with EVA & ADELE and Dr. Heike Fuhlbrügge will take place on June 9th at 4 p.m., and the Art & Dinner with EVA & ADELE will take place on June 27th at 7 p.m.
  Editors' Tip: EVA & ADELE: You Are My Biggest Inspiration. Early Works by Museum of Modern Art in Paris
EVA & ADELE: You Are my Biggest Inspiration. Early Works accompanies the first exhibition of the couple's early work at the Musée d'Art Moderne de la Ville de Paris. Beginning with their earliest work together, the book takes readers through examples from among their early paintings, drawings, sculptures, and video installations with the aim of exploring the sort of synthesis that drives Eva and Adele's undeniably unique body of artistic work.
With more than one hundred full-color illustrations and a pull-out poster, the book brings much-deserved attention to one of the most name-dropped duos in contemporary art.
Featured images: Eva & Adele - Man Has The Phallus, Woman Is The Phallus, 1993, 2 Polaroids, Je 10,2 Å~ 10,1 Cm © Eva & Adele Und Vg Bild-Kunst, Bonn 2018; Wings I : Ii : Iii, 1997:1998, 3-Channel-Video (Wings Iii, Video still), Echtzeit, 00..62..14, 00..62..15, 00..62..32 Min, Loop Pal, Edition 5 + 3 Ap © Eva & Adele Und Vg Bild-Kunst, Bonn 2018; KostüMplan, 2009, Graphite on Paper, 30 X 40,5 Cm © Eva & Adele Und Vg Bild-Kunst, Bonn 2018. All images courtesy of me Collectors Room Berlin.