In the 1960s, the American art scene was dominated by white male presence, meaning that the patriarchal matrix stood intact regardless of the type of human activity. However, that didn't stop women from rightfully searching for their spotlight, while at the same time responding to the latest tendencies in experimentation with new media. Before the consolidation of the feminist movement a decade later, there were a few women who dared to explore their sexuality, identity, and the very notion of femininity, such as Eva Hesse and Hannah Wilke.
Both artists came from Jewish backgrounds and emerged practically at the same time in New York, and they have explored the domains of sculpture aside from the Minimalist canon established at the time. It is not known whether they knew each other, however, the way their artworks responded to similar if not the same subjects is fascinating and tells much about their efforts to expand the notion of media such as sculpture in unique and critically charged fashion.
Coming up at the New York-based Acquavella Galleries in 2021 is the first exhibition featuring the practices of Hesse and Wilke in a dialog with twenty-three artworks made by these two incredible feminist pioneers between 1965 and 1977.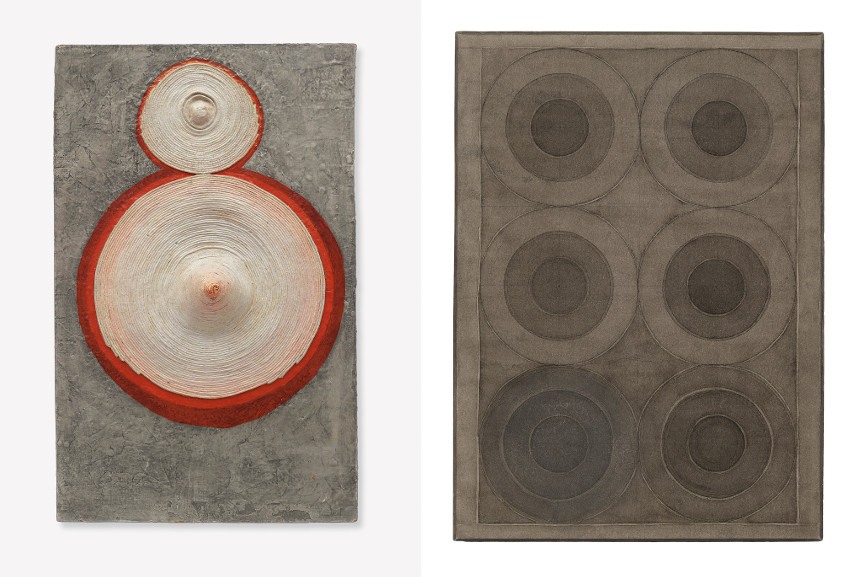 Hesse and Wilke: Redefining The Sculpture
A short-lived artist, Eva Hesse arrived in New York in 1939 as a two-year-old with her family that fled from Nazi Germany. She attended the School of Industrial Art, Pratt Institute in Brooklyn, and Cooper Union and eventually received her B.F.A. from the School of Art and Architecture at Yale University in 1959. After the school for a while, Hesse worked as a textile designer back in NYC, and in 1961 she started participating in group exhibitions, while her first solo show took place in 1965 at the Kunstverein für die Rheinlande und Westfalen in Düsseldorf.
Hesse started working with latex as a prime material for her sculptures in 1967, and then with fiberglass the following year. Gradually, Hesse came to prominence in the States and her work received critical acclaim, but, unfortunately, in 1969, she was diagnosed with a brain tumor, and in 1970 she succumbed to the disease and died. Her entire oeuvre primarily consisting of uncanny drawings and sculptures is rather abstract yet characterized by the artist's interest in immediacy, as well as the bewildering, sensual, and modular shapes that unravel her feminist agenda, for which Hesse was often seen as a controversial artist.
On the other hand, a few years younger, Hannah Wilke, was born in New York, and she attended the Stella Elkins Tyler School of Art at Temple University in Philadelphia, where she obtained a BFA in 1961 and B.S. in Education in 1962. From the very start, she explored notions of sexuality and femininity through various mediums and was one of the pioneers in using vaginal imagery to propose feminist standpoints.
Throughout the decades, Wilke developed a specific kind of female iconography based on repetitive abstract, organic forms and corporeality. During the 1970s, the artist embraced a more performative approach while using her own body along with sculptural pieces and photographic works. Wilke's work received wider critical attention, but in the late 1980s she was diagnosed with cancer and she passed away in 1993. A significant number of self-portraits document the last years of her life as she struggled with the illness for the last years of her life.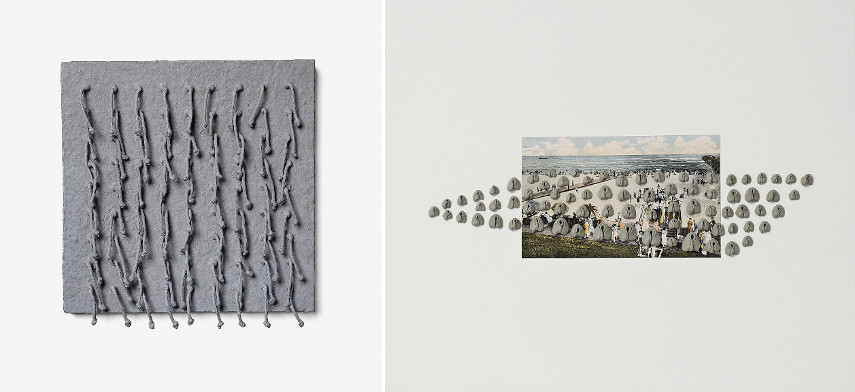 The Similarities in Approach
As it was mentioned, Hesse and Wilke were active at the same time and the same city and their practices, although stylistically different, developed as a reaction to the status of sculpture in the mid-1960s. Both artists experimented with unconventional materials, such as fiberglass and liquid latex, and engaged performativity as an important element of their approach.
Hesse and Wilke perceived the visual vocabulary of Minimalism repressive, and so they have released their own by focusing on their female experience, sexuality, and sensibility. To properly establish a dialog between these two renowned artists, the current presentation includes both groundbreaking sculptural works by each artist, as well as their experimental works and hybrid relief paintings.
The visitors have a chance to one of Hesse's early works such as Ringaround Arosie (1965), consisting of a pair of mounds made of a spiral of electrical wire, along with Wilke's Ponder-r-rosa 1 (1974) made of liquid latex, a then newly-available industrial material that was pioneered by Hesse a few years earlier. This particular work shares in common with Ringaround Arosie innovative construction techniques, and titles indicating at the corporeal forms at stake.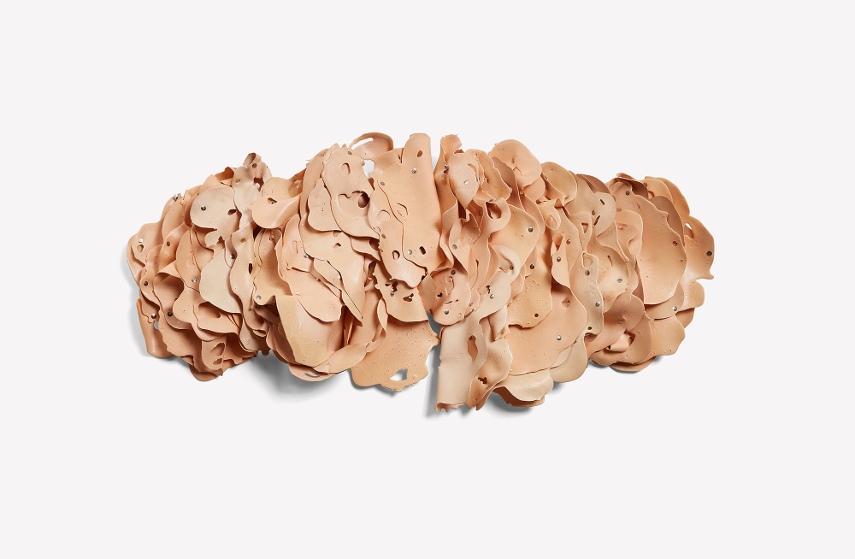 Erotic Abstraction at Acquavella Galleries
After all stated above, it seems clear enough that both artists are celebrated for their outstanding contribution to art history that aimed to make sure specificities of women's practices are equally treated as the practices of male artists. Furthermore, thanks to Hesse and Wilke, a new generation of female artists were able to explore not only this particular but also other media, as well as their bodies, desires, and political beliefs more boldly and freely.
It is worth mentioning that this exhibition couldn't be possible without important loans from The Whitney Museum of American Art, The Museum of Modern Art, The Hannah Wilke Collection and Archive, and Williams College Museum of Art, as well as many private collections. The same is accompanied by an extensive illustrated catalog consisting of critical essays by curator Eleanor Nairne, professor, and author Jo Applin, art historian Anne M. Wagner, art historian and curator Amy Tobin, and gallery director Michael Findlay.
Eva Hesse / Hannah Wilke: Erotic Abstraction will be on display at the Acquavella Galleries in Spring 2021.
Editors' Tip: Eva Hesse and Hannah Wilke: Erotic Abstraction
This exhibition and accompanying book offers the first opportunity to appreciate the resonances between the studio practices of Eva Hesse and Hannah Wilke. Both artists found themselves drawn to unconventional materials, such as latex, plastics, erasers, and laundry lint, which they used to make work that was viscerally related to the body. They shared an interest in repetition to amplify the absurdity of their work. These repeated forms--whether Hesse's spiraling breast or Wilke's labial fold--sought to confront the phallo-centricism of twentieth-century sculpture with a texture that might capture a more intimate, psychologically charged experience. Eleanor Nairne, the curator of the exhibition, writes the lead essay, followed by texts by Jo Applin and Anne Wagner. An extensive chronology by Amy Tobin includes primary-source materials, which bring a new history of how both artists' work sits in relation to the wider New York scene.
Featured images: Eva Hesse with her sculpture Untitled or Not Yet in her New York studio, 1969, photo by Hermann Landshoff; Hannah Wilke in her studio with latex and twine piece from Three Sisters, 1972 (no longer extant). Archival image: Hannah Wilke Collection & Archive, Los Angeles. All images © 2019 Marsie, Emanuelle, Damon and Andrew Scharlatt, Hannah Wilke Collection & Archive, Los Angeles/Licensed by VAGA at Artists Rights Society (ARS), NY. All images courtesy Acquavella Galleries.