For the past few years, Eva LeWitt has been delighting a growing fan base with her completely fresh, lively and luminous sculptures.
The first encounter many viewers had with her work was in her solo presentation in the booth of gallery VI, VII at Frieze New York 2017. Her art fair debut, the installation included two key works: a polyurethane and vinyl plastic wall work, consisting of flexible strips of colored plastic hanging from a vertical stack of shelves mounted on the wall; and a curved, curtain-like, plastic wall sculpture, the colored strands of which rested on a series of five black wall pegs, creating an elegant curve.
The smaller of the two works resembled a spinal cord from a distance. Its industrial, material qualities and minimal, abstract lines evoked pure, formalist joy, but the piece also possessed certain creature qualities that made it uncannily familiar—like a plastic mold of prehistoric alien fossil. To me, the larger, curtain-like piece was like nothing I have ever seen before, and yet, simultaneously, I felt I knew exactly what I was looking at: vertical blinds.
Superbly crafted to make use of gravity and light, and to offer colorful rewards to viewers moving through physical space, both of these unexpected wall works occupied a refreshing cultural space between conceptual high product and consumer byproduct. A bit off-kilter, yet perfectly formed and balanced by their own weight, they were as succinct expressions of the potential for natural harmony between color, matter and space as I have ever seen.
Seemingly the creations of a veteran artist, they were made by the 30-something daughter of Sol LeWitt (one of the biggest art icons of the past 100 years). But being related to a famous person can be more curse than blessing. If all LeWitt wanted to do is become famous, too, her name would offer an advantage in our brand-obsessed culture, but it is obvious from her work that she is more interested in the hard part of being an artist: experimentation, labor, and the never-ending compulsion to manifest unclear and ever-evolving visions.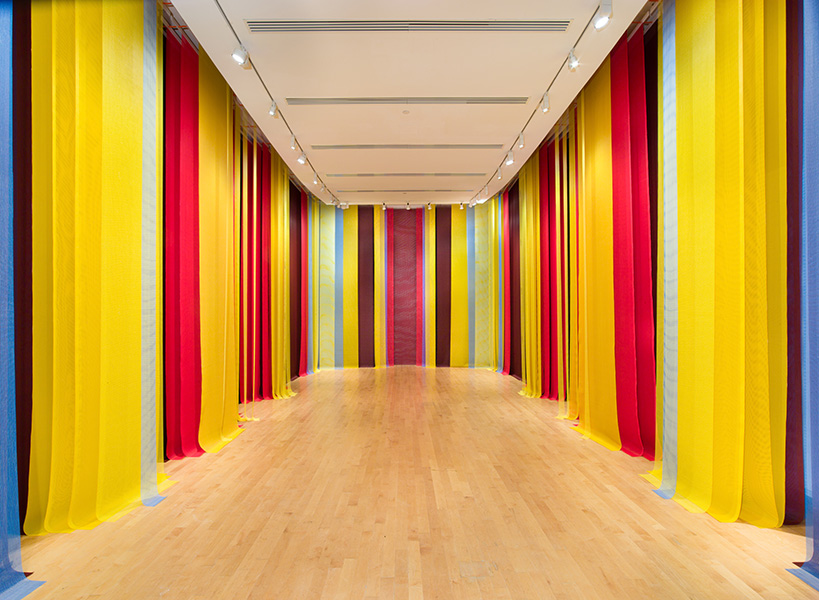 Inter-dimensional Intertextuality
In the years following her art fair debut, LeWitt has repeatedly extended her visual language into new territory.
Her most exciting body of work in my opinion is her series of hanging sculptures that feature curved rows of colored disks hanging at the bottom of thin, symmetrical rows of colored vinyl sheets. Appearing in an assortment of different arrangements, from small works consisting of a couple of curves, to room-sized installations, these mystifying works often create the illusion of orbs hanging in space. I again see in these works something fresh, while also acknowledging something familiar—such as the heritage of Neo-Constructivism mixing with aspects of the Modernist, Minimalist grid.
All the while, LeWitt playfully seems to be expressing her fascination with planning and analyses, mapping out points in space to create lines, while the lines—planar sheets—combine into compositional confabulations of illusionary forms: a display of inter-dimensional intertextuality at its best.
In 2018, LeWitt took her work in another unexpected direction when she was offered the chance to create a site-specific installation at The Jewish Museum in New York. Using many of the same signature materials and techniques that she uses to make her hanging wall works, she created Untitled (Flora), a conglomeration of points, lines and planes that bloomed into a wall mounted garden of abstracted floral forms. Verging on figuration, this installation was balanced by a three-person exhibition at Joan gallery in Los Angeles, for which LeWitt adapted her materials and methods to create a series of hanging installations, in which rectangular strips of mesh hung in graceful curves throughout the gallery space, again creating fluctuating, inter-dimensional aesthetic experiences for in-person viewers.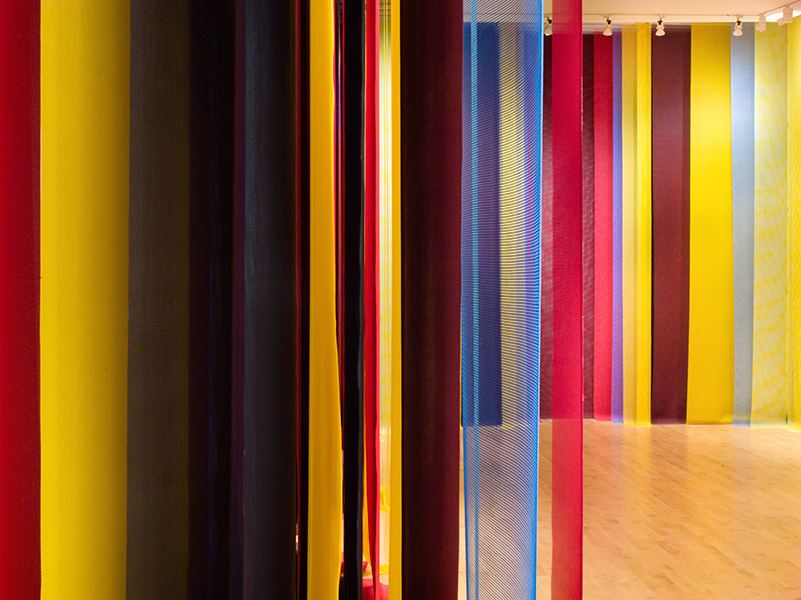 Soul of an Artist
The latest challenge LeWitt has taken on is an installation at The Aldrich Museum in Connecticut, titled Untitled (Mesh A–J). The most monumental work she has created to date, it primarily features what at first looks like a single, multi-colored theatrical curtain surrounding three walls of a rectangular room.
The curtain is actually a forest of multi-colored sheets of mesh. As you walk through the installation, you discover little hideaways into which you can retreat, where shifting qualities of color and light dissolve into something ephemeral and airy.
Like so many of her works, this piece is best discovered in person. Photographs of the piece make it seem heavy and dense, and the colors look flat. In the tradition of constructivism and kinetic art, LeWitt has made something unsuited for the self-isolation required by this moment, reminding us of the importance of being together, and seeing art face to face.
One unfortunate thing about her Aldrich installation is the way it is inspiring comparisons between LeWitt and her dad, and, oddly, between her work and the work of Eva Hesse, another iconic artist with whom LeWitt just happens to share a name. The argument could be made that this particular installation shares certain chromatic and spatial similarities between various wall works her father conceived, but personally, aside from the fact that Eva Hesse did hang a couple of works from the wall that resembled curtains, I see no comparisons between the work of the two Evas. Such comparisons are flimsy and superficial.
But what concerns me most about the rush to talk about the biography of Eva LeWitt, and to draw comparisons between her work and the work of the artists of the past, is the same thing that concerns me about any talented young artist: the feeling that the art market is not giving her the space she needs within the art field to create her own soul.
Eva LeWitt: Untitled (Mesh A–J) is on view at The Aldrich Contemporary Art Museum through 23 August 2020.
Written by Phillip Barcio.
Featured image: Eva LeWitt, Untitled (Mesh A–J) (site-specific installation view, detail), 2019. Courtesy of the artist and VI, VII, Oslo. Photo: Jason Mandella. All images courtesy The Aldrich Contemporary Art Museum.