There are various talented artists whose domains were not recognized during their lifetime, and the reasons for that vary. Such is the case with all the ones who did not fit into the desirable model of a white male artist.
Take for instance Evelyne Axell, who was an established Belgian theater and film actress and television presenter. Her contribution as a visual artist was undermined by male critics due to a lack of understanding of the feminist agenda behind her works, works that were at the time considered scrupulous and superficial.
To correct this bad treatment and shed new light on her seductive, yet subversive paintings, the Swiss Muzeum Susch will present Evelyne Axell's survey under the title Body Double, consisting of the artist's most important works made until she died in 1972.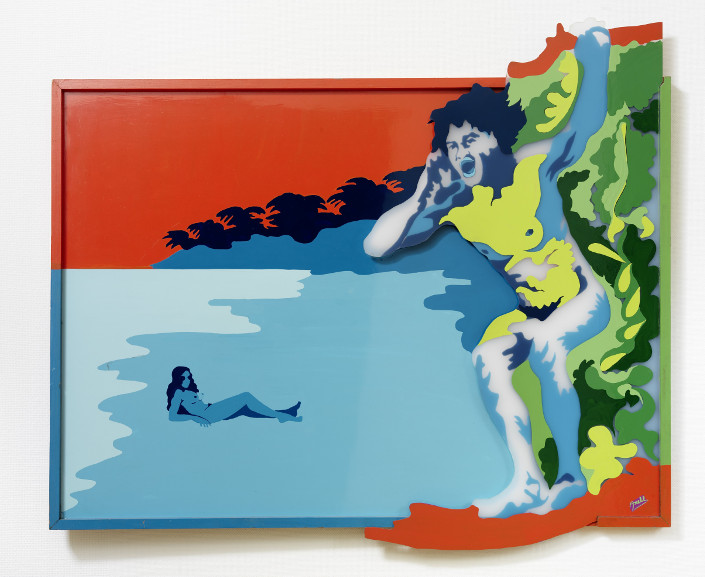 Pop Art From Female Perspective
Under the joint curation by Anke Kempkes, international curator, art historian and art critic and Krzysztof Kościuczuk, artistic director of Muzeum Susch, this exhibition tends to underline how well Evelyne Axell embraced art historical references, particularly Surrealism (which is not unusual since René Magritte tutored her), mixed them with the latest Pop Art tendencies, and developed her unique visual vocabulary saturated with female voluptuousness and sensuality.
Namely, Axell shifted to painting in 1964, but as mentioned, her bold works were not welcomed by the critics, and so she rejected her first name Evelyne and started presenting her works under the androgynous name Axell to escape any connection with her gender. Her career suddenly stopped due to her untimely death in a tragic car accident, aged just thirty-seven.
For that reason, Axell's contribution to early feminist and Pop Art was left out of the art history canon along with some of her contemporaries such as Kiki Kogelnik, Pauline Boty, Dorothy Iannone, and Rosalind Drexler, whose domains have been reclaimed in recent years.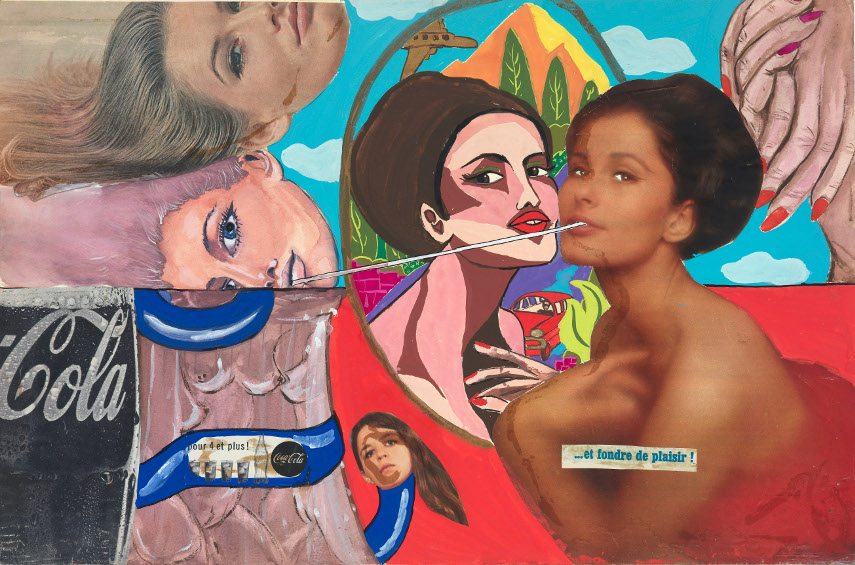 The Liberated Female Bodies In Lavish Gardens
Body Double will bring a selection of painterly objects and collages that were often made with novel artificial materials (for example her signature technique of painting plastic with car enamel), along with works on paper and three-dimensional pieces. The same will underline the artist's political standpoints that come out of her transgressive sexual iconography.
Axell experienced the era of sexual liberation and was apparently fascinated with the anti-colonial politics and the US civil rights movement. Under the impression that the revolution is possible, Axell depicted female bodies liberated from the burden of traditional painterly conventions of female representation and the heteronormative matrix.
The exhibition will culminate with the painting which encapsulates Axell's style, La grande sortie dans l'espace (The Great Journey into Outer Space) made in 1967 that depicts cosmonautic nudes floating in space.
Evelyne Axell at Muzeum Susch
After the 2011 exhibition at Museum Abteiber in Mönchengladbach, the upcoming presentation will be Evelyne Axell's largest solo retrospective outside her native Belgium in decades.
Evelyne Axell: Body Double will be on display at Muzeum Susch in Susch, Switzerland from 1 August 2020 until 6 December 2020.
Featured Image: Evelyne Axell - Les Amies II, 1969. Enamel and spray on Plexiglas, 42 × 65 cm. Courtesy Collection Philippe Axell, Photo Paul Louis. Copyright: ADAGP, Paris -Prolitteris, Zurich 2020. All images courtesy Muzeum Susch.