In the digital era, taking selfies has become not only a daily routine for some people but also a tool for self-branding that often literally pays off. Nevertheless, for a long time, artists used this genre (until recently called self-portrait) to explore and memorize themselves in different stages of life or depict their facial or any other characteristics. Modernism brought a different take on the self-portrait that became more used as a vehicle for channeling various psychological states, as well as the artist's realistic or imagined identity.
The exhibition organized and drawn from the collection of the Smithsonian's National Portrait Gallery called Eye to I: Self Portraits from the National Portrait Gallery revisits this exciting genre through a historical prism. With an array of works by major artists of the 20th and 21st centuries, the show was conceived to commemorate the 50th anniversary of this institution, and would this year kick off a national tour at the Boca Raton Museum of Art in South Florida.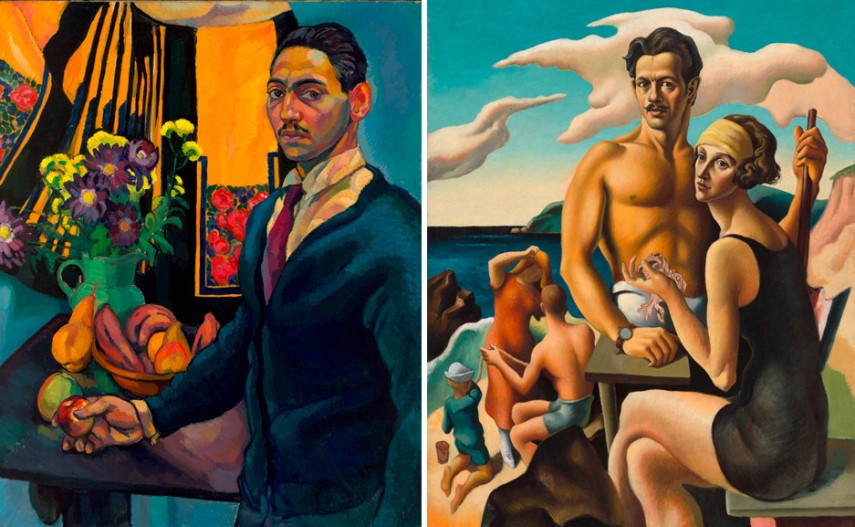 The Historical Survey of The American Self-Portraiture
Eye to I: Self Portraits from the National Portrait Gallery organized by the Chief Curator of the National Portrait Gallery, Dr. Brandon Brame Fortune unravels the process of self-observation and the way the artists used this particular genre to express their inner processes, desires, anxieties, as well as the shift in the self-gaze conditioned by technology - from analog to digital means of (re)production of the artwork.
The visitors will be able to travel through time with an array of exceptional self-portraits by renowned artists such as Thomas Hart Benton, Robert Arneson, Deborah Kass, Elaine de Kooning, Alexander Calder, Jasper Johns, Allan Kaprow, Louise Nevelson, Robert Rauschenberg, Fritz Scholder, Roger Shimomura, Ana Mendieta, Chuck Close, and a few others.
In a brief statement, Dr. Brandon Brame Fortune emphasized her concept:
These individuals have approached self-portraiture at various points in history and using different tools, but their representations ─ especially when seen together ─ all raise important questions about self-perception and self-reflection. Some artists reveal intimate details of their inner lives through self-portraiture, while others use the genre to obfuscate their private selves or invent alter egos.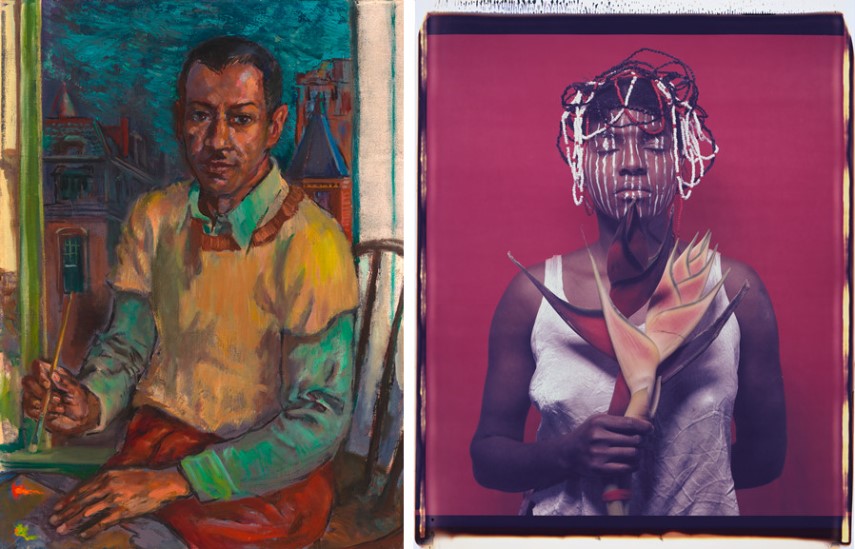 The Installment
The curators selected sixty works in a variety of styles and media spanning from dramatic paintings and photographs to colorful watercolors, caricatures, and time-based media.
Among the highlight is Roger Shimomura's monumental work, Shimomura Crossing the Delaware, that opens the exhibition at the Boca Raton Museum of Art. This particular painting is a sort of the artist's testimony, but with an ironic twist. Namely, during World War II, Shimomura and his family were incarcerated at an internment camp, where they were exposed with outstanding xenophobia generating at that time since the Japanese were enemies belonging to the Axis powers; the artist depicted himself as George Washington and replaced the Revolutionary soldiers with Samurai warriors.
Another highlight is Self Portrait with Rita by Thomas Hart Benton that evokes not only the fashionable behavior and posturing of the time but even evokes similar strategies present on Instagram today. The artist was apparently dazzled with the Hollywood glamour and channeled his inner movie star after seeing The Thief of Baghdad, 1924 feature film starring Douglas Fairbanks.
The self-portrait by James A. Porter is significant in a broader cultural context since it depicts not only the painter but the founding father of African American art history. He was in charge of Howard University's Art Department and the director of the university's art gallery from 1953 until his death in 1970. Porter perfected his studies in France, Cuba, and Haiti and frequently visited West Africa, Egypt, and Brazil, and these trips significantly influenced his work, which is especially apparent on this his self-portrait inspired by the work of Parisian artists.
The installment also includes the captivating self-portrait of Alice Neel started in 1975 that took the artist five years to finish it. By depicting her own aged nude, she tackled the notion of the male gaze while critically examining gender and body-image stereotypes.
The artist Maria Magdalena Campos-Pons used her own body as an indicator of feelings and physical relocations from one place to another. Related with that is the bilingual title of her work and the part of it in Spanish meaning When I am not Here, I am There. On this self-portrait, the artist stands with her eyes closed in a state of transcendence that takes a central place in the practice of Afro-Caribbean talismans affiliated with her identity.
Another exhibition gem is Portrait with Grey Cat, the last self-portrait by Fritz Scholder from 2003 before he died from complications caused by diabetes. This rather moody painting features the artist looking directly at the viewer while leaning on his cane.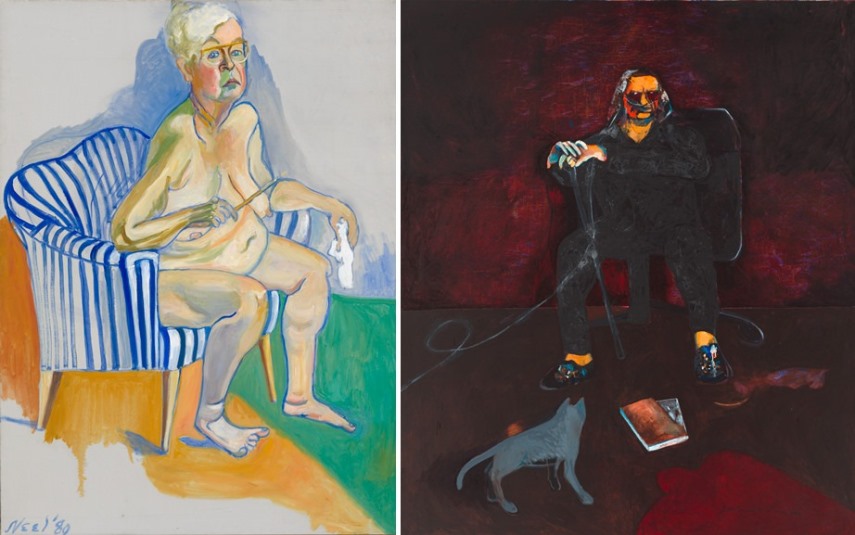 Eye to I at the Boca Raton Museum of Art
the Boca Raton Museum of Art reopens on June 3, 2020, and the Eye to I: Self Portraits from the National Portrait Gallery exhibition is extended through September 20, 2020.
Eye to I: Self Portraits from the National Portrait Gallery
Editors' Tip: Eye to I: Self Portraits from the National Portrait Gallery
This richly illustrated book features an introduction by the National Portrait Gallery's chief curator and nearly one hundred fifty insightful entries on key self-portraits in the museum's collection. It enables the reader to come face to face with some of America's most influential artists of the twentieth- and twenty-first centuries, like Edward Hopper, Beatrice Wood, Man Ray, Alexander Calder, Edward Steichen, Diego Rivera, George Gershwin, Elaine de Kooning, Louise Bourgeois, Andy Warhol, Robert Rauschenberg, Joan Jonas, Patti Smith, Jean-Michel Basquiat, Alice Neel, David Hockney, Chuck Close, and many more. Eye to I provides readers with an overview of self-portraiture while revealing the intersections that exist between art, life, and self-representation. The South Florida edition of this traveling exhibition differs from the Smithsonian show, previously presented in Washington, DC, since all of the works on paper and several paintings were chosen especially for the national tour.
Featured image: Roger Shimomura - Shimomura Crossing the Delaware, 2010. Acrylic on canvas. National Portrait Gallery, Smithsonian Institution; acquired through the generosity of Raymond L. Ocampo Jr., Sandra Oleksy Ocampo, and Robert P. Ocampo © 2010, Roger Shimomura. All images courtesy the Boca Raton Museum of Art.