The concept of "High art" is a tricky one to discuss in our day and age. It immediately summons up ideas of high-brow conservativism, of a pearl-clutching reactionary shrieking at everything not "pure" and "noble" enough in our galleries. For a contemporary artist to chose such a term to describe his own artistic aims is risky at best. Still, while standing firmly on two millennia-old traditions of classical painting and the grotesque (both going back as far as ancient Rome and Greece), Fabio D'Aroma is thoroughly contemporary, relevant, provoking and intriguing. With keen observation, intelligence and flair, he dissects and reassembles the human experience and puts it on view.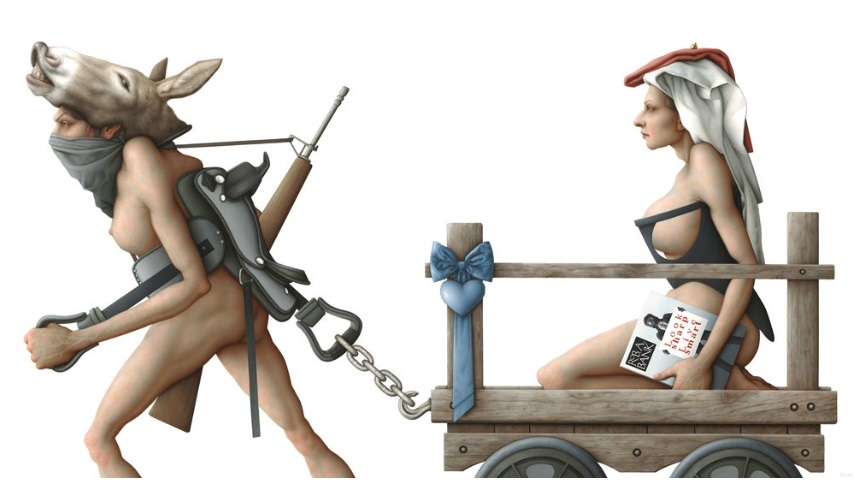 The New, the Intriguing and the Grotesque
Having gone through a period of aquiring the necessary tehcnical skills and becoming a working master of his craft, much like his idol Caravaggio, Fabio D'Aroma nevertheless posesses an artistic path thoroughly his own. The expressive figures in his works firmly distance him from artists of photorealism but his exceptionally precise drawing, luminous handling of color coupled with unexpected twists and turns of imagination make his style instantly recognizable, his paintings eye-catching yet worth returning to over and over.
D'Aroma's most recent work, to be exhibited at the BC Gallery, follows suit to his two previous large-scale projects - "Retrocorionica" and "West of Ovest". These procession friezes assembled from oil-on-canvas works show a multitude of grotesquely formed characters involved in often confusing and contradictory activities.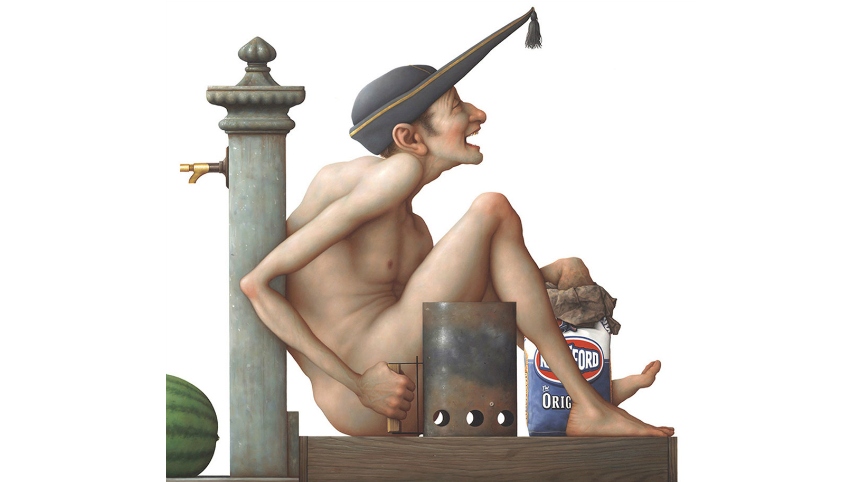 Line-Breeding, Inbreeding, and the Consequences of Manipulation
The name of the new segment of the planned monumental frieze, "Line-Breeding" comes from animal husbandry and describes a milder form of inbreeding which involves animals that are not direct but stlightly more distant relations. It is unlikely to cause problems in the first generation but an increased prevalence of certain genetic disorders may arise several generations down the line as a consequence of too-small a gene pool. While mostly found in animals, the same sort of manipulation has been known to happen in humans, most commonly among royalty in centuries past. The most famous example of this practice was Charles II of Spain whose own immediate pedigree was more or less full of close relative relationships so far, so that his parents were actually uncle and niece.
In a similar vein, human behaviour over time changes in such minute ways that can, on the long run, lead to massive and often ill-fitting changes to the social fabric. This is what Fabio D'Aroma focuses on. Dealing with time as both fixed and fluid, he uses deliberate anachronisms to emphasize the odd, the bizzare, and the absurd. This grotesque figures on off-white backgrounds perhaps put us, humans, under the magnifyling glass more than we'd like to think. The theme of displacement is all-pervading, the characters' interaction is almost always awkward and it emphasizes their uneasy relationship with themselves as well as with those around them. With time (and perhaps further line-breeding), the hypothetical sound of this procession might become more dissonant yet more fascinating to observe.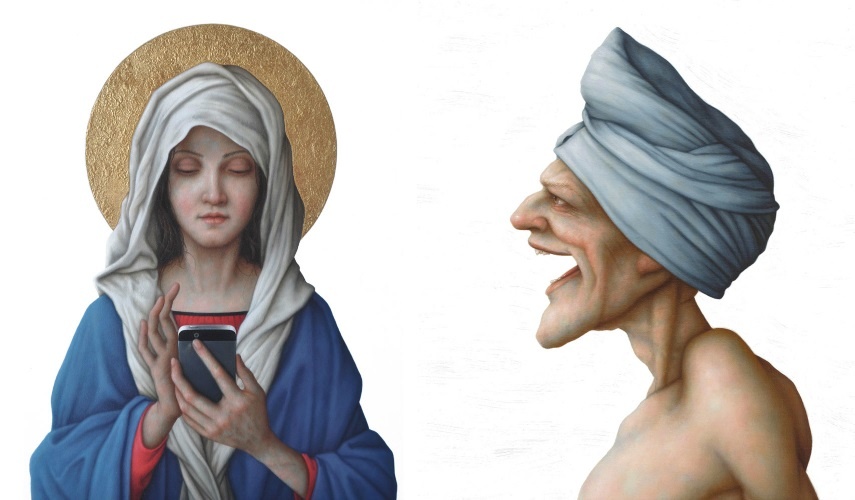 Fabio D'Aroma Art at the BC Gallery
BC Gallery proudly presents Fabio D'Aroma's first solo exhibition in Germany - "Line-Breeding". It will showcase intriguing and ambiguous images of grotesque beauty, his most recent studies for the upcoming frieze. The opening reception, at which the artist will be present, will be on Saturday, September 10, from 3 to 7 pm. The exhibition will be open for public viewing through October 22 at the BC Gallery, Libauerstraße 14, Berlin.
Feature image: Fabio D'Aroma - Altar for the Unknown Deserter (detail), oil on canvas, 66x71cm, 2016 ; All images courtesy of BC Gallery.