The way women perceive themselves, and especially their bodies, was and still is largely affected by the inherited patriarchal codes. Nevertheless, since the 1970s, that perception started changing and so have the approaches of representations of women corporeality. Contemporary art is now filled with various examples, but the most interesting ones are often peculiar and hybrid.
Although at first glance it may seem too frivolous or commercial, the artistic practice of Fahren Feingold introduces a subversive take on the depiction of the female body.
Her latest watercolor series titled The Peep Show is going to be shown in New York.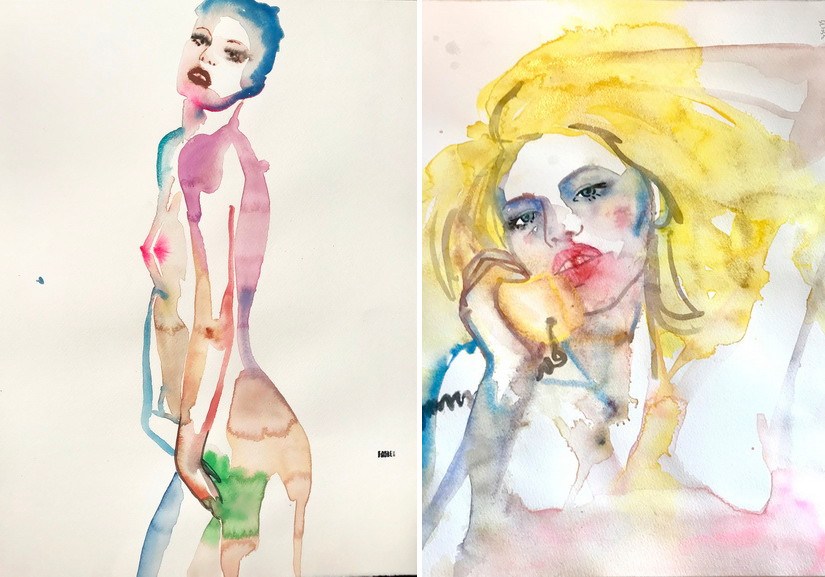 On Sensuality Of Female Nudes
By combining various references from the Expressionists nudes (mostly of Egon Schiele), vintage French erotica, Russ Mayer's femdoms from the 50s, fashion magazines and music album covers (Duran Duran) to present day Internet girls, Fahren Feingold introduces a critical overview of both historical and contemporary representations of the female nudes.
The artist moved to New York at the age of seventeen, where she earned BFA between Parsons and Glasgow School of Art. Since then, she has worked mainly in the fashion industry for famous brands such as Nicole Miller or Ralph Lauren.
Nevertheless, her sensual and bold watercolors were commissioned in 2016 for Paris Fashion Week, pointing her work out to the critics and collectors. Fahren Feingold has participated in various international collective exhibitions and had several one-woman shows in recent years.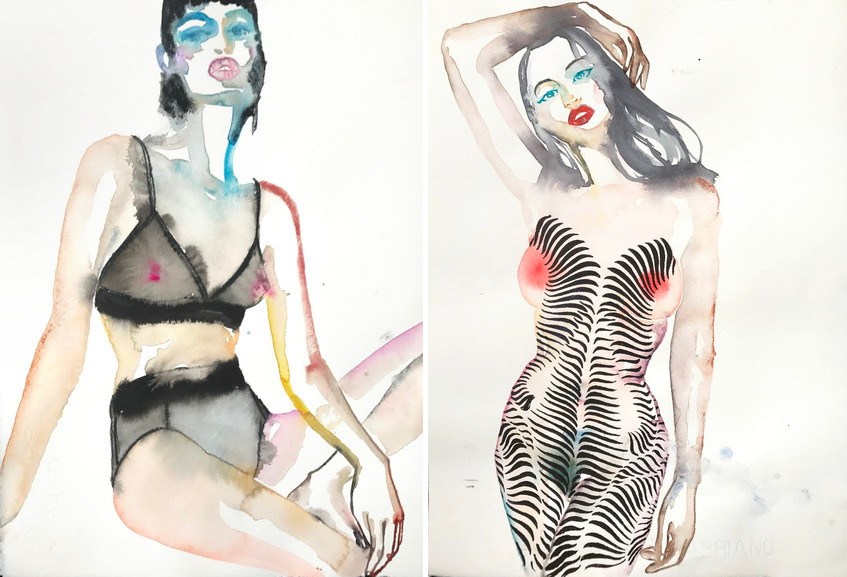 The Peep Show
Behind the intriguing exhibition title is the latest watercolor series of dreamy and slightly surreal portraits of women in various positions and states of mind. The very choice of media is quite interesting and is reminiscent of the early fashion illustration; bright colors, the lining, and composition can be related to the window-shop illustrations of Andy Warhol.
It seems as if the artist has deliberately decided to place those female figures in an undetermined space and time in order to achieve timeliness. Aside from their expressions, longings and eerier energy, they seem independent and freed to express their self-indulgence.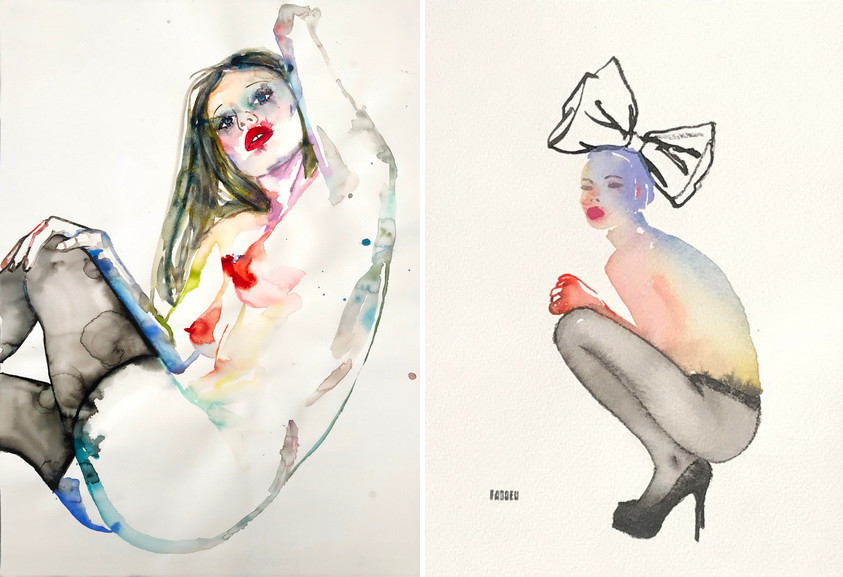 Fahren Feingold at the Untitled Space Gallery
The outstanding works of Fahren Feingold should be perceived in the context of new emancipatory practices since her agenda is to deconstruct the male gaze and introduce female gaze only. Namely, by producing beautiful and unshameful naked bodies, the artist stands for the voices of a woman from both the past and the present.
The Peep Show is a collaboration between The Untitled Space and Fleur du Mal, the provocative lingerie brand,. It is taking place at The Peep Show Pop Up Gallery on 175 Mott Street in NYC until 8 July 2018, while the special event celebrating the exhibition will take place at the venue on 7 June.
Featured images: Fahren Feingold - You or someone like you, 2017; Fahren Feingold - Hearts on fire, 2016; Fahren Feingold - Phone sex, 2015. All images are courtesy of the artist and Untitled Space Gallery.