In conjunction with their recent exhibition FAILE: Works on Wood: Process, Paintings and Sculpture at Allouche Gallery in New York, one of the best street art duos released two limited prints on November 18, 2014, at noon, New York time. Both of the prints are based on paintings published in the art book Works on Wood, which was also issued for said exhibition. Highly collectable, FAILE devised a couple of silk-screen prints on a thick, archival paper, following their tradition of printmaking and limited edition releases. Named Sub Rosa World and The Right One, Happens Everyday, each of the prints suggests a different narrative, although both are rooted in vintage aesthetics and provocative notions on female nature.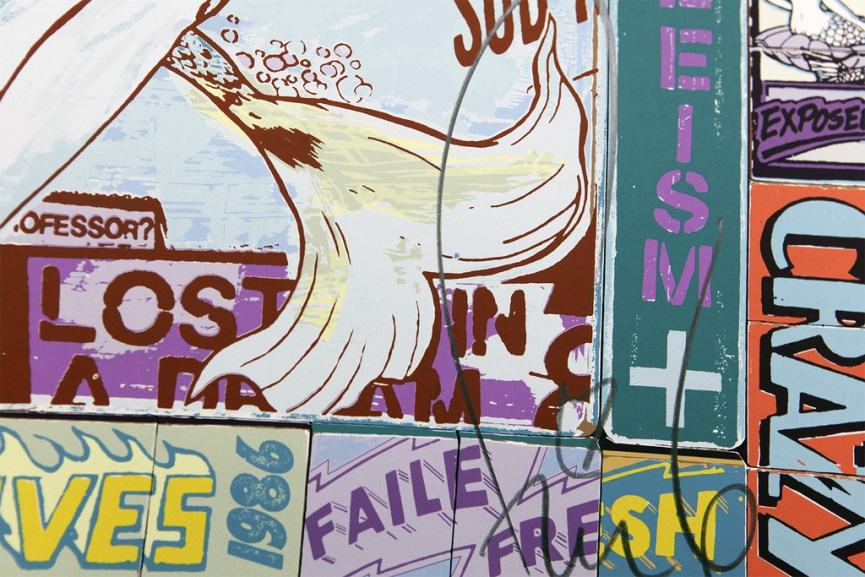 Sub Rosa World
Sub Rosa Wold is the title of the print which honors sapphic love in a very entertaining and witty manner. Surrounded by scripts such as "wrong side of the rainbow", two females are kissing passionately in the middle, one of them being a mermaid. The scene is an obvious mockery of the bigotry related to gay and lesbian culture, as it is suggested that such an act of love could only happen with a magical being, or in a dream.
Sub Rosa World is a 26 color silkscreen print, is based on a classical FAILE painting executed on wood palette and published in Works on Wood art book. Overlapping layers give it profundity and visual richness, while an abundance of detail leads the eye from one corner to the other, always discovering novelties. Sub Rosa World is a 24 x 28 inch print, issued in an edition of 250, signed and stamped, and priced at $350.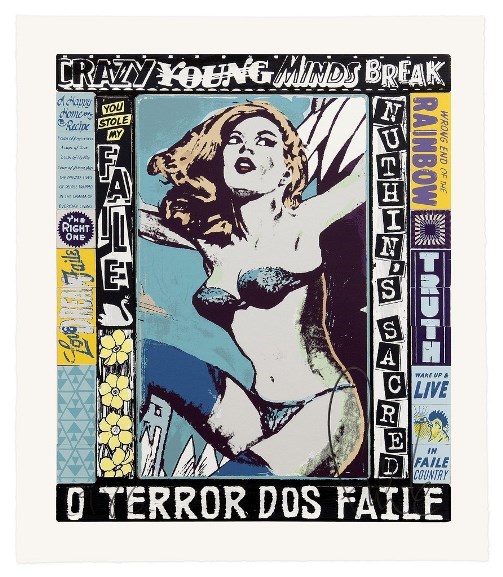 The Right One, Happens Everyday
The second print carries a rather ambiguous title - The Right One, Happens Everyday, and it depicts a young, undressed girl in quite a seductive pose. Still, the vintage pin-up model of representation rules the scene, while the rainbow and other FAILEsque statements populate the frame around the image. Layering and details are just as minutely executed as in the previous print, while the context and the imagery differ, still bearing much of the spirit of the two Patricks.
The Right One, Happens Everyday is a 20 color silkscreen print, also based on a painting from Works on Wood, commemorating the great moment in the artists' career and the ongoing exhibition at Allouche.
The Right One, Happens Everyday is also a 24 x 28 inch print, issues in the edition of 450, signed and stamped, and priced equally at $350.
FAILE Prints and Exhibition
Both of the prints are available at FAILE online shop, with the promise of fast shipping, until they sell out, which will be clearly signed on the page.
After a very prolific year filled with exhibitions and collaborations, FAILE are ending it big style, with the Allouche Gallery show running through December 10, 2014. After the successful opening, all that can are advised to go and see some of the most innovative works of the duo. Artist talk will also be organized in New York in December, where FAILE will discuss the art book. You can also follow FAILE through their dynamic Instagram account.
If you are an admirer of FAILE and their eclectic art, stay tuned for more upcoming news on the artists by signing up for My Widewalls and customizing your Dashboard!