Street art duo FAILE never fails to impress us. The Brooklyn-based artists known for their numerous art projects and wide-ranging multimedia practice recently added another interesting collaboration to their substantial portfolio. The prolific duo, which has already worked with numerous artists and institutions including the NYC Ballet and created a variety of artworks ranging from stencils and prints to game arcades and art GIFs, is now among several art-makers who were chosen to design custom cases for Google's Pixel phones.
This collaborative duo FAILE was created in 1999 by artists and high school friends Patrick Miller and Patrick McNeil. The duo was quickly drawn by the energy of the streets and began to decorate the surrounding facades with their recognizable fragmented mixture of appropriation and collage. Since then, FAILE has been featured in galleries and institutions all over the world, including acclaimed venues such as The Brooklyn Museum in New York City and Tate Modern in London. Their unique style combines a variety of influences including street art, punk music, American folk art, comics, and advertising. The artists, who already proved that art knows no boundaries by creating a series of uncommon art objects such as totems, arcade machines, wooden boxes and window pallets, extended their practice to embellishing phones for Google's new series of customized Artworks' Live Cases.
We caught up with FAILE members to discuss this interesting mixture of art and technology, while simultaneously taking a stroll down the memory lane to discuss their beginnings and major milestones in their career.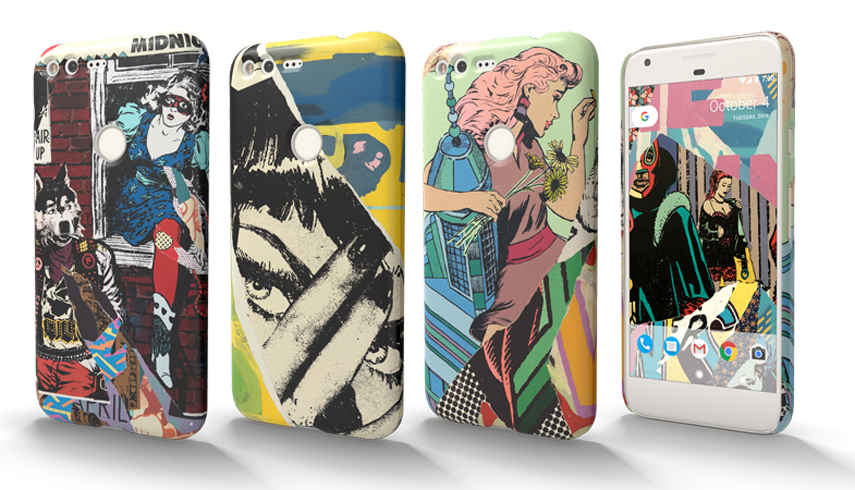 From New York City Streets to the Brooklyn Museum
Widewalls: Could you tell us a little bit about your beginnings? How did you two meet and what inspired you to begin stenciling and eventually wheat-pasting?
FAILE: We met the first day of high school when we were 14 years old in Arizona. We traded some fireworks and both had a love of art and drawing. We always talked about making artwork like a band. I think more than anything we shared the same passion in art and making. McNeil was first exposed to stenciling while studying abroad in England in the mid 90's, where they were used to advertise small concerts. He brought this back to AZ while we were in our early college years and this was a method we experimented with to make work. When we went to art school we found silk-screening which was a process that fit well with the stencil work. This mixed with seeing things that were happening on the streets in NYC on a day-to-day level as McNeil was studying here. We decided to collaborate and create new work together for the street and as fine artworks. This ultimately lead to FAILE.
Widewalls: FAILE's canvas works bear the style typical for your street artworks. How important is it for you to keep that connection with the streets? Could you briefly describe the creative process behind your studio works?
F: The street and the studio always shared a symbiotic relationship. We didn't set out to make work for the street per say. We wanted to create our art and we found the street was a great place to share this. There was an energy to working on the street that you couldn't find anywhere else. We were still in college and in the late 90's there wasn't a genre for street art like today, it was just this underground thing that we were inspired by and wanted to contribute to. As we made work we would do a certain amount of prints/posters that would end up on the street and then stencils started playing into that and our painting style would bounce back and forth between the work in the "studio" and the work on the street. Not all our work on canvas relates to things that we found through working on the street but it's true that much of it has roots there.
Widewalls: In 2015 Brooklyn museum hosted FAILE: Savage/Sacred Young Minds, a solo show covering five years of your career. How did it feel to have a comprehensive solo exhibition at such an acclaimed institution located close to your studio in your neighborhood in Brooklyn?
F: It was amazing. As an artist to show in a major museum in NYC is such an accomplishment in your career not to mention in our hometown. Also to have the legitimacy of such a major museum standing behind you, among all the historical artwork they have there and to say that the work your doing is relevant today is a real honor.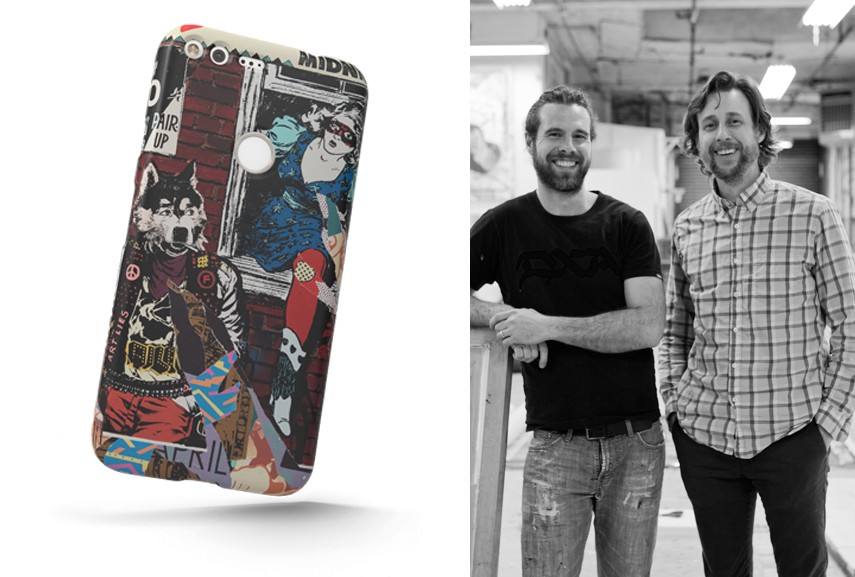 Artist Collaborations and Public Interaction
Widewalls: FAILE is a Brooklyn-based artistic collaboration, but you've also collaborated with many other artists, groups, and companies. Could you tell us which is your favorite collaboration? Or maybe the most unusual one?
F: Some of the most interesting collaborations for us occur when we can dive into the culture and historical archive of another institution or company. Where we can take what we do, using our visual language and method of story telling and absorb another world into that and then spit that back out as something unique. The Art Series with the NYC Ballet was remarkable for that reason as there was such a vast history to pull from especially since this was another creator of ND art form that we could work within.
Widewalls: Your 2013 Les Ballets de FAILE installation was a tremendous success. When you first started your career, did you ever think that one day you'll collaborate with New York City Ballet? How much time was invested in constructing such a complex installation?
F: I can't say we ever imagined that we would work with the NYC Ballet when we were starting out. We are grateful for that opportunity as it was an amazing platform to work from. The timeline was tight for the project and since it was the first time in, something like, 20 years that they had an art program, there were a lot of things to figure out as to how it was going to work. Yet, everyone at NYC Ballet was incredibly supportive and open to ideas. They really let us present something and then run with it. I think they had a lot of trust in letting us speak to our audience and theirs from our point-of-view. That says a lot because it shows that they realize they don't know our audience and they are willing to grow theirs through creativity. Which is what the early days of avant-grade ballet were really all about.
Widewalls: Recently you've made a mural for the Climate Week NYC. How environmentally conscious are you? The use of found objects in your works certainly suggests a certain level of concern.
F: I believe we're fairly environmentally conscious. We do like to use found objects or more importantly to use things that have a history and give them a new life through the artwork. There's definitely a large part of art over that last 50 years that tries to celebrate things around us in our everyday lives as art. I think that was our goal with the mural, to connect to people in a way that is part of their everyday and offer room to contemplate the subject.
Widewalls: We couldn't help but notice original Wooden Puzzle Boxes featured on your website. What inspired you to create these boxes? Did you play with them when you were a child and is there a high demand for them today?
F: We came across old puzzle boxes that were made for kids around the turn of the 20th century when we were researching a show in 2008. We loved the idea of modularity, abstraction and the gestalt of these objects. The idea off play was also critical as we have been making work in public spaces so long we were used to having the potential for interaction with the viewer and the work on the street. We liked that through the puzzle boxes the viewer could have the same experience of transforming the work and creating new compositions through a similar process. We even made them work as a stand alone app back in 2010. They are coveted works. The time it takes to create each one is ridiculous but they are works we love and continue to find inspiration from them.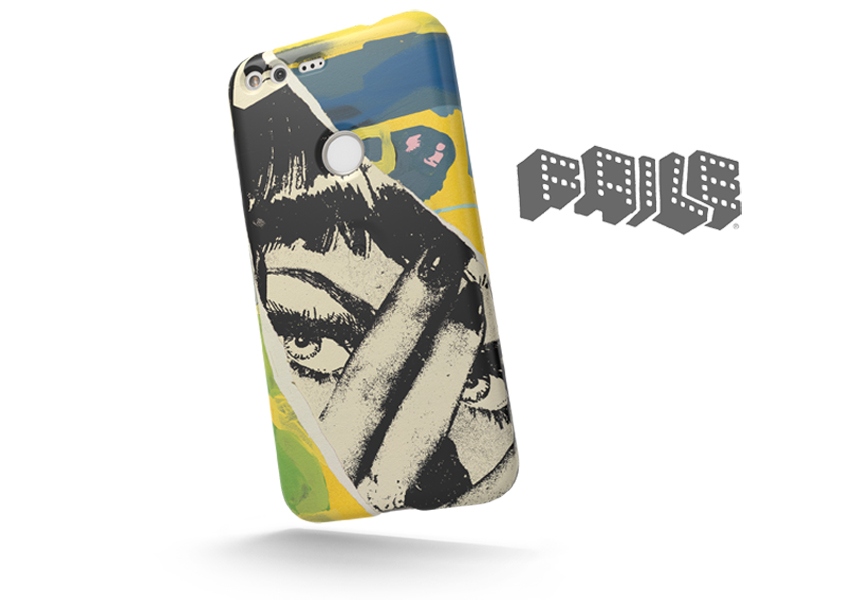 Discovering New Ways of Connecting with the Audience
Widewalls: Moving on to a more modern "toys". Tell us a little bit about your collaboration with Google? How was this collaboration initiated?
F: We use Google everyday. It's such a part of our lives from a digital standpoint. We've always tried to embrace new technology and find a way to use that platform to share our work. I think as you grow as an artist you start to look for new ways to connect with an audience and speak to them. Phones are such a huge part of how we all navigate the world today that it seems like an opportunity to have a new public discourse with people. When the project was brought to our attention and we had the opportunity to be part of the launch of the new phone we thought that it had great potential as a platform.
Widewalls: Was it difficult to design an artwork fit for a phone case? Why have you decided on this particular design?
F: Not really. I think we've seen many phones cases before and had projects come our way with them and it wasn't right. What made the Google Live Case interesting was the interaction with the viewer. Like the puzzle boxes they would have the ability to determine what they wanted to have within our artwork through their case. That was important and we tried to create works that could have more abstractions or classic FAILE elements.
Widewalls: How does technology play a role in your artwork in general? Is there anything that you would like to do in the future with Google?
F: It plays a pretty big part in our work. This most comes through the Deluxx Fluxx Arcade that we work on with Bast. While we are often referencing the earlier days of gaming and our interaction with them in a space, we have to really think about how that can work and the opportunity to connect with people. We are creating all the games for that show so, in many ways, we have explored this a lot. Whether it was with the Temple and how ceramics and mosaics could give people an experience of being in a space using antiquated levels of technology to tell stories or the large Prayer Wheel we did in Times Square where the carnivalesque lighting was activated kinetically by spinning the wheel or more obviously with the arcade experience. I think we are always trying to find ways to explore different methodology and types of technology. It would be great to work with Google on pushing new technology through the lens of the Deluxx Fluxx Arcade.
Widewalls: You are also the creators of several art GIFs. What drew you to this contemporary art form? What is your opinion about digital art?
F: I really love digital art. I miss websites. Really good experiential websites where you could explore and interact with art in a unique way. Nowadays everything is stripped down for mobile but something was lost there. GIFs just fulfill that level of bringing the work to life. It's frame by frame animation to us and there's something really special about working and thinking that way.
Widewalls: You've produced a variety of artworks including canvas works, prints, multimedia installation, sculptures, and GIFS. Is there a material or an art form that you haven't tried yet, but would like to experiment with in the future?
F: We've been lucky to be able to work in a broad range of mediums. I think we hope to dive deeper into those to start pushing what we can do there. VR seems fascinating in the ability to create new worlds. We do like tactile experiences but there's something about VR where you just know that's the future. But as we become more digitally minded, there will be a longing for physical objects and surfaces so we will do our best to find ways to incorporate both.
Google Pixel live cases designed by the celebrated street art duo FAILE can be purchased on Google Store.
Images courtesy of the artists.