Lovers of street art are probably familiar with the art duo Faile. Their usage of the appropriation technique and collage combined with the pop culture involved themes has brought the duo a major international success. Although painting and printmaking still remain central to their approach, over the last decade Faile have adapted their signature mass culture-driven iconography to vast array of materials and techniques, from wooden boxes and window pallets to more traditional canvas, prints, sculptures, stencils, installation, and prayer wheels. From their stencilling background wheat-pasting collages, to their incredibly successful comic book inspired print editions, to the ambitious architectural work, Faile have made an enviable career and are still growing.
Releasing Today
We are happy to inform you that today is the release of Faile's latest prints and originals. The new 150 Series will feature the Bad Lands image. There are approximately seven variations within the edition - multiple color variations, hand-painted, stained and printed - all on a nice, thick archival paper. As usual the backs of these are quite special and unique. In addition, they are releasing two new original works on paper of Bad Lands that can also be bought now via the Faile store. These are heavily layered and hand painted, epitomising everything that is Faile. These will both be available through the Faile shop at noon (NYC time) today.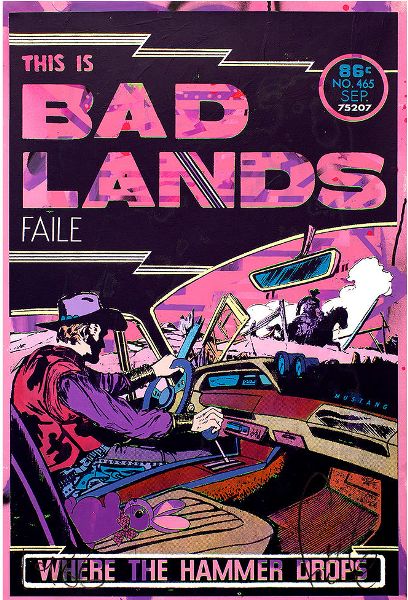 FAILE Book on Sale
Also, a special edition of the new book FAILE: Works on Wood: Process, Painting and Sculpture published by Gestalten will be available through the Faile shop, as well as the signed copies. In November there will be a show and book release in NYC in order to celebrate new works as well as previous works on wood featured in the book. If you happen to be in New York this month you can check out the inaugural group show at Allouche Gallery and if not, run by the Faile shop and buy your copy of the magnificent works of the artist duo!