Over the past five decades, the American artist Faith Ringgold has been challenging perceptions of African American identity and gender inequality through the lenses of the feminist and the civil rights movements. Through politically charged quilts and paintings, the artist has been telling stories of her life and those of others in the black community.
This April, Glenstone Museum will be the only US museum to host a major monographic exhibition of more than 70 works by Ringgold, as part of a two-year international tour organized by the Serpentine in London. Simply titled Faith Ringgold, the traveling show will be the artist's largest survey exhibition to date, featuring approximately 30 additional works on loan not exhibited earlier in the tour.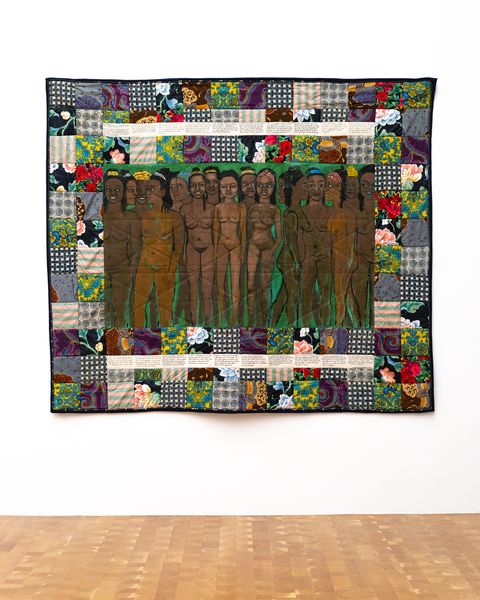 The Practice of Faith Ringgold
Growing up in the creative and intellectual context of the Harlem Renaissance, Faith Ringgold has been inspired by her contemporaries such as writers James Baldwin and Amiri Baraka. Over the course of her career, she has worked in a variety of media, most notably quilting, painting, performance, and soft sculpture. She is best known for her vivid, quilted narrations that communicate personal narratives, history and politics, while elevating the oft-dismissed domestic crafts to high-art status.
Hans Ulrich Obrist, Artistic Director of Serpentine, expressed his excitement about the collaboration with Bildmuseet and Glenstone. As he explains, Ringgold is an "extraordinary painter, activist, and storyteller," who "documents and bears witness to major moments in modern history."
It is hard to believe the Serpentine exhibition was Faith's first European institutional show. She is among the most important figurative and political painters of our time and her work remains relevant and continues to inspire future generations. As Faith herself says: Raise your voice. Unite. Tell your story. Do the work and keep doing it.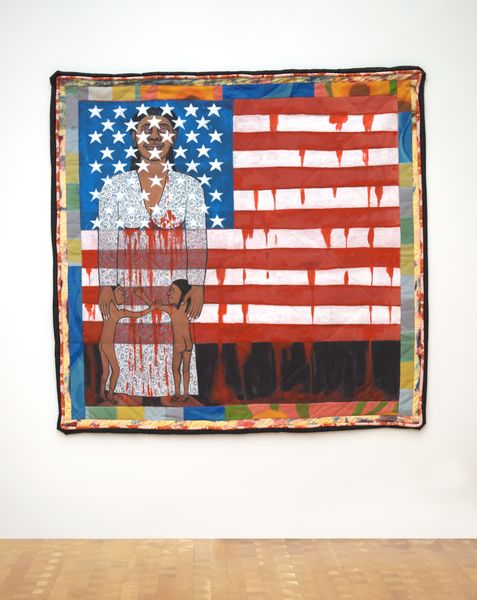 The Works on View
Highlighting both the artist's range and her incomparable ability to focus the act of art-making into a critical agent of social change, the exhibition brings together works that span the entire range of her career.
The display will include Ringgold's early 1960s paintings and the political posters that she made in response to the increasing racial violence in America; paintings in which she restricted her palette to dark colors and Black skin tones; and works that incorporate fabric, such as three-dimensional sculptures, multimedia performances and paintings on unstretched canvases stitched with fabric borders that were inspired by Tibetan tankas, as well as her narrative quilts.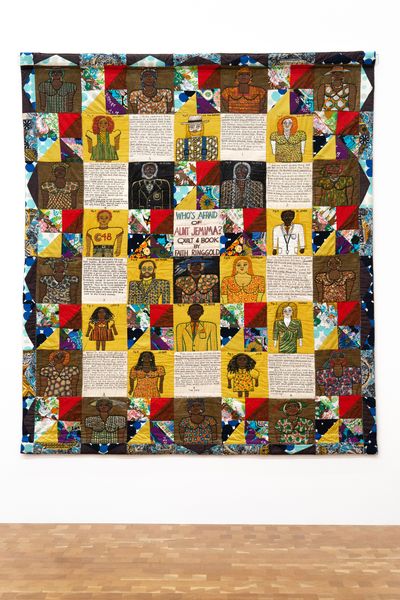 Faith Ringgold at Glenstone Museum
Curated by Hans Ulrich Obrist, the exhibition debuted at the Serpentine Galleries on June 6th, 2019 and closed on September 8th, 2019. It was on view at the Bildmuseet from August 27th, 2020 to January 10th. After delays due to the COVID-19 pandemic, the presentation at Glenstone Museum in Potomac, Maryland opens on April 8, 2021 in the Gallery. The Pavilions will reopen on May 6.
As Emily Wei Rales, Director and Co-Founder of Glenstone said, the museum is eager to resume programming, with due precautions in place in accordance with public health and government guidelines.
Featured image: Faith Ringgold - Who's Afraid of Aunt Jemima (detail), 1983. Acrylic on canvas, 90 in x 80 in. © 2020 Faith Ringgold / Artists Rights Society (ARS), New York, Courtesy ACA Galleries, New York. Courtesy: Glenstone Museum.