In the fall of 2014, South African street artist Faith47 had a rather successful exhibition in London, entitled Aqua Regalia - referring to a chemical also known as "royal water", a highly corrosive mixture of nitric and hydrochloric acid able to dissolve one of the most enshrined substances, that being gold. Now, its Chapter Two is coming to New York and Jonathan LeVine Gallery, to continue the explorations of the sacred and the mundane through found objects and the distinct street art style of this talented artist. Using chemistry, Faith47 creates a symbolism that helps her re-establish the value of things often overlooked and lost.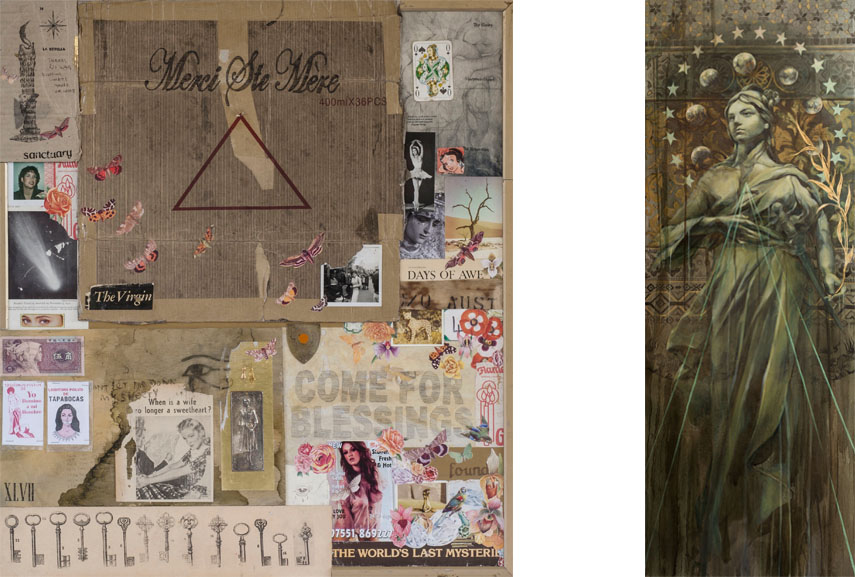 The Sacred Personal Truth
Drawing a parallel between what is spiritual and what merely belongs to the physical world we inhabit, Faith47 retrieves and collects a variety of objects found all around the world to subsequently use them as a part of a larger narrative. Her figurative scenery, whether living in form of a mural on the wall or as a painting on canvas, become a sort of a shrine, an iconic imagery of our everyday situations. With these works, Faith47 aims to focus on the personal truth, distancing herself and her viewers from globalised impressions of society and the human condition in general - as if to show that the human kind, no matter the period of time it finds itself to be, is always facing the same emotional spectre and going through the same existential search.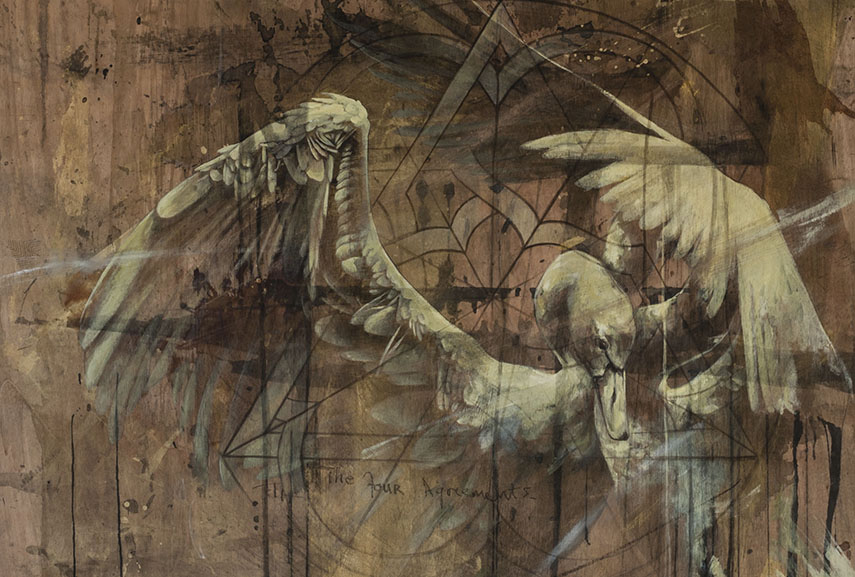 Aqua Regalia - Chapter Two
On a mission to continue the research of the first Aqua Regalia chapter, Faith47 comes to the US with multidisciplinary works created with ink, graphite and oil paint, as well as mixed media collages containing many found items - a variety of banknotes and coins, torn pages from magazines and books, vintage photographs and films, government records, playing cards, signage and more. To seal it all off with a personal stamp there will be her representational depictions of incarnated divinity, sacred geometry and text, as well as female figures and animals, a very recurring topic in the work of Faith47. Caught between the ordinary and the godly, the viewers are asked to reconsider their views and understanding of objects so tightly linked to our own lives.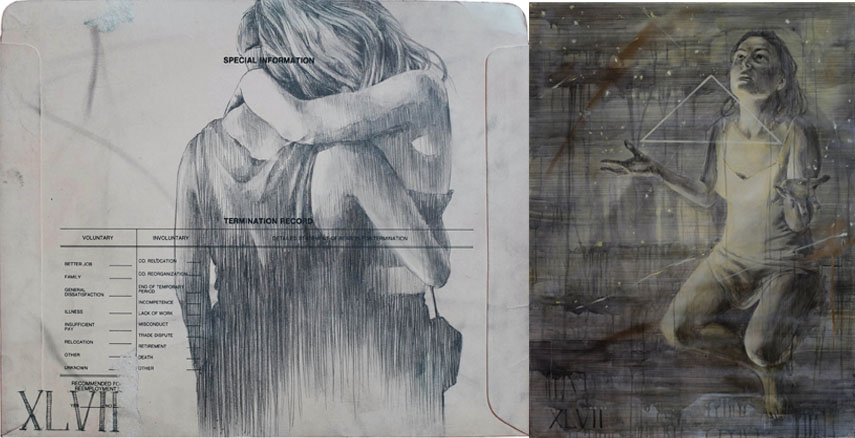 Faith47 Exhibition at Jonathan LeVine
Alongside the new works, to celebrate the artist's first individual show at the space, Jonathan LeVine will also release a 35 edition lithograph inspired by Capax Infiniti, a mural she painted in Portland, Oregon in 2014. Aqua Regalia - Chapter Two, a solo show by Faith47 will be on view from November 19th until December2015, at Jonathan LeVine Gallery in New York City, USA. The opening reception is scheduled for November 19th, from 6pm to 8pm at 557C West 23rd Street.
All images courtesy of Jonathan LeVine.