Ever since its earliest days, Newport's Haven Gallery has been devoted to exhibiting intellectually, emotionally and imaginatively driven representational artwork. Their focus is both established and emerging artists of all backgrounds and media, exploring the world around them as well as the one within. This fall, the art space will host two new exhibitions - one dedicated to a group display and the other showing new works by a single artist. Into the Woods II represents the second part of the previous exhibition on the bi-fold nature of the forest, while Canadian-based Mandy Tsung will be highlighted in No Man's Land.
Into the Woods II
Following the conceptual idea of the previous show, Into the Woods II continues to explore the woods as the place of intrigue, mystery and surmised danger. Still an unfolded domain to some, to others it feels and serves as a haven, a home, as they are surrounded by its beauties and the incredible flora and fauna. Among the artworks on display, we find personal tales, folklore, portraiture and fantastic beings, all part of the metaphorical and physical nature of this integral ecosystem. The roster of participating artists includes Mahlimae, Daria Aksenova, Kelly McKernan, Chris Mars, Scott Radke, Brian Mashburn, Brin Levinson, Sasha Ira, Lauren Marx, Laurie Lee Brom, Jean Pierre Arboleda, Mall, Amy Katherine Minchew, Adam Burke, Marc Scheff, Tomasz Alen Kopera, Chris Austin, Adam Oehlers, Olga Esther, Miso, Julie FIlipenko, June Leeloo, Sarah Joncas, Joseph Weinreb, June Stratton, Vince Natale, Nicolas Bruno and Brendon Flynn.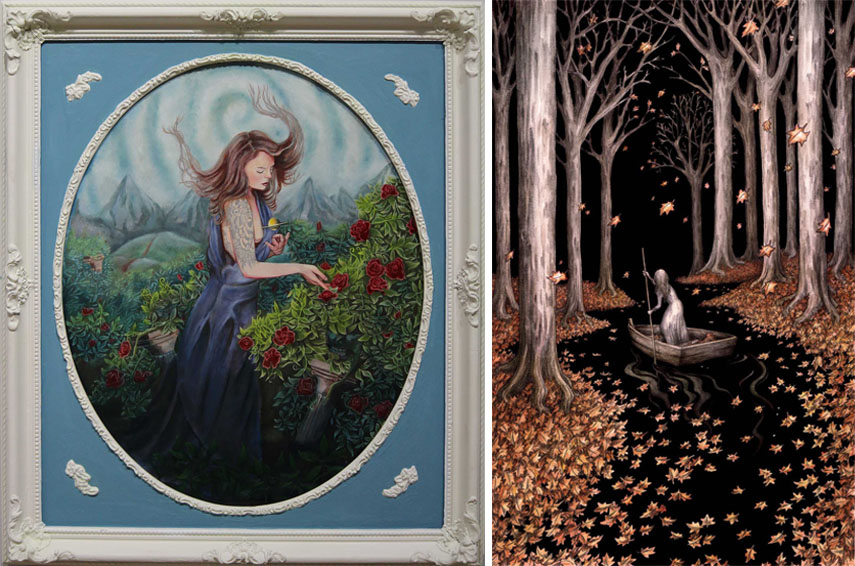 Mandy Tsung - No Man's Land
In the other showcase, we find the latest works by Mandy Tsung, under the title No Man's Land. The fifteen new portraits introduce us to a variety of sitters and the diversity of emotions, gestures, expressions and postures. In fact, it is no coincidence that all these subjects demonstrate the complex nature of femininity through their appearance, movements, because the artist chose them based on these very criteria. In this case, femininity has little to do with gender; instead, the personal dispositions and the visual cues are the ones that construct it: sensitivity, softness, grace. The works vary in technique, from oil and acrylic to graphite, but also in color, as different hues echo different emotions and, ultimately, delicate states of mind.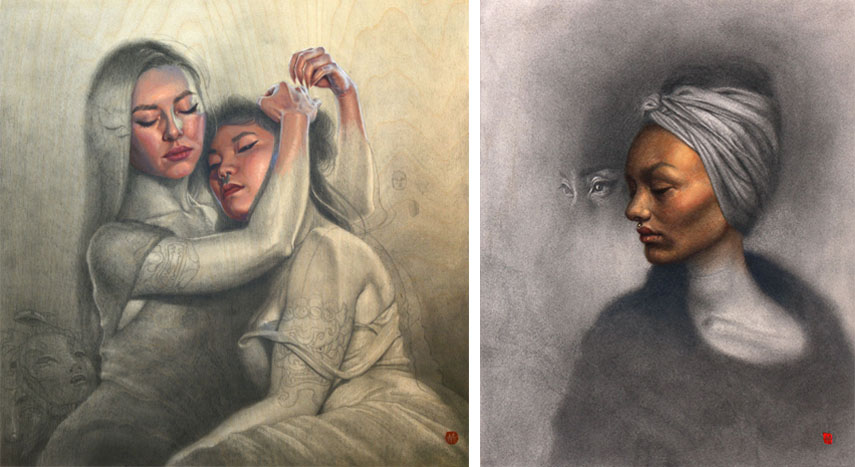 New Art at Haven Gallery
While artists on view within the Into the Woods II exhibition reflect on a physical space like the forest, Mandy Tsung's No Man's Land offers indeterminate details of gender and a unique introspection, expanding what it means to be a woman. Both exhibitions are on view at Haven Gallery in Northport, USA, from October 21st through November 26th, 2017.
Featured images: Chris Mars - Chapter 31 Paragraph 2; Mahlimae - We are wounded by the words people speak, but we die from the ones that were never spoken; Mandy Tsung - I'll Walk As if On the Verge of Fire; Memories Stain the Page. All images courtesy Haven Gallery.