There are those moments in life when reflecting on times gone by becomes a necessity in order to move forward. It may seem so arbitrary that we resort to this kind of contemplation in regular annual cycles, but still – we do it for a reason. We are looking at how major events of 2014 which will be remembered for years and decades to come and that have triggered the creative energy of artists and other individuals alike. The art inspired by certain occurrences isn't some symbolic discourse which exists only as a story, but rather, it is the way in which we will remember what has happened.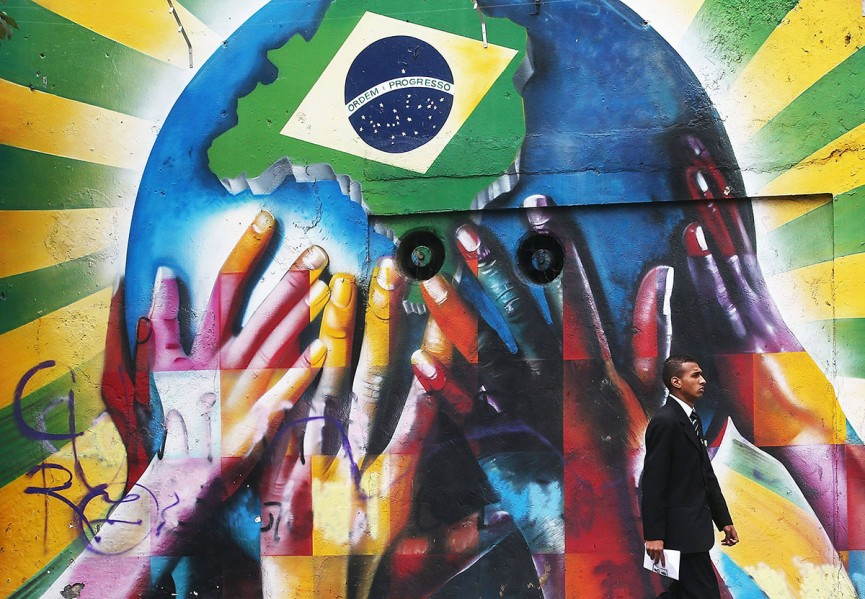 2014 – When Art Helped us to Move Forward
In the world of art, the year behind us can surely be considered a fruitful one. Widewalls has prepared a number of different looks at the previous twelve months. Most certainly, 2014 was a year of many successful exhibitions (be sure to check out 10 Favorite Contemporary Art Exhibitions of 2014) and the fluctuations within the art market were quite interesting to follow (read more in 10 Most Expensive Artworks at Auctions in 2014). However, here, we shall reflect upon the ways in which urban art gave us strength to look in the face of conflict and death, how it guided us through a global celebration and how it united us on significant social and cultural issues…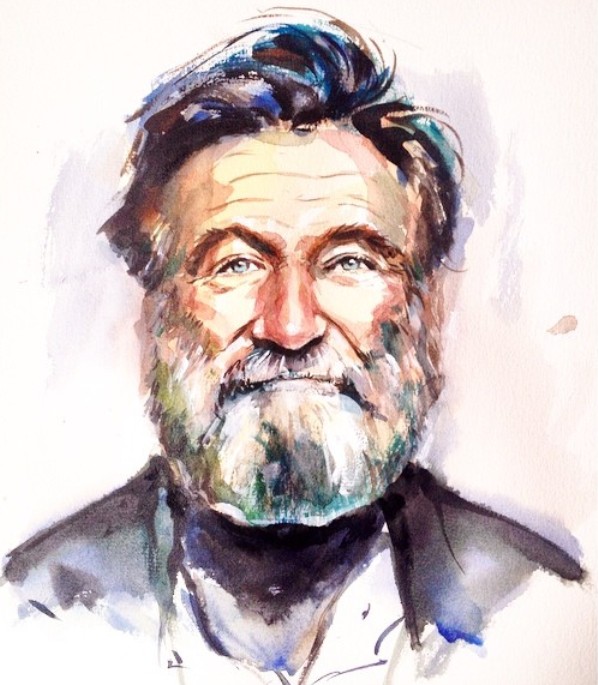 Beauty Facing Conflict
Ernest Hemingway described how beautiful a death could be when one lives and dies for one's country. "But in modern war, there is nothing sweet nor fitting in your dying" the great writer said. Known for a poetic narrative, Hemingway's knowledge of economy and journalistic capabilities enabled him to see and describe reality in such a direct and simple way. He was not mistaken. Today's conflicts have become so complex to understand and too horrid to contemplate. If one was to choose only two things which remain constant – crime is always present and, more importantly, there are those who feel the urge to resist, who are compelled to help. At least on the plane of symbolism and aesthetics, if this is the only way they can… One more year of world history will be referenced as, among other things, a time of conflicts.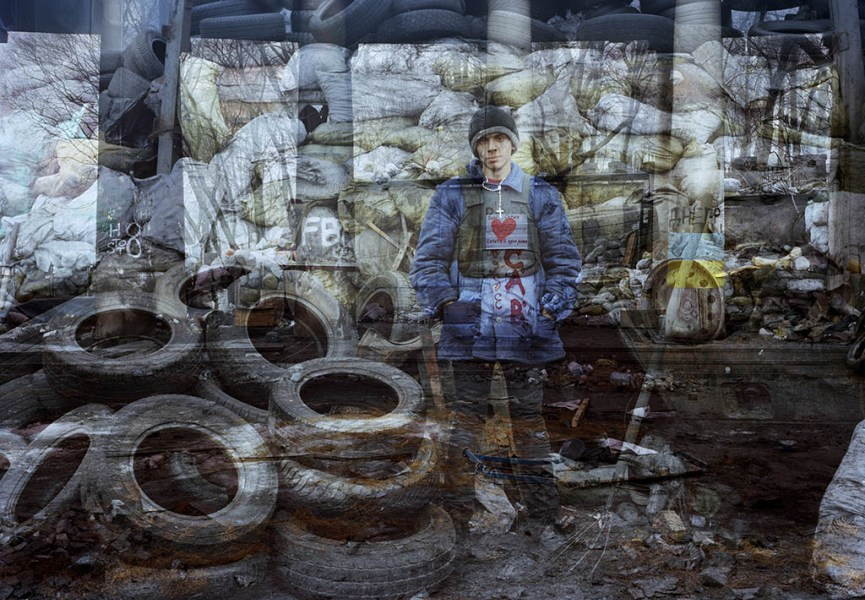 The Picture of Ukraine
Some time ago, we could have argued on how to define the situation in Ukraine. Today, there is no dispute – we are talking about a civil war. The country torn by dividing fractions fell into a vortex of conflict in the centre of its capitol. The Maidan square depicted the image which resonated the escalating difficulties of people's blurred future. This year, during February, photographer Eric Bouvet captured the face of an urban space as well as its inhabitants. This experienced photo-journalists from France created a series of collages titled Chaos, depicting Ukraine's capitol. The transparency of various levels of images which the photographer had captured in Kiev depicted the uncertainty of the future. The faces of people might have seem determined, but the path which had laid in front of them did not. This is the power of photography.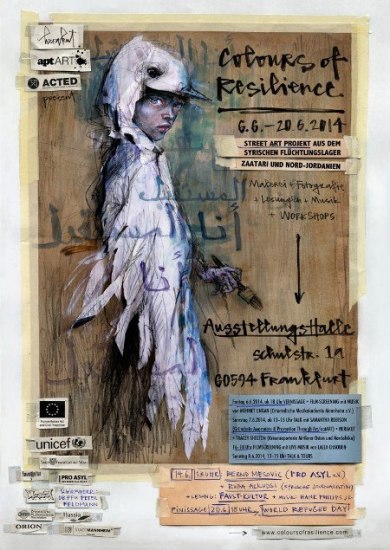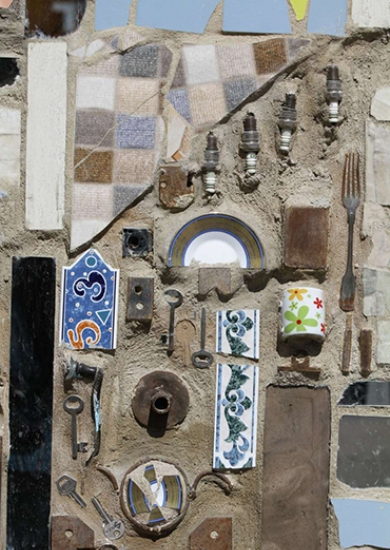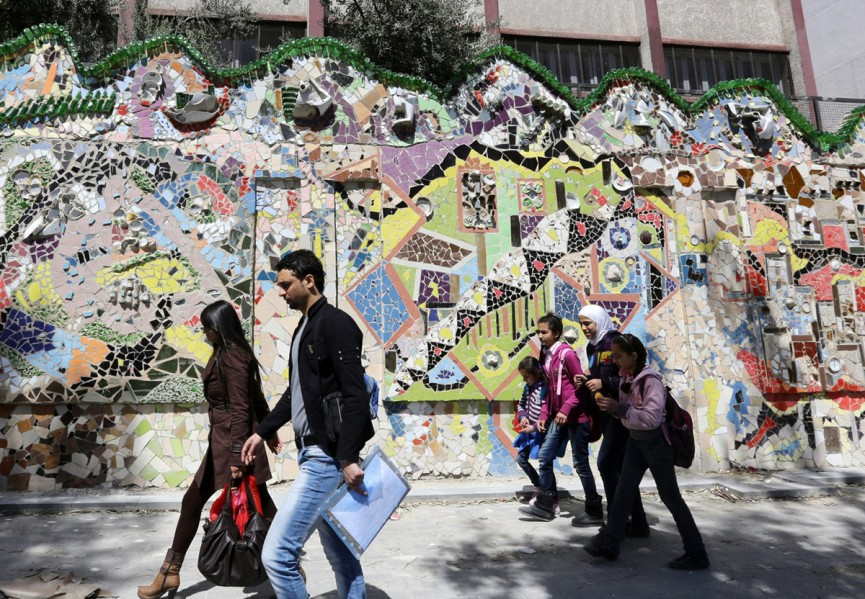 Syria In Our Minds
In terms of those dreadful characteristics of the human nature, 2014 will be remembered by the third anniversary of the conflict in Syria. One could use up an extensive number of lines and paragraphs and not even begin to describe the context of political complexities. In this chaos of information, one thing is certain – this Middle East conflict has endangered so many innocent lives. This prompted another reaction from the world of street art. A group exhibition, including artists such as Herakut, was only a part of a bigger program which promoted the inclusion of youths from the north of Jordan and Syria (read more in Colours of Resilience). The spring brought yet another burst of optimism in the grim atmosphere of Damascus. Artists and people joined on an endeavor to create a 720 square meters big mural. The inspiring mosaic includes objects of the everyday life, as if to scream the necessity for the return of the "normal." A month earlier, an international campaign had been launched in order to raise awareness of world leaders that a time has come to stop the three-years-long bloodshed. One of the participants was street art's Robin Hood, joining the campaign through his artistic expression. Namely, Banksy transformed his famous girl with a balloon in order to support the #WithSyria action (be sure to check out the video below).
The Spirit Lives On
It catches us off guard. Even when we think that we might be ready, it catches us off guard. Some inspiring work done by artists in the span of centuries has been focused on the ways in which we deal with death. This ever-elusive question is simultaneously the source of some of our greatest fears and a notion which carries the seed of the urge for life. The ways in which we face death can be so diverse in nature, but all of them seem to revolve around dealing with the epitome of the unknown. In this regard, there are two things we resort to: other people and the need to fill a void. This is something that a creative expression can provide, especially street art (be sure to read our exciting feature Death in Street Art)…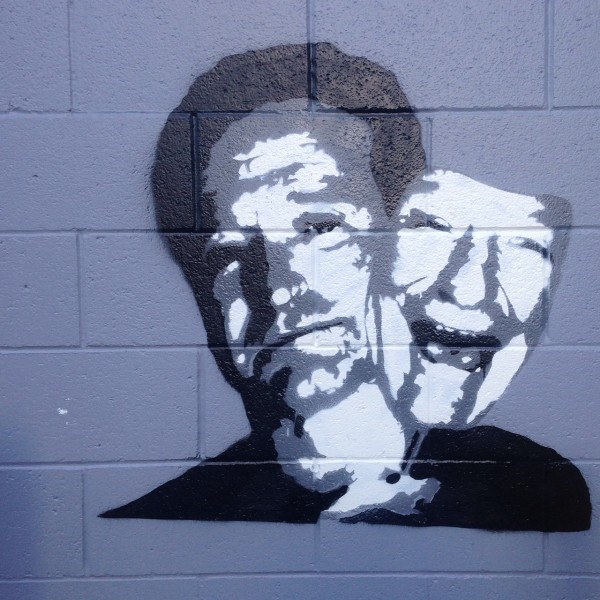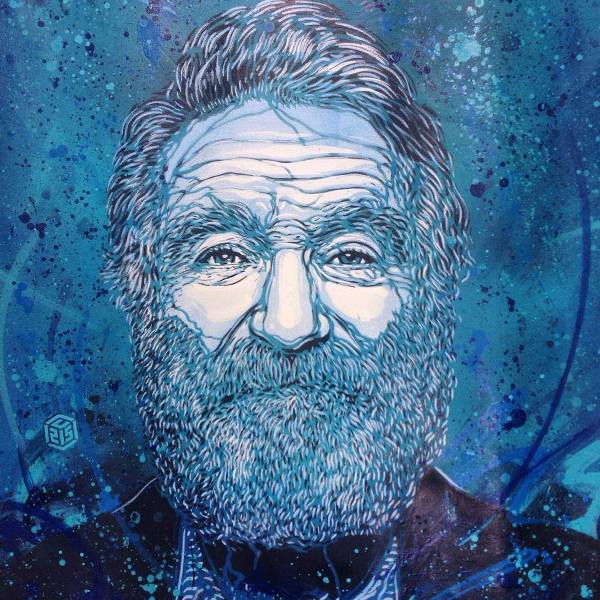 Robin Williams – A Master of Comedy
He was a classically trained actor who decided to start from scratch… After a short detour in the world of political sciences, Williams enrolled at Juilliard School to study theatre. Soon enough, he became a regular on stages across the country. But these boards weren't situated in theaters, but in nightclubs. The great actor had embarked on a path of humor and, as faith would have it, this road led him to spaces where masters of theater had been building their careers. The actor's success included filled seats in Broadway theaters and an Academy Award for a role in Good Will Hunting. After his tragic death in the summer of 2014, the face of Robin Williams and the characters which he had brought to life started appearing on numerous walls in different corners of the world. From C215 to many unknown urban artists – with the departure of a great actor and a stand up genius, street artists around the globe found a way to help us remember how a spirit can live on, as a symbol of ideas greater than the individual himself.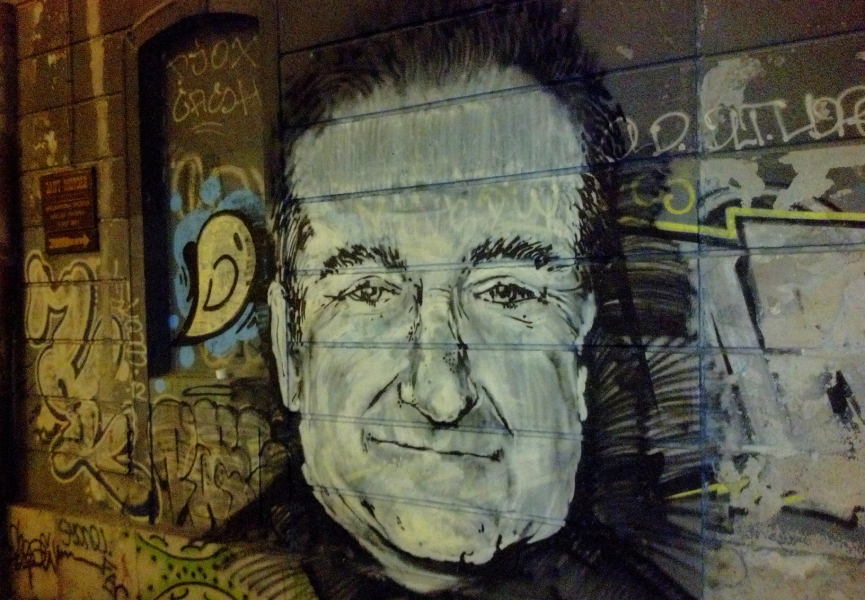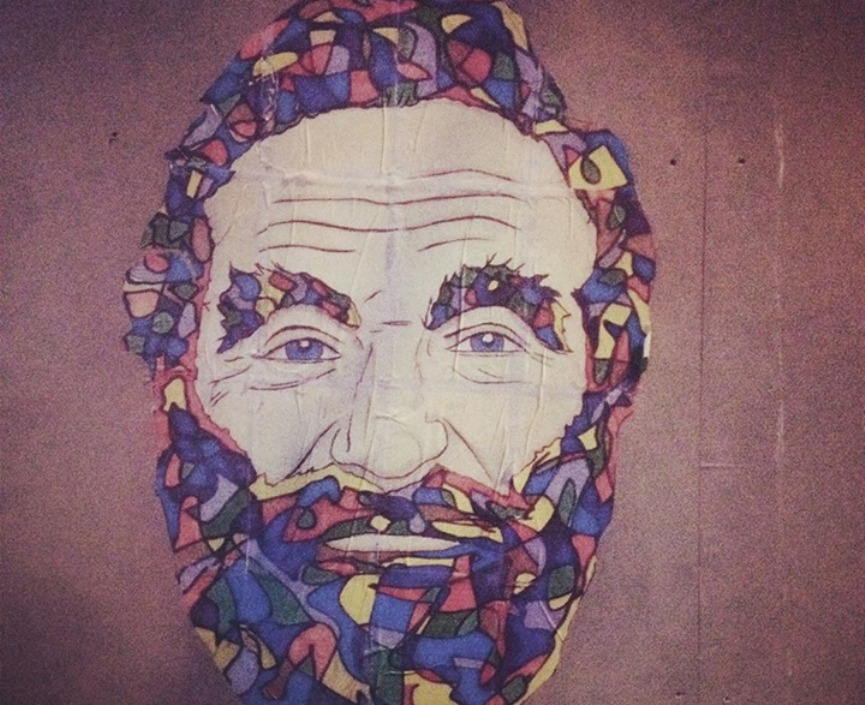 The Whole World Is A Stage
Ritual is a driving force of a community. No doubt about it. It is a process of the symbolic reproduction of the core values of a society and a way to remember all of those cohesive elements which hold a group together. This is the reason why rituals are always in relation to strict temporal patterns. The postmodern times are no exception. The other side of ritual is reflected in the notion of spectacle. Apart form those elements which form a ritual, the core attribute of a spectacle is embodied in the release of collective energy as a special form of catharsis. So, what happens when the entire world is a stage? Perhaps, there is no better example of a cultural space which "understands" spectacle than Brazil and no greater global ritual than the World Cup. If we include a rich street art culture of Brazil in the entire mix – we have an unforgettable event on our hands…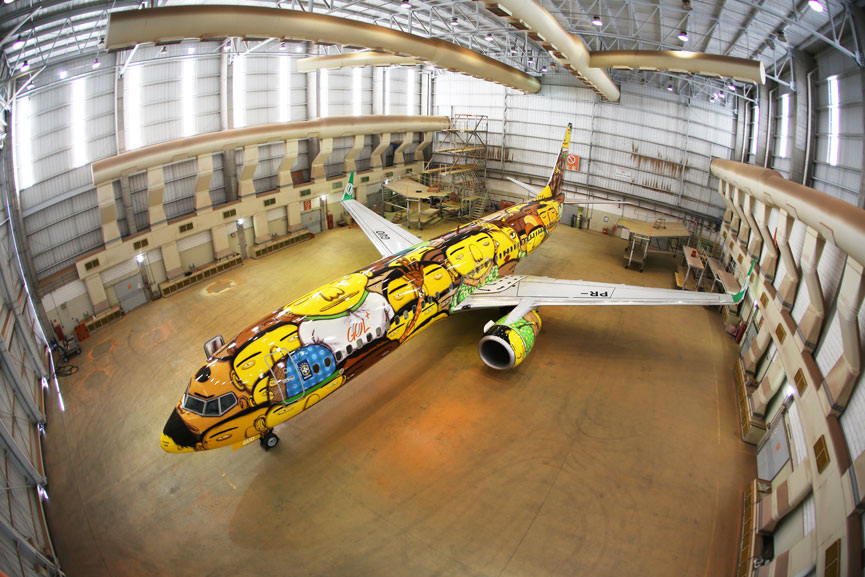 The Aesthetics of Teamwork
World Cup is one opportunity when an entire society can relate to the notion of togetherness or, to put it more simply – for a brief period of time every four years, we understand what it means to be a team. One of the most successful street art duos of the world, coming from the cultural space of Brazil, Os Gemeos, have had a chance to be part of the Brazilian soccer team by painting the team's Boing 737. The artists have tagged the entire plane with their recognizable aesthetics – well known imagery of quirky characters, colorful execution and all of this toward a goal of celebrating Brazilian culture…
Social Commentary
With great spectacles comes a huge public. Thus, during a World Cup, another opportunity can present itself for those who want their voices to be heard. Once again, the excellence of street art enters the stage. As eyes of the world were looking towards Brasilia, Rio de Janeiro and other cities, a number of street artists have managed to grab a chance to do what street artists do best – create public discourses about pressing contemporary issues. Namely, a large part of the public in Brazil was engaged in a debate on the impact of the organization of the championship on the country's economy. One of the street artists involved in the discourse through his art, Paulo Ito, probably explained it best (in an interview for Guardian): "If the government doesn't want to expose these things it's because they feel ashamed. If they feel ashamed by this they might take it more seriously – a least, that's our [the artists'] intention." Be sure to check our article on the 10 World Cup Graffiti (both pro- and anti-)…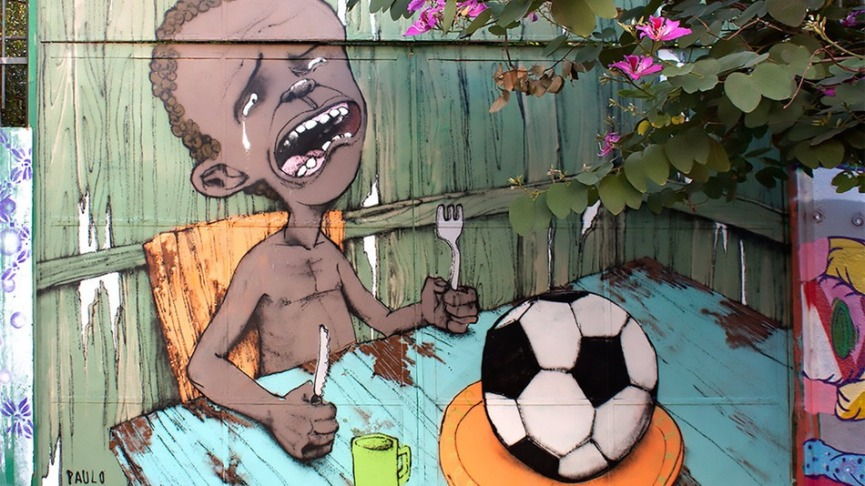 Hope For A Better Tomorrow
On August 9th 2014, an unarmed teenager Michael Brown was shot by Ferguson police officer Darren Wilson. Everything that happened after this event is an amalgam of various discourses, blurred by other discourses, covered in the veil of the dual notion of the public/private need for conversation. And although this story deserves to be deliberated extensively and most certainly something that must be remembered, these lines do not aspire to unravel the particularities of numerous stories and events which followed. Somewhere in this chaotic situation of uncertainty, we only shed light on the activities of artists who took upon themselves the roles of interpreters and chroniclers. If there is something to remember for the sake of the path that lies in front of us, it is surely the realization that art inspired activism and activism inspired art can be a significant source of energy. At the end of this Rewind of 2014, we leave you to enjoy the work by some of the artists, such as Damon Davis and his aspirations to reclaim the city, who felt compelled to use the power of aesthetics and good-heartedness in order to send a message…
Let's start 2015 together! Sign up for My Widewalls and follow your favorite artists, read inspiring stories and be informed about the vast field of Urban and Contemporary Art! Create and customize your profile FREE of charge!