The online auction will close at noon PST on Wednesday, December 31st 2014. In order to place your bid for a surfboard or a collectable, visit Seventh Annual Holiday Surfboard Auction at BiddingForGood. But, before you go and decide what item you would like to bid for, check out Widewalls' Collectors' Tip team favorites below (the prices listed alongside the pieces are leading bid prices at the time of the writing of the article).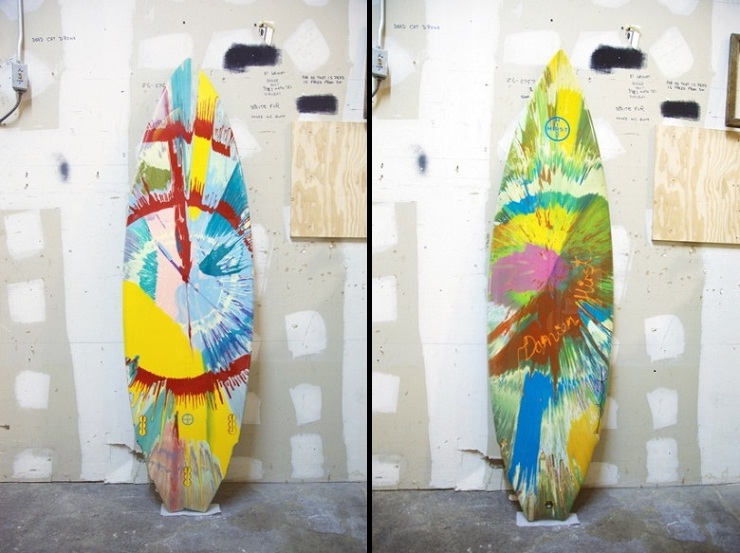 Damien Hirst, Flea, Ben Eine and Jeff Devine
There is truly no need to present the life and career of contemporary superstar Damien Hirst. The Bristol-born installation, sculpture and painting oriented artist brings to the table an interesting surfboard with Hirst's recognizable signature style. The 74 x 20 inches household gloss on surfboard piece's current bid is $40,000. Another piece to keep your eye on is most definitely a board by Michael Peter Balzary, known to the wide public as Flea, a co-founding member of Red Hot Chili Peppers. The board is a Pyzel 5'10'' and it is John John's board Trestles 2011. Current bid stands at $1,100. Next up, we divert your attention to a Ben Eine piece from 2014. It is a spray enamels with cut stencils on surfboard. The dimensions of the piece are 69 x 18 x 3 inches and the current bid is $8,000. Finally, be sure to check out the board by Jeff Devine. This photographer from San Diego has been surfing as long as he has been taking pictures. Most of his career, he has been a photo editor with Surfer and The Surfer's Journal. The Nectar Retro Simon Anderson Thruster, 6'2.25" x 20.65" x 2.55", shaped by Gary MacNabb and signed by Simon Anderson with a photograph by Jeff Devine is currently at a price of $900.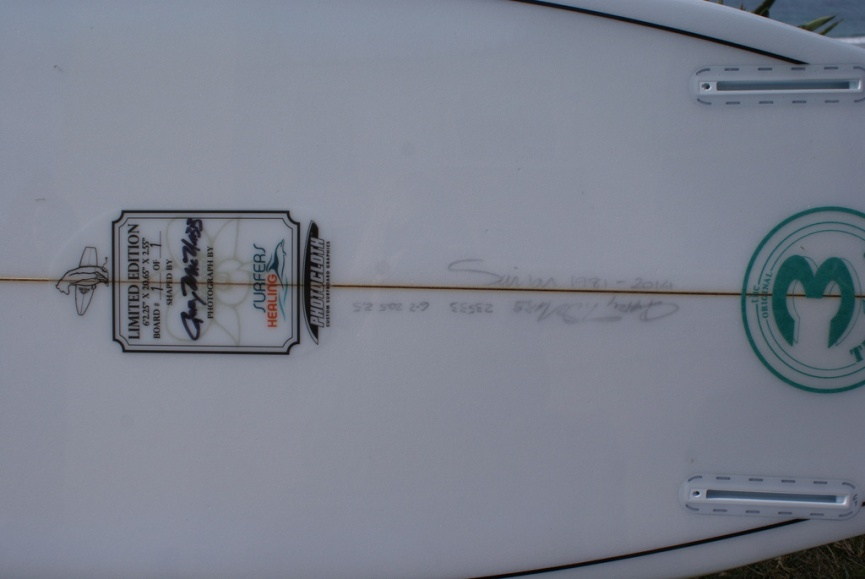 Tom Sachs, Ron English, Julian Schnabel and Marc Jacobs
Before you go and bid for one of the pieces, check out another 6 boards we have found interesting. First up, be sure to check out a piece by engineering and design virtuoso of contemporary art Tom Sachs. His Autism Kills (2014) is krink ink on polyester resin and fiberglass, Bunger Surfboard, dimensions 100 x 22.5 x 2.75 inches, rests currently on the price of $15,000. Another exciting opportunity to acquire a piece by Ron English appears within this auction. English's Marilyn with Mickeys (2014) is a printed photocloth surfboard, dimensions 78 x 21 x 2.5 inches. Current leading bid is $30,000. We divert your attention to a piece by another contemporary artist from the United States – Julian Schnabel. His Surfboard for Doc (2014) is a spray paint, printed t-shirt, resin, ink on surfboard, dimensions 100 x 22.5 x 2.75 inches. Current leading bid is $30,000. And finally, be sure to have a look at the pieces by one of the most talented and prolific designers working today – Marc Jacobs. As part of this charity auction, collectors and art and surf enthusiasts will have a chance to acquire one of three surfboards by Marc Jacobs. All three are of identical shape with different designs: the blue edition is currently on $600 and the green and red and whit editions have a leading bid of $700.
Be the first to hear about the latest news and stories! Sign up for My Widewalls for FREE!
Featured image: Board by Flea of the Red Hot Chili Peppers for Surfers Healing (detail)