Following their previous successful collaboration in the Kaos Temple / The Church of Skate project, the distinguished skateboard manufacturing company Miller Division and the artistic platform Ink and Movement decided to join forces once again in order to bring us Signature Series, a skateboard deck collection. The idea is to have the skateboard designs done by contemporary artists so that the decks could easily stand out due to their visual features. The first chapter of the Signature Series decks comes to us with the signature of Felipe Pantone, an Argentinian-born Valencian artist known for his use of bold colors, geometrical patterns and Op Art elements he now applied to skateboards. Although he is not the first to transition his focus from street art to skateboards, Pantone is certainly one of the best to do so.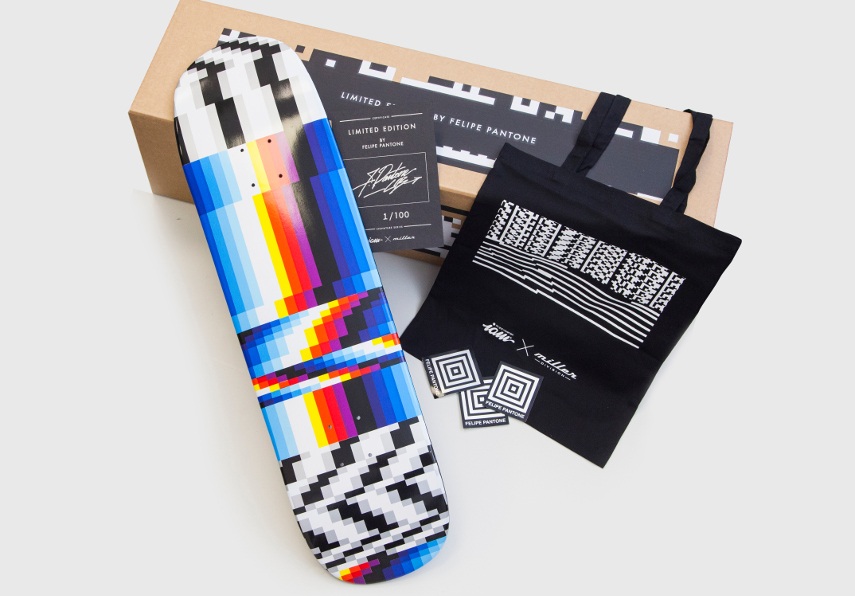 Signature Series, Chapter One
Signature Series' first phase was made under the watchful eye of Felipe Pantone who made sure skates were handmade through an artisanal process. By relying on craft and not on some sort of a machine, Felipe Pantone managed to turn each design into an unrepeatable piece intended to be placed upon a hard Canadian maple pool shape board handmade in the USA by Pennswood, experts in creating both hand-printed and cold press skateboard decks. By ordering one of the boards from the Felipe Pantone's Signature Series, the skates will come in a special pack including an authenticity certificate, a tote-bag and a stickers pack made by Felipe as well.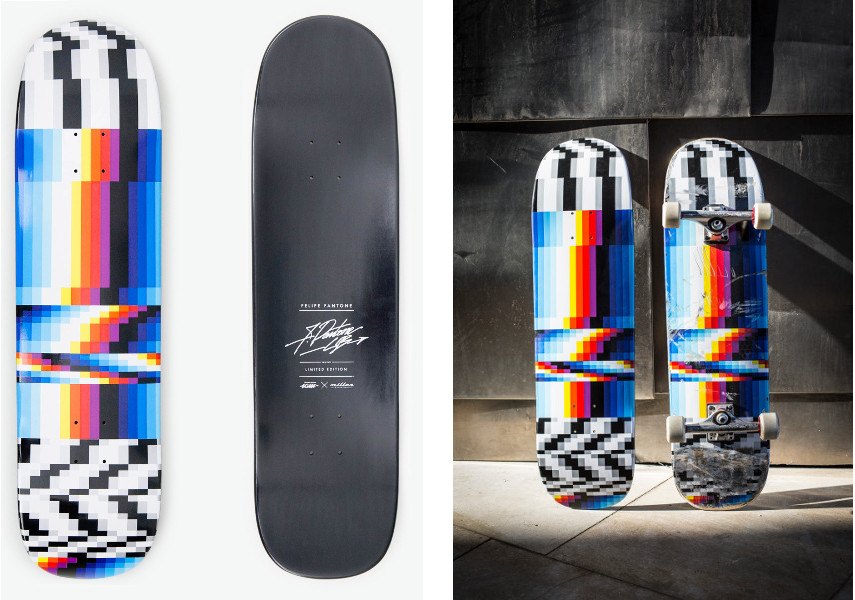 Limited Edition Skate Decks by Felipe Pantone by IAM and Miller Division
Felipe Pantone managed to convey the main features of his art into skateboard designs - it's all about putting the optic and the kinetic aspects of geometric abstraction, saturated colors and disruptive changes under the light of a very modern and technological perspective. The artist himself stated that by agreeing to become a part of the Signature Series skateboard project, he wanted to bring out the most dynamic aspects of his work. The result of such efforts is the first set of Signature Series skateboards, brought to you by Ink and Movement and Miller Division, two companies on a rising trajectory that aim to delight both the contemporary art lovers and riders who like to stand out with their skateboard designs.
Featured images: Signature Series Decks - Two Bowl Images, Four Detail Images, Bench, B-Bowl Hero. All images courtesy of Ink and Movement (IAM) and Miller Division.