Although the majority of graduates from fine arts programs are women, representation at galleries and art fairs still remains lopsided. However, art fairs such as Art Basel and other satellite fairs seem to be making advances in providing more opportunities for female artists and gallerists, as well as providing seminars focused on equalizing representation.
As the sale of art made by female artists continues to rise, with it will come an altered perspective. The depiction of women as subject can then evolve from the frame of submissiveness and male subjectivity, to a prominent female point of view that casts a new light on both the subject and message.
Here are some top female artists spotted during Art Basel Miami 2018 who are raising the bar. Many will be seen at top fairs in New York, Miami, Basel and other international art destinations this year.
NADA (New Art Dealers Alliance) - Aneta Grzeszykowska at Lyles and King (New York)
A Polish artist, Aneta Grzeszykowska works in performance, photography, video and sculpture. Grzeszykowska objects or subjects live within the frame: girls lost in childhood innocence, or women often dismembered, masked, painted, or partially wrapped in cellophane. They are often void of expression as if drained by life. The motifs which she explores are invisibility and disappearing; presence and absence; remembering and forgetting. Her photography sets limits on reality where beyond the frame, context is irrelevant allowing the viewer to look inward, beneath the physical and glimpse at the soul.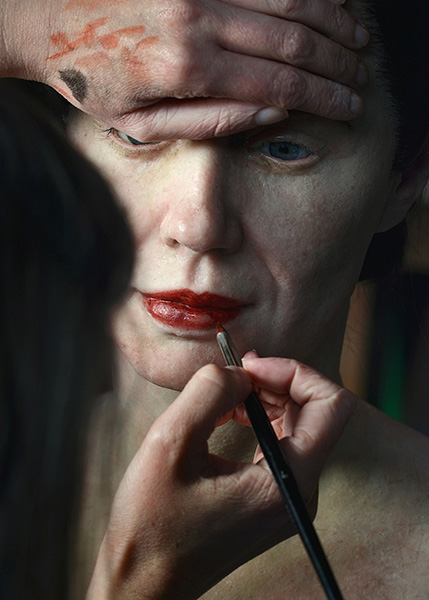 Untitled Art Fair - Rachel Esterline at Benrubi Gallery (New York)
Rachel Esterline's body of photographic work titled Heaven is a Strip Club conveys a powerful new visual language that demolishes shame. She views the sex workers who she photographs, not as voiceless entertainers, but as a community made up of professionals, mothers, students and recent graduates. In the process that began photographing strippers for a freelance assignment, she overcame her own preconceptions of the industry and developed a personal understanding and sisterly relationship with women who she conveys are pillars of strength.
In her artist statement, Esterline writes:
We're not an invisible revolution, we're forming a powerful new visual language that demolishes shame.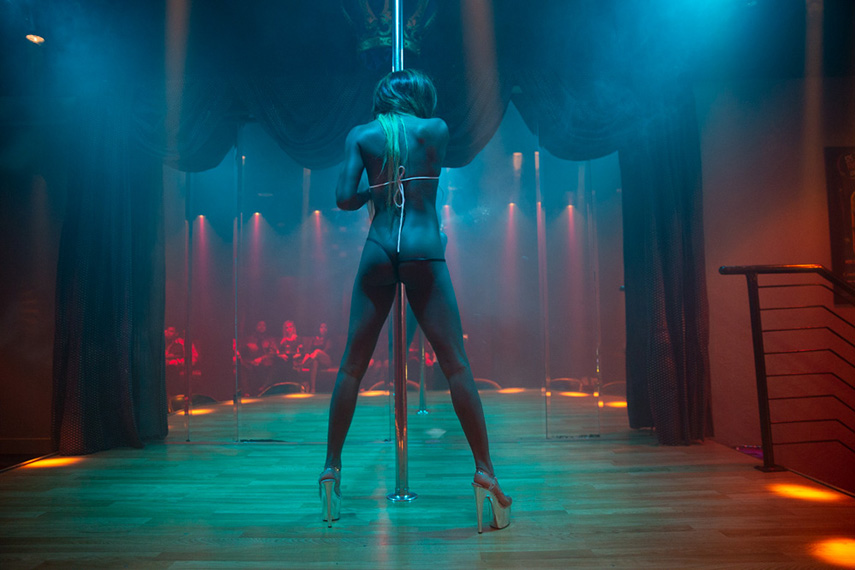 Spectrum Miami - Elidea
From Milan, Italy, but now living in Miami, Elidea's Golden Series is a mix of harmony and balance, elegant atmospheres. Her technique is a particular collage of mixed media, a creative process of transformation that ruins, cancels, rips, pastes, overlaps paper on paper, and then adds acrylics, pencil and charcoal, plus a powerful inclusion of gold. The gold leaf serves as a light giving new life and a completely innovative artistic vision of the artwork. Elidea says, "Each work can only ever happen the exact way, day, time and place at that moment, and never be repeated." Elidea was named 2018 Best Rising Artist Exhibitor at Spectrum Miami Art Show.
SCOPE - Natalie Cohen at Galerie VIVENDI (Paris)
Nathalie Cohen was born in Casablanca in 1970. After she had run a company for fifteen years, she decided to focus exclusively on her first passion: Kinetic Art. She works with glass, wood and Plexiglass overlapping two Plexiglass plates. Black and white lines that form the top plate give way to bold and colorful geometric forms. The viewer then becomes an actor in this purely sensorial creation process. Nathalie Cohen has just entered at the POPA which is the first European museum dedicated to optical art.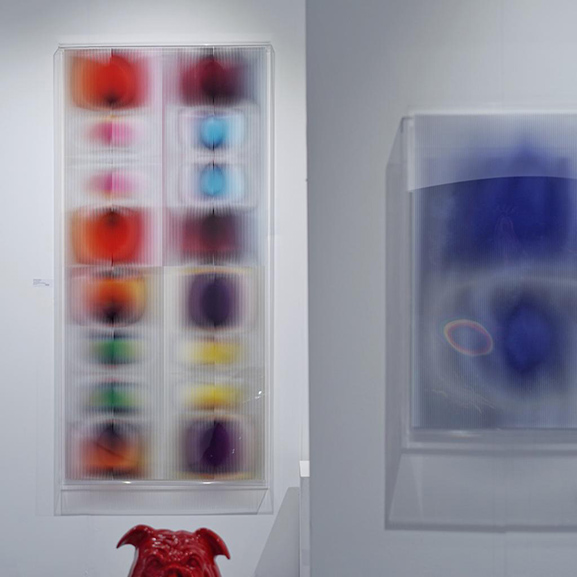 Art Basel - Yael Bartana at Petzel Gallery (New York)
Yael Bartana's neon What if Women Ruled the World is related to her experimental performance which combines fictional settings and real-life participants. The performance is inspired by and flipping a theme in Stanley Kubrick's Dr. Strangelove's male-ruled leadership with a female one (or conversation on an alternative rather than male dominated leadership) dealing with a global crisis. Bartana's films, installations and photographs explore the imagery of identity and the politics of memory. Her starting point is the national consciousness propagated by her native country, Israel. Central to the work are meanings implied by terms like "homeland", "return" and "belonging".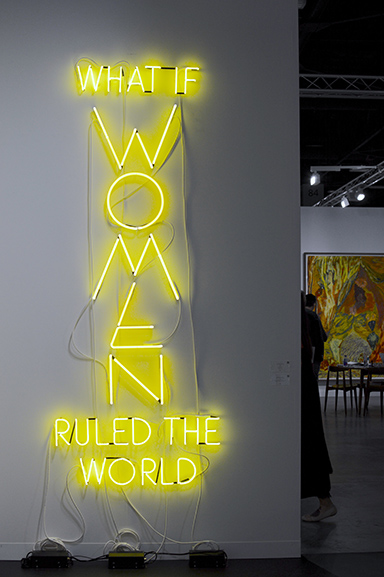 Art Miami - Deborah Butterfield at Zolla Lieberman (Chicago)
For four decades, the single subject of Deborah Butterfield's art has been the horse and rather than portraying the war horse (that was typical of equine art), her sculptures are primarily mares. She views the mare as a symbolic self-portrait. Initially, her horse sculptures were created with plaster over steel armature. By the mid-1970's, she used natural materials such as mud, clay and sticks over metal armatures. In later work, Butterfield began using junk metal and industrial materials like wire, pipes and fencing and most recently, she has cast her horses in bronze from models of wood and organic materials. She states:
I realized that the horses are me and if I'm going to lie down in an art gallery with the wolf predator critics stocking me, that is a powerful position to take so for me it was a real feminist statement and it was an anti-war statement. It as an un-war horse.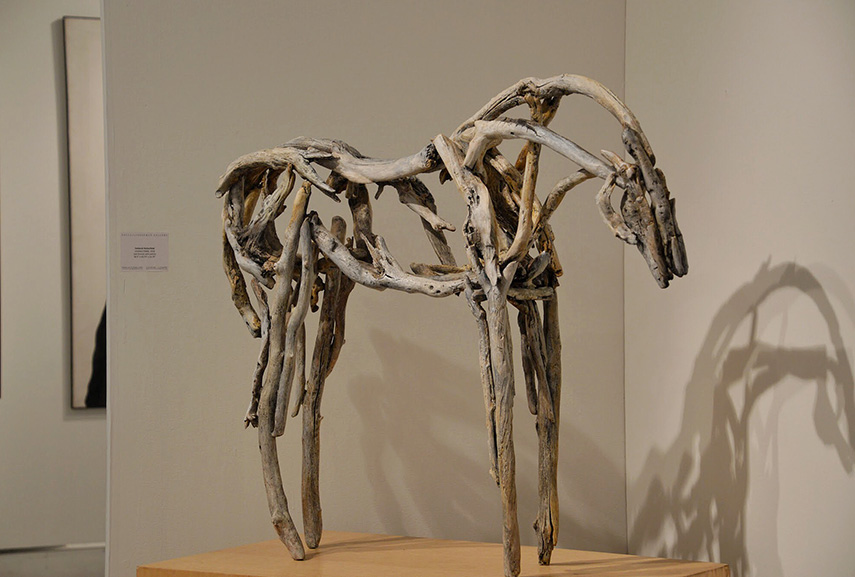 PULSE - Juliane Hundertmark at Heissingsart Gallery
Juliane Hundertmark's unique style is satirical and a personal style of expressionism that comments on contemporary society and human engagement. She paints mythical and rebellious characters from her imaginary world, brought together to form theatrical and disturbing scenes. Many of the characters in her paintings refer to historical and religious events. Her narratives are beautifully balanced by fast and brilliant paintwork, which she combines with small sections of collage, to create a world that is equal in beauty to its strangeness. Hundertmark was a 2018 PULSE Prize nominee.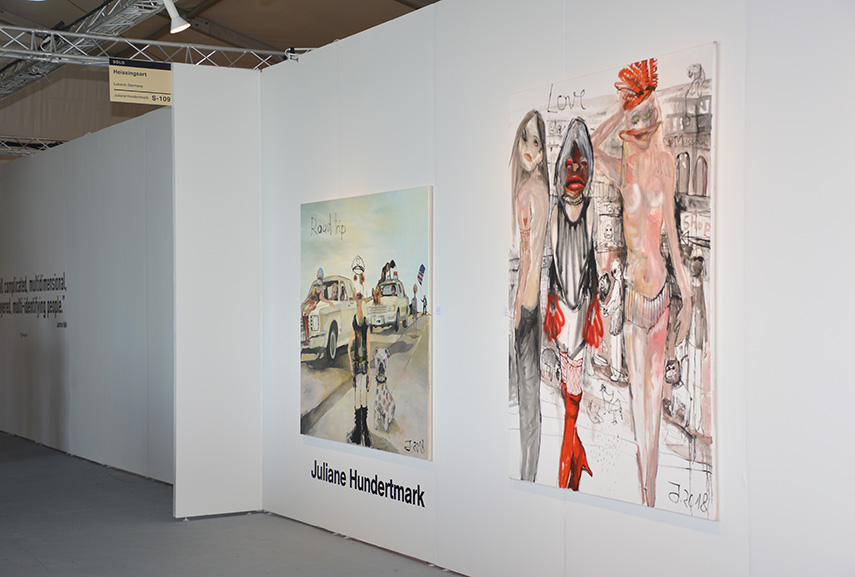 Design Miami - Justine Mahoney at Southern Guild (Cape Town)
Coming from Johannesburg, Justine Mahoney grew up in the apartheid years sheltered from the country's reality until she became more aware of circumstances once she was a teenager. Her sculptures reflect childhood memories such as staying in the hospital being treated with a bone-degenerating virus when she was only three years old; African folklore and mythology told by Lizzy her Nanny; pop and African culture and Afrofuturism. Mahoney works in clay and the sculptures are cast in bronze. She calls the enamel paint the "sugar coating" which represents the sculptures' veneer of happiness. Her child soldiers are both vulnerable and strong, often without eyes because when Mahoney was a child, she was unaware of what was going on in South Africa. Mahoney also makes collages merging her memories, dreams, fears and aspirations.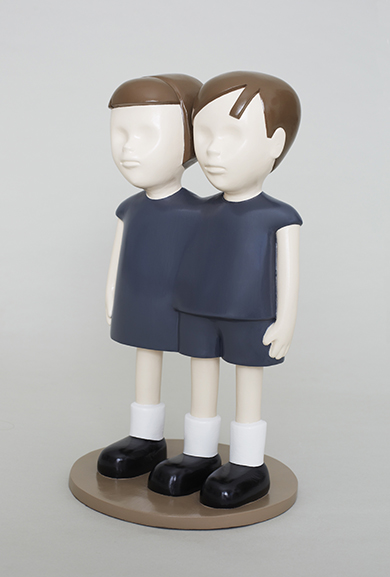 Featured image: Rachel Esterline - #0250 "lil rocket" Miea, 2013-2018 from Heaven is a Strip Club. Courtesy Benrubi Gallery.