The recent study examining the position of female artists in the art world exposed the significant gap that remains between male and female artists in US museum representation and art market sales and value. Titled Women's Place in the Art World: Why Recent Advancements for Female Artists Are Largely an Illusion, this collaborative study was compiled and written by In Other Words Executive Editor Charlotte Burns and artnet News Executive Editor Julia Halperin, with data collection by In Other Words Editorial Assistant Julia Vennitti. It is based on a survey of 26 art museums and institutions in the United States, as well as analysis of the global art market, focusing on the ten-year period between 2008 and 2018.
Analyzing museum acquisition data, solo and group exhibition records, auction sales, art fair representation, and more, the report has brought to light some troubling data. Just 11% of all acquisitions and 14% of exhibitions at 26 prominent American museums over the past decade were of work by female artists. Between 2008 and mid-2019, gains in market share, particularly in the growth of total auction value for female artists, remain a small fraction of the overall art auction value, only 2%.
Considering that women comprise more than half of Americans, these numbers are disturbingly low, and most importantly, they challenge one of the most compelling narratives to have emerged within the art world in recent years: that of progressive change when it comes to female representation within art institutions.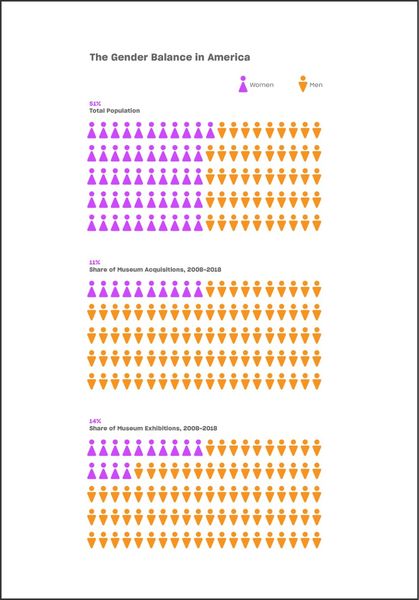 The Museum Representation
In recent years, it has been much talked about how museums have started paying more attention to the work of female artists. This recent report shows that this is not really the case and that a huge imbalance remains.
Of the total number of art acquisitions for permanent collections, 11% were by female artists, while just 3.3% of the total number of female artists whose work was acquired by institutions during this period were African American. It is also troubling that the number of works by women acquired did not increase over time. In fact, it peaked a decade ago, in 2009. At the same time, 14% of all exhibitions were solo shows dedicated to the work of female artists or group exhibitions of majority female artists.
As Julia Halperin explained, the team was excited to track just how much things had changed for female artists, as it felt that the art world has been experiencing a fundamental shift. This is why these numbers that show so little measurable change have been quite disheartening to them.
But we can't solve a problem until we acknowledge it exists, and this project serves as an important reminder that we have a long way to go before we reach parity.
There are many reasons why museums have failed to increase their representation of female artists, including that their work is often seen as a specialist pursuit running parallel to the canonical story of art history and that institutions believe that they would only be recognized as important if they acknowledge the greatest hits. It has also been noted that the great testament to the commitment an institution makes to an artist is not through exhibitions, but acquisitions.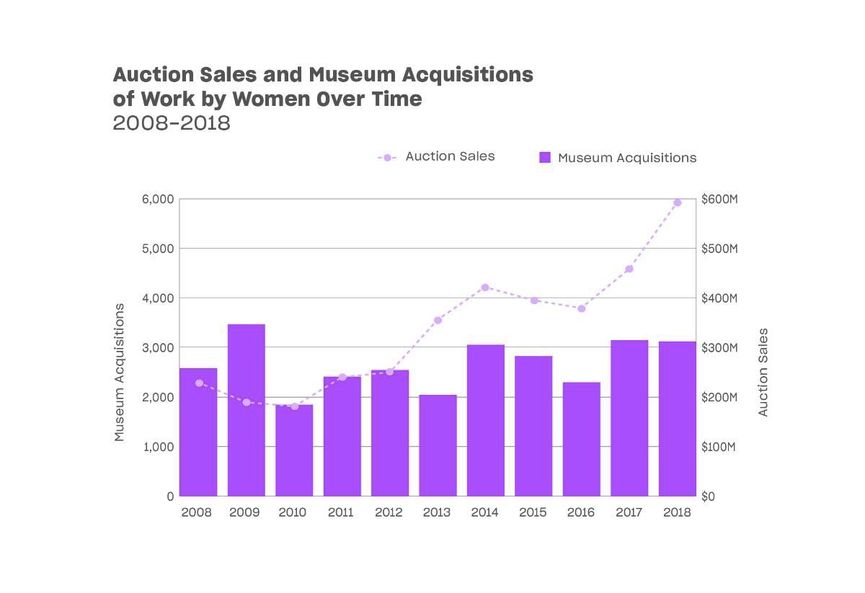 The Market for Work by Female Artists
Last year, Jenny Saville's 1992 painting Propped made auction history last October, fetching $12.5 million and setting a world record for a living female artist. However, the sum paid for the work was still less than 14% of the record for a living male artist at auction: $91.1 million for Jeff Koons's Rabbit from 1986, set last May at Christie's. The recent report confirms that the art market overwhelmingly finds greater value in work produced by men than that made by women.
The report shows that the auction market for art by women more than doubled from $230 million in 2008 to $595 million in 2018. However, it also shows that of the $196.6 billion global total spend on all art at auction from 2008 through mid-2019, $4 billion was spent on art by women, which makes 2% of market share. For context, work by Pablo Picasso generated $4.8 billion at auction over this period; more than the total spend on all female artists combined.
It is also revealed that the market for art by women is not only smaller, it is also disproportionately concentrated on a few artists. Five artists - Yayoi Kusama, Joan Mitchell, Louise Bourgeois, Georgia O'Keeffe and Agnes Martin, comprise 40.7% ($1.6 billion) of female market share, while the top five male artists - Pablo Picasso, Andy Warhol, Zhang Daqian, Qi Baishi, and Claude Monet, comprise 8.72% ($16.8 billion) of respective market share. Louise Bourgeois is the only artist to appear in the top 10 of both the market and museum acquisition data.
In market transactions, men are compared with other artists with similar profiles and trajectories, while some market players say it is common practice to compare women only with each other. These kinds of prejudices are built into the system and often go unnoticed. Unfortunately, our cultural understanding of what artistic genius looks like is still overwhelmingly male.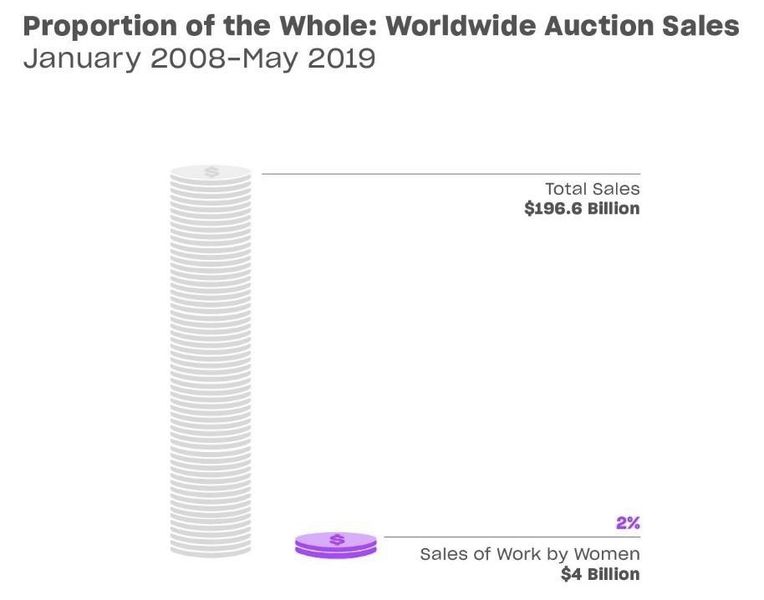 Leading the Change
Charlotte Burns explained that the report reveals a fundamental lack of focus on the gender gap but, at the same time, it highlights bright spots, "people working hard to effect change really can make it happen." There are many institutions that have started to address the problem and find solutions.
In 2013, the Pennsylvania Academy of the Fine Arts auctioned Edward Hopper's East Wind Over Weehawken for $40.5m and used the proceeds to consistently acquire significantly more works by female artists each year than institutions with far larger budgets. The museum has also acquired more works by artists of color than almost any other institution that was examined in the 2018 study about the representation of African American artists.
Last year, the Solomon R. Guggenheim Museum in New York decided to take a risk and present an exhibition of work by a little-known Swedish mystic painter named Hilma af Klint. However, the show attracted more than 600,000 people, becoming the museum's best-ever attended show. An instance of institutional bravery, the exhibition went against traditional wisdom about what people want to see and offered a sense of genuine discovery.
Despite being an encyclopedic museum which collects art from antiquity to the present, the Los Angeles County Museum of Art has been increasingly focused on bringing more gender parity to its permanent collection. Works by women represent 16% of its acquisitions between 2008 and 2018—4% more than the San Francisco Museum of Modern Art and 7% less than the Museum of Modern Art in New York over the same period. Michael Govan, LACMA's director, says change is most evident in the fact that 70% of the contemporary works curators have proposed for acquisition over the past five years were by female artists.
In recent years, the Dia Art Foundation has been seeking to reshape history by focusing on work by artists active between the 1960s and 1970s whose contributions have largely been overlooked - most of them women. Over the past four years, Dia has added work by Michelle Stuart, Mary Corse, Dorothea Rockburne, Anne Truitt, Charlotte Posenenske and Nancy Holt to the collection, among others. Their mission is to expand the canon, create a richer understanding of history, as well as keep audiences engaged with a period they might otherwise dismiss as a known quantity.
We have a long way to go to gender equality and we need to understand why that is, but these institutions are leading the way and showing that there is hope after all.
Featured image: Women artists and supporters protesting outside MoMA in 1984 © Clarissa Sligh, via Art Agency Partners.