In the famous 1971 article, the feminist art historian Linda Nochlin posed a controversial question: "Why Have There Been No Great Women Artists?" In this seminal essay, she sought to demolish the misconception that women lacked the "artist gene", showing it has been institutionally impossible for them to become artists of the first rank. She argued that it is the opportunity, not ability, that has held women back historically.
Over forty years later, this question still rings in our collective ears. Female artists remain sorely underrepresented in museum exhibitions and their works are severely undervalued in the art market. While we are still far from gender equality in the art world, there have been some developments in the field. Galleries are adding more women to their rosters, big museums have been exploring their collections in search of women artists that deserve recognition, and numerous institutions have been mounting exhibitions of art by women.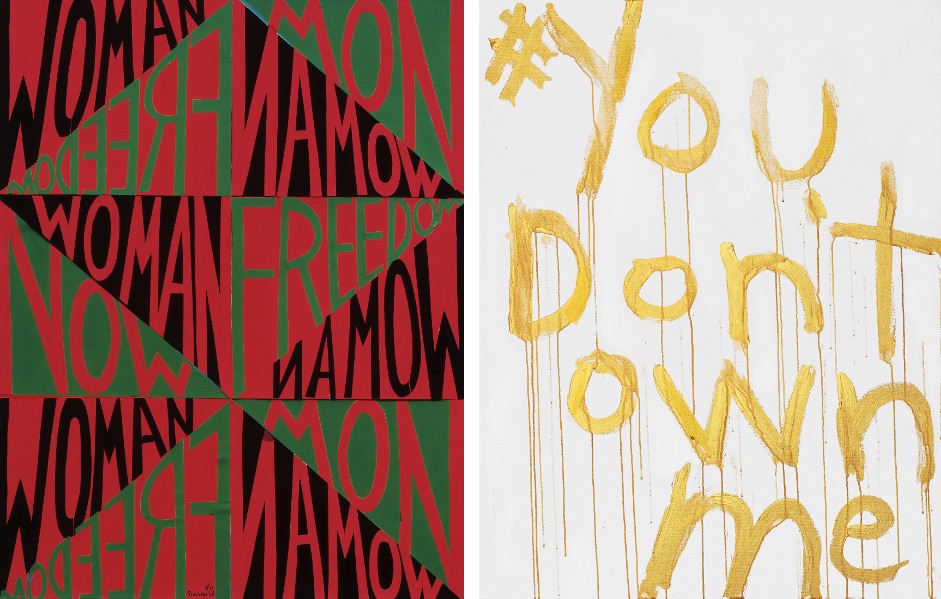 The #MeToo Movement and the Art World
This year's Power 100 List, a highly anticipated barometer of influence in the art world published annually by ArtReview, has positioned the #MeToo movement as the third most influential player in the contemporary art world. As ArtReview explains, many of the year's most dramatic shifts in power within the art world can be traced to a popular protest against its abuse. Going viral amidst accusations of abuse by film mogul Harvey Weinstein to soon become an umbrella beneath which diverse protests against sexual misconduct have gathered, #MeToo created a political and cultural moment which also affected the prevailing climate in which curators are appointed, prizes awarded and exhibitions framed. ArtReview explains:
While much more remains to be done, #MeToo's most significant legacy may be to have pioneered a model by which power is made accountable to those excluded from it, whether by virtue of gender identity, ability, race, class or any number of other intersecting factors.[1]
In the wake of this moment, museums are facing greater scrutiny over sponsorship and the artists they choose to display and the debate on the art-world misogyny and abuses of power has been put to the fore. This year has also seen a considerable debate over how now to interpret the work of problematic male artists of the past.
View this post on Instagram
Female Artists in the Art Market
While the highest price ever paid for an artwork by a woman continues to be a small fraction of that of men, this year saw many female artists breaking sales records and being recognized for their role in important art movements. The increased focus on women's rights across society and decades of activism by feminist artists have certainly attributed to the change of climate.
During the fall auction season, Jenny Saville's 1992 painting Propped sold for a grand total of $12.4 million, more than twice its estimated value and propelling the English artist to become the most expensive living female artist. The fleshy seated nude self-portrait is overlaid in mirror script with a translated quote from French feminist Luce Irigaray's essay Ce Sexe Qui N'en est Pas Un, which reads "If we continue to speak in this sameness-speak as men have spoken for centuries, we will fail each other..." Nazy Vassegh, a London-based art advisor, explained for the Smithsonian Magazine that this auction result was not all that shocking since, in recent years, collectors have begun reevaluating women in the arts:
Female artists are being given greater exposure across the board: in museums, gallery shows, art fairs and auction houses. It's definitely an important moment–and about time.
However, despite the appreciation of women artists' works that is on the rise, Saville's sale is still is nowhere near the prices paid for art by living men. Hockney's painting Portrait of an Artist (Pool with Two Figures) from 1972, which made him the most expensive living artist, was sold for the staggering $90 million.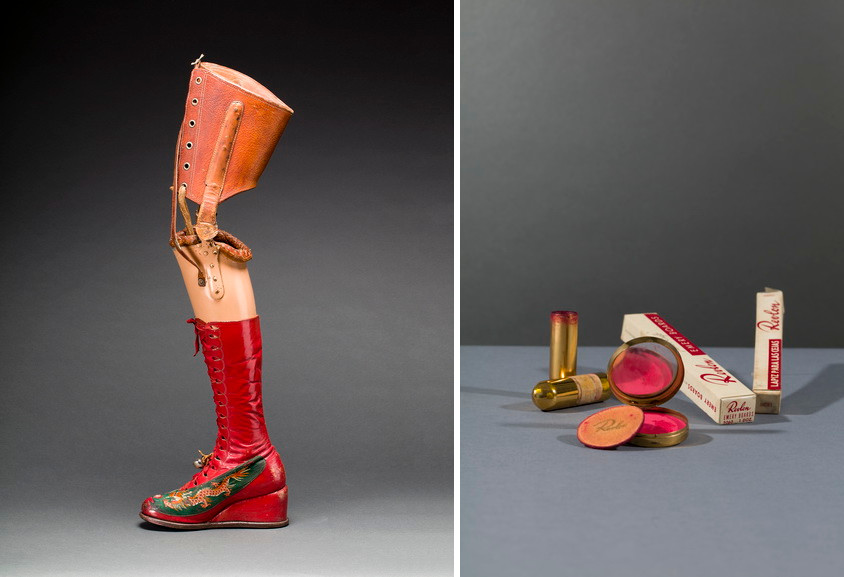 Women Artists Honored in Major Exhibitions in 2018 and 2019
In the midst of the cultural reckoning spurred by the #MeToo movement, the museum and gallery landscape has (inevitably?) become a little more diverse. We are witnessing a wave of appreciation for women artists that has been so long overdue.
The work of Anni Albers, one of the most influential textile designers of the 20th century and the first female textile artist to have a solo exhibition at the Museum of Modern Art New York in 1949, is on view at Tate Modern until January 27th, 2019. Discouraged from taking up certain classes at the renowned Bauhaus school, Albers enrolled in the weaving workshop, taking this form of textile art to new heights. In this long overdue recognition of Albers's pivotal and inspiring contribution to modern art and design, Tate illuminates the artist's creative process and her engagement with art, architecture and design.
The Solomon R. Guggenheim Museum is hosting a survey of Hilma af Klint's work, the mystical Swedish abstract artist, in a first major solo exhibition in the United States devoted to the artist. Titled Paintings for the Future, it brings together around 160 paintings by the artists, offering an unprecedented opportunity to experience her long-underrecognized artistic achievements. The exhibition will be on view until April 23rd, 2019.
Other exhibitions include a major survey of work by the pioneering feminist artist Judy Chicago titled Judy Chicago: A Reckoning, on view at ICA Miami until April 21st, 2019, a comprehensive show of Dorothea Tanning's work titled Behind the Door, Another Invisible Door, on view at Museo Reina Sofia until January 7th, 2019, an exhibition of new works by Catherine Opie titled The Modernist, on view at Lehmann Maupin until January 12th, 2019, and a celebration of the works by ladies of Baroque, on view at the Museum of Fine Arts Ghent until January 20th, 2019.
We also saw exhibitions of works by Joan Mitchell at Cheim & Read, featuring paintings from 1953 to '62, a key period for Mitchell; Lubaina Himid at Harris Museum & Art Gallery, 2017 Turner Prize winner who is quite rightly having her moment; Joan Jones at Tate Modern, the largest showing of her work in the UK to date; Barbara Kruger at Mary Boone Gallery, which showcased a series of fourteen mix-media works produced in 1978; and Frida Kahlo at Victoria and Albert Museum, which presented a collection of her personal artefacts and clothing for the first time outside Mexico.
It was also reported that, for the first time in history, considerably more women than men had full-scale solo exhibitions, whether retrospectives or more focused surveys, in Los Angeles art museums this year.[3]
This trend continues, as, in 2019, the public will have an opportunity to see more exhibitions by female artists, including the exhibition of works by Artemisia Gentileschi at London's National Gallery, arguably Europe's greatest female Old Master. In addition, Tate Britain is to temporarily rehang the last 60 years of its gallery displays with only female artists including Bridget Riley, Rachel Whiteread and Monster Chetwynd. The museum will remove male artists from April and for a year at least, from the free galleries which tell the story of British art from 1960 until the present day, with a goal to increase the representation of women across its galleries.

Moving Forward
All of these efforts are certainly welcome, as the art world tries to make up for decades of neglect. This progress is, however, slow, since statistics still paint a depressing picture of gender disparity in the contemporary art world. By hosting major art shows of female artists, museums and art institutions are creating visibility, stimulating a response from collectors, and following that, commercial galleries.
However, after decades of shunting women into the margins, a much larger shift is required before we manage to break out from the established preconception that art is naturally a man's domain.
References:
ArtReview (2018), 2018 Power 100
Daley, J. (2018), Jenny Saville Takes Title of Most Expensive Living Female Artist, Smithsonian Magazine
Knight, C. (2018), In 2018, female artists finally outnumbered men in L.A. museums' solo shows, Los Angeles Times
Featured image: Barbara Kruger 1978, Installation View at the Mary Boone Gallery.