In the last few years, scientists and various scholars coming from different disciplines devotedly speak about the devastating effects of the climate crisis by critically articulating economic and political mechanisms that seem to be ignoring various and everlasting changes on a global scale. Especially after the horrific fires that swept throughout the Amazon and Australia last year, it has become more than clear that the humans should change the way they live and pay more attention to the dying species around them without whom the balance of life on Earth will be entirely broken.
The first warnings appeared more than forty years with the rise of the environmental movement which spoke about the ecological crisis, the increment of melting glaciers, oil spills, the excitation of various animal and plant species, etc. Alongside other factors such as second-wave feminism, the Civil Rights, LGBTQ and anti-war movements, as well as political debates concerning the Cold War and the nuclear age, this movement had a significant role in forming a new public discourse that should eventually reform the American society and then the world. Apparently, their voice reached far, so in 1970 an annual Earth Day was determined on April 22 as an event supporting the environmental protection.
At approximately the same time Land art (or earth art, environmental art, and earthworks) was already constituted as an autonomous art-making branch in North America, affiliated with a broader phenomenon known as Conceptual art. Unlike the artists interested in dismantling the art system and the increasing commercialization of the same, exploring the notion of language or criticizing the society within the interior or exterior of public spaces in urban environments, the proponents of Land art willingly abandoned traditional forms of representation, went into the wilderness and started working with the natural materials, primarily the earth itself, to create expansive interventions in the landscape. Their artworks are more likely to be called projects, almost in architectural and urbanistic terms, because they employed heavy machinery, teams of collaborators, and from time to time special permits to develop the envisaged.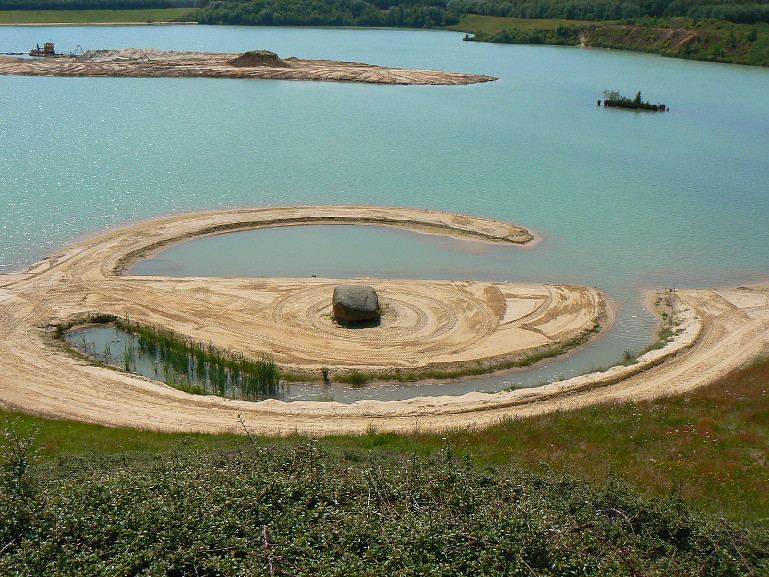 The Male (White) Artist Conquering The Nature
Land art could be also perceived as an extension of the strict and reductive nature of Minimalism since its practitioners used materials found in nature to create site-specific installations that broke the rules of logic, temporality, and public participation.
Regardless of the emancipatory potential the movement was most often presented through the practices of male artists starting with Robert Smithson, who is often perceived as the founding father of Land Art, especially because of his influential essay A Sedimentation of the Mind: Earth Projects published in Artforum in 1968 that functioned as a movement's manifesto. Alongside his peers such as Walter De Maria, Alan Sonfist, Hans Haacke and James Turrell, just to mention a few, Smithson presented a kind of practice that was believed not to be manageable by women.
Art critic Suzaan Boettger intervened by describing the movement as led by "western, cowboy bravado." The male pioneers of Land art produced extensive works that required earth moving and huge funding enabled by donations or sponsorship from wealthy patrons.
The Women's Intervention
Although at the time it was believed that women weren't capable of conducting such enormous installations, they focused on a more articulated, and often socially charged approaches to claim the opposite. Their treatment of the natural environment exceeded the one proposed by their male peers and looking from contemporary stance gave far more intriguing results.
Whether the women land artists cultivated, marked, sculpted, and documented the landscape, they established communication with the same rather than conquering it. By doing so, they engaged themselves in an array of significant topics primarily regarding the matters of gender and class, sometimes articulated from a feminist perspective.
By relating to natural sciences such as botany and chemistry, folklore affiliated with the matriarchal cults, the strategies of urban and architectural renewal, they created powerful artworks that can still dazzle us with their ingenuity.
The era when many of earthworks by women were produced is currently most often celebrated for the practices of feminist pioneers such as Judy Chicago or Martha Wilson who worked with other media meaning that the female land artists remained drifted within the movement and faded into anonymity although their work was integral to the history of environmental art.
To honor their domains in regards to the upcoming celebration of the Earth day we decided to briefly present the practices of seven most important female land artists with the following top list.
Featured image: Nancy Holt - Dark Star Park, 1984. Image courtesy of Ron Cogswell via Flickr.
Agnes Denes
Agnes Denes explored ecological issues by employing science, philosophy, linguistics, psychology, poetry, history and music. Her entire practice is characterized by the critical articulation of socio-political implications of the treatment of the environment.
Denes is mostly saluted for her outstanding public intervention Wheatfield – A Confrontation (1982) for which she planted, cultivated and harvested, as the title suggests, a wheat field on the site of a former land field near Wall Street and the World Trade Centre (now the site of Battery Park City). The artist also gained critical attention for her regenerative projects, such as the earthwork Tree Mountain – A Living Time Capsule in Western Finland, a protected site that is the world's first man-made virgin forest.
Featured image: Agnes Denes - The Living Pyramid, 2015/2017. Various materials. Nordstadtpark, Kassel, documenta 14. Image by Ryohei Noda via Flickr.
Nancy Holt
Nancy Holt is best known for her public sculptures and installation art, but she also works in other media such as film and photography. She started her career by documenting the works of her colleagues, Michael Heizer, and Richard Long, as well as the ones made by her husband, Robert Smithson. Holt gradually became interested in exploring new experiential methods based on the interrogation of time, space and cosmological phenomena.
After Smithson passed away in 1973, Holt started producing her own installations; for instance, her first work titled Hydra's Head (1974), inspired by the history of the region and the folklore of the Seneca Indians, native inhabitants of Lewiston, consisted of a series of pools dug along the coast of Niagara River to reflect the stars of the water snake constellation above, while in her most acclaimed installation, Sun Tunnels (1976), Holt expanded upon her interest in astronomy, and so she installed four concrete cylinders in the Utah desert to follow the sun lines of the summer and winter solstices.
Featured image: Nancy Holt - Sun Tunnels, 1973–76. Image creative commons.
Ana Mendieta
Ana Mendieta was one of the most iconic artists from her generation who managed to construct an authentic feminist based oeuvre by dealing with themes such as sexuality, identity, death, and belonging.
Mendieta's entire approach differs from the other artists on this list for it is definitely performative and rooted in aspiritual and physical connection with the Earth. Throughout her career, she produced a great number of works using earth as a primer medium.
Featured image: Ana Mendieta - Bacayu (Esculturas Rupestres), [Light of Day (Rupestrian Sculptures)] 1981 / 2019. Black and white photograph, 40 x 55 inches (101.6 x 139.7 cm). Courtesy Galerie Lelong & Co.
Alice Aycock
Alice Aycock is an American sculptor and installation artist best known for her numerous large-scale metal sculptures. This notable land art figure is also honored for her exceptional drawings and sculptures featuring surreal architectural and mechanical compositions.
Aycock's early works were often made into or onto the land and were focused on the articulation of the issues of physical enclosure, privacy and interior space, and the body's relationship to vernacular architecture. The thirty-two feet in diameter circular formation called Maze (1972) installed on Gibney Farm near New Kingston, Pennsylvania, is definitely one of her best-known works.
Featured image: Alice Aycock - Another Twister (João), 2015. Sprengel Museum Hannover. Image by Christian A. Schröder via Wikimedia Commons.
Patricia Johanson
Patricia Johanson is well known for her large-scale art projects based on the aesthetic and practical cohabitation of humans and wildlife. Her oeuvre includes the ecological renewal or revitalization of damaged landscapes and wasted areas through the simultaneous insertion of large-scale minimalist sculptures and the restoration ecologies at the site.
Johanson's projects are of immense value for the community due to the practical aspects that make them transcending the initial artistic concept. The best example is her outstanding restoration project of the degraded Fair Park Lagoon (1981) in Texas.
Featured image: Patricia Johanson - Sego Lily diversion dam at the Draw at Sugarhouse, Salt Lake City, Utah. Photo by Adam Isaac Hiscock via Wikimedia Commons.
Mary Miss
A pioneer in environmental art and site-specific art, as well as a leading sculptor of the 1970s feminist movement, Mary Miss is an American artist who devotedly explores the notion of the public realm. By combing methodologies found in engineering, landscape architecture, and urban design, Miss produces majestic installations in nature in collaboration with scientists, historians, and public administrators.
She is best known for her project Greenwood Pond: Double Site (1989 - 1996) for which Miss collaborated with various social groups to create outdoor classroom consisting of multilevel path system and a series of objects of steel, wood, and cement; as well as other diverse projects such as marking the predicted flood level of Boulder in Colorado or producing a temporary memorial around the perimeter of Ground Zero.
Featured image: Mary Miss - South Cove at Battery Park City, 2015. Photo by Mysid via Wikimedia Commons.
Michelle Stuart
Last but not least, Michelle Stuart was inspired by the photographs of the moon surface since the artist encountered a similarity with her early rubbings, luminous monochromatic drawings that were exhibited in the gallery space and were gradually transported to landworks.
In 1975 Stuart produced an intervention titledNiagara Gorge Path Relocated, for which she sent a huge scroll of paper in a cascade form down a large bank of the Niagara River Gorge at Art Park. In the 1980s, Stuart shifted to a series of gridded paintings made of natural materials, while in 1993 the artist made her highly acclaimed series Extinct, inspired by a Victorian-era collection of pressed leaves.
Featured image: Michelle Stuart - Extinct, 1993. 35 units, approx. 69" x 95" x 2", plants and seeds on hand printed rice paper. Image creative commons.