When in the late 1960s the feminist movement started its long-overdue fight for equality, art was one of its most powerful tools. Moreover, when feminism met photography and politics met art, it was a match made in heaven. This highly accessible medium helped feminists address critical social issues in the most direct of ways, while photographers embraced the movement as a new way of expression, a less abstruse and more personal one. This, of course, doesn't mean that before this there were no female photographers whose work could be considered feminist. Think of Julia Margaret Cameron, one of the first women artists to make photographs in the 19th century, or Tina Modotti, whose revolutionary images exalted a sense of freedom, both personal and universal, or even Diane Arbus, who fearlessly photographed all things different, away from the fame of her husband's fashion photography studio. But that first wave of the 1960s movement, as well as all those that came after, influenced many women artists to consciously make feminist photographs that fight discrimination in both the art world and life in general.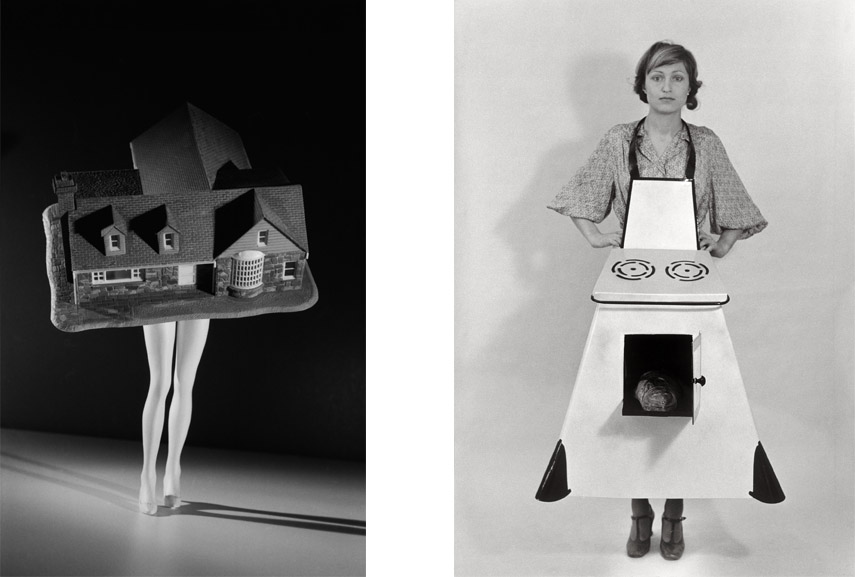 Feminist Art of Photography - The Beginnings within the Wave
By tackling the ideals of the female beauty, feminist photography tried to change general consciousness on the objectification of women, their role within domestic life, their own views of self. Through her 1974 S.O.S. - Starification Object Series of photographic self-portraits, Hannah Wilke transformed her body into a proper living statement, evoking the poses of the 1950s pin-up girls and covering herself in bubble gum folds. The gums were reminiscent of her 1960s vulva sculptures, and they represented a symbol of how women were treated: chewed up, thrown out and eventually replaced with another one. In her earlier works, Laurie Simmons photographed dollhouses that called out the stereotypes of young girls turned into housewives, while with objects on legs she further emphasises the role of women in society, where consumer items such as cakes, guns and musical instruments are captured with long, slender legs. At around the same time, Croatian artist Sanja Iveković produced Double Life, where 65 of her private photographs are paired with similar shots of models in magazine advertisements, while Birgit Jürgenssen often portrayed herself as the desperate housewife. The haunting works of Francesca Woodman, whose life tragically ended in a suicide, carry out a strong message about the photographer's inner self, her struggles and attempts to find a way out, in an unprecedented personal way.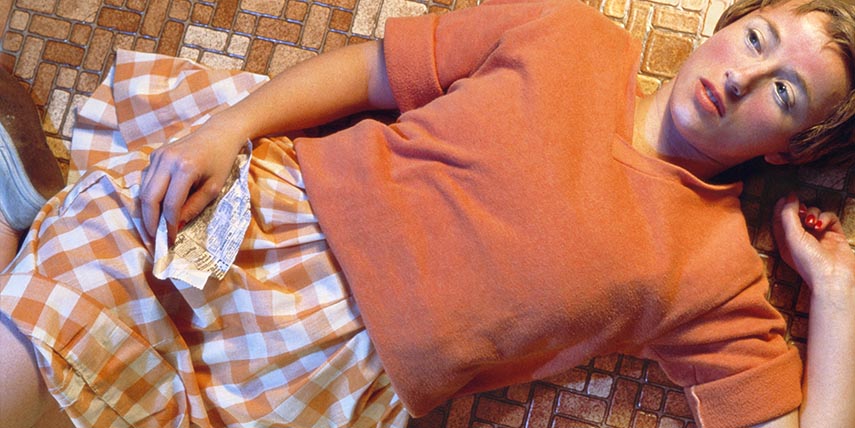 The 1980s and 1990s
We couldn't possibly talk about feminist photography and self-portraits without the brilliant Cindy Sherman. Her 1981 Centrefolds were absolutely groundbreaking, as they depicted stereotypes seen in the media. Miss Sherman is certainly no stranger to dressing up and posing for the camera - after all, she is her own fashion designer, make-up artist, protagonist, screenwriter and director. She is anyone, yet she is herself only, her movie heroines and characters address an array of clichés, gender roles, identity, voyeurism, sexism, ageism and objectification, the position of women in fashion and porn industry.
Indeed, many photographers produced work that tackled different cultural issues, sometimes at the same time. Feminism shared ideologies with anti-racism and the LGBT rights movement through the 1970s onwards. Artists like Carrie Mae Weems, Lorna Simpson and Tracey Moffatt all pointed out the issues of race and furthermore the even inferior position of women within their own community, while Bettina Rheims, Nan Goldin and Catherine Opie tackled gender and gave an insight into the lives of the members of the LGBT community. Their works hold an immense importance when it comes to breaking taboos and making esoteric communities and individuals more familiar.
As an important photographic work of art that deals with the various dimensions of their experience in contemporary Islamic society, there is Shirin Neshat's Women of Allah (1993-1997). It tells of the deep roots of the 1979 Iranian revolution within the 21st-century lives of women and the oppression that religion and tradition impose on them. The work became famous for its daring take on femininity under male authority and the way women's identity is being shaped by all the complex social forces.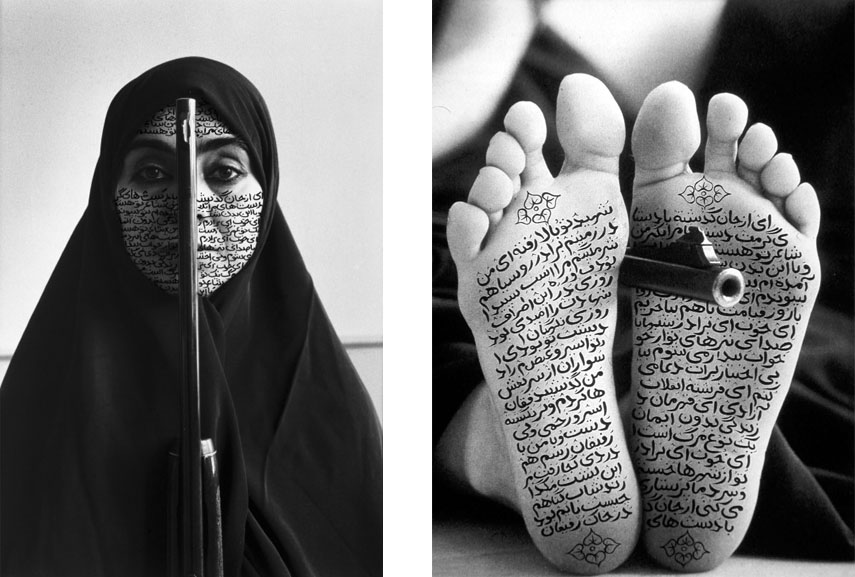 Into the Noughties to Today
Although her career started as early as the 1970s, Annie Leibovitz's greatest contribution to feminist photography and a highlight of her oeuvre was, in my humble opinion, Women, the 1999 book of portraits that further evolved into a touring exhibition in 2016. Like her innovative take on the Pirelli calendar, the celebrated celebrity photographer presented famous women as whole human beings, praised for that and their remarkable achievements both. Another commercial photographer, Ellen von Unwerth, creates stunning erotic imagery which, however, celebrates femininity instead of traditionally putting it out there for the sheer pleasure of men.
All these remarkable women photographers influenced entire generations of young artists who are still fighting for equality through the means of the feminist movement, almost half a century after the pioneering article by Linda Nochlin, entitled Why Have There Been No Great Female Artists? Today, we have the photographs of Ana Casas Broda, that bring the notions of motherhood and femininity to a different level, or those of Petra Collins, which explore the frustrations of teenage girls. Tomoko Sawada is interested in individuality, sexuality, stereotypes and identity of Japanese women within their contemporary society, Amanda Charchian presents us with a fresh way of seeing the female nude, Paola Paredes's Unveiled project explores what it means to be a lesbian, and Birthe Piontek uses suggestive still life imagery to convey her feminist statements, for instance. Even though it feels like there's still a long way to go to reach equality, these heroines of feminist photography surely contributed to it more than we'll probably ever know.
  Editors' Tip: Reframings: New American Feminist Photographies
Written by Diane Neumaier, Associate Professor of Visual Arts at Mason Gross School of the Arts, Rutgers University, Reframings makes visible what has been for too long nearly invisible: contemporary feminist visual art that represents a remarkable range of perspectives, styles, and subject matter. The forty-five women who created these works - artists and writers such as Deborah Willis, Carrie Mae Weems, Nan Goldin, and Carm Little Turtle - are connected by a belief that images are political and that today's feminist concerns cannot be separated from such issues as ethnicity, class, age, and sexuality. They share a consciousness that historically women have been "framed" and can now be "reframed."
Featured images in slider: Cindy Sherman - Untitled Film Still #21, 1978; Hannah Wilke - S.O.S. Starification Object Series, 1974-82; Sanja Iveković - Spring 1971. In the Studio on Savska Street - "Brigitte," February 1976, from the Double Life series, 1976; Carrie Mae Weems - Kitchen Table Series, 1990; Lorna Simpson - Five Day Forecast, 1991; Ana Casas Broda - Tres días despúes del parto de Lucio, 2008; Tomoko Sawada - School Days-A, 2004; Bettina Rheims - Gender Studies, 2011; Annie Leibovitz - Women; Amanda Charchian. All images used for illustrative purposes only.