One of the most celebrated visual artists from Colombia, Fernando Botero has been producing figurative paintings and sculpture exploring different aspects of the representation of corporeality for more than five decades now. His gracious sculptures in particular reflect humor intertwined with social and political criticism.
This prolific artist came to national prominence after winning the first prize at the Salón de Artistas Colombianos in 1958, but it wasn't until 1973 that he moved to Paris and started producing the aforementioned sculptures, gaining great success and becoming part of important international collections.
To revisit his practice and underline his domains, The Nader Art Museum decided to install fourteen monumental bronze sculptures by Botero in the public space, along Miami Beach's Lincoln Road District.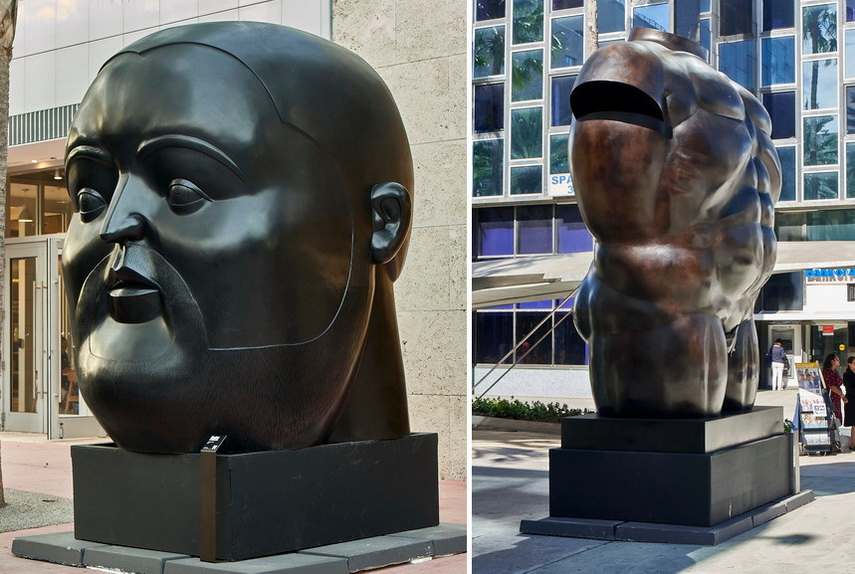 The Boterismo Effect
Fernando Botero's sculptures feature people in exaggerated volumes implying his interest in the exploration of form and proportion. He used the term "Boterismo" to describe his approach, and said of his sculptures:
I never give particular traits to my figures. I don't want them to have personality, but rather represent a type that I create. My sculptures do not carry any messages, social or otherwise. What matters for me is the form, the voluptuous surfaces, which emphasize the sensuality of my work. I like the enormous size; it is the fulfillment of my longing for voluptuous round forms.
Botero is considered as the most established living artist from Latin America whose outdoor works were very welcomed in the international context as well, after he exhibited them in Paris, Tokyo, Berlin, and New York City.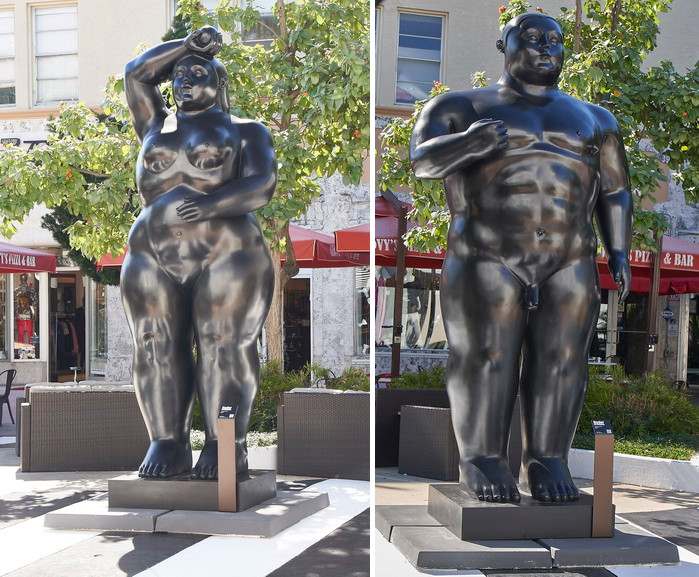 The Sculptures
On the Alton Road entrance, the visitors are welcomed by probably one of Fernando Botero's best-known sculptures, Male Torso, followed by the classical interpretations such as Rape of Europa, and Leda and the Swan, as well as Bird and many others.
The visitors coming across Washington Avenue will be welcomed by Adam and Eve sculptures. To follow up with the monumental sculptures, the Nader Art Museum will feature Espacio Botero, to underline the artist's outstanding creativity expressed throughout his lasting practice.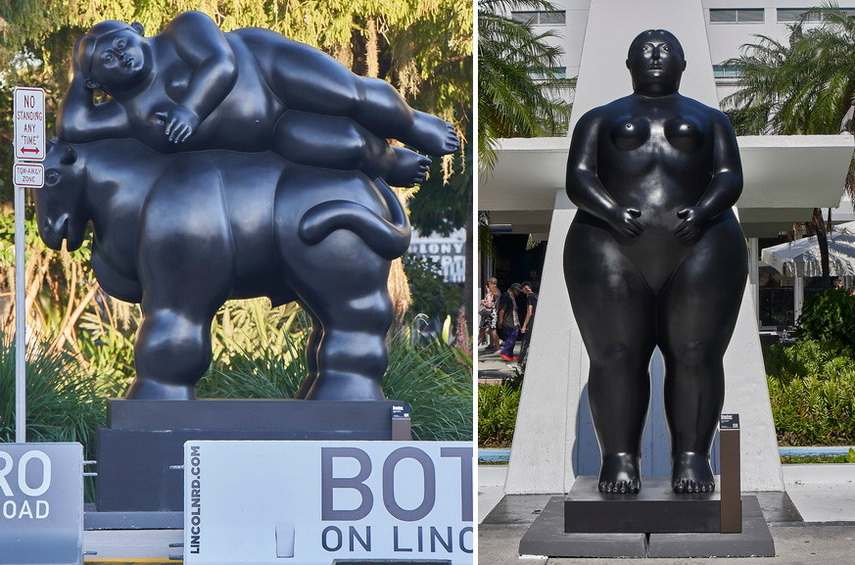 Fernando Botero Along The Lincoln Road
The project of exhibiting Fernando Botero's works outdoor is based on the museum's agenda of bringing his art to a wider number of people and therefore showing that art can be accessible outside the exhibition space. Gary Nader, the Founder of The Nader Art Museum expressed his excitement regarding this project:
Fernando Botero is one of the world's most iconic and recognized Masters. He has certainly earned his place in history. Being around his artwork is pleasing to the eye and brings a smile to the face of all of those who see it. This exhibition on Lincoln Road will allow visitors and locals to get a closer look at Botero's most celebrated monumental masterpieces.
The sculptures will be exhibited along Miami Beach's Lincoln Road until 31 March 2020.
Featured images: Fernando Botero - Ballerini, 2011. Sculpture. Bronze, 118 1/8 x 74 7/8 x 35 3/8 in (300.04 x 190.18 x 89.85 cm); Leda e il cigno (Leda and the swan), 1996. Sculpture. Bronze, 63 ½ x 128 1/8 x 57 in (161.3 x 325.4 x 144.8 cm); Donna Sdraiata con frutto, 1995. Sculpture. Bronze, 140 x 120 x 362 cm;  Uccello, 2016. Sculpture. Bronze, 75 3/16 x 61 7/16 x 70 1/16 in (191 x 156 x 178 cm); Spinx, 1995. Sculpture. Bronze, 118 1/8 x 92 1/8 x 107 1/2 in (300 x 234 x 273 cm). All images courtesy The Nader Art Museum.