A Brazilian graphic designer, illustrator and visual artist, Fernando Chamarelli creates work which centers around spirituality, mysticism, geometry, symbolism, mythology, history, astrology, philosophy, occultism, and anthropology. He combines East and West, ancient and modern times, exterior and interior, the material and spiritual.
His latest body of work is currently on view at Kallenbach Gallery. Simply titled Fernando Chamarelli, the exhibition immerses the audience into his unique visual world comprised of a careful balance between geometric and organic forms.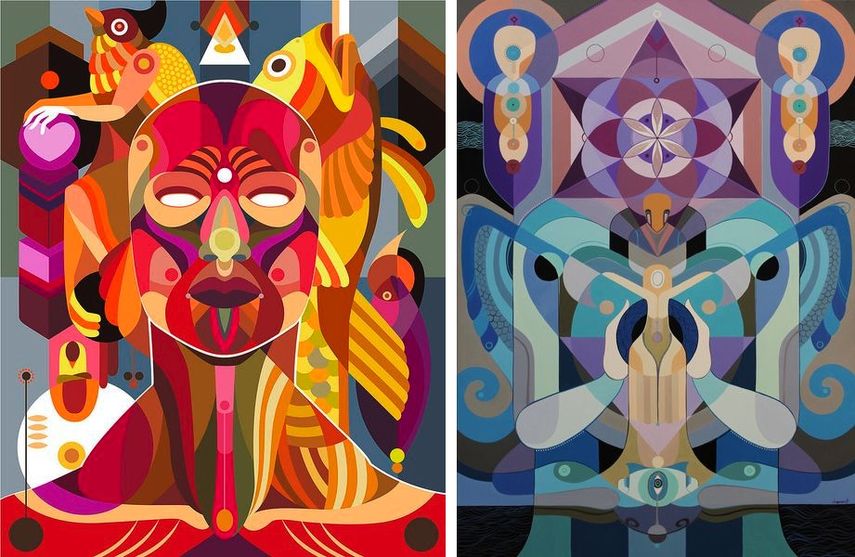 A Multi-Faceted Artist
A multi-talented artist born in Penápolis, São Paulo, Fernando Chamarelli immersed himself in the world of art at the young age, inspired by a superhero comic book his friends gave him. With an interest in art starting with cartoons, caricatures and realistic portraits and followed by street art and tattooing, the artist created a signature style which combines all of his interests and backgrounds.
Residing in Brazil, a multicultural country of contrasts, has also had a great influence on his work. This dynamic and colorful environment greatly inspired his diverse visual language, along with its popular culture and pre-Columbian indigenous art.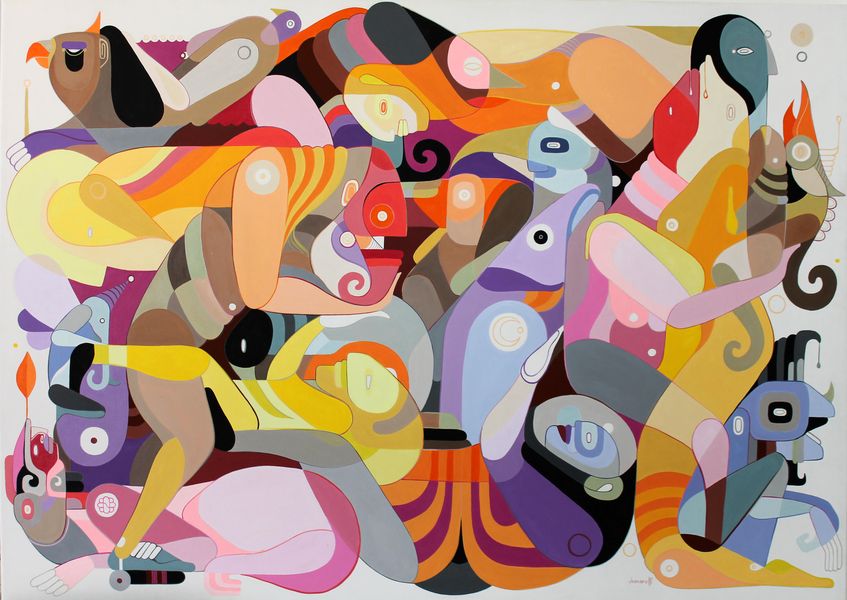 It's All About Interconnectivity
Fernando Chamarelli developed his visual language after testing several techniques and trying different types of art. His style is now characterized by geometric elements, organic forms, harmonic lines and mosaic, vibrant with colors - transmuting one into the other.
Using elements of different cultures, Chamarelli connects symbols, legends, philosophies, religions, and customs of ancient and modern civilizations. Inhabited by colorful and vibrant characters, his micro and macro cosmos merge civilizations from the past, from the present and from the future.
At the moment, the artist's practice if informed by Quantum Physics, String Theory and The Multiverse. However, despite the rationality which comes from science, he created a surreal world which runs on intuition and creativity. Using an intricate web of sacred geometry and various symbols, Chamarelli created a singular language as a form of communication. He tells us that everything is interconnected, and in order to evolve and adapt, we must understand and cherish our connection with other human beings, animals, nature, and the cosmos.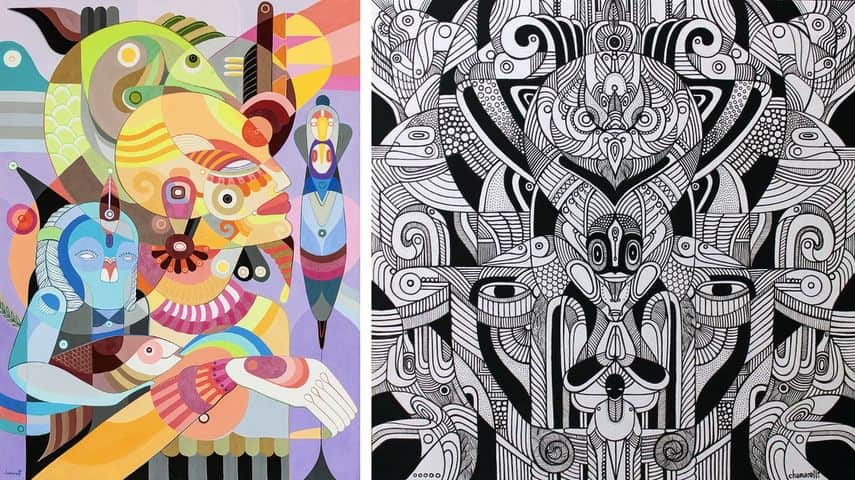 Fernando Chamarelli Exhibition at Kallenbach Gallery
Operating from an interest and passion for the New Contemporary Art Movement, Kallenbach Gallery exhibits new and cutting-edge art. The exhibition of Fernando Chamarelli's work reflects their ongoing interest in introducing the public to exciting and innovative artists in an open and approachable way. Be sure to check out the work of this highly talented Brazilian artist.
The exhibition Fernando Chamarelli will be on view at Kallenbach Gallery in Amsterdam until August 25th, 2018.
Featured image: Fernando Chamarelli - Força Criativa Illustration (detail). All images courtesy of Kallenbach Gallery.