One of the premier art events in Paris, France, FIAC - Foire internationale d'art contemporain is returning this October to Grand Palais for its 45th edition. This year's selection at FIAC will present the finest examples of artistic creation since the turn of the twentieth century; modern masters through to the latest trends, notably represented in the Lafayette Sector.
FIAC 2018 will welcome 195 galleries coming from 27 countries, including 3 countries new to the fair - Greece, Peru and Ireland. Among many returning exhibitors, FIAC will also welcome 18 galleries which will be participating for the first time.
In addition to the high-quality gallery program, there will once again be FIAC Projects (formerly On Site), presenting some forty sculptures and installations in situ at the Petit Palais, on the Avenue Winston Churchill and around the Grand Palais, FIAC Hors les Murs, an ensemble of over twenty outdoor works in the Tuileries Gardens, together with a solo exhibition of Rebecca Warren at the Musée National Eugène Delacroix, and FIAC Programmes, a freely accessible program of performances.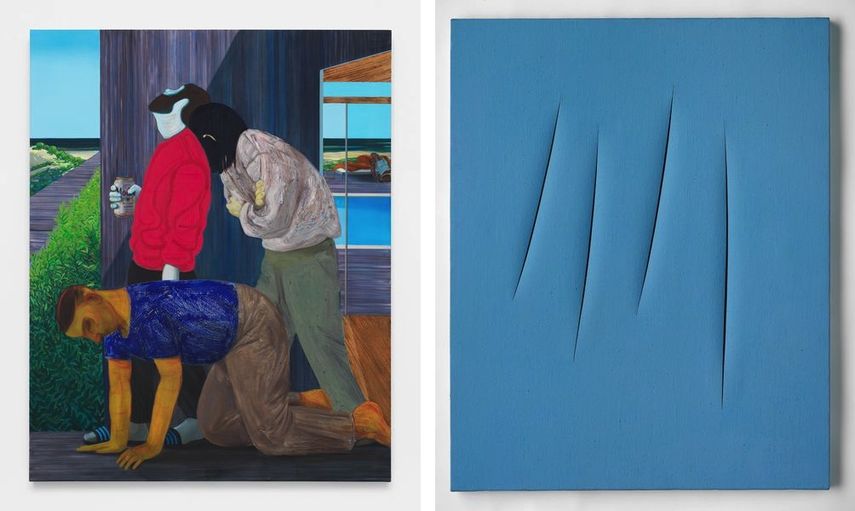 The Exhibitors at FIAC 2018
The 2018 edition of FIAC will bring together 195 exhibitors from 25 countries - Germany, Austria, Belgium, Brazil, China, South Korea, the United Arab Emirates, Spain, the United States, France, Greece, Hong Kong, India, Israel, Italy, Japan, Kosovo, Mexico, Norway, the Netherlands, Peru, Portugal, the United Kingdom, Switzerland and Tunisia. Reflecting the diversity of artistic creation since the early 20th century, the selection of art ranges from modern masters to the most cutting-edge trends.
The General sector includes key European stakeholders in modern and contemporary art such as Galerie 1900-2000 from Paris; Applicat-Prazan from Paris; Art : Concept from Paris; Perrotin from Paris, New York, Hong Kong, Seoul, Tokyo and Shanghai; Thaddaeus Ropac from Paris, Salzburg, London; Lelong & Co. from Paris and New York; Buchholz from Köln, Berlin, New York; continua from San Gimignano, Boissy-le-Châtel, Beijing and Habana; Victoria Miro from London and Venezia; but also North America, such as Blum & Poe from Los Angeles, New York and Tokyo; Gagosian Gallery from Paris, New York, Beverly Hills, London and Hong Kong; and David Zwirner from New York, London and Hong Kong; from Asia, such as Vitamin Creative Space from Guangzhou, Beijing and Hyundai from Seoul; from South America, such as 80M2 Livia Benavides from Lima and Bergamin & Gomide from São Paulo; and from Near and Middle East, such as Green Art Gallery from Dubai, Dvir Gallery from Tel Aviv and Brussels, and Selma Feriani from Tunis and London.
As part of the Lafayette Sector, which illustrates the dynamism of emerging international galleries and their commitment to supporting young artists, FIAC will present 10 galleries: Arcadia Missa from London, Sandy Brown from Berlin, DOCUMENT from Chicago, Lars Friedrich from Berlin, Jan Kaps from Köln, LOMEX from New York, Edouard Montassut from Paris, Bonny Poon from Paris, Queer Thoughts from New York, and Truth and Consequences from Geneva.
As part of the Design sector, FIAC will host Jousse Entreprise from Paris, Galerie kreo from Paris and London, LAFFANOUR - Galerie Downtown from Paris, Eric Philippe from Paris, and Galerie Patrick Seguin from London.
FIAC 2018 Participating Galleries
The FIAC Side Program
Within the prestigious setting of the Petit Palais, around the Grand Palais, and on avenue Winston Churchill, FIAC will present sculptures and installations in situ as part of the FIAC Projects. Conceived in collaboration with Marc-Olivier Wahler, Director of the Eli and Edythe Broad Art Museum at Michigan State University, the selection will feature works by artists such as Dieter Appelt represented by Françoise Paviot from Paris, Salvatore Arancio represented by Semiose from Paris, John DeAndrea represented by Georges-Philippe & Nathalie Vallois from Paris, Bruno Gironcoli represented by Krinzinger from Wien, Leon Vranken represented by Meessen De Clercq from Brussels, Reijiro Wada represented by SCAI THE BATHHOUSE from Tokyo, and Haegue Yang represented by Kukje from Seoul, among others.
Traditionally, FIAC Hors les Murs will present the outdoor works program, enabling the public to discover artworks on view at some of the most prestigious and emblematic locations throughout the city. Around thirty pieces will be presented in the Jardin des Tuileries, including artworks and installations by Juliaan Andeweg represented by Martin van Zomeren from Amsterdam, Gilles Barbier represented by Georges-Philippe et Nathalie Vallois from Paris, Alexander Calder represented by Van de Weghe from New York, and Mia Marfurt represented by Allen from Paris, among others. An ephemeral village of architectural projects will be inaugurated on the most iconic of all Parisian squares, the Place de la Concorde, including works by Kengo Kuma represented by Philippe Gravier from Paris, Jean Maneval represented by Jousse Entreprise from Paris, Claude Parent represented by Philippe Gravier from Paris, and Jean Prouvé represented by LAFFANOUR - Galerie Downtown from Paris. As part of this program, Musée National Eugène Delacroix feature works by Rebecca Warren, in collaboration with the gallery Max Hetzler. Also part of Hors les Murs, FIAC gives carte blanche to Elmgreeen & Dragset represented by Perrotin to present an in-situ project at the Place Vendôme.
FIAC will also present the third edition of the performance festival Parades for FIAC, dedicated to performative practices and dialogue between disciplines in contemporary art. Taking place at the Palais de la Découverte, the Petit Palais, the Centre Pompidou, the musée de l'Orangerie, the Grand Palais and its surroundings, the program lies at the crossroads of music, contemporary dance, performance, theatre and poetry. The program will include artists such as Etel Adnan, Uriel Barthélémi, Ruth Childs, Guy de Cointet, Marcelline Delbecq & Ellie Ga, and LEV Dance Company, among others.
The ninth edition of Cinéphémère, a short films programme by artists streamed during FIAC week, will feature around thirty artists' films selected by curator Nataša Petrešin-Bachelez. The audience will have an opportunity to observe see artistic positions and voices that engage in real life situations, activist research and fieldwork across Global North and Global South.
The Location of FIAC 2018 - Grand Palais Paris
FIAC 2018 - Practical Information
FIAC 2018 will take place at the Grand Palais in Paris, France from October 18th until October 21st, 2018.
FIAC Galleries will be open to the public from 2 to 8 p.m. on Thursday, from 12 to 8 p.m on Friday, and from 12 to 7 p.m. on Saturday and Sunday. The price of the full-fare ticket will be 38 €, while the reduced fare will be 25 €.
The on-site FIAC program at the Petit Palais and Avenue Winston Churchill will be open to the public from 11 a.m. to 9 p.m. on Wednesday, from 10 a.m. to 8 p.m. on Thursday, from 10 a.m. to 9 p.m. on Friday, and from 10 a.m. to 7 p.m. on Saturday and Sunday. The access will be free of charge.
Hors les Murs program will be on view at Jardin des Tuileries and the Place Vendôme until November 2018 and at Musée National Eugène Delacroix, open every day between 9:30 a.m. and 5:30 p.m. except Tuesday.
For more information, visit the official website of the fair.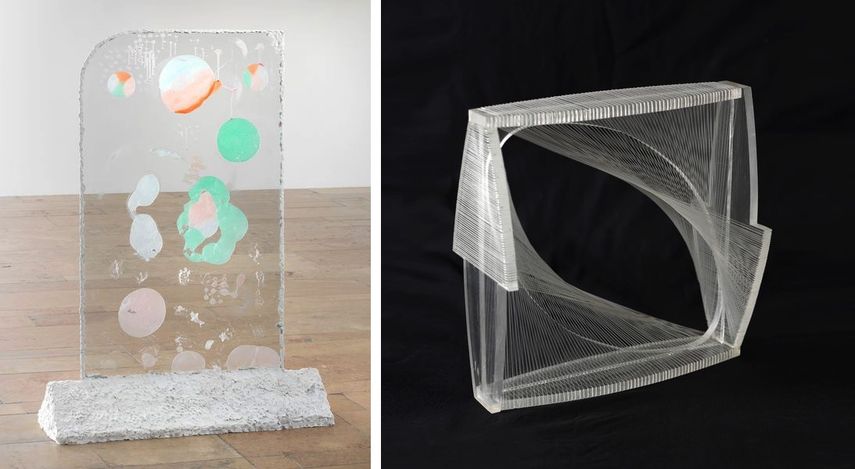 Featured image: Elisabeth Frieberg - Vancouver Island, Whale, Wave, 2018. Oil on canvas, 190 x 324 cm. Courtesy Andréhn-Schiptjenko, Stockholm; Robert Colescott - Diana's Secret (The Orchid Corsage), 1976. Acrylic on canvas with wooden cutouts, 20,32 x 31,91. © 2018 Estate of Robert Colescott / Artists Rights Society (ARS), New York Courtesy of the Estate and Blum & Poe, Los Angeles/New York/Tokyo; Tony Matelli - Broken Feet, 2018. Marble, Painted Urethane, 45,7 x 55,9 x 43,2 cm. Courtesy Andréhn-Schiptjenko, Stockholm; Neïl Beloufa, solo show, Balice Hertling, October 2017, 2017. Various techniques, various dimensions. Courtesy the artist and Balice Hertling; Dorothy Iannone - The Eye Of The Needle, 2010. Gouache and acrylic on paper, on wood, 53 x 48 x 16 cm. Photo Hans-Georg Gaul. Courtesy Air de Paris, Paris. All images courtesy of FIAC.