One of the world's leading international art fairs, is set to occupy the space of several venues in Paris, including Grand Palais, the Jardin des Tuileries, the Jardin des Plantes, Place Vendôme and the Banks of the Seine, for the 42nd time. FIAC, or Foire Internationale d'Art Contemporain, remains an important event in the world of contemporary arts and the market, gathering gallerists, curators, artists and collectors in a unique environment. This year, there will be a total 173 exhibiting galleries from 23 countries around the world, which will be divided into two different sectors. Accompanying FIAC, there will be the second edition of OFFICIELLE, a smaller "sister" fair welcoming fifty galleries specializing in emerging and contemporary art from thirteen countries, as well as an extensive program which includes special projects, cultural events as part of Hors les Murs, an outdoors sculpture exhibition, a series of performances, conferences, artist films, the award ceremony for the Marcel Duchamp Prize and more.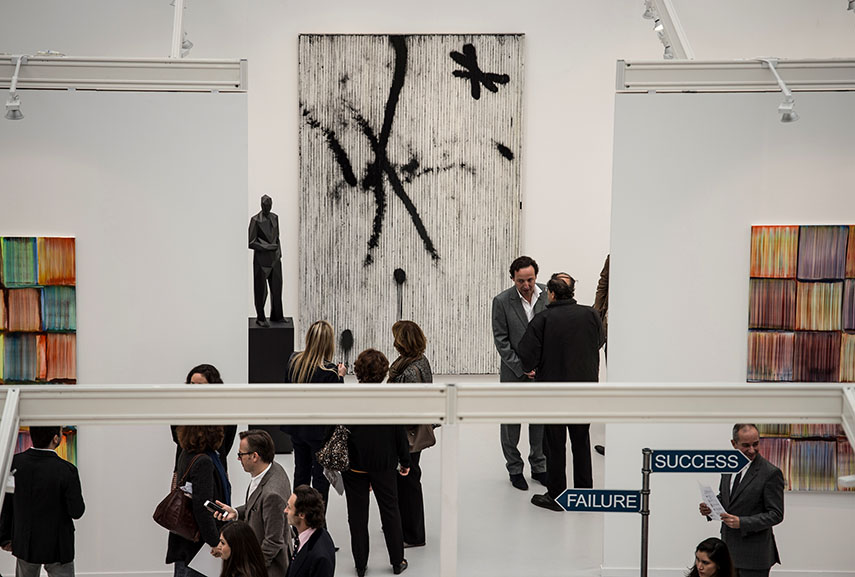 Participating Galleries
In 2015, presenting at FIAC there will be 42 galleries from France, 35 from the US, 26 from Germany, 14 from the UK, 10 from Italy, 9 from Belgium, 6 from Switzerland, 5 from Brazil and 4 from Mexico. Twenty of these spaces will be participating for the first time, and all of them will be divided into General Sector and Lafayette Sector, both at Grand Palais. The General Sector will welcome an unprecedented number of 105 galleries specializing in modern and contemporary art, including Massimo De Carlo, Gagosian, Hauser & Wirth, Galerie Lelong, Galerie Perrotin, Thaddaeus Ropac, White Cube, David Zwirner, Galerie Buchholz, Luhring Augustine and more. The Lafayette Sector will introduce ten galleries from five countries and their prospective exhibition programs. Scroll down to the bottom of the page for the complete list of exhibitors.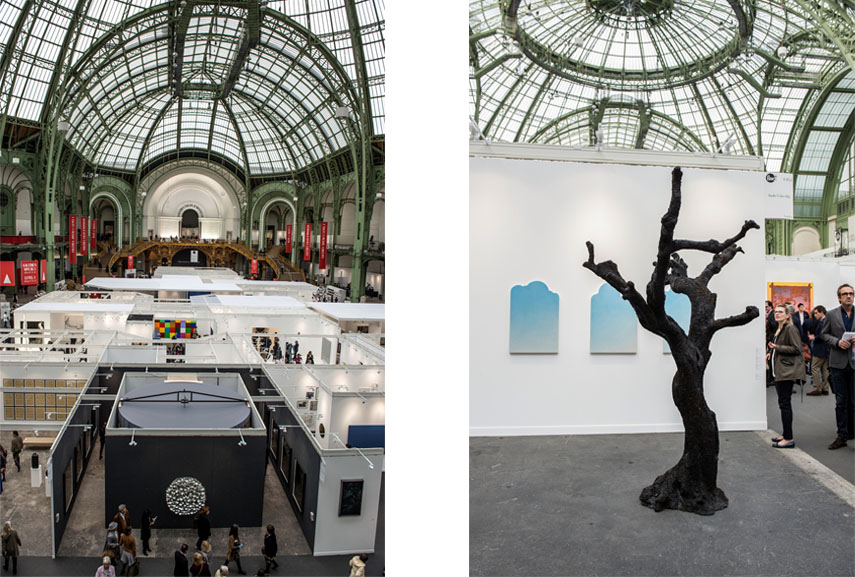 Fair Program
Among special projects at FIAC, there will be the Swarovski Series, presenting a sculptural installation entitled Pay No Attention to the Man Behind the Curtain, by artist Wu Tsang. The Hors les Murs cultural program, this year expecting more than 500,000 visitors per location, offers an array of events. FIAC and OFFICIELLE ticket holders will be able to access Grand Palais, the Docks - Cité de la Mode et du Design, the participants in Hors Les Murs, and twenty more cultural institutions along the river Seine, encompassed under the name Musées en Seine. At Jardin des Tuileries, you can find outdoor sculpture exhibitions which will include pieces by Angela Bulloch, Anthony Gormley, Xavier Veilhan, Ai Weiwei and others. At Place Vendôme, there will be two new pavilions dedicated to Dan Graham, and Le Petit Palais will show a performance by Rashid Johnson, among other events. As for performances, in collaboration with the Louvre Museum there will be the Ouvertures/Openings program initiated in 2008, this year focusing on contemporary dance and the museum space. During conferences, there are talks dedicated to art and science, as well as poetry, while the Artist Films section will present a number of video artworks at The Cinéphémère, Auditorium du Grand Palais and the Silencio space.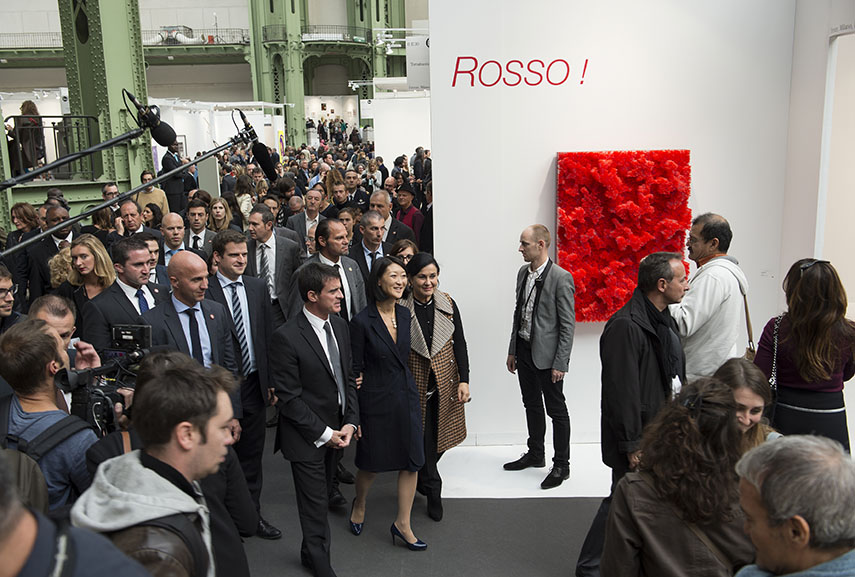 OFFICIELLE - Coming Back for its 2nd Edition
Taking place at the same time as FIAC, OFFICIELLE will focus on most recent trends in today's scene and will promote a number of emerging talents and spaces. The first edition of OFFICIELLE took place in Paris in 2014 and has quickly establish itself as a strong fair of its own, completely independent from its "big sister" that is FIAC. The two fairs will co-organize many events as part of the Hors les Murs program, including those involving cultural institutions along the river Seine, such as Jardin des Tuileries, the Muséum National d'Histoire Naturelle and the École Nationale Supérieure des Beaux-Arts. Through these venues, a new cultural landscape of Paris will be built, for the visitors' enjoyment.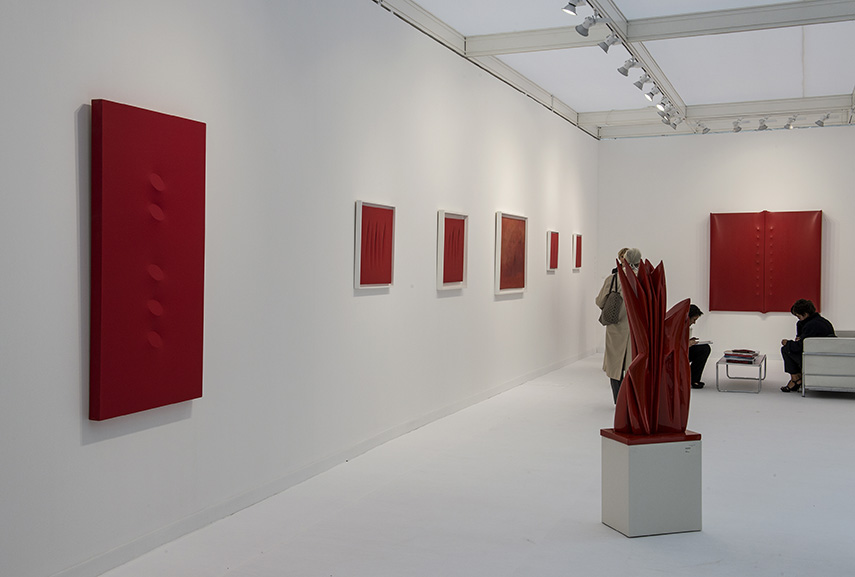 FIAC Paris 2015 - Practical Visitors Information
FIAC Paris 2015 will be held from October 22nd through 25th at several locations in Paris, France. An exclusive preview by invitation only is set for October 21st from 2pm to 9pm, while the opening hours for general public are from 12pm to 8pm during the first three days, and until 9pm on closing day. Tickets prices range from €35 for the full fare, €20 for the reduced fare (under 26), and free for children under 12 years. The official catalogue costs €35. To access the venues of Musées en Seine, you can take the two river shuttles departing from Pont Alexandre III every thirty minutes. For more information, visit the official website.
For an extensive coverage of the upcoming art fairs worldwide, sign up for My Widewalls today!
List of exhibitors at FIAC
All images courtesy of FIAC.