The International Art Fair (FIAC), one of the world's leading international art fairs, is coming back to Paris for its 43rd edition. Situated in the historical Parisian venue of the Grand Palais, FIAC Paris 2016 will run from October 20th until October 23rd. It will welcome the total of 186 galleries from 27 countries across the world, including 43 new exhibitors. Broadening the scope of its program this year, the acclaimed fair will introduce monumental works at the Petit Palais, the opening of the Grand Palais' Salon Jean Perrin and a new Performance Festival in association with the Louvre Museum. Renowned for its unparalleled diversity and the beauty of its locations, the public events program Hors les Murs will be supplemented with works exhibited in public space, an artists' films program, and three days of conferences. Additionally, visitors will have an opportunity to enjoy the VISITES YCI! presented by young critics and exhibition curators from the YCI (Young Curators Invitational) program. Bringing together gallerists, curators, artists, collectors, art enthusiasts and other major players in the market, FIAC remains an important event in the world of contemporary art.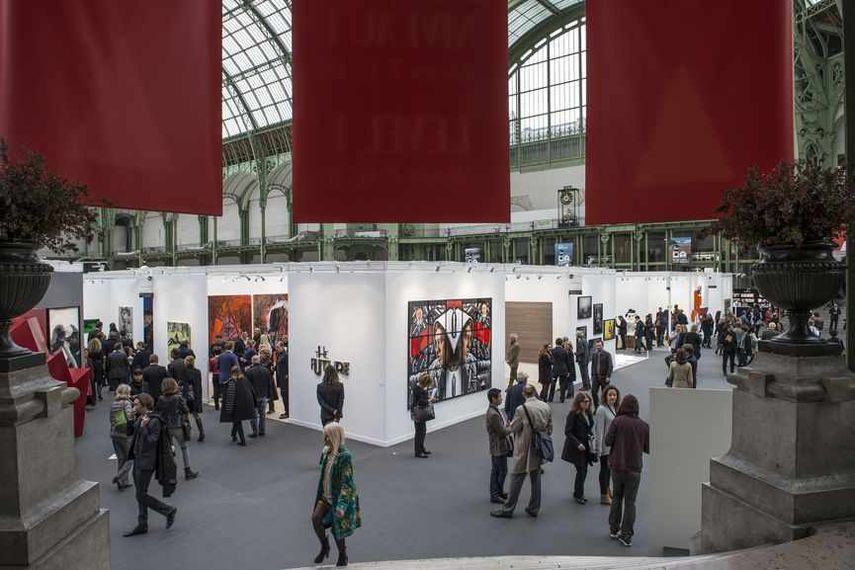 The Exhibitors and Highlights
This year, FIAC will present 186 galleries coming from Austria, Belgium, Brazil, Canada, China, Colombia, Denmark, England, France, Germany, Holland, Hong Kong, Hungary, Italy, India, Japan, Lebanon, Mexico, Poland, Romania, Scotland, South Korea, Spain, Switzerland, United Arab Emirates and United States. Divided into General Sector and Lafayette Sector, all of these galleries were selected for their history, the list of represented artists, the consistency and quality of exhibitors, and their proposed exhibitions project for FIAC.
Hosted at The Nave, The Salon d'Honneur, The Upper Galleries and The Salon Jean Perrin at Grand Palais, the General Sector will welcome an unprecedented number of 108 galleries, including Galerry Buchholz from Berlin, Cologne and New York,  C L E A R I N G from New York and Brussels, Massimo De Carlo from Milan, London and Hong Kong, Delmes & Zander from Cologne and Berlin, Gagosian Gallery from Paris, New York, Beverly Hills, London and Hong Kong, Kohn Gallery from Los Angeles, Tomio Koyama from Tokyo, Kukje Gallery / Tina Kim Gallery from Séoul and New York, Simon Lee from London and Hong Kong, Lehmann Maupin from New York and Hong Kong, Lelong from Paris and New York, Lisson from London, New York and Milan, Mai 36 Galerie from Zurich, Edouard Malingue from Hong Kong, Peres Projects from Berlin, Galerie Perrotin from Paris, New York, Hong Kong and Seoul, PKM Gallery from Seoul, Richard Saltoun from London, White Cube from London and Hong Kong, and David Zwirner from New York and London, among others.
With a mission to financially support young international galleries who represent emerging artists, the Lafayette Sector will present ten galleries selected over one hundred applications. Coming from seven countries, selected galleries are Allen from Paris, Arcade from London, Experimenter from Kolkata, Freedman Fitzpatrick from Los Angeles, Grey Noise from Dubai, Hollybush Gardens from London, joségarcía, mx from Mexico, Kraupa-Tuskany Zeidler from Berlin, Micky Schubert from Berlin and TORRI from Paris.
The List of Exhibiting Galleries
The FIAC Program
Located across Grand Palais, there will be a remarkable selection of solo shows presented including Nara Yoshitomo at Blum & Poe, Urs Fischer at Sadie Coles HQ, Kishio Suga at Tomio Koyama, Liu Ye at Vitamin, Nick Mauss at 303 Gallery, and Zoran Mušić at Applicat-Prazan.
This year, FIAC will present a new sector entitled On Site featuring sculptures and installations in the prestigious ambient of the Petit Palasis, opposite to the Grand Palais. In association with the curator and director of the Petis Palais Cristophe Leribault and the associate curator Lorenzo Benedetti, On Site will present nearly forty works from acclaimed artists such as Marcel Duchamp, Damien Hirst, Jannis Kounellis, Eduardo Paolozzi, Lee Ufan, David Altmejd, Joe Bradley, Stefan Brüggemann, Wang Du, and Jan Fabre, among others.
In association with Domaine national du Louvre et des Tuileries, FIAC will present the Hors les Murs - the program of outdoor works including installations, sculptures, and sound works. In the paths, lawns and ponds of the famous Tuileries Garden, the visitors will have an opportunity to see works by seventeen artists including Ron Arad, Claude Closky, Michael Sailstorfer, and Colin Snapp. As an extension of the exhibition the Tuileries Garden, the Musée Eugène Delacroix will open its doors to FIAC visitors, in association with the Musée du Louvre.
By introducing an exciting new festival Parades for FIAC, the fair will reinforce its support of performative practices and exchanges between contemporary art disciplines. Presenting a series of experiments between October 19th and October 22nd in the form of live actions, the festival will explore intersections between music, modern dance, performance, and poetry.
In association with Fondation d'Entreprise Ricard, FIAC will present the seventh edition of Cinéphémère. Between October 19th and October 23, Cinéphémère will present a selection of short artist's films curated by Marie Canet.
Since 2006, Fondation d'Entreprise Ricard and FIAC have also organized a Young Curators Invitational (YCI) program in order to cherish critical knowledge of the French scene. The program will gather a group of promising figures from the emerging generation of critics and exhibition curators during FIAC week, as well as launch a cycle of free guided visits entitled YCI VISITS! in partnership with the French Institute.
Accompanying the rich exhibition program, the side program will include a three-day conference dedicated to different topics that associate artistic practices with related themes of architecture, science, and diplomacy.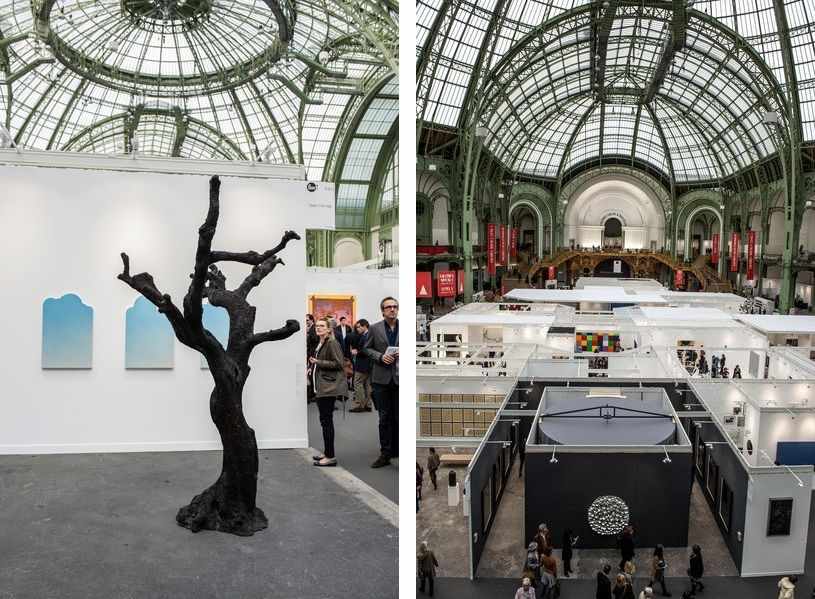 Practical Information
The 43rd edition of FIAC will take place at the Grand Palais, the Petit Palais, the Jardin des Tuileries and Place Vendôme from October 20th to October 23rd. The exhibition program at Grand Palais will be on view from Thursday, October 20th to Sunday 23rd, from 12 to 8pm. The program at the Petit Palais will be open to the public from Wednesday, October 19th to Sunday 23rd, from 10am to 6pm. Hors Les Murs program at Jardin des Tuileries will be on view until November 2016. For more information, visit FIAC website.
All images courtesy of FIAC © Marc Domage.