During his recent interview with Widewalls, Italian artist Filippo Minelli told us about his busy schedule and a number of upcoming solo exhibitions in different countries. One of those shows is his debut in the United Kingdom, and the honor of hosting it went to London's Beetles + Huxley Gallery. The art space will showcase the celebrated Silence/Shapes series, a body of work that diverts from the artist's usual focus on socio-political themes and interventions inspired by them, yet addresses them in an original way that explores "the aesthetics of the sublime".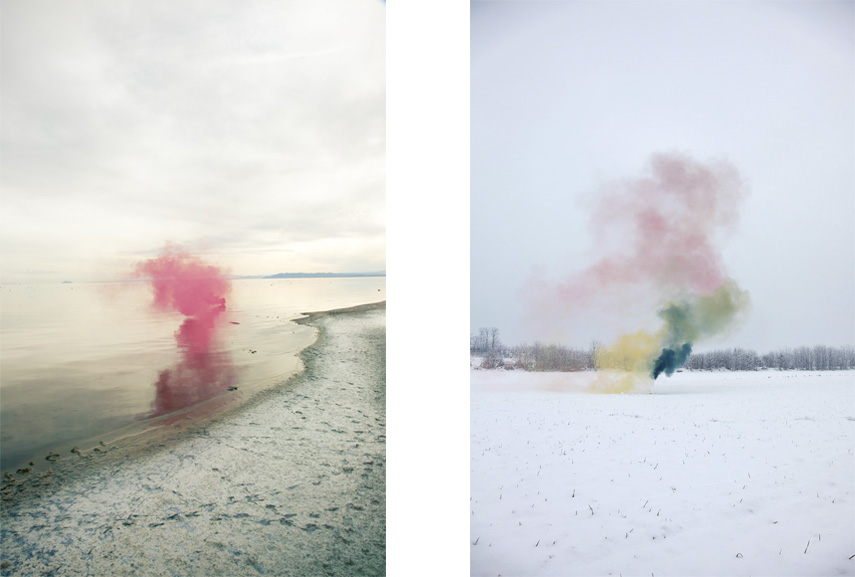 The Loud Quietness of Filippo Minelli
Described as a street artist, but not in a usual way, Filippo Minelli has a strong interest in expressing himself in and through the urban environment. All of his artistic oeuvre is immensely influenced by the state of the society, its issues, hypocrisy, struggle and development. In a particular relationship with nature, the artist installs art pieces, installations, billboards, paints graffiti or stages performances and his own protests, adding his own voice to the demonstrations, upheavals and social distress. He uses photography and video to document his endeavors around the world, where the versatility of the cultures he visits translates into his works with ease, producing works with great visual and contextual beauty.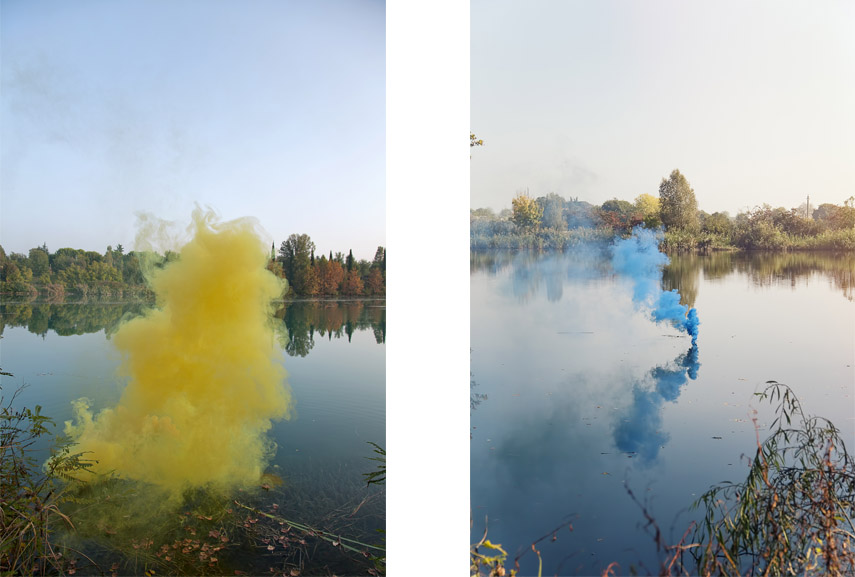 Silence/Shapes
Filippo Minelli's Silence/Shapes series is an ongoing project which started in 2009 as a different form of using political activism for the sake of art and vice versa. The images see beautiful, undisturbed corners of natural landscape contain one unexpected element - a smoke bomb, launched by someone invisible. The vivid colorfulness of these alien clouds becomes sublimely apparent and eloquent, as they float above trees, fields and bodies of water, intruding it and belonging there at the same time. Following Filippo Minelli's inexhaustible search for the perfect balance between silence and words, the project inserts smoke bombs an element of chaos and loudness, a symbol of riots and violence, into a perfectly still scenario, a world living in harmony, taking it out of its primary context and putting it into a brand new one. With Silence/Shapes, Filippo Minelli assigns a new meaning to something banal and simple like the smoke bombs, giving silence a physical shape. Through his artistic experience, he explores new notions familiarization with a high sensibility for the sublime power of the aesthetics.
A Video Trailer of Filippo Minelli Show at Beetles + Huxley

Filippo Minelli at Beetles + Huxley London
So far this year, Filippo Minelli has participated in group shows in Venice, Italy and at Somerset House in London, where his work was exhibited alongside that of the legendary Shepard Fairey. His ongoing Silence/Shapes project was previously on view as part of the 2001 Venice Biennale. The Solo Show by Filippo Minelli will be on view at Beetles + Huxley Gallery in London, UK, from July 20th until September 5th, 2015.
Don't miss out on art around you - sign up for My Widewalls for free!
Featured images in slider:
Filippo Minelli - Shape A/A, 2011
Filippo Minelli - Shape A/U, 2012
Filippo Minelli - Shape B/L, 2012
All images copyright Filippo Minelli, courtesy of Beetles + Huxley.