Famous Irish urban artist Finbarr Notte aka Fin DAC will demonstrate his painting virtuosity on small canvases at his first solo exhibition at C.A.V.E. gallery in Venice, California. The upcoming exhibition will present Fin DAC's paintings inspired by his most memorable murals and the tales of George R. R. Martin. The solo exhibition in C.A.V.E gallery is titled The Nadeshiko which is also the name of a seven meters tall mural painted by the artist on the corner of Santee and 8th in Los Angeles some time ago.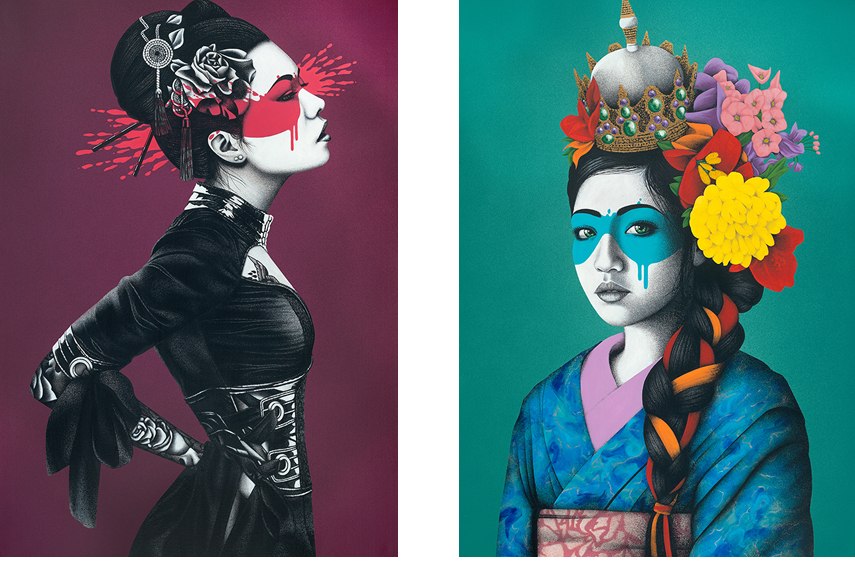 Murals on Small Canvases at The Nadeshiko Exhibition
Fin DAC is self-taught Irish urban artist known for his realist paintings and stenciling of highly stylized exotic women. He has created his unique style by combining aerosol and stenciled techniques. In his works only the fundamental form is produced with the stencil while the details and fine lines are drawn freehand with aerosol. Fin DAC's innovation has broken the conventions of street painting  and brought a new dimension to street art as a whole. His highly detailed works are rich in colors and ornaments and the realistically painted penetrating glare of his mysterious subjects has become the artist's signature mark. For The Nadeshiko exhibition Fin DAC has chosen several of his most interesting and most famous street art portraits that will be transformed into paintings and displayed to C.A.V.E. gallery visitors.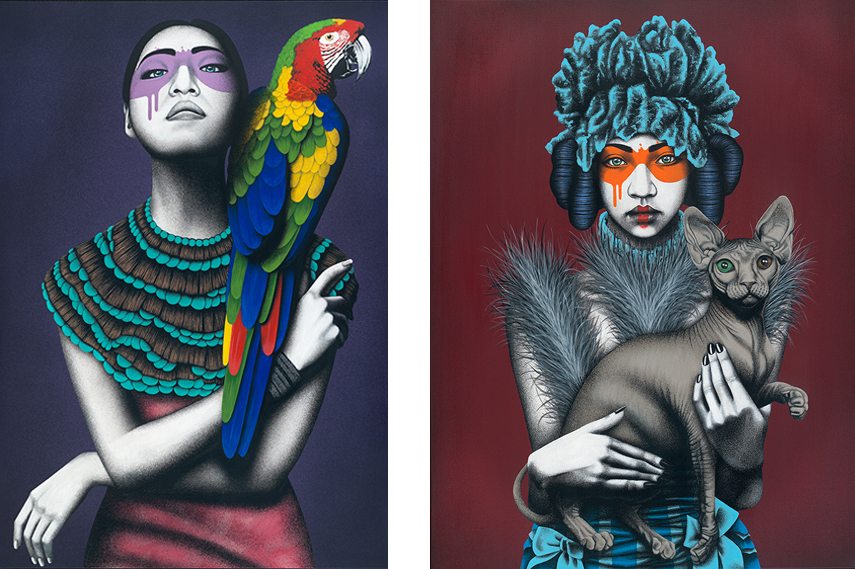 The Magnetizing Glare of Fin DAC's Exotic Muses
Fin DAC's works often deal with the perception of female beauty and he uses various techniques when it comes to highlighting the attractiveness of his subjects. His characters are mostly Pan Asian or Latin-American female stunners usually painted in black and white while everything on them and around them is bursting with chromatism. A lot of consideration was given to the embellishment of his heroines. Some are portrayed wearing flamboyant dresses and colorful, outrageous hairstyles that indicate their origin, others are covered in massive tattoos and dazzling jewelry but all have that conspicuous stare accentuated by the eyeglasses shaped make-up. Visitors of the C.A.V.E. gallery in Venece, California may often feel as if the artworks are looking back at them, since the gaze of Fin DAC's exotic muses is truly hard to ignore.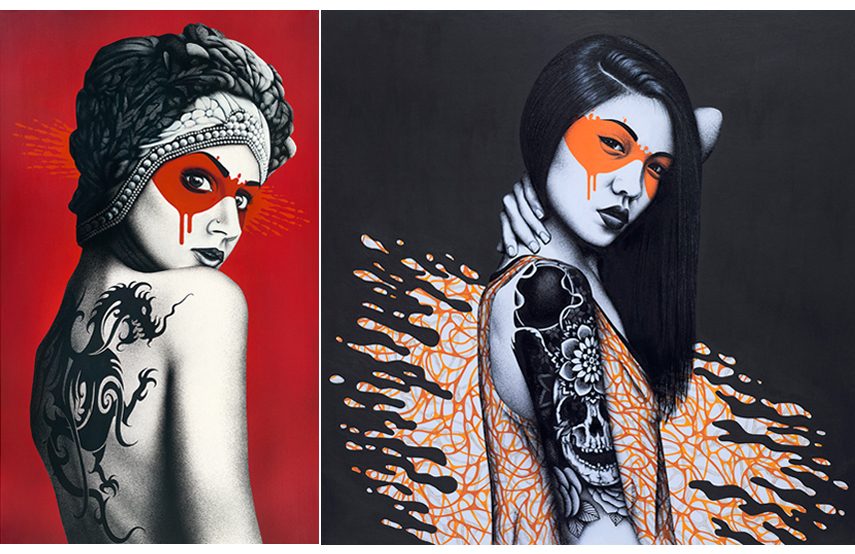 The Nadeshiko Exhibition at C.A.V.E. Gallery
The Nadeshiko exhibition of Fin DAC's works will open on Saturday, June 13th and public reception with the artist will be held on the opening day from 6.30 pm till 9.30 pm. This will be the first solo exhibition ever for the Irish artist and it will be hosted by C.A.V.E. Gallery in Venice, California. Some of Fin DAC's works are currently on display at the same gallery at the ongoing Lucky 7 exhibition that commemorates the 7th anniversary of the C.A.V.E. gallery. The Nadeshiko show will run till July 5th, 2015.
Gazing into the world of urban art turns into a daily ritual when you sign up for My Widewalls.
Featured images : Fin DAC - Tanana (detail), 2015 and Fin DAC - Orinoko (detail), 2015.
All images courtesy of C.A.V.E. gallery